An Interview with Puffco Founder Roger Volodarsky
It's a Monday morning in Downtown L.A., and the offices of Puffco are unusually quiet. Of the company's nearly 130 employees, barely a dozen are here … among them, the company's Founder and CEO, Roger Volodarsky – aka the Steve Jobs of Cannabis.
It's not hard to see why he's earned such a moniker.
Jobs started Apple in his parents' garage, while Volodarsky started Puffco in his mother's basement. Like Jobs, he frequently dresses in basic black attire. But the most significant similarity between the two tech moguls is undoubtedly the sleek style of their creations and how profoundly they impact the lives of their users. It's fair to say that what the iPhone did for mobile phones, the Puffco Peak has done for paraphernalia.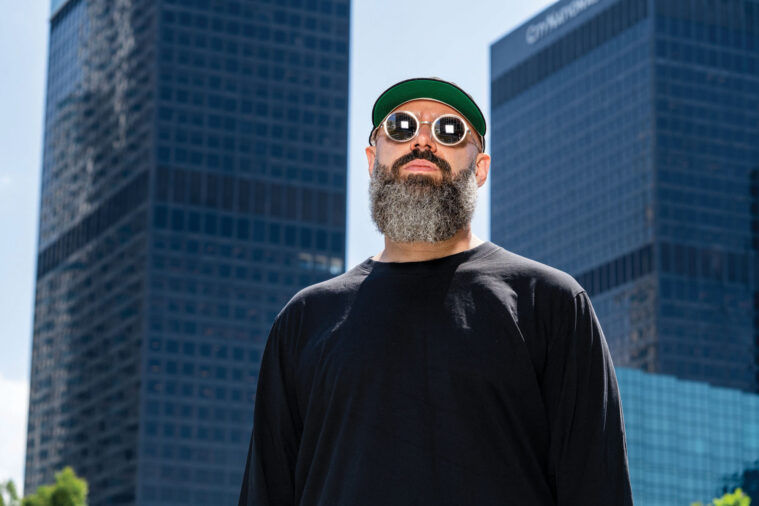 In front of our lens, Roger appears guarded, even stiff … but off camera, his stoic demeanor softens to reveal the passion and generosity of spirit that his friends know all too well.
TROUBLED YOUTH
The son of Ukrainian Jews who immigrated to Brooklyn in the 1980s, Volodarsky's early life was difficult – both economically and emotionally.
"I definitely did not have a happy childhood," he confesses. "I felt like an outsider because I grew up on the poorer side of Coney Island, and all of my parents' friends had money. And my parents ended up getting divorced, so I didn't get enough emotional support. But I'm grateful for my experience because it pushed me to get what I desire in life and led me here."
Like many troubled teens, he found escape and comfort in Cannabis. At the age of 13, after an attempt to smoke a joint during a field trip proved unsuccessful, his buddy got him high for the first time.
"I took a hit, and I remember feeling this warmth in my fingertips, toes and head, and it started radiating in towards the center," Volodarsky recalls. "I kind of melted off the couch – like in those anti-drug commercials – and all that loneliness of being the odd kid out, of not having enough resources to keep up with everyone else … all that just went away. I remember thinking, 'this is incredible—I want to do this forever!'"
To be clear, he doesn't endorse minors getting high as a matter of practice. "I'm definitely not recommending that anybody under the legal age consume Cannabis," he states. "But at 13 years old, life was very confusing and traumatic for me, and engaging with the plant gave me an instant sense of relief."
Unfortunately, like many immigrants from the "Old World," Roger's parents were extremely anti-drug and overreacted when they learned of his newfound fondness for marijuana. Within a year or two, he grew estranged from much of his family and friends.
"This was heavy in the 'War on Drugs' era, the DARE era of propaganda being shot at everyone. That propaganda worked very well on my parents and many people around me," Volodarsky explains. "I kind of became this lost soul in the eyes of many – a drug addict."
A FATEFUL MILESTONE
In his young adulthood, Volodarsky pursued a "normal life" – working several different jobs, none of which provided the sense of fulfillment he was craving.
"I was a serial entrepreneur," he explains. "I was in the mortgage space, I've worked for a translation service, I've worked as a systems administrator … I've done a bunch of different things, but I never worked on something that I was really passionate about."
Then in 2012, at the age of 30, he reached a turning point.
"When you're a kid, you have all these ideas of what you're going to be when you're 30. But almost everyone I know ended up not being what they thought they would be. The world millennials were promised – 'If you work really hard, you'll get these things' – that wasn't happening for our generation. And so I hit this really frustrating point, and I was using Cannabis to cope."
It was at this point that a friend turned him on to the enticing new world of wax (as BHO was called at the time) and vape pens.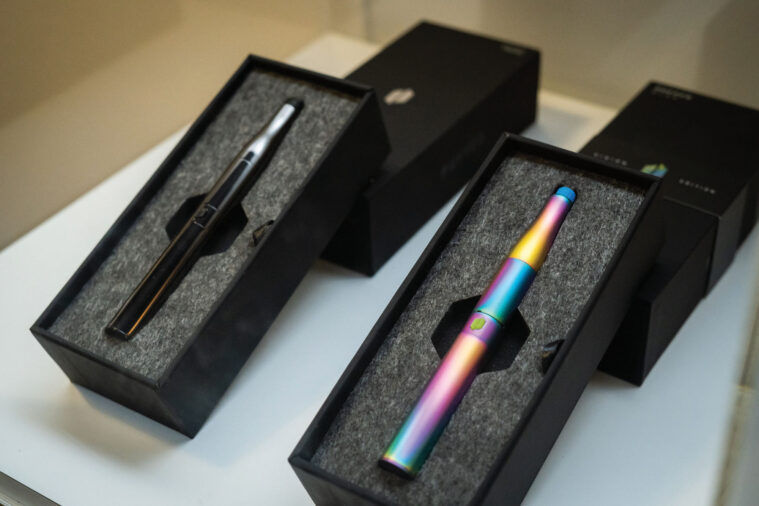 "I was completely liberated," Volodarsky says. "I was able to walk around the city and consume, and I felt truly invisible. I became obsessed with it."
Noticing his passion for the new "dab pen" phenomenon – and knowing he despised his systems administrator job – Volodarsky's friend encouraged him to try getting into the vape industry.
"I had to make a decision: either work a job that I hate to provide me with the lifestyle I want, or pursue what I love. And I decided, 'you know what? Fuck it – why don't I start doing this?'"
Volodarsky began researching wax pens online and learning everything he could about them – mainly, how they were made and who was selling them. He made recon trips to smoke shops in Atlantic City and Haight Ashbury to see what vapes were available and quickly realized that none of them were very good.
"All the wax vapes at the time were just repurposing e-cigarette technology," he explains. "They were really shitty products. And so, not knowing where to begin, my only goal was just, 'I want to make something better than this.'"
THE BIRTH OF PUFFCO
After toying around with various ideas, he decided on the name "Puffco," purchased the URL in January of 2013, and incorporated in March. And just like that, he was in the vape business.
"Puffco was my first investment in myself," says Volodarsky. "I thought, if it leads nowhere, that's okay – because I'll enjoy every second that I work on this."
After tinkering with various components and prototypes, the company released its first product, the Puffco Classic, in January 2014. Though he found it preferable to other pens on the market, Volodarsky was not satisfied. So after selling off the first batch, he went back to the drawing board with the goal of accomplishing three key improvements: a higher capacity atomizer, variable temperature control, and removal of glues and fibers from the air path. Those three pillars inspired his next iteration, the Puffco Pro. By replacing the fibers typically used to soak up the oil with porous ceramic, the Pro significantly improved the flavor and healthiness of vaping concentrates.
HIGH TIMES / LOW TIMES
The Pro was released in October 2014 … just as High Times was about to conduct its annual vape pen review. Learning of this, Roger showed up at their offices at the last minute with a box of samples. Though Puffco was unknown at the time, the Pro ended up taking first place for Best Vapor Pen. That award changed everything for Puffco – both for better and for worse.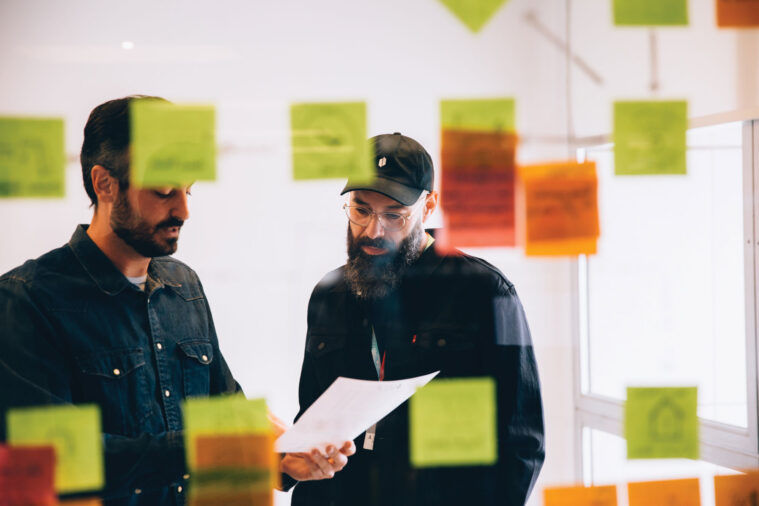 "After the review was a very bittersweet period," Volodarsky recalls. "That threw us into the spotlight and got us a ton of fans and revenue coming in, but it also forced us to make much more product than we were before."
Unfortunately, consumers weren't the only ones who took notice of their improved design; within a few months after the review was published, copycat devices began appearing on the market.
"I took it very personally. I had obsessed over this vape pen for two years, and now this thing that I'd worked so hard on – the greatest thing I might ever do – was being bastardized by shittier brands. I didn't know what to do – I felt completely defeated."
To make matters worse, in addition to having their intellectual property poached, Puffco's supply chain unexpectedly collapsed at the end of 2014. Volodarsky had to act quickly, or everything he'd been working towards might be lost. In early 2015, he and his head of operations headed to China, where they spent over a month establishing new relationships and exhausted most of the revenue they'd earned rebuilding their supply chain. Once they had partnerships in place with new manufacturers, they went straight into production on their next models: the Puffco Plus (the first truly coil-less vape pen on the market) and the Puffco Pro 2, both of which sold exceptionally well. But still, Roger was unsatisfied.
"We came out with the Pro 2, and I hated it," he grumbles. "It got decent reviews, and made the company millions of dollars … but I was making products for the sake of the sale, not trying to innovate. And that threw me into one of the biggest depressions of my life."
So in 2016, when Puffco's head engineer Avi asked him what he wanted to work on next, Roger laid out his vision for their most ambitious project yet.
PEAK PERFORMANCE
"I wanted to do something totally new," he explains. "I was like, I want to make a device that makes dabbing flawless and gives you the perfect dab every time."
Volodarsky had a checklist of criteria he wanted this new device to meet: It should let you know when the dab is ready. To avoid the associated stigma, there couldn't be any torching involved. It should be shaped like a beer bottle and fit into a cup holder. And it should have a removable glass attachment so that artists could make custom pieces for it.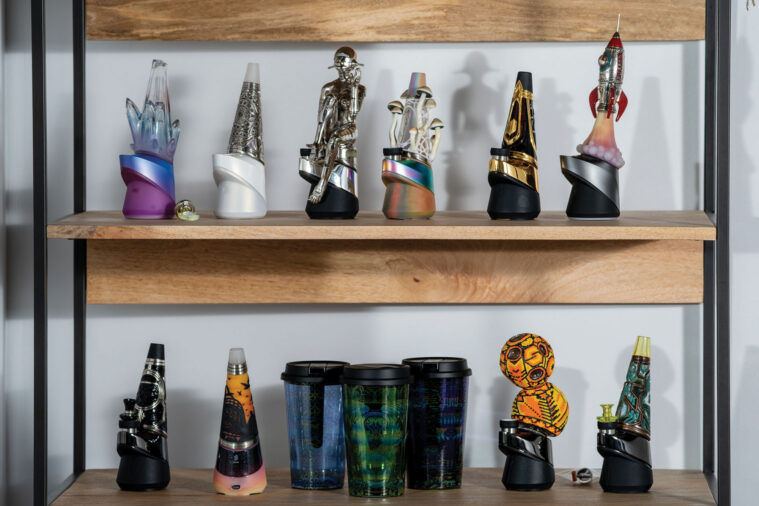 "One of the biggest parts of the hash and dab scene is glass," explains Volodarsky. "We're not here to compete with glass artists – we're here to work with them. We want them to see us as a platform to express their creativity."
After months of development, Roger, Avi and their team had invented the first fully-electronic handheld "smart rig," the Puffco Peak – a groundbreaking dab device featuring four heat settings, an LED light band, haptic feedback and automatic temperature calibration. Volodarsky had so much confidence in the Peak that just as it was set to launch in early 2018, he made the risky decision to move the entire company to Los Angeles. 
"We put everything on the line," Volodarsky admits. "When we moved [to L.A.], we had one payroll period and two months of rent left in our bank account. We just knew that once people saw the Peak, everybody was going to want it."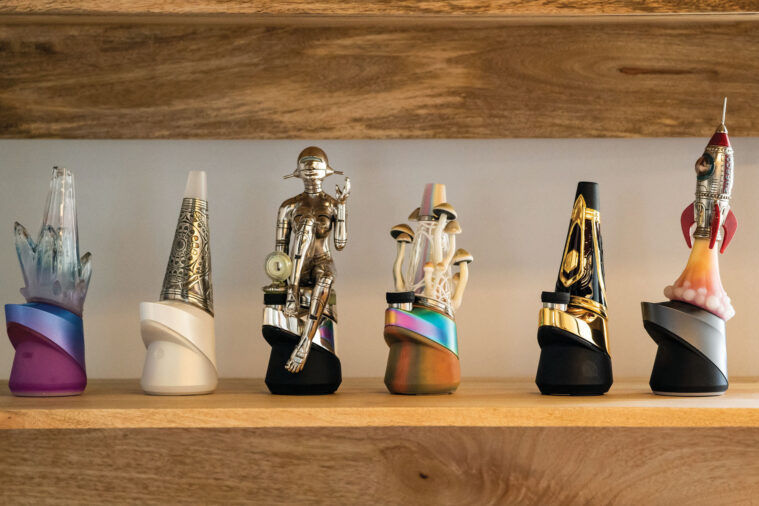 His gamble paid off: The Peak became an instant sensation, revolutionizing concentrate consumption and generating millions in sales. But like many innovations, it still had bugs that needed working out. Complaints of defective devices and atomizer connectivity issues became common—but Puffco addressed these problems through tech support, and repairing and replacing parts. Their redesigned Peak Pro, released two years later, fixed its predecessor's shortcomings while adding several new features, including multicolor lighting options, real-time temperature controls, usage statistics and more – all controllable via their new smartphone app. This new "flagship device" also offered a slew of new attachments and accessories.
RECENT INNOVATIONS
After the enormous success of the Peak Pro, Puffco began branching out with two new products designed for flower: a water bottle bong called the Budsy in 2021, followed by a coffee cup bong called the Cupsy in 2022. While both are fun and functional devices, it was their next innovation – the Proxy – that would once again redefine the dab game.
What makes Proxy unique is that the atomizer chamber is a separate, freestanding device – independent of any paraphernalia. Though sold with the outer casing of a classic pipe, this modular vaporizer can be inserted into any kind of smoking apparatus with an appropriately sized hole to house it – making it a perfect vehicle for glass artists' creativity.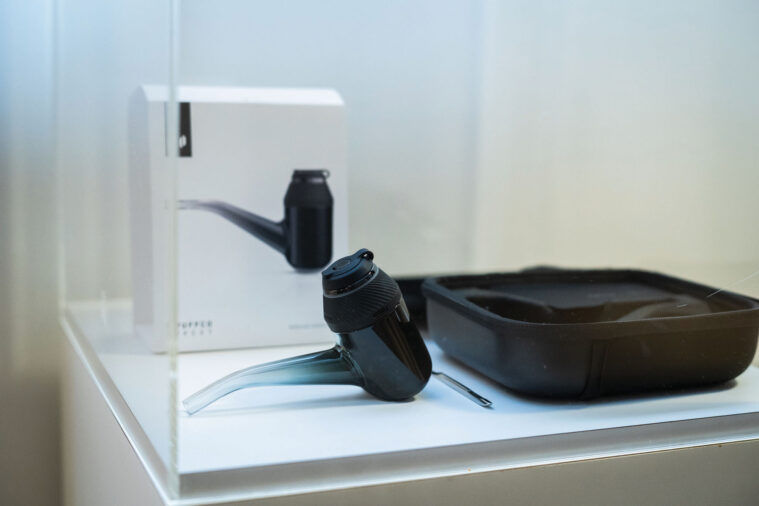 "We're big fans of the glass scene," says Volodarsky. "Hash and glass have grown together over the past decade, and we want to honor that space by continuing to invest in it."
FAMILY & FULFILLMENT
Roger Volodarsky's road to riches has undoubtedly been a rough one. Once ostracized by his family for his love of Cannabis, he's since forged himself a new family at Puffco.
"Chelsea, my first employee who I've been a mentor to … Kevin, who was my friend before he joined the company, and who's always good for a laugh … Avi, our chief technology officer … I'm very lucky to have some of the people that most enrich my life here with me in this business," Volodarsky beams. "We all feel like our work is meaningful because we're working on things that make our own lives better every day. To live every day doing what you love and having people love you for it … I can't imagine anything better than this."