Reggae Rise Up Maryland returned for its second year at Baltimore Peninsula, and the vibes were certainly in the air. Heading into the weekend with about 15 Maryland Leaf staff members, we had the crew we needed for an amazing weekend of music.

This festival brought in huge names in reggae, with acts like Citizen Cope, Damian Marley, The Expendables, Rebelution and many more. It's no secret that the reggae scene is very familiar with and accepting of Cannabis use, with the smell wafting in the air being all the reassurance I needed. For only its second year, this festival was top tier in the execution of a successful event with happy attendees.
First let's talk about the badass food options – an absolute event essential for foodie stoners like myself. We started the weekend off with a smash burger from Fuzzies Burgers, a Baltimore-based food truck that started in 2020. For smash burger fans, this is a god tier selection. Our crew also couldn't stay away from Dave's Smoke and Tacos serving up some of the tastiest tacos we could've asked for. After a joint and some time relaxing by the water, I was ready for a slice of undeniably thick and cheesy pizza from UPC (Underground Pizza Company). Needless to say, we did not leave this event hungry.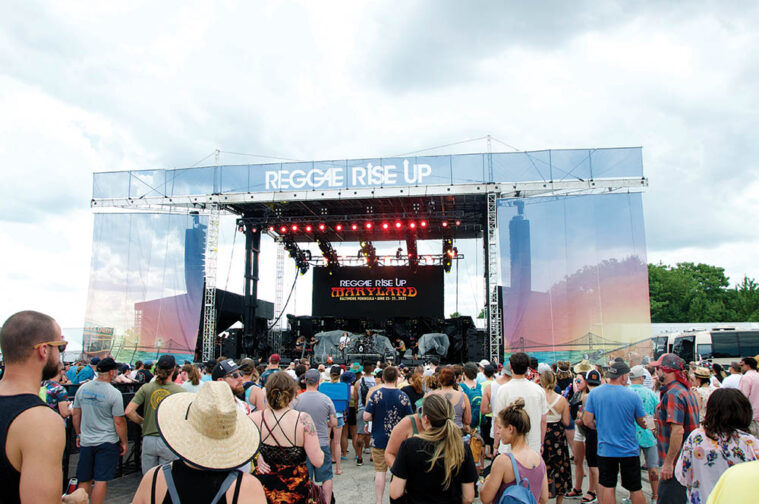 In general, the fans at a music festival make up a huge part of the environment and can influence the experience at shows. That being said, the fans at Reggae Rise Up can best be described as happy and inclusive – not a single weird or sketchy instance occurred during the weekend. People were looking after one another and during the Michael Franti and Spearhead set, the entire crowd swung each other around doing the Do-si-do. That is the first time at any music festival I have been to where the artist influenced the crowd to embrace the random people around them. Michael Franti also brought a six year old on stage during his set and she helped sing one of his songs – a display that brought tears to the eyes of many, making this set one of the most memorable of the weekend.
I really appreciated how the music alternated back and forth between two stages at this festival. That makes it so you don't have to pick and choose between who you want to see and there is also no bleeding of sound from one stage to another – something I have often experienced at festivals where multiple artists play at the same time. On day two, we bounced back and forth from Collie Buddz to Bone Thugs-N-Harmony to Citizen Cope to The Movement, with Damian Marley closing out the night. Citizen Cope brought the heat, providing a nostalgic environment that our crew really resonated with. Damian Marley, the youngest son of the late Bob Marley, felt spiritual – as if he channeled the energy of his father. The voices of some of these artists are so unique that I gained an even stronger connection with reggae than I ever imagined possible.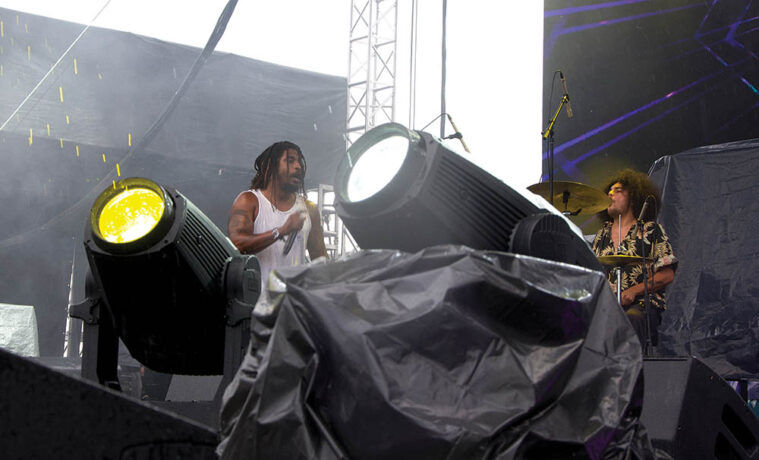 On day three, Koffee stole the show midday with an outstanding performance that made me want to go see her again and again. In the middle of her set the mics cut out due to a lightning advisory, but she kept singing and refused to exit the stage before the sound came back on and she finished a banger of a show. The crowd threw Ws up in the air for her song "W," and her unique voice rang through the air in a way that is unparalleled to anything I have ever heard. As I looked around, I saw nothing but huge smiles.
Closing out the weekend with Rebelution was nothing short of spectacular. All weekend long we joked about how cool it would be if someone used lasers in their light show, never fully expecting it to happen. Lo and behold, in the middle of them opening with "Outta Control," lasers shot into the night sky, electrifying the energy of the crowd. They paused vocals several times, allowing the audience to sing along – and everyone did just that in perfect harmony. This was the perfect way to end an incredible weekend with amazing people and music.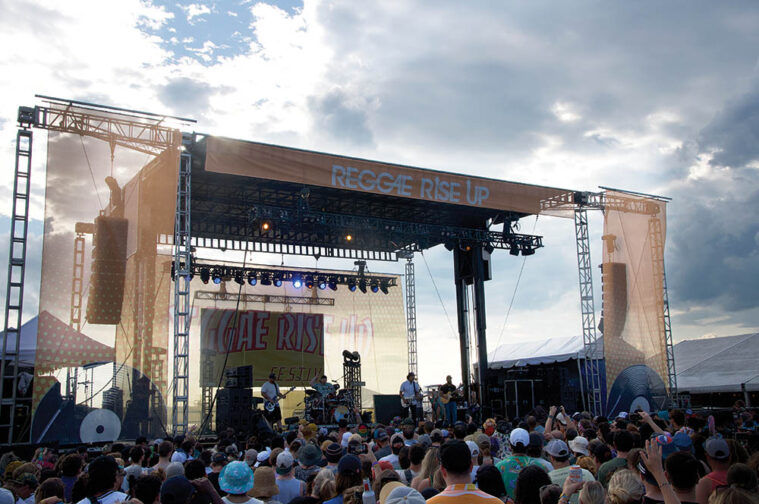 We want to give a massive "Thank You" to Reggae Rise Up for having us at the festival, and absolutely cannot wait for next summer when we get to do it again. Congratulations to the entire team for throwing such an incredible event – definitely keep an eye out for their festivals in Florida, Nevada and Utah. This is something you do not want to miss!