This past March I was in Barcelona, sitting with European street artist Soklak and puffing on a joint apparently filled with Runtz from somewhere in California … if the label is to be believed.
"You look like the Daniel Craig of weed right now," I blurted out, which is just the kind of icebreaker that could either kill the conversation or take it to the next level. Thankfully, we were all pretty stoned – so we had a good laugh and talked about Soklak's vision for the future of Cannabis hospitality in Europe.
Soklak is the art director for CRTFD in Europe. CRTFD is a California-born plant medicine-centric lifestyle brand that does everything from providing artists with regularly paying work, to operating Cannabis social clubs and producing high-quality streetwear.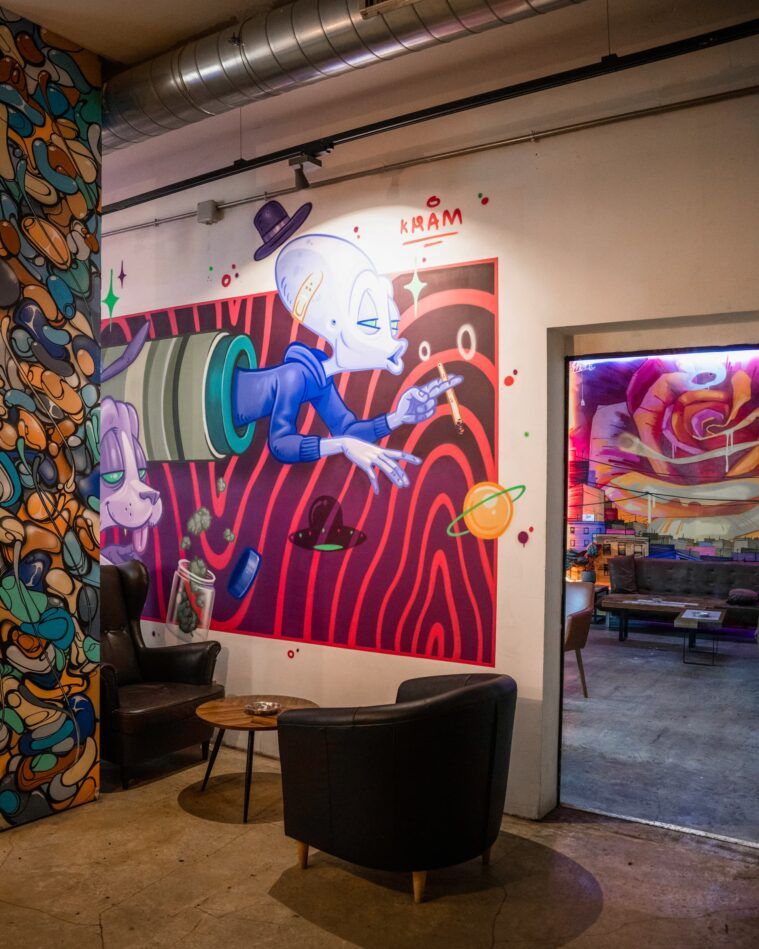 The brand's Barcelona location is in the city's old Gothic Quarter, which is a labyrinthine neighborhood with dark, twisting streets. Roman ruins, bars and nightclubs, Modernist architecture and medieval landmarks are the aesthetic markers of the quarter, making it a popular destination for tourists due to its history and proximity to the port, though many tried-and-true locals live here, too. During high season, large cruise ships dock in Barcelona (considered the Mediterranean hub for the world's cruising industry) and in their limited hours on shore, many of the boats' inhabitants end up exploring the Gothic Quarter's narrow avenues.
The streets were uncharacteristically empty on the drizzly Sunday morning I walked through the city and across La Rambla to CRTFD from the stylish and affordable Hotel Brummell in Poble Sec where I was staying. It's a route I've walked many times before. I actually used to live in Barcelona – I got married, did a lot of restaurant, wine and travel writing, and spent a lot of time partying and hanging out in the capital city of Catalan culture. The city's Cannabis culture wasn't new to me, either. I have been a member of Circulo, which is just around the corner from CRTFD, for around five years.
As far as weed culture in Spain is concerned, Barcelona is definitely the country's epicenter. In fact, I don't think it's too much of a stretch to say that, thanks to a crackdown on weed tourism in Amsterdam, Barcelona has emerged from Covid as the clear titan of European Cannabis. The distinction is based on the city's evolving and growing cultivation and hash cultures (still illegal and therefore underground), along with its positively buzzing private social club culture that operates in a precarious legal gray area, but results in a semi-permanent scene nonetheless.
It's exactly that rich Barcelona subculture that CRTFD has tapped into, so it's no surprise the club appears to be flourishing. Even on a dreary weekend morning, the couches are filling up, coffee cups are being poured and joints are being lit. The club is at once stylish and comfortable, but not snobbish – exactly what the cosmopolitan city is about. Plus, Soklak and the rest of CRTFD's team is pretty damn near certain that Cannabis and art in all its various forms go hand-in-hand.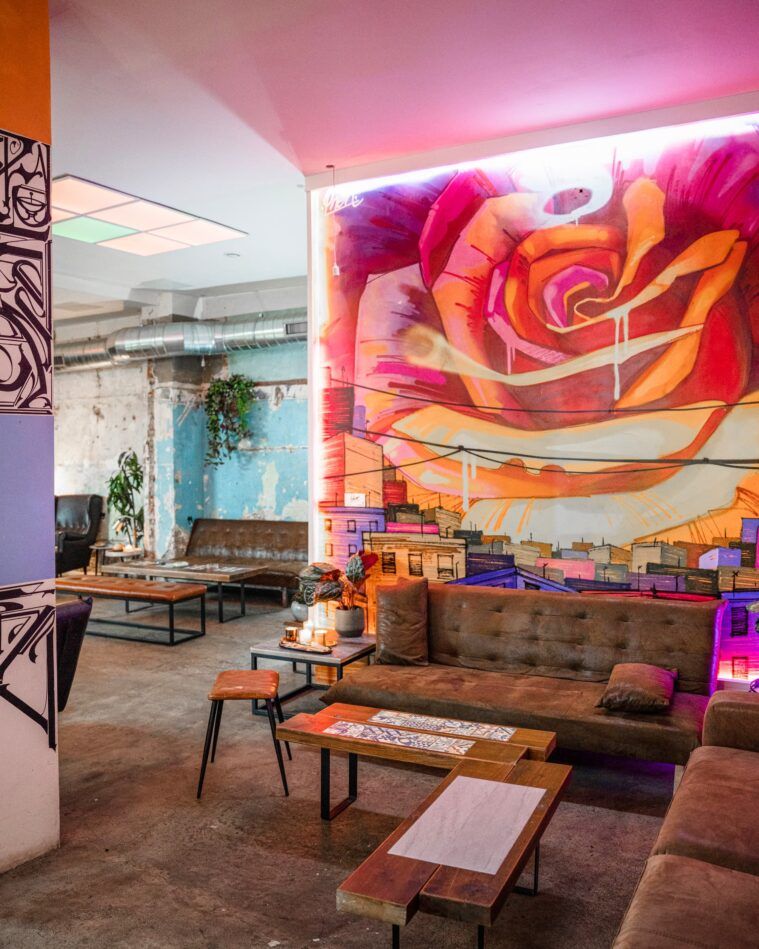 "We want to reflect and represent subculture around the globe," Soklak told me, mentioning that street and skate art are cornerstones of the brand's image. He is primarily based in Paris, but spends a lot of time working in CRTFD's Amsterdam and Barcelona clubs – the latter of which is decked out in spray-painted murals by the artist featuring his signature script. The dedication to creativity shows up throughout the club: The Cannabis jars are made using a special printer and unique graffiti tags, while the clothing features art by different kinds of graffiti artists. The weed comes from California, as well as from cultivations across Europe and probably beyond.
It's a striking change from even just a few years ago, when it was significantly harder for someone from the United States to find passable weed – even in the clubs functioning mostly as safe spaces for those wishing to toke up in peace with other like-minded individuals. The weed's quality was important, of course, but secondary. While the quality of Cannabis found in Barcelona still has a ways to go, there were genuinely decent buds to be had at every club I walked into. This never used to be the case.
In many ways, what's happening at CRTFD and other clubs around the city is indicative of Barcelona's Cannabis world coming into legitimacy. Street art and skate culture have been strong for a long time in Catalonia, the separatist-friendly region of Spain of which Barcelona is the capital.
These subcultures dovetail with a robust, politically-left presence in Barcelona, which is particularly exemplified in the city's squatter and anarchist scenes. They have always fed into one another – with street art, skate culture, Cannabis use and the squatter lifestyle becoming markers of an alternative, more off-the-grid style of living. So, it's fascinating to see them becoming sought-out spaces, with more public access and a wider mix of people. These things were always cool, but up until recently, you had to be a certain type of person to access it. I used to live in Barcelona and very much consider it one of my homes, yes … but that's not how I ended up in that club. I have Cannabis to thank for that.
To me, it's just one more example of how Cannabis culture fosters community among those who choose to indulge. Just as Soklak and his crew at CRTFD identified, there's a thread running through all of these subcultures, even though they each have their own thing going on. Once again, Cannabis is the thread tying everything together – even (and especially) in Barcelona right now.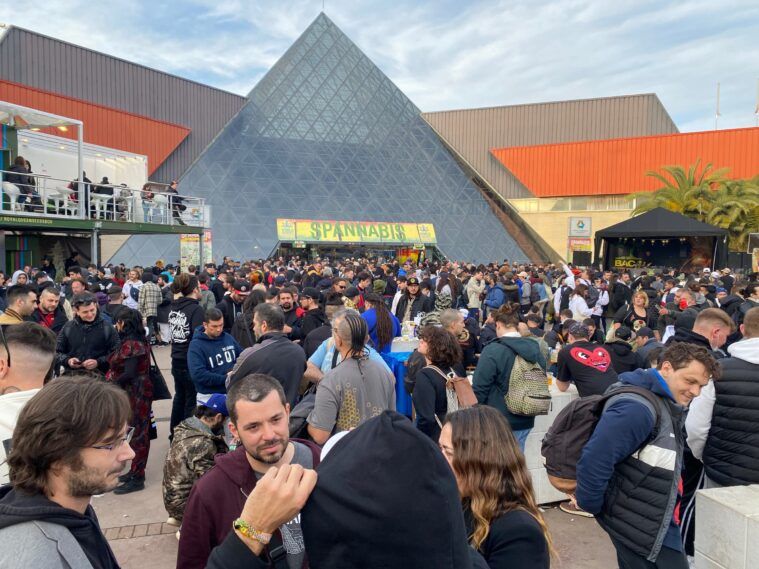 Top Barcelona Bud Bars:
Like the skate culture vibe displayed at CRTFD, each club in Barcelona has a unique flavor to it. Here are some of the best.
There's HQ, which ended up being designated the home base for others in town visiting from the United States for the Spannabis conference, as I was. Located in the central L'Eixample neighborhood, HQ featured some of the best locally grown and "imported" weed the city had to offer, as well as a crew of customers dedicated to the evolving California-style hash culture currently taking Barcelona by storm.
Cookies Barcelona is no different from Cookies outposts all over the globe, which is exactly what makes it special – especially for enthusiasts who aren't able to visit California or anywhere else in the United States. This club, which is a favorite of young men in particular, is right up the street from Antoni Gaudi's famed Sagrada Familia cathedral, making it the perfect stop to toke before taking in the truly psychedelic-looking wonders from one of Spain's most famed architects. The club is also one of the only places in town to feature Fidel's famed hash hole joints, which are sold exclusively at Cookies locations.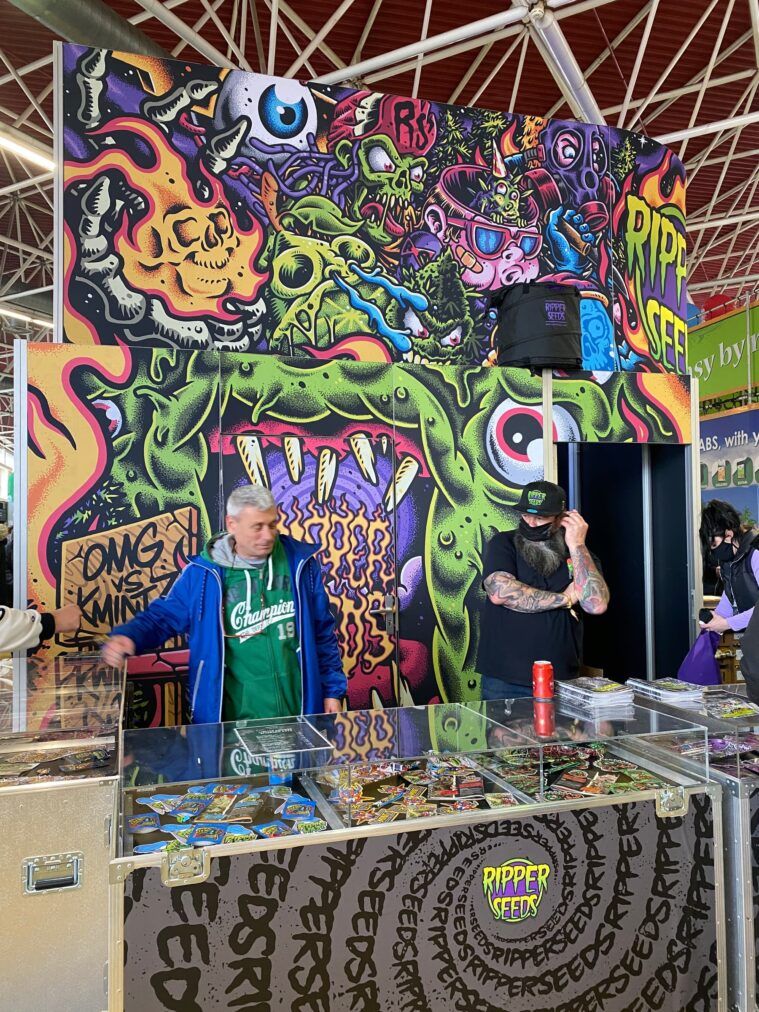 Terps Army, near La Rambla, is a more bare-bones Cannabis enthusiast experience from the famed Amsterdam club by the same name. Lorenzo, the owner, is the OG who invented the hash hole joints and who eventually taught Fidel what he knows. Terps Army is where the hardcore stoners convene, especially those who are particularly into hash. Expect lots of European tourists.