The culture of Cannabis has been colliding with the arts for quite some time. Whether it's through fashion, music or design, pot is more prominent than ever in modern, mainstream pop culture nationwide – and especially here in the ultra-heady PNW.
For the Culture Issue, the Northwest Leaf team thought it'd be the perfect time to highlight some of our favorite local creators you can support this year. If you're on the hunt for a Valentine's Day gift for your stoner sweetie, looking to refresh your wardrobe after some spring cleaning, or ready to level up your smoke sesh setup – look no further than this roundup of wonderfully weedy Washington artists and brands!
Trapis Designs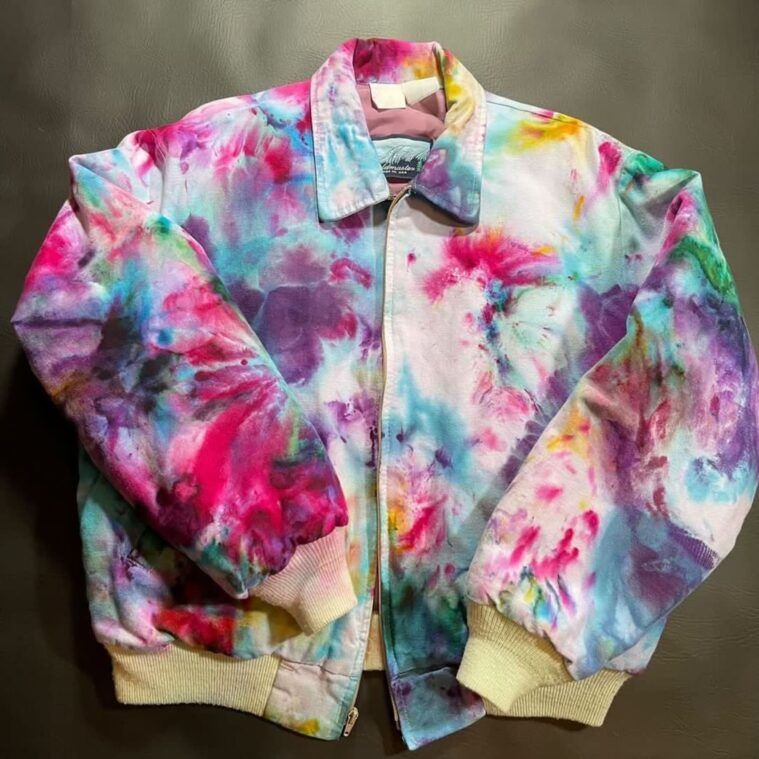 Hand-Made Tie-Dyes For Tokers
Travis Jones of Trapis Design brings the drip with his collection of one-of-one hand-dyed pieces including upcycled jackets, thrifted t-shirts, and an array of accessories like tapestries, hats and bags. He was born and raised in Tacoma – where he grew up with both of his grandparents being painters – and always had a creative drive after going to countless art gallery openings in Seattle during his upbringing. He says it wasn't until three years ago when he found tie-dye that he was truly able to express his creativity in a way he was happy with, and has just been "trying to make the world a more colorful place one piece of clothing at a time ever since!" If you see someone rocking a Trapis fit, you'll see he's definitely accomplished this goal. Visit the Trapis Designs website to shop his swag now, and stay tuned to his Instagram for the latest drops and collaborations.
trapisdesigns.com | @trapis_designs
Dank Dabber Depot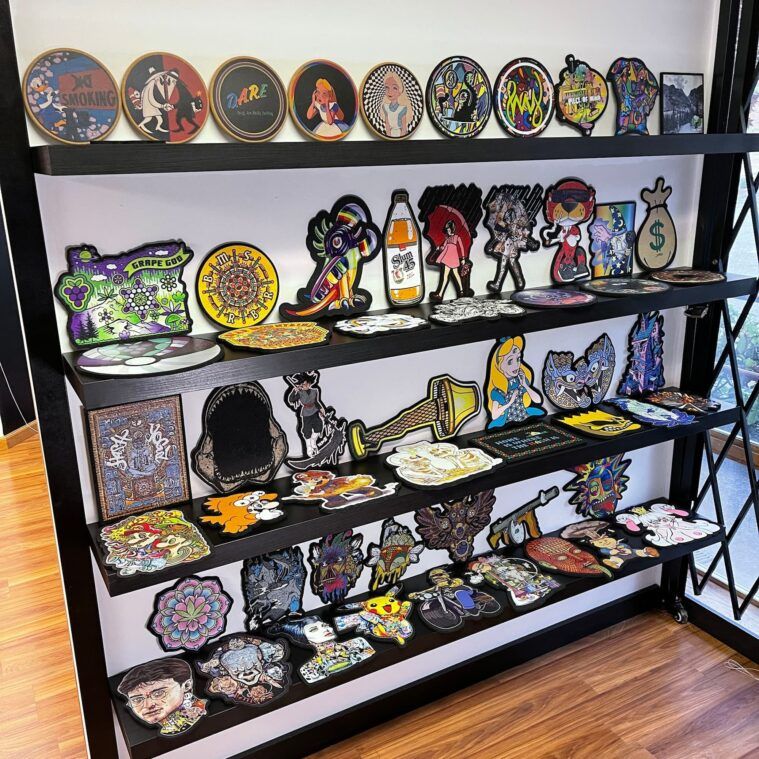 A Hub For The Heady Hash Community
Dank Dabber Depot was designed to be a "one-stop shop for everyone who consumes" and their Mountlake Terrace plaza is certainly a haven for hash heads. The shop sells some gorgeous glass pieces and accessories like mood mats, natural bong cleaner, and their own Dank Dabber dab tools. There's also a "baby bodega" with the best exotic munchie snacks around Seattle (don't miss the sour belts) and a back room for hosting private events and glass shows. Fweedom Dispensary is next door and around the corner you can find Craft Connoisseurs – offering the largest selection of sours in the state from popular brands like RAR, 450 North and Claim52 (considered to be heady beer). They do have an online shop, but we recommend swinging by the plaza to grab everything you need for your sesh and get some stellar customer service from the Dank Dabber guys.
dankdabber.com | @dankdabberdepot
21911 64th Ave W Suite C
Mountlake Terrace, WA 98043
GanjaGod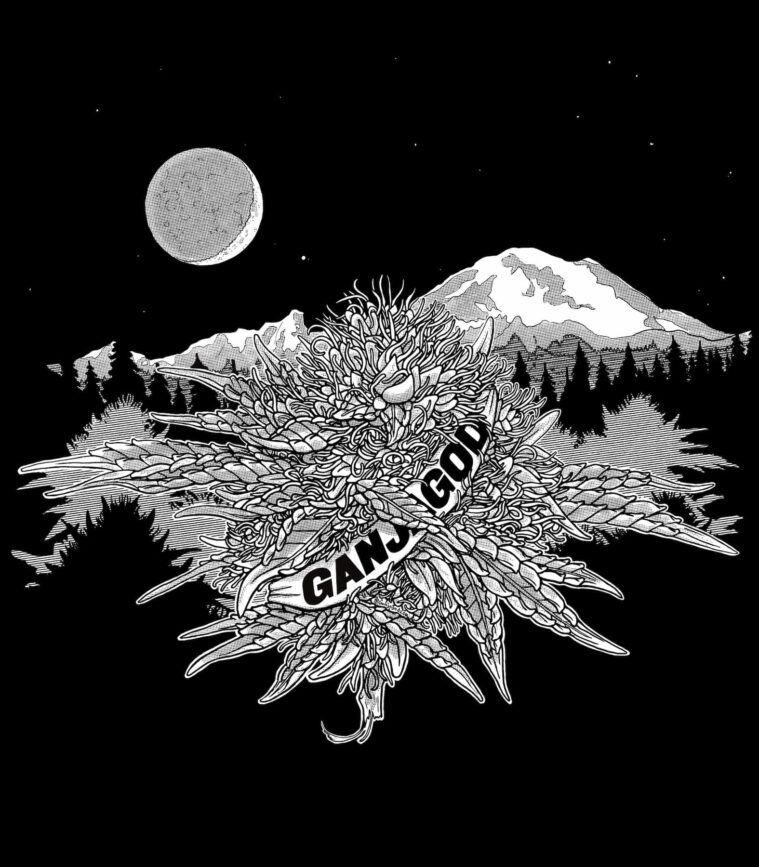 Picturesque Prints For Potheads
Since 2007, Juan GanjaGod has been creating art in his unique style – one he says blends his biggest passions: Cannabis, knowledge, graffiti art and comic books. GanjaGod is a trailblazer in his particular niche of drawing and painting depictions of the Cannabis plant in various stages of its life cycle, as well as in its many smokable forms. His art hangs in homes, businesses and dispensaries all around the world – we've also got quite a few of his micro masterpieces hanging in Leaf HQ – and he's designed logos and product packaging collaborations with an array of prominent brands, growers, hash makers and extractors. His next project is writing and illustrating a series of educational books about Cannabis – and yes, it's already on our must-read list. You can find his art on his Etsy shop and through his Instagram profile.
etsy.com/shop/GanjagodShop | @ganjagod206
Walmot Glass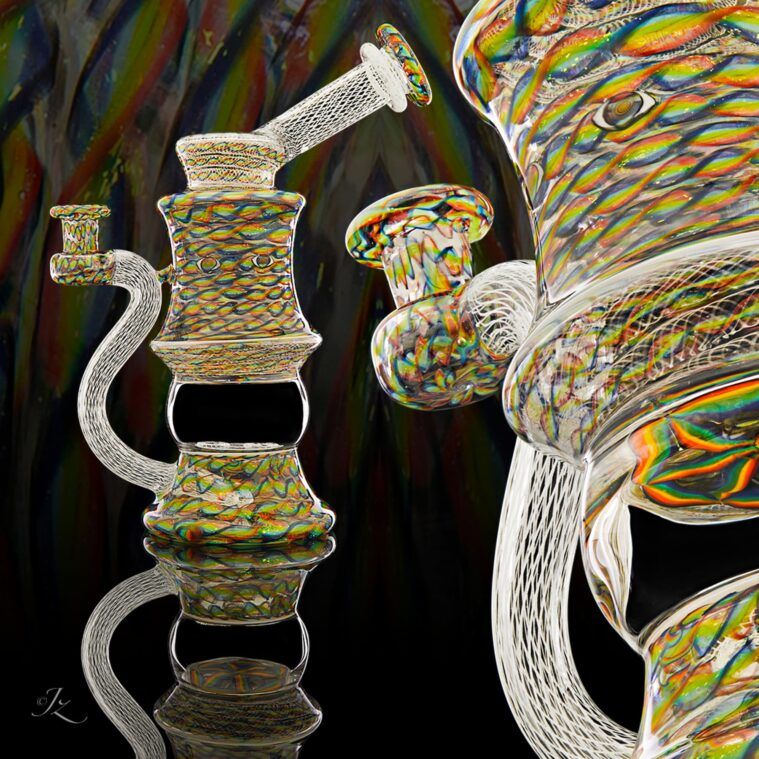 A Glass Gateway to Ganja Goodness
Tom Law started blowing glass as an apprentice eight years ago, and has been living and working in Seattle for almost five years now. He goes by Walmot Glass, which is his name spelled backwards (trippy, right?). Combining beautiful design with function, he makes some of the most sought-after pieces in the PNW. Tom says he finds inspiration from the people he meets and from the challenges that glass presents, because "it demands focus from start to finish." You can truly see that focus in these incredibly detailed pieces, which look like they belong on display in an art gallery rather than on a sesh table. Good luck getting your hands on a piece of his glass … but you can reach out via Instagram to try!
Photos Courtesy of @jlzill