Drinking Vessels, a collective founded by Ben Belgrad that creates and curates handmade glass-blown drinkware, has a mission to turn your cup cabinet into an art collection.

Bat Country Studios, the team's "creative launchpad" and studio, is located just down the road from Vail Village in Colorado – a stoner snowboarder's powder-filled paradise. Each year, Drinking Vessels hosts a winter and summer Cup Collectors Club show that gets glass artists from around the world bringing their best headies out to HQ.

In 2023, Ben and his crew decided it was time to take the show beyond Bat Country and out on the road. Now, they travel to bring cups and community together in new cities with pop-up events in Denver, Connecticut, and Austin, and new locations planned for the future.

I recently sat down at the studio with Ben to chat about what drives the team over at Drinking Vessels and what he's dreaming up next…

Where did the idea for Drinking Vessels come from, and what is the collective all about?
I started Drinking Vessels because I noticed this space as an opening in the community to bring together handblown glass drinkware with in-person events and engaging digital content. I'm just here to create this marketplace and to provide an outlet for drinkware, ranging from shot glasses and mugs to pints and decanters. We're actively looking for new artists to represent and for new people to work with, as long as the idea is unique and creative and brings something new to the table. With the cup market being so fresh the last couple of years, there is a lot of opportunity for people to come up with really creative new ideas and designs.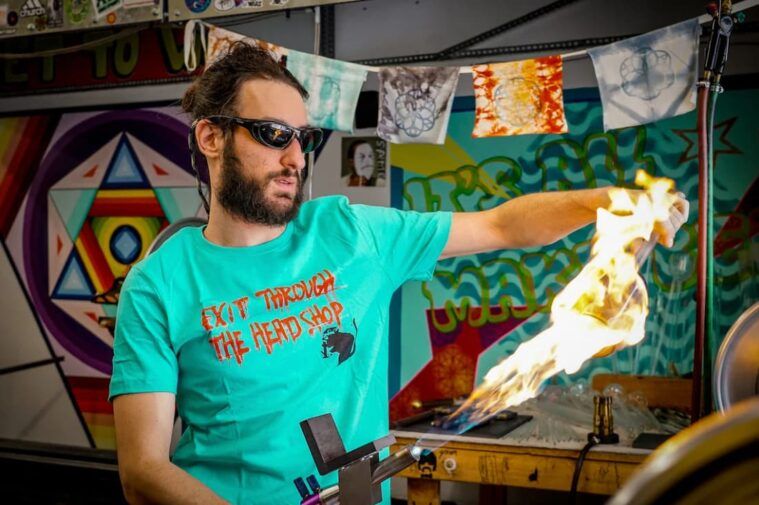 I blow my own solo pieces and collaborate with a lot of the artists I represent, which is about 50 to 100 artists at a time. Some of them are strictly cup makers, but most are pipe artists releasing functional pieces, pendants, smoking accessories, and those kinds of things. So it's a special
opportunity when you're able to buy a cup they've done for Drinking Vessels. I'm also acting as a broker buying and selling work from these artists and creating content with our marketing team up here at Bat Country Studios.
How many pieces would you say are in the Drinking Vessels collection currently?
We probably have 200-300 cups available, with more pending and waiting to be photographed or listed. And then there's always my personal vault, where I have stashed away my favorite cups from over the years. Sometimes we'll do a re-release or let someone pick something out of the vault for a special occasion. You can view the entire collection on our website and we're always going live to show off what's on our shelves at the studio on Instagram.

What's the vibe like over at Bat Country Studios?
It's our glass studio and headquarters in Minturn, Colorado which is up in the mountains right by Vail. There's always something fun going on or someone hopping on the torch around here. We're only five or ten minutes from snowboarding access and hiking trails, all kinds of outdoor activities. In addition to the team of us working here full-time or part-time, there are also a lot of traveling artists that come through here to collaborate, contribute to a project, or be part of the shows that we're producing.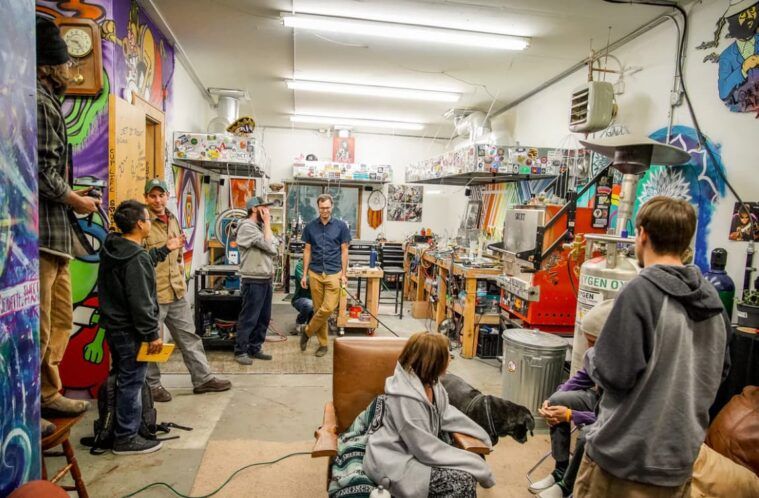 Speaking of your shows, tell me about those…
One of our main missions is bringing the collector community offline and into actual spaces together to be able to enjoy the cups. Having fellow enthusiasts to share that with is a different experience than sitting at home on the couch and drinking out of a cup alone. One of the nice things about these cups, which are a little different than the pipes being made by the same artists, is that you can take them to public spaces. For years, we'd been having our own little get-togethers in Denver. We'd meet up at a food hall or mini golf place, bring our own cups…It was a way for us to enjoy the art that we're all so passionate about, uninhibited by the fact that if for example, it was a functional pipe from the same artist, you wouldn't really be able to bring that out unless it was more of a private sesh.

So the idea for the shows came from creating a place for the community to do that together, not just our friends and family, and began really to take shape as the Vail Cup Collectors Club. This is an event I've been hosting for six years in February in the mountains. Artists and collectors can come and ski and snowboard. We do live glassblowing and live painting, there's an immersive art show and a big release of new work featuring themes or concepts that everyone's been working together on. In the last three or four years, we added a summer show that is all about camping and other seasonal outdoor activities instead of snowboarding. And then in the last year or so, we began doing these pop-up shows, primarily in Denver, Connecticut, and Austin, Texas.

Why do you think the pop-up shows have been such a hit with the cup collector community?
The cool thing about these shows is meeting up to have a place to drink out of your cup in an environment where other people are also drinking out of their cups, or buying a cup and then using that at the actual show. It's a combination of those two things I would say that creates a unique kind of experience. It's something different to be at an art show where people are using and interacting with the art, as opposed to looking at paintings or sculptures that are just up on a pedestal.
Most people aren't using those paintings and sculptures right then and there. There's no way to physically interact with them. But these cups are functional and interactive art, which is exciting. You bring something from your collection or buy a new cup and get to drink out of it right there. You also get to see what other collectors are showing up with and drinking out of. It's a more personal, engaging, and communal experience that is a lot of fun.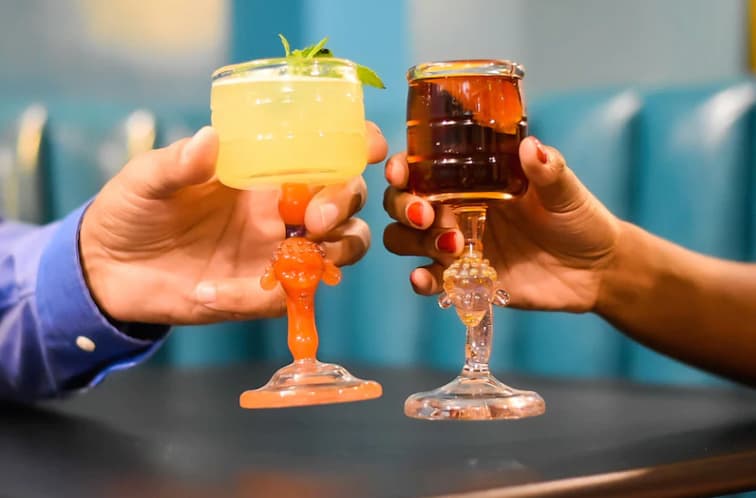 What's the next show you've got coming up?
The next event is down in Denver and it will be our sixth pop-up partnering with Purple Haze Glass Gallery. We'll be doing it at the Englewood location, which is their newest spot, from 2-5 PM on Sunday, June 25th. We're going to have our good friends Calm and Burtoni live blowingglass, as well as a bunch of food, drink, and art from some great local sponsors and vendors. Artists will be dropping fresh exclusive work, and I'll also be bringing a lot of the inventory we have up here in the mountains down to showcase in front of people.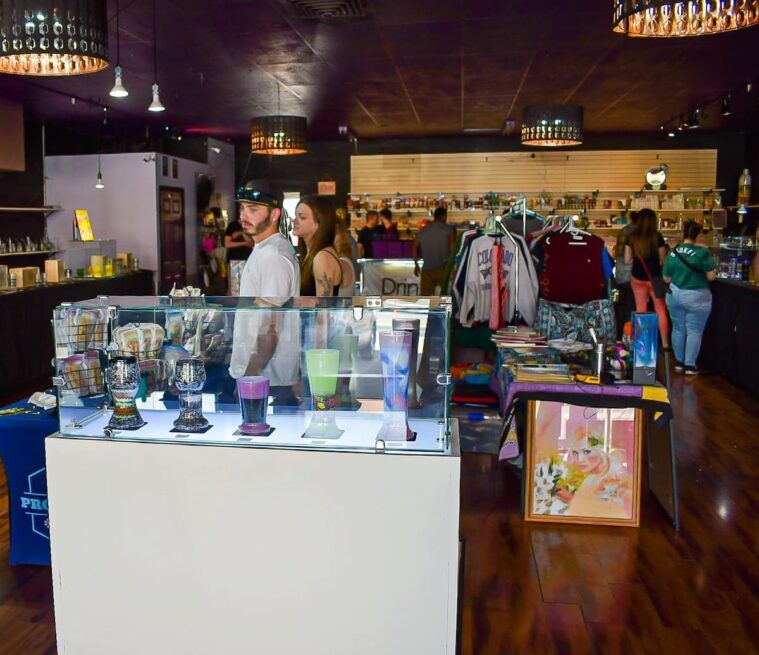 After that, we have the big Vail Summer Cup Collectors Cup Show on July 15th at HQ. We'll have a campsite for the week leading up to the event and all the artists will come out and collaborate and make fresh work that's exclusively released there. Then October 7th is going to be the first Philadelphia Cup Collectors Club at Ruckus Gallery in Philly. Artist announcements for that show haven't been released yet, but the best place to keep track of that stuff would be on our Instagram and website.

Bonus question: Where's your all-time favorite place to bring a heady?
The airport bar. I would be traveling and maybe delivering a cup or something, and I'd be sitting there drinking out of a heady. People from across the world would see this thing in public and notice it and start a conversation. It's a pretty wild experience. I like to talk to strangers and meet new people. When you're in an airport, you never know who you're going to encounter, and you can totally blow people's minds with these cups and just start really interesting conversations.
Check out the Denver Cup Collectors Pop-Up Show at the Purple Haze Englewood location on 3398 S. Broadway from 2 to 5 PM on Sunday, June 25th. There will be a lineup of local artists, vendors, and sponsors plus live glassblowing from Burtoni Glass and Calm Glass. Drinking Vessels will have a collection of newly released solo and collaboration work available for purchase as well as inventory from the shop and favorites from the vault. This event is free admission and open to the public. You must be 21+ for entry, so please bring a valid ID and be ready for it to be checked at the door.