On the eve of Wrestlemania 39, an event that saw an attendance of over eighty thousand screaming fans, a crowd of equally dedicated fanatics gathered to watch a night of wrestling on a whole other groundbreaking level. Resinmania, the brainchild of Northern California hash brand Real Deal Resin, was a maiden voyage that offered a night of celebration to some of the sport's most undervalued supporters, wrestling fans who dab.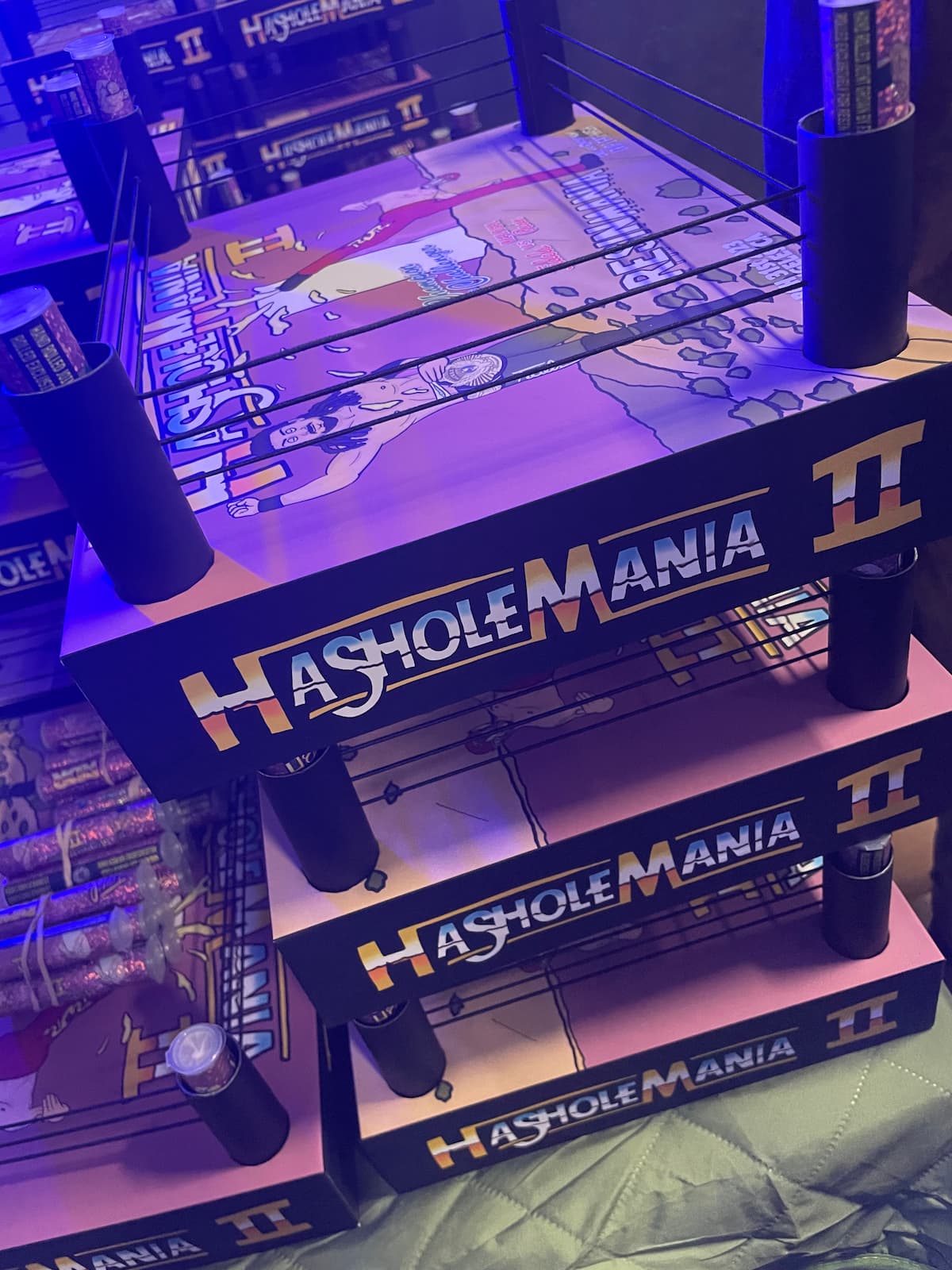 Knowing that Wrestlemania would bring the fans, former stars and professionals together in the city of Angels, owners Dustan and Sam felt that it was only natural for them to combine the two things they hold most dear and create a spectacle the same way their heroes have. Live indie wrestling, painting and plenty of dabbing were all planned out along with exclusive merchandise, a visit from legendary icon The Godfather, and a whole commemorative box set with collaborator Fidel's. By the time the event was about to go down, they had to release another small batch of tickets just to deal with the fever that had built up.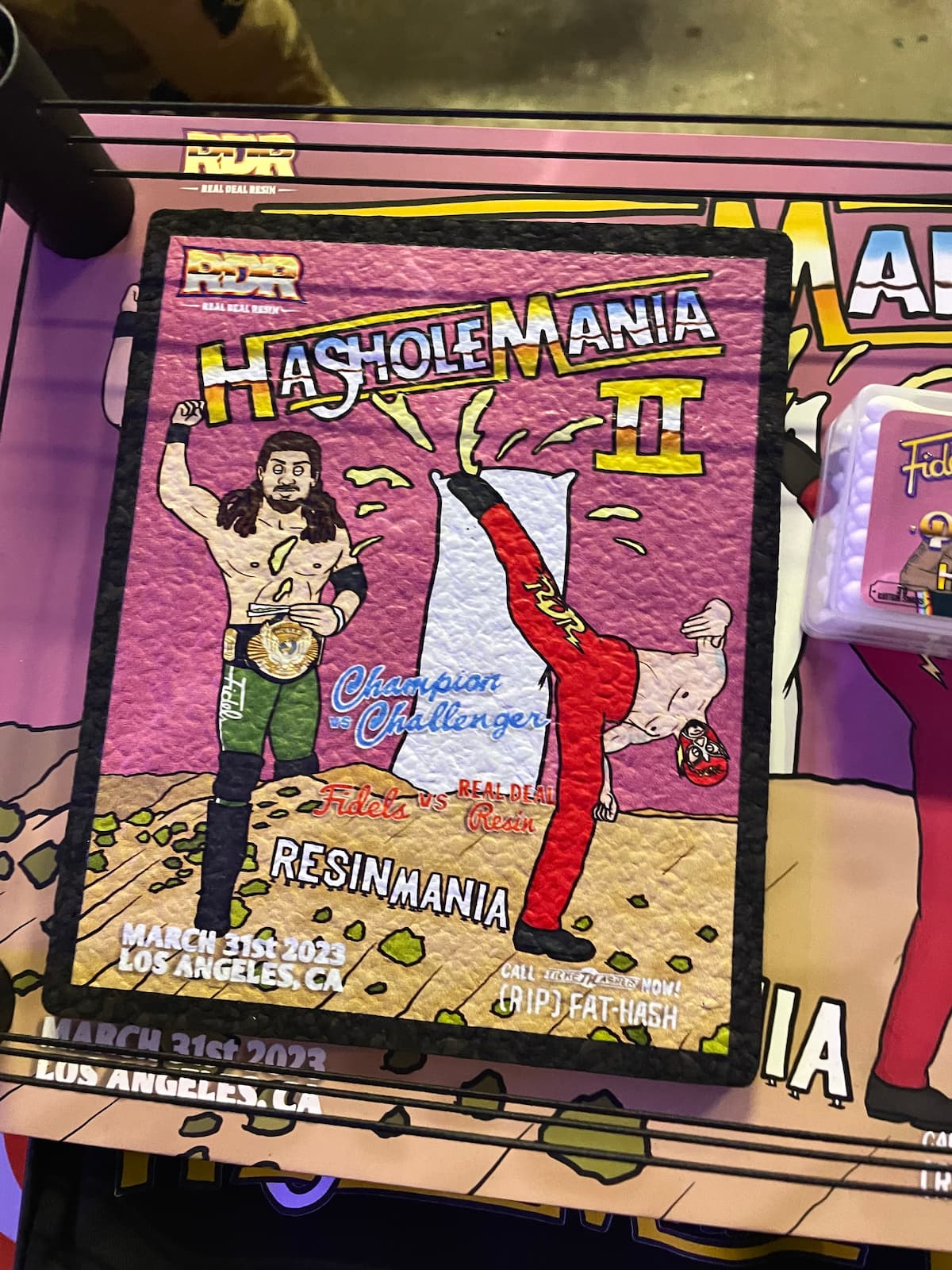 Held in the shadow of Dodger Stadium, you entered Resinmania through a thin outdoor hallway lined with the smell of grilling meats and caramelized marshmallows. Two buildings on the other side housed some of the circuit's popular heavyweights including Super Chill edibles, Guru Cannabis Co., The Water Boyz, Resin Ranch, and Sugar Magnolia Farms. On the walls hung a selection of Real Deal themed art by Derty Bird that attendees could purchase and take home with them. In a space that offered a perfect vantage point of the ring, artist Nathan Valensky live-painted something inspired by the 1948 Looney Tunes cartoon "Rabbit Punch." In the center, between huge clouds of smoke, two wrestlers squared off under a set of blue lights, using every inch of the fourteen-foot ring as the crowd packed tightly in around them.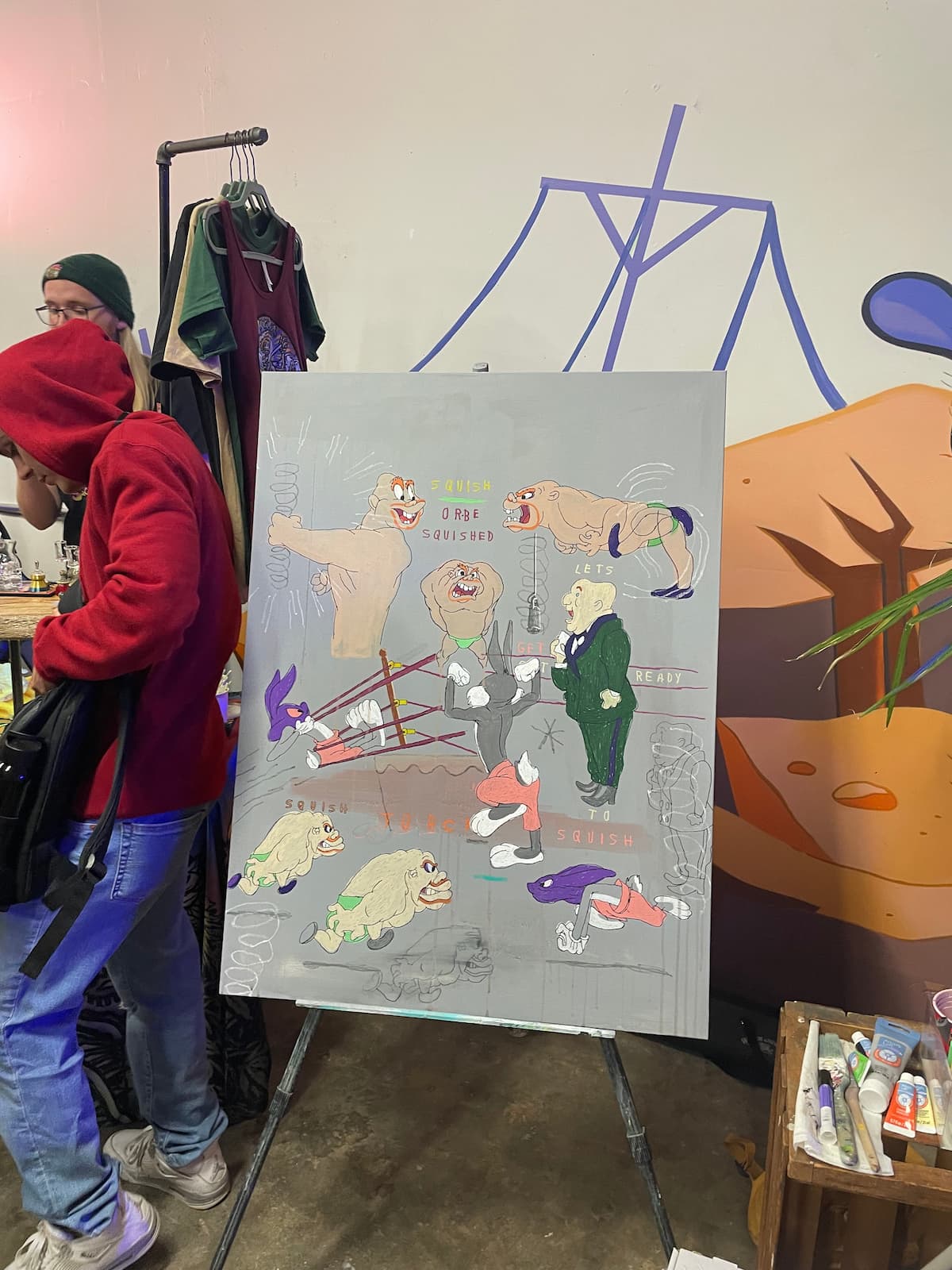 Being at Resinmania felt like being at a semi-professional match with all of your friends. Just like a person at a WWE event can start a chorus of nature boy's signature WOO! butane torches and staccato coughs created a call and response that echoed off the boards of the ring. Everywhere you looked people cheered and passed bangers, hash holes and e-rigs. The phrase I kept hearing from people was that they had no idea Real Deal had such a wide following. Meaning that the packed, sold-out crowd wasn't just the predictable scene of hash makers and heads in attendance but an elbow-to-elbow assortment of wrestling fans, weed smokers, brand devotees and even listeners of their podcast. Speaking of the Hot Dabs podcast, there was a special episode with WWE's The Godfather recorded during the show. A knock-down, no-holds-barred, caged torch match that showed the Godfather only making it to 750 degrees but seeking out the win on host Dustan thanks in part to an assist from an unexpected 100mg edible.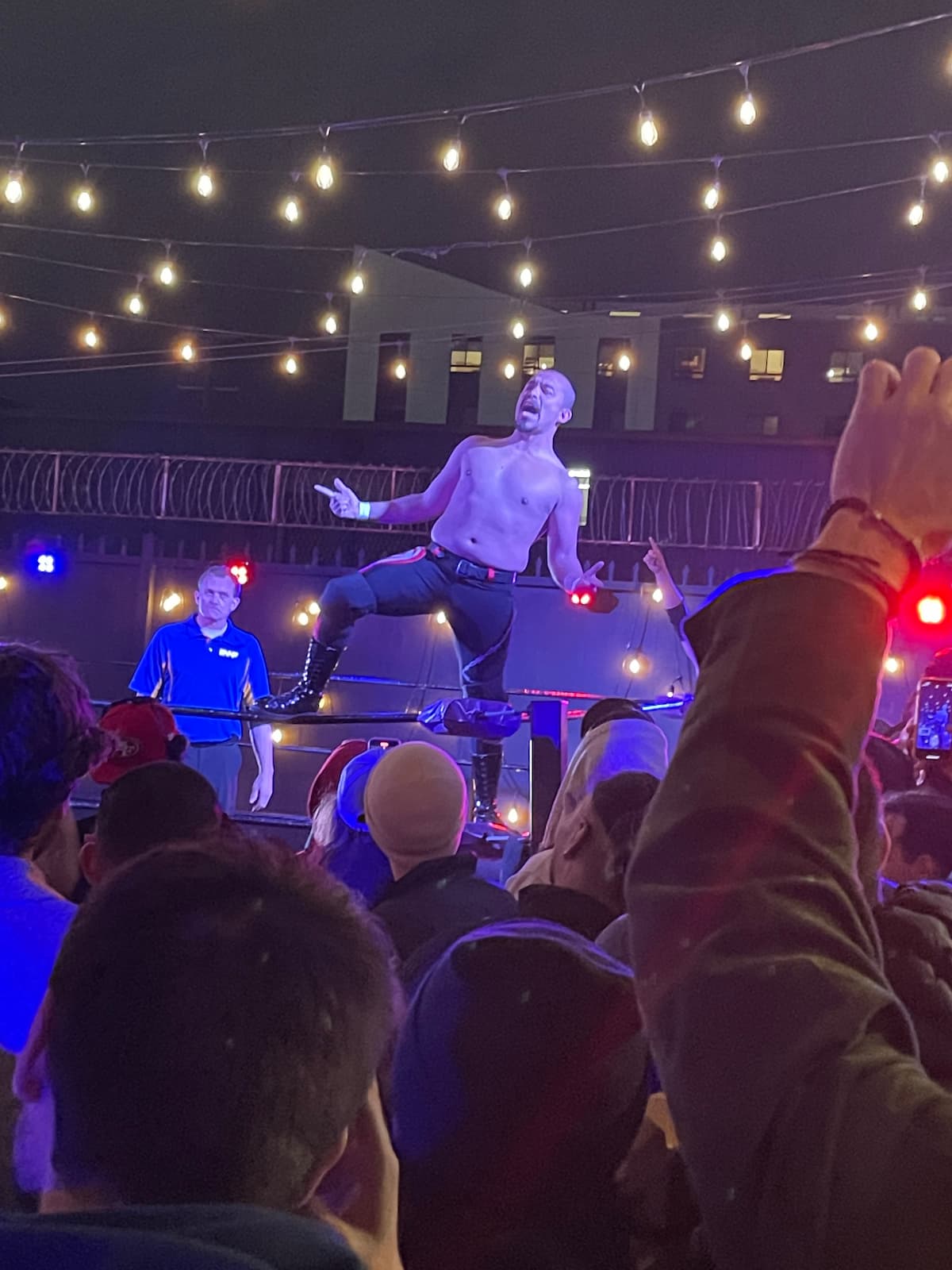 Fans at Resinmania we're excited to get their hands on some of the exclusive releases including the Valley Grove / High Grade Hash collab, Proswabs commemorative dunk tanks and a Swollen Heads / Guru Co. blend called Godfather's Big Boot" but it was the special Fidel's / Real Deal ring set that most people had come for. Inspired by the wrestling ring kids used to battle their action figures, each post contained a special hash hole that represented a cage match between Fidel's flower and Real Deal's hash (though in reality, it's actually you locked in there with them). Underneath, a secret drawer reveals a commemorative t-shirt, dab mat and vape pen, just to drop the whipped cream and cherry on the top. Adding this to his growing streak of collectible collaborations, Fidel's Shant Damidjian continues to show why he's stacking up to be the ultimate tag-team partner.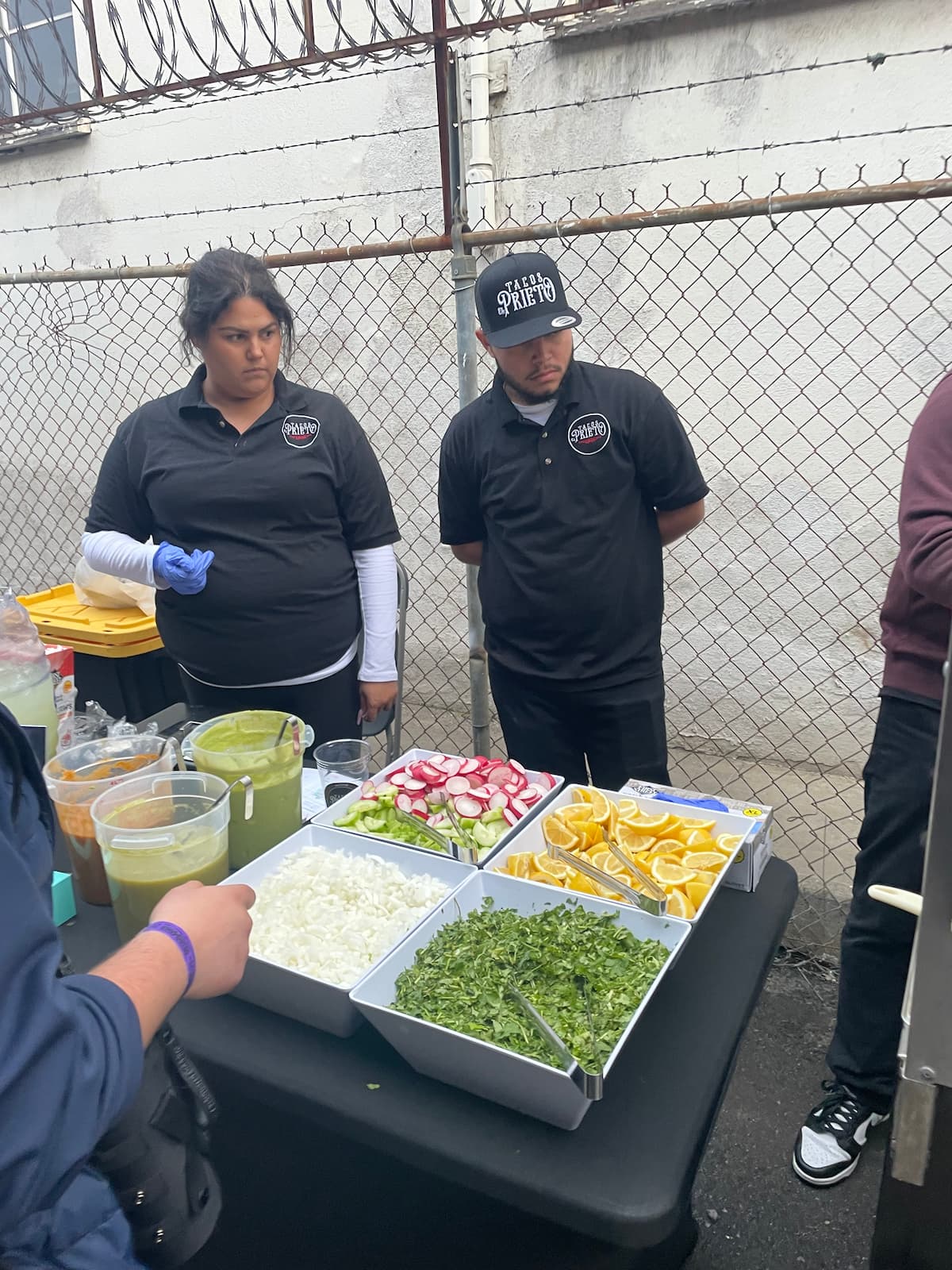 From the food stands to the merch booth, the lines were bumping. As the night went on, people stretched down the block and the venue hit its 450 person capacity. Some attendees had to be turned away and compensated afterward, (something Dustan and Sam have been overseeing personally) but honestly, that's not the worst problem to have. If anything, the worst problem was when two-bit wrestler Zicky Dice decided to steal all the VIP boxes, sparking a new and bitter rivalry with the Real Deal boys. Overall, the night was a complete success. From vendors, artists and attendees alike, the question on everyone's lips was when are we doing this again? The level of excitement just goes to show you that hash smokers might make up a small percentage of the recreational Cannabis consumer base, but their love for the sport and unbridled creative spirit can organize events that quickly become the envy of the neighborhood.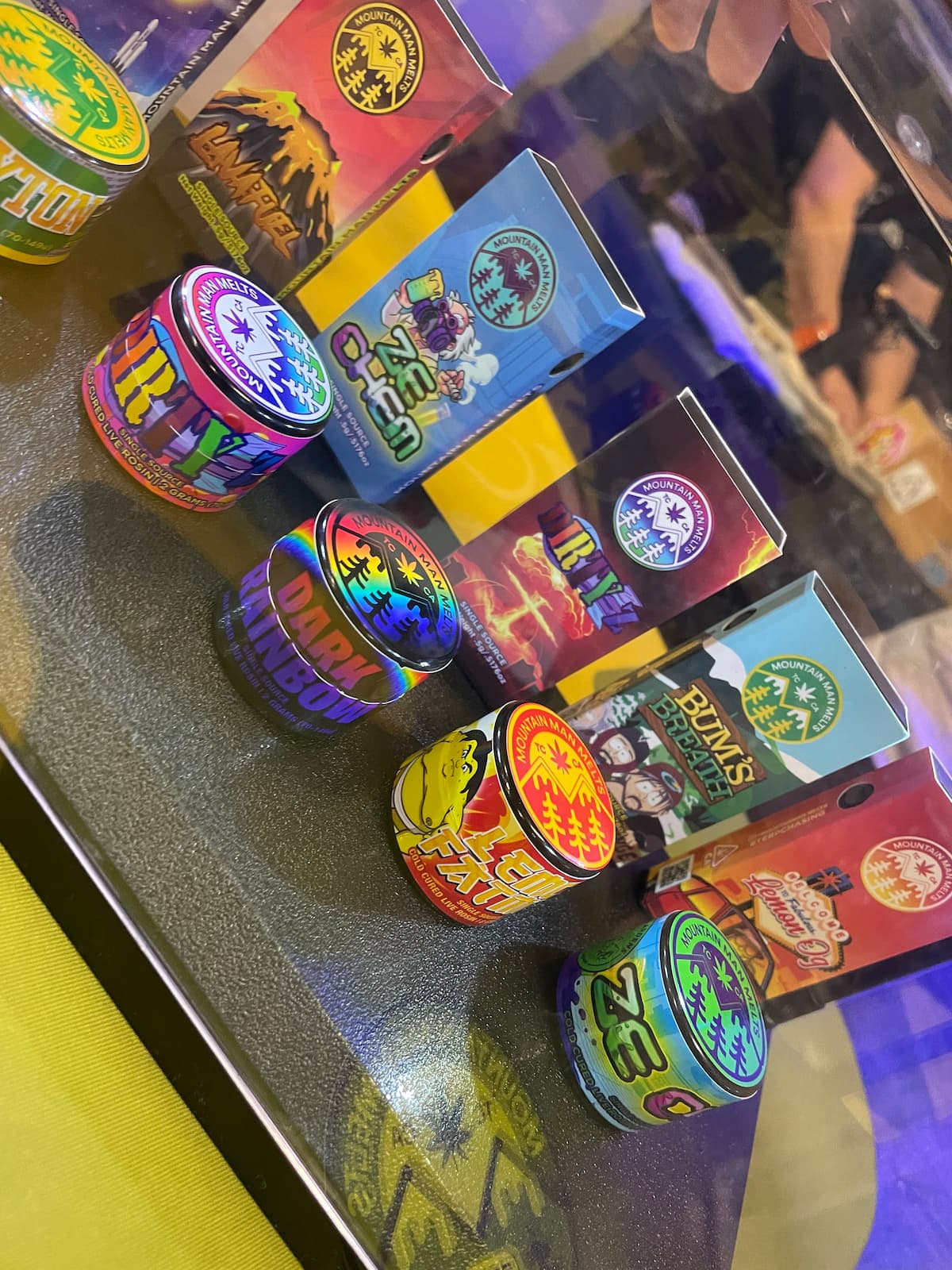 In Resinmania, King of Z Hill, Smoking Jacket and Masters of Rosin, we see the dab-centered event scene continuing to push the envelope and show how this crowd is getting a reputation for throwing the best parties.