Lately, I haven't been leaving the house without my handy CARTA 2 – an electronic rig from Focus V dreamt up to help hash heads "dab smarter." Seriously, I think I may use this device more than my own cell phone.
The thing absolutely rips – with a larger atomizer than the classic model and a 360° heating element for optimized airflow, they say "the CARTA hits hardaaa." Even with more power, the design is sleeker than ever before. She fits right in my car's cup holder or coat pocket and comes in an adorable mini backpack that is both portable and stylish.
Besides being thoughtfully crafted for on-the-go usage, the amount of personalization the CARTA 2 provides is perhaps its most significant differentiator. Some of my personal favorite features are the ability to upload custom screensavers and change the LED color to match my mood or the vibe of the sesh I'm at. Here at HQ, we obviously like to keep our device on-brand – glowing green with the lil' Leaf Nation logo as our screensaver.
A whole slew of more fire features certainly makes it easy to customize your own concentrates experience with the CARTA 2. Originally available in black and clear, Focus V recently dropped four fresh colorways: Grape, Midnight, Mint and Forest, as well as new Chromatix glass tops attachments and a limited run of custom branded Tuff Tethers with matching Zach Harrison carb caps.
An OLED display screen showcases all the quick stats you need to see and tactile buttons on the base make for quick time and temp adjustments in between hits or users, or even mid dab. If you want to go digital, there's the mobile app that makes it possible to fully control the device from your phone – changing the temperature or hit duration, saving color presets and LED light shows for different sesh vibes, or even heating up your dab – all from across the room and with the press of a button.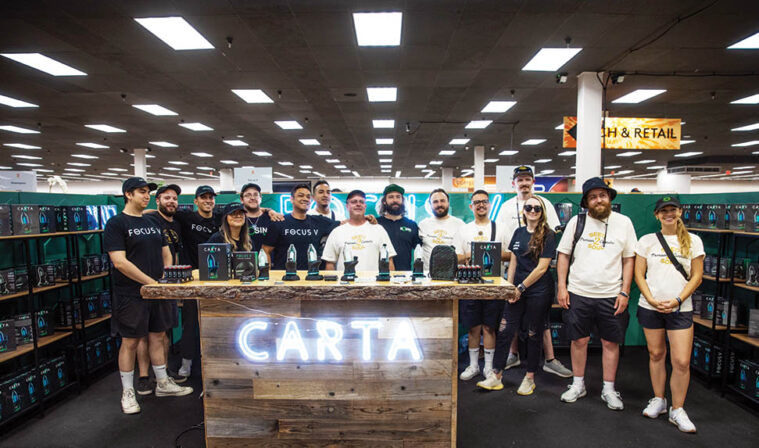 "We created the piece so that it could be yours," explains JR, the brand's Director of Product Development. "Choose your colorway, upload a custom screensaver, or mix and match accessories. We wanted to push the E-Rig space and innovate in personalization and individuality to help destigmatize dabbing. With our device, you can turn the LED light pink, put the temp down low, and heat up a dab for your grandma from your phone. It makes the whole process not only more personal, but more accessible to people who might not try dabbing off of a rig – which can seem scary with the torch, or overwhelming because it requires a lot of accessories and ongoing costs like filling up butane."
Beyond building a device that functions effortlessly and looks sexy doing it, I'm all about being part of the Focus family because I love what they're doing to bring the concentrates community together. The founders all have a legacy background in the Cannabis industry, currently operating with a "small but nimble" team that is incredibly passionate about hash, based out in LA with an East Coast hub in NYC as well.
Sam, the company's CEO, goes on to tell me how: "Eight years ago, I started Rosin Tech – one of the first companies to pioneer solventless hash extraction equipment. That evolved into Rosin Tech Labs, which is now one of the leading hash companies in California. We have always championed hash-making at all levels and continue to push this passion through our products like the CARTA 2 and the network of industry functions you can always find our team at."
The brand has been a part of international events from Spannabis in Barcelona to Hall of Flowers and Legends of Hashish in California, and collaborated with other industry leaders like Blazy Susan, Mystic Timber, and SakiBomb. A popping Discord channel creates a community for users to connect virtually, while tracking technology and social features through the app allow you to keep a count of device hits – and see how much your friends are seshing, too.
There's even an international leaderboard of app users where you can upload your dab count and become a world champion. Finally … someone has made smoking concentrates a sport. Thank you, team CARTA.