As the pandemic works its way into the rearview mirror, people have been hitting the road, hopping on planes, and booking vacations left and right. But what about bringing your trusty friend Cannabis? There isn't anything like getting your stoney on after a long day filled with adventures, but unfortunately, there is still no such thing as lighting one up in your hotel room. But … what if you could? Well, you can if you stay at a Cannabis-friendly vacation rental.
The TokinTree in Cave Junction
Your inner child will be jumping for joy when you see The TokinTree. This 1BR/1BA rental is located in Southern Oregon and can only be entered via bridge or ladder. Why? Well, because you will be sleeping in a treehouse, of course! "Cannatourism has gotten quite popular and treehouses are all the rage these days. We figured if we combined the two we couldn't go wrong. What better way to get 'high' than by going out on a limb?!" says host, Alex. Able to accommodate up to four guests, this quaint treehouse gives stoners a chance to smoke their trees IN a tree! And here's the bonus: A functioning Cannabis farm is at your fingertips with tours available during the growing season. Complimentary greens from their gardens will also be available for your bowl-loading pleasure.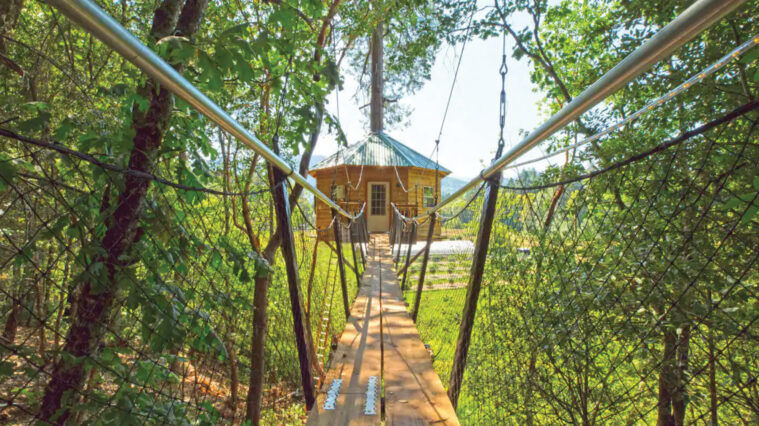 The Westside Bud 'n' Breakfast in Bend
You may have heard of one of Central Oregon's most prized dispensaries, Tokyo Starfish, but did you know that the second floor is a 2BR apartment ready for your next stoney vacation? This cozy Bud 'n' Breakfast comes complete with a complimentary gift card that can be used downstairs on any product that suits your fancy and a king-sized bed for the Cannabis coma you slip into afterward. "The apartment itself is an updated Westside cottage built in the early 1900s. Situated conveniently within walking distance to the Deschutes River, downtown Bend, the Old Mill District, Les Schwab Amphitheater, plus dozens of vibrant restaurants, coffee shops, and Market of Choice grocery store," says host, Jason. With the best of Bend right outside your door and a dispensary directly below, this Bud 'n' Breakfast is a stoner's dream come true.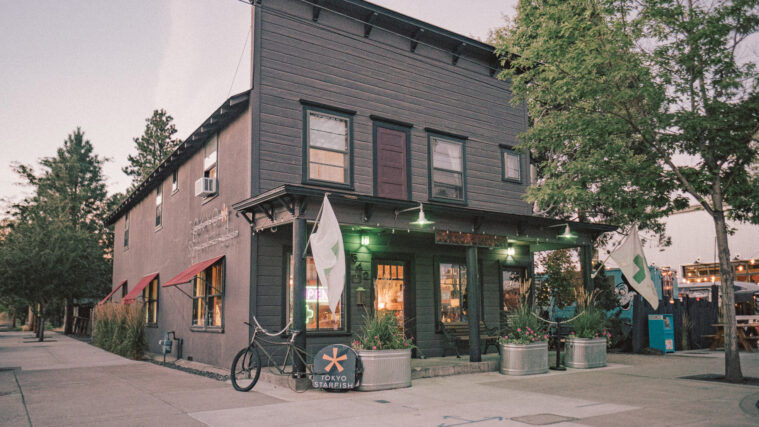 The Woodland Cottage in Jacksonville
About 25 minutes from Medford, the Woodland Cottage is perfect for a big group of stoners wanting to escape reality and dive into nature. Nothing like waking and baking to the freshest air you could breathe in Oregon. Enjoy outside consumption at this private retreat and explore the beautiful hikes, lush meadows and secluded orchard. The indoors provides a warm cabin feel with a large library to pick from before you lay in the hammock. Spark up, relax, and get in touch with Mother Nature in a cottage that feels like your own.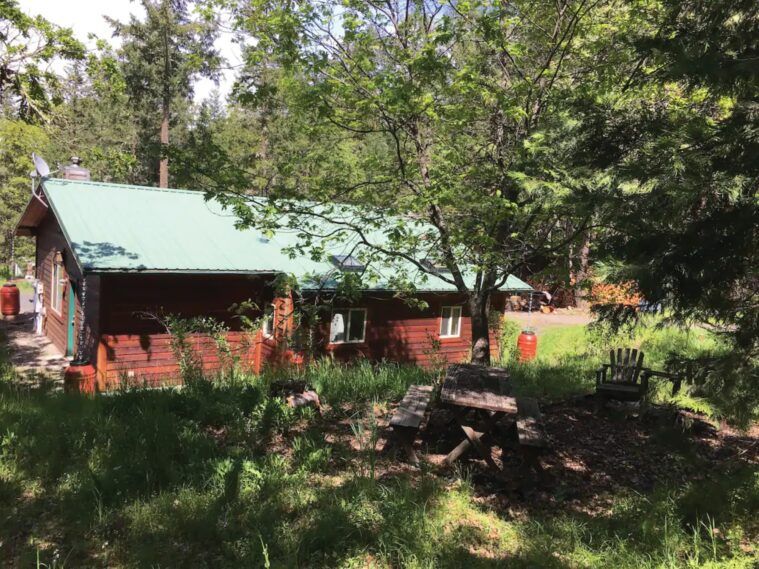 The Pyramid House in Yachats
This insane, 4-story secluded architectural oceanfront home has 3BD/2BA, can sleep five guests comfortably, and has the best views to get high to. There is loads to explore being so close to Cape Perpetua and Thor's Well. Don't forget that America's largest sea cave, Sea Lion Cave, is just a 10-minute drive away. "I am a holistic doctor, so my place is all about enhancing your healing process in ways one becomes more balanced. Come experience the magic of your being as you integrate with beautiful nature within this 5D, amazing stargate pyramid portal at the sea!" says host, Pamela. Enjoy a sandy walk on the ocean shore, cozy up on the top floor, or head to Yachats Cannabis Company for a curbside pickup then hit the sand dunes. The Pyramid House gives you all the beach vibes and is sure to give you the best high while gazing at the sun setting on the horizon.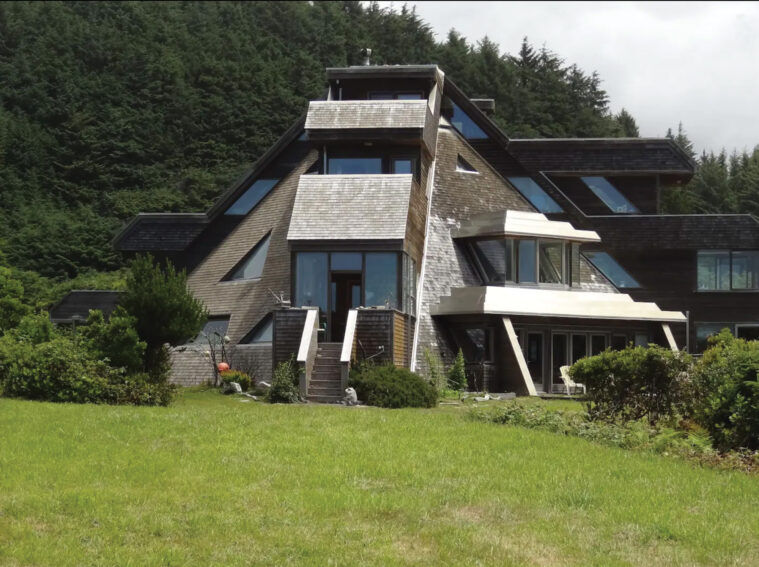 The Margaux Airstream in Portland
Looking for a LGBTQIA+ and Cannabis friendly stay? The Margaux Airstream, located in the Mt. Scott neighborhood, is a private trailer with a retro vibe and can house two guests. Tap into the nostalgia while staying in this refurbished 1969 Airstream that oozes comfort and fun. "As a host and also a frequent guest in Airbnbs, I've picked up on little details that make stays more memorable. Artistic touches, thoughtful amenities, and kind interactions with the host really make all the difference." says host, Kayla. "I love staying in unique spaces where the host has thought through my needs as a guest and made them accessible. The aesthetic is purely an expression of my own personal style." In the morning you can wake 'n' bake while walking to Heart Coffee Shop and at night you can smoke up and enjoy the hot tub on the property. Be prepared to be charmed and book another stay in the heart of PDX, because nothing is basic about sleeping in an Airstream.