The world of glass art has continued to evolve and grow in popularity as Cannabis legalization has swept across most of the nation. Artists from around the world have found unique lanes and levels of complexity within the glass art spectrum. Here, American made glass pipes range in price from the hundreds to the tens of thousands of dollars, truly entering the world of fine art.
Nathan Miers – better known as 'N8' – has positioned himself in the fine art category of functional glass art. N8 grew up in Washington state surrounded by creatives and he found Cannabis at an early age living on the West Coast. The community and friendships built through Cannabis happened quickly for N8. When he first tried Cannabis around his junior year in high school, Miers remembers getting the severe munchies and downing a whole bag of frozen strawberries, recalling the experience with a grin.
Nathan was an energetic kid and found that Cannabis helped to reduce his anxiety and allowed him to focus more, leading him to do well in school. He ended up going to college for graphic design, and actually began acquiring college credits while still in high school. Breaking the old school traditional Cannabis consumer stereotype, N8 went to college and that's where he acquired his first real piece of heady glass – when he ordered himself a custom pipe. Nathan remembered paying around $60 for the custom bowl and when he received it, he thought to himself, "This is cool, I think I can do this and bet I could do it even better." And so began the journey into his adventures in glass blowing.

N8 began blowing glass in 2002 after a local artist who had a garage studio setup asked him if he wanted to give it a try. He began to make pendants and small items, listening to electronic music and teaching himself to blow glass while the studio owner was on vacation. Around that time is also when N8 started to keep a journal of his future goals. He had an early desire to one day have a shared creative studio space with like-minded creatives.
That dream would later come to complete fruition in the form of the now legendary Everdream Studio in Evergreen, Colorado. Soon after, within six months of blowing glass, he decided to leave college and was working as a glass blower full-time, selling pipes to local shops. 2006 marked the time period where he became more interested in the heady market – marbles, jewelry and other things non-bong related that were made from glass. "Being creative was and still is the main goal," said Miers.

The ability to create and make a living as an artist was another early goal for Nathan that he has stayed true to during his career. In 2010, Miers decided to make the move from California to Colorado full-time to work at the Shackmansion in Denver. During this time he worked with now legendary artists and partners in Everdream Studio, including Adam G and others. 2010 was also the year he decided to devote his creative work exclusively to the space work and galaxy glass designs he had begun working on in Oregon. In addition, this is when he began to expand his thinking of what might be possible for a glass pipe, its acceptability to the mainstream and overall cultural acceptance. Instead of the glass pipe being a negative clandestine item, to N8 it was a beautiful piece of art meant to be shared, enjoyed and smoked. He remembers showing his grandmother one of his pipes, and even being a non-smoker, she immediately took to the artwork. It's a moment in N8's career he remembers fondly.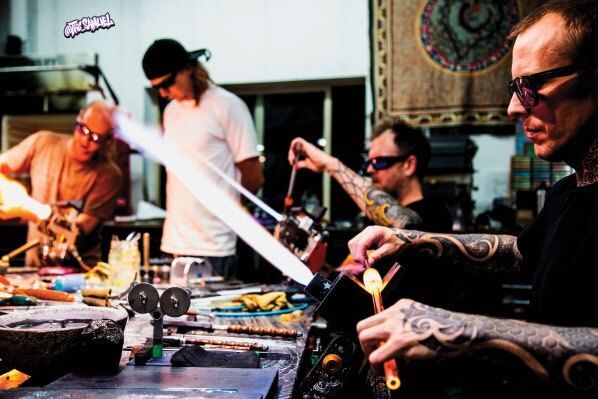 When asked about the current state of Cannabis legalization and its impact on the culture and community of glass art, N8 mentioned, "Legalization paved the way for the entire functional glass art community to come out of the shadows after Operation Pipedreams. Combine legalization with social media and it has allowed the community to flourish and advance at a much more rapid rate than ever before." N8 made the move to Colorado in 2010, and by 2015 he was well known across the country as one of the best glass artists in the world – making insane space scenes, taking his collectors on a deep voyage into his glass universe. When asked about how he views his own style and work, he mentioned, "I like to think of myself as a painter. Some glass artists create these complex sculptures, while I view my work as more of a canvas to create the depth and space scenes I include in my work".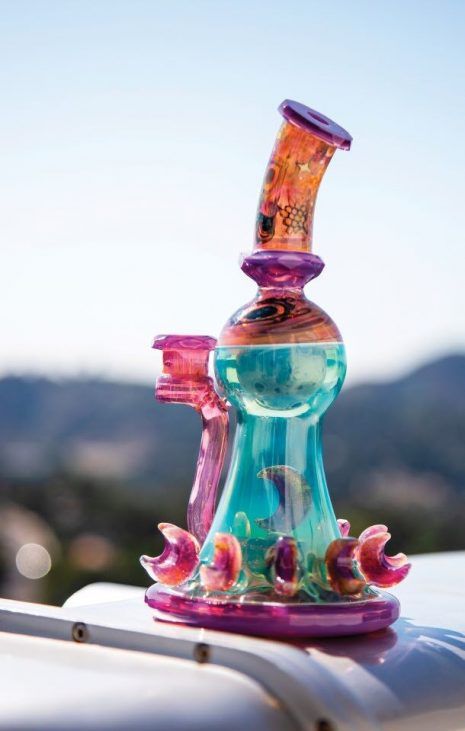 Miers made his first space pipe in 2006 in Oregon. Others had made spacey glass before, but in 2008 Miers – while looking over his outdoor grow in California – thought to himself after a day on the production grind, "I don't want to keep making what everyone else is making." He gazed up at the stars overlooking his California grow and remembered the space pipe in Oregon, and decided to start experimenting with his now world famous space techniques and IG murrine series. When it comes to remaining creative and finding new inspiration nearly 20 years into his glass blowing career, N8 mentioned, "I am constantly striving to evolve as an artist and as a craftsman. My brain is always seeking out new ways to creatively express myself by taking what has already been done and the resources available to create with, recognizing the existing parameters and running those variables through a constant 24/7 algorithm in my head."
N8 and the fellow artists that now operate Everdream Studio have become well known for throwing some of the largest and most elegant functional glass art shows in the world. The annually 'canceled' Wook Show, Heaterz and Heazter90210 that wrapped up last year in Beverly Hills are all examples of how the glass art community is thriving, with the artwork and attitude of Nathan Miers being a large part of that culture. N8 recently had a new showcase of work on the East Coast at the well known StokedCT Gallery in Connecticut, and will be having another major show in 2020 in California later this year.
Work by Nathan Miers can be seen on his Instagram at @Nathan_Miers and at various glass galleries across the country.