Yoshinori Kondo, known as Yoshi, grew up in the port city of Osaka, Japan before moving to Arizona for middle school at 15. By age 19, he was fleeing the states with two open warrants for his arrest – one for a car chase in Tucson after a paranoid mushroom trip comedown, and the other for a minor Cannabis possession charge along the highways of California.
At 48, Kondo is now one of the most beloved glass artists in America with a cult-like following for his pieces … all without having stepped foot on U.S. soil since 1997. But let's back up a bit, shall we?
It's 10:00 a.m. in Seattle when Kondo's face appears in a tiny box in the top corner of my phone screen. He looks a little sleepy, but after all, it is nearly 3:00 a.m. in Japan as we begin our FaceTime interview. "My life has been one crazy story. Like I've been in a movie," Kondo laughs as he reminisces on his unconventional journey back home to Japan – one that ultimately led him to the art of glassblowing.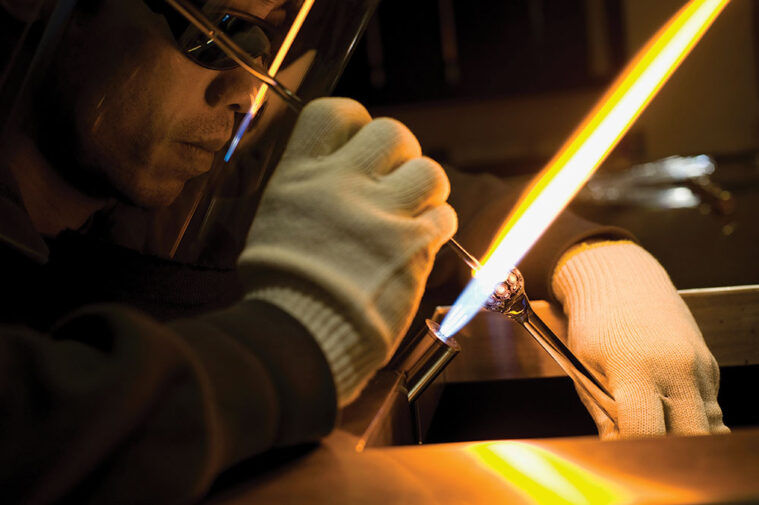 "I was so stupid and so young. After my arrests, I didn't want to go to jail. So instead of trying to fight at trial, I decided to pack up everything and take off," he tells us. Five years later, Kondo thought he'd try his luck at getting back into the U.S. through Washington D.C. by way of Amsterdam. Unfortunately, he didn't exactly fly under the radar.
"As soon as they scanned my passport, the flag went up and they handcuffed me. I stayed in jail for three nights, then went to court," recalls Kondo. "They let me out because I said I'd come to try to handle the cases and work with a lawyer. Instead, I left again. But getting off the airplane back in Amsterdam, two officers were already waiting for me."
After failed attempts to get into Amsterdam and then London, he decided to return to Japan voluntarily rather than be deported. By 2001, Kondo had a job at a clothing store in downtown Tokyo making handmade jewelry out of hemp rope. He was looking for something to put on the end of the ropes for decoration, and after noticing a guest artist in the shop selling pendants made with borosilicate glass, Kondo was inspired to try making his own.
He wanted to use boro, too – but lived in a small apartment in the city, which meant no way to handle that type of material and no space for the necessary equipment. Plus, Kondo didn't have the time or resources to learn from a professional and there was only one glassblowing studio around that cost nearly $3,000 for classes. Instead, he figured out how to make non-functional beads for his necklaces and chains out of soft glass on his kitchen grill.
Surprisingly, the makeshift grill setup was a success. Fast forward to 2008, and Kondo had made such a name for himself from his marbles that he was able to move to rural Chiba and expand his capabilities. Things were going well enough, but in his typical fashion, Kondo was itching for a greater adventure.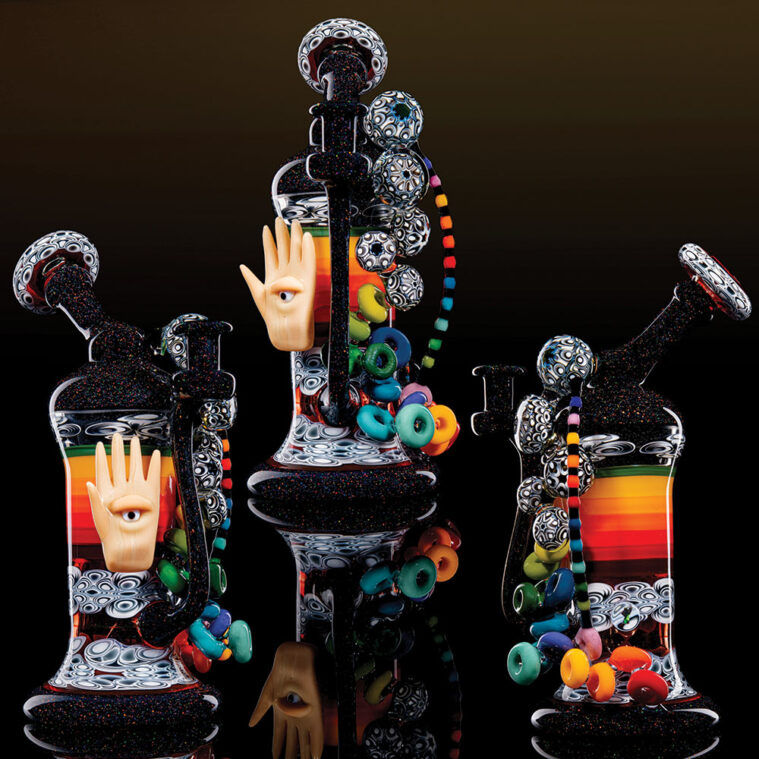 "I was actually able to make some money from selling the soft glass beads, so I could finally move to a spacious area and get my hands on blowing boro. But I wanted to be able to truly make a living off my art and show my work everywhere in the world," he explains. "I like to smoke weed, so I wanted to make more pipes and bongs. Unfortunately, the demand for that was not in Japan at all at that time." Between the limited local market for functional glass pieces and his inability to travel, Kondo knew one thing: He'd need to set up an international sales pipeline to take the next step as a glass artist. What he didn't know quite yet was how he would do it.
So, perhaps it was fate that led Kondo to participate in a show at You-Yuusya Gallery, where American marble master Josh Sable traveled to Japan for the event, stumbled upon his work, and knew there would be a market for it in the states. "Sable was truly my angel at that time. He helped me set up a network for overseas distribution, and that changed my life. Still even now, he is my top priority whenever he comes to Japan," Kondo says. And Sable certainly isn't the only one hopping on a plane to see Kondo these days.
Since that You-Yuusya show, his work has garnered the global recognition it deserves in exhibitions from Tokyo to Toronto and Vancouver to New York City. There are even dedicated trade groups and fan forums online, where heady collectors are willing to pay top prices for one of his elusive pieces. Even with thousands of miles of travel required, it's no wonder why a slew of highly sought-after artists have jumped at the chance to go to Japan and collaborate with Kondo.
"I can't even express how appreciative I am that there are American artists who want to come out here to work with me since I can't travel there," he expresses. When asked if he ever thought this could be his reality as a fugitive over 20 years ago, Kondo had this to say: "When I left Japan for Arizona, I never thought I'd come back home. But you never know what's going to happen in your life. I fucked up, and I cannot fix that, but I am happy now."