For glass aficionados, Toro has been a name that has been familiar for years, and that is certainly not changing anytime soon. Toro Glass was one of the first brands to truly make a name for themselves, becoming an internationally renowned company and innovating the way we all consume Cannabis. From Y2K on, collectors have been flocking to their local headshops for their shot at JP Toro's bongs and dab rigs – and Toro's latest creation, the Terp Slurper, has become one of the most sought after glass-related items this year. Here we find what gets JP's gears turning and what it takes to keep a machine like Toro Glass finely tuned and running clean.
Wendy, can you please give us an idea as to what it takes to keep a company like Toro highly functioning for the past 15+ years?
A lot of hard work, customer service, great employees and adaptability! We are a family-run business of 12 employees. Everyone who works here we hired through word of mouth and through a friend of a friend. There are a couple of married couples, along with some of their close relatives and family friends. We are so blessed to have the crew we have. Our families and children all grew up with each other, and we often even celebrate holidays together. Our bonds and respect for one another run deep. Luckily too, JP designed Toro as a 'classic.' As the industry ebbs and flows from flowers to hash, from titanium to domes to quartz, we are adaptable and luckily JP is always at the forefront.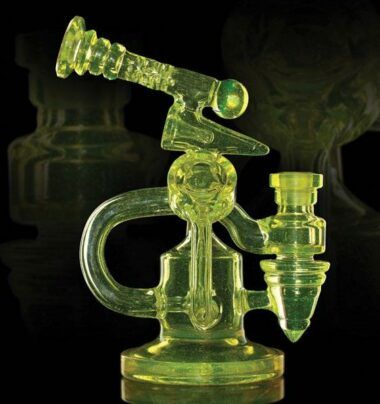 JP, what inspires you to create?
For function, the desire to make the ultimate hitting piece. For art, to keep trying to make a masterpiece that makes me happy. I am always trying to outdo myself. Definitely, I am my own worst critic and never satisfied, which keeps me going on and staying behind the torch every day – even after blowing glass for 22 years.
Where do your innovative ideas come from when designing new products?
Living life … it's random. I can be driving down the road and see a tractor-trailer with a certain color pattern on the side of the truck, which I may then incorporate into my next piece. I spent a lot of my younger years in downtown Philadelphia, where a crew of us designed and worked on comic books. I found that it allowed me to stretch my imagination because it is not the real world and anything is possible/doable.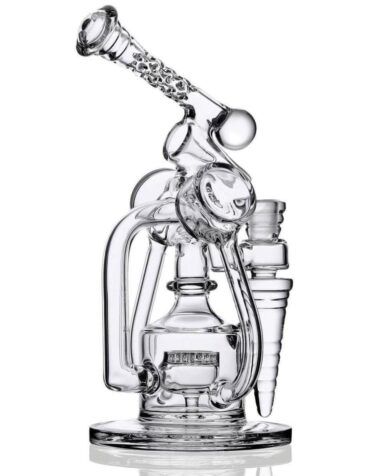 This world/realm taught me that there are no boundaries, even when it comes to glass. At first, when I started to create, people wondered what I was doing. Now today, a lot of the designs are industry standards and the building block behind so many pieces. Back at the beginning of this industry, there were tubes and hand and water pipes. When I first made 'micro' and 'macro' pieces, people were not sure what to think of these smaller styles of glass 'rigs' – and then when titanium was introduced onto them with glass domes in late 2006-2007, it was a serious issue and most stores thought I was nuts! They were scared to sell any sort of dabbing accessories – but time went on, people adapted to the change, and it all became industry standard. Mad props to Quave for bringing the quartz banger to the scene and increasing the dabbing experience by allowing for larger surface areas and cleaner dabbing all around.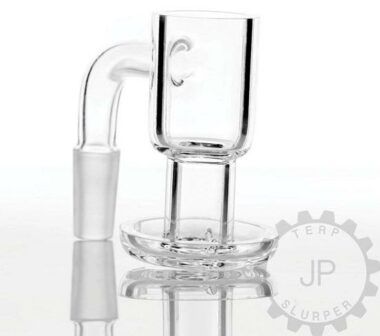 It wasn't until 2015 that I started to fuck with quartz, but I immediately became obsessed. In 2017, I remembered Bubble Man did some sort of burping terps for flavor, which got me thinking about how I could create a piece of quartz that caused terps to percolate. I closed my eyes and imagined percolation holes, and the hash bubbling and popping and creating flavor. It reminded me of slurping fine wine.
Through many different trials and errors, and R&D with a couple of my close boys, the Terp Slurper was created. It literally took almost three years for people to catch on, but today there is a super craze for the Slurpers and their function. Other innovations, such as the TempTech in 2018, which allowed people to dial in their dabbing temperatures, also helped the movement by not making it seem so intimidating to dial the Slurpers' temperature in.
Can you give us some insight on your rigorous process of Millie work?
My new favorite art form at the moment is Millie work. I did a bunch years ago, but then got so busy with Toro and life, that I had to put some of my own passions on the backburner. But pulling from my Philly years and animation experience, I have been creating a lot of original images and characters and incorporating them into my art in multiforms, from glass millefiore to fashion, to producing music. There is a story behind it all, but as with everything I have done thus far, it may take a minute for it all to make sense and come together. Hopefully, in this lifetime I am able to accomplish it, but ultimately, I am having a blast doing me for a change! It is hard to shake the 'production' stigma of Toro, but exciting to get to introduce myself in a different light that most people have not seen yet. Most importantly, experimenting, creating and designing for this newer body of work is what keeps me sane during these crazy times!