Sibelle and I met at a Cannabis industry event in Santa Rosa while I was working for a Humboldt County-based farm in mid-2019. When I saw her, I honestly couldn't take my eyes off her. She was the most badass woman I had seen all evening, effortlessly twisting tubes of glass in the darkness of the night. I could tell immediately by the beauty of her work and her skill in unexpected conditions that she was awe-inspiring, and I would have to share her story. Walking into her new studio I was greeted by the warm glow of the morning LA sun, as well as her personal art display featuring both sketches of Sailor Moon and other original characters, not to mention the glass creations made using her signature networking technique.
Congratulations on your new space! It's been a long time coming, yeah?
It has. Well, I've been working at Neptune Glassworks for the past five years. So, I've been doing production glassblowing there. It's right down the street from here, which kind of sealed us in, because there are a few studios on that block. It's safe over here, but I still have my distance and I can be a little bit more creative and allow my feminine energy to blossom. The space over there is so masculine, it's basically like walking into a Mad Max warehouse. Motorcycles, steel, wood, all heavy materials. Me being the only glassblower there for so long, I sort of adapted to the space. I've been in Uri's (her employer) footprint this whole time. He's been very generous in sharing his equipment with me and allowing me to grow within that space. It just got to a point now where my interests are too much. When clients come to see me, I want to be able to say, "Everything you see in here is my work," – and it's total ownership. I'm still over there three days a week, which is awesome. As much as I want to be fully on my own, financially it's a little bit difficult, especially in LA.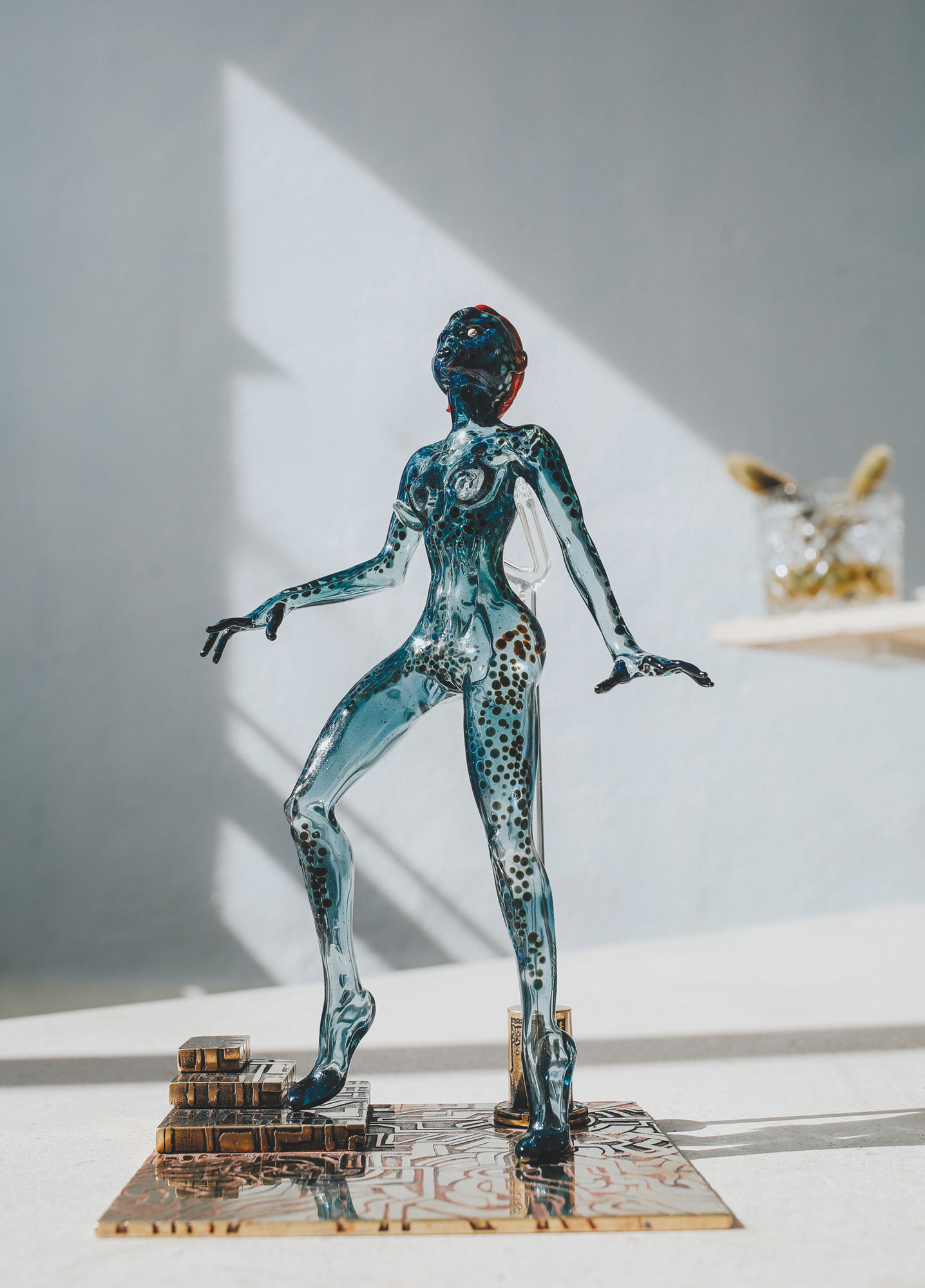 I want to be able to say, "Everything you see in here is my work," – and it's total ownership.

How did you get started in the industry?
I was a cashier at Pacific Art Glass after recently moving to LA. I knew I needed to meet glass people somehow, so I was handing my cards out to everyone. I had my studio set up in my bedroom at the time, with my box fan in the window (not recommended) and I was flameworking little jewelry. It was really crazy. Uri came in to buy glass and I gave him my card, and ended up checking out his studio. When I showed him how similar our work was, he realized he needed to hire me. He didn't know exactly what my experience levels were, but he knew I could do the networking technique. It was a risk to join the team, but I was like, "Yeah! Let's do it!"
So, with your degree in Illustration Design, it's safe to say you have a very strong background in art and creation. Was glass your first medium?
No. It's always by accident. I feel like I meet a lot of glassblowers who were pursuing one path and glass just came out and was like – pay attention to me now! For instance, Uri was in engineering before, and was feeling unsure about his path. Someone eventually invited him to help them blow glass. All of a sudden, his brain flipped and he had to do it. For myself, I just had to take a class in college that was outside of my major and it had to be an art class. I thought, "Oh, Glass Casting 101, it should be easy enough." The instructor who was teaching the class, Sayaka Suziki, eventually became my first mentor. She really pushed me hard, and I was really interested in investigating this material. I didn't start out blowing glass at all, the first couple years of my glass career were all sculptural casting. So I would just make molds, put cold glass in a mold, and melt it into the mold to be solid glass – strictly sculptural. It wasn't until within my degree, that I wanted to major in glass as well as illustration. I was lucky enough to take classes from some really amazing flameworkers, like Emilio Santini, who was an Italian maestro his last semester, and Christopher McElroy – who goes by 2-Stroke – who is a very big pipemaker. I didn't realize at the time how lucky I was to have these instructors. Virginia Commonwealth University doesn't even have a flameworking department anymore.
What was the big push for you to move into your own studio?
With the encouragement from social media, I have such a positive following and people are so welcoming. I've actually never felt any discrimination for being a woman in the industry. I don't know if it's because of my attitude or dedication, or that I just know how to deal with guys after being in this manly warehouse for five years. Who knows, but I also just don't think about it. I just want to put my shit on the walls or draw anime pictures. I just want to be alone and play. I missed the creativity. Here I have all my colors and my patterns. Now I can really make it personal.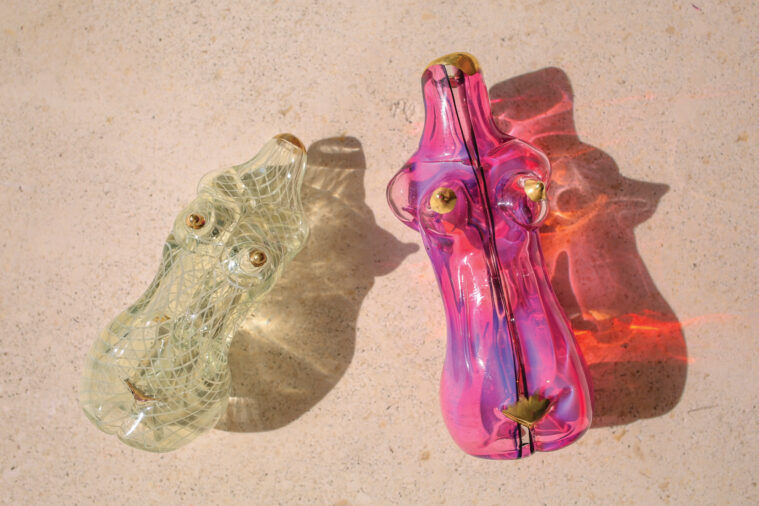 Do you make mostly functional pieces or do you still make jewelry?
I want to more! Because of necessity, people who hit me up want smoking goods, so I keep making those. But with more time and space, I want to make more prototypes.
When we met, you were doing a glassblowing performance – do you travel frequently to show off your skills?
I'm down to do it for whomever. I did a demo for the first year of Glass Vegas. We do demos at the big studio whenever we have parties. That trained me to not be afraid to perform in front of other people. In a way, [Neptune Glassworks] was sort of a big training camp for me. How heavy can you work, how much can you endure, how much pressure can you perform under? I'm super grateful for this whole experience. I'm taking everything that I learned from that and applying it to my own.
What is your biggest influence in terms of style or external sources of inspiration?
I gather my inspiration from fantasy, comic books, video games, and anime. Anything that's cute or ethereal. I vibe with ancient cultures and mythology. There are so many deities. I have such a huge library of inspiration. I made an Isis piece recently, as well as a Shiva pipe. All of my influencers are either other illustrators – James Jean is huge for me, [Alphonse] Mucha, and [Gustav] Klimt – or anything that's swirly and out of this world. This might seem a bit abstract, but I am very inspired by movement and intention. You might see this in anime – there's always this very fluid movement happening with characters. There's a lot of buildup in action and tension. It's the moment before the marble rolls off the table – the tension where it's not on one or the other surface. Embodying that feeling. I want to learn how to implement that into my work."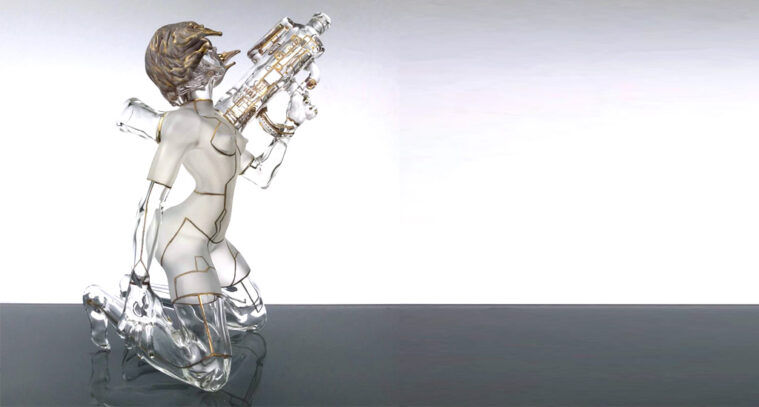 Do you ever come up with ideas for your art while you're high?
Totally! I don't smoke a lot, but when I do it's usually before bed. And also waking up in the morning. Well, I love working out while I'm high, or taking a shower when I'm high. And then I'll lay in bed and look through books, read comics, pet my cat. All of this together. Especially depending on the type of weed I'm smoking. I actually thrive on indicas, and I'll think about body movement a lot. Sometimes I'll get high and pull out the yoga mat, doing weird stretches. I'll try to learn poses that I see on Instagram – that's usually how I roll when I'm in the zone.
Is there a favorite piece that you've created?
Yes! It's a tiger and it has six boobs. It has a huge halo. I wanted to play with not just the female form – but wanted it to have that power of motherly, feminine energy. It's a sculpture. I wanted to make it like a deity, so it has the holy halo, and it's just epic. I put so much gold on it, she's mother goddess. That piece right now is my favorite. I would secretly be sad if someone bought it.
If you could collaborate with any glass artist, who would you choose right now?
It's so hard to pick! I really want to collaborate with this guy – he goes by Avatar (@avatarglass). I don't know if it's going to happen. I don't usually collaborate with other artists, but he is ridiculous in his skill level. He does this similar thing that I do. Building universes or worlds in this fantasy realm. I photoshopped one of my characters into a space-scape, and then I saw he photoshopped a spaceship that he made into space. I feel like it would be super cool.