It's autumn. As modern Oregonians, we know what lies ahead: bouts with seasonal depression and more existential dread. In an attempt to combat the aforementioned, we're arming our autumn arsenal with some uplifting strains and summer flavors – starting with this Strawberry Guava from Lifestyle Farms and Zen Extracts.
This strain can soften the roughest of days. It's like an alleviating salve on anxiety, bestowing a noticeable lift in spirit and retention of clarity that many sedative selections subdue. If you're looking for something to soothe your nerves, this cross of Strawberry Banana and Papaya just might be your ticket to serenity. Without further adieu, let us introduce October's triple-threat Concentrates of the Month – we told you we're stocking up!
Zen Extracts has delivered this delicious profile in three different forms. The first is offered as a live resin that comes in at around 6.5% terpene content, with limonene, linalool and β-myrcene topping the chart. It's a stable butter consistency with a bold butterscotch-yellow hue. The nose is slightly acidic and brings some very gentle pine undertones, but undoubtedly presents sweet fruity freshness.
Next up, the Zen Extracts' rosin pod: a palm-sized disposable device. It features a draw-activated heating system that appears to be regulated by the user's strength of inhalation. Short, soft hits seem to do the rosin most justice. While it does offer slightly less flavor than its non-pod form, it's an undeniably convenient and effective configuration.
Lastly – and in our case, most loved – we have the 90-120µ live rosin. This interpretation of Strawberry Guava offers the most enticing aroma of all three products. Its piquant profile possesses a similar quality to strawberries: decidedly sweet with an alluring after zest. Its consistency is not far from a flaky dough, with a light golden tinge. This rosin retains most of its sweetness during the dab, as the hashy flavor is delicate.
Overall, this Lifestyle Farms and Zen Extracts collaboration provides people with a well-rounded range of products – as well as an enlightening comparative experience for consumers seeking one cultivar in multiple forms, and a fine way to find some brightness when battling some seasonal blues.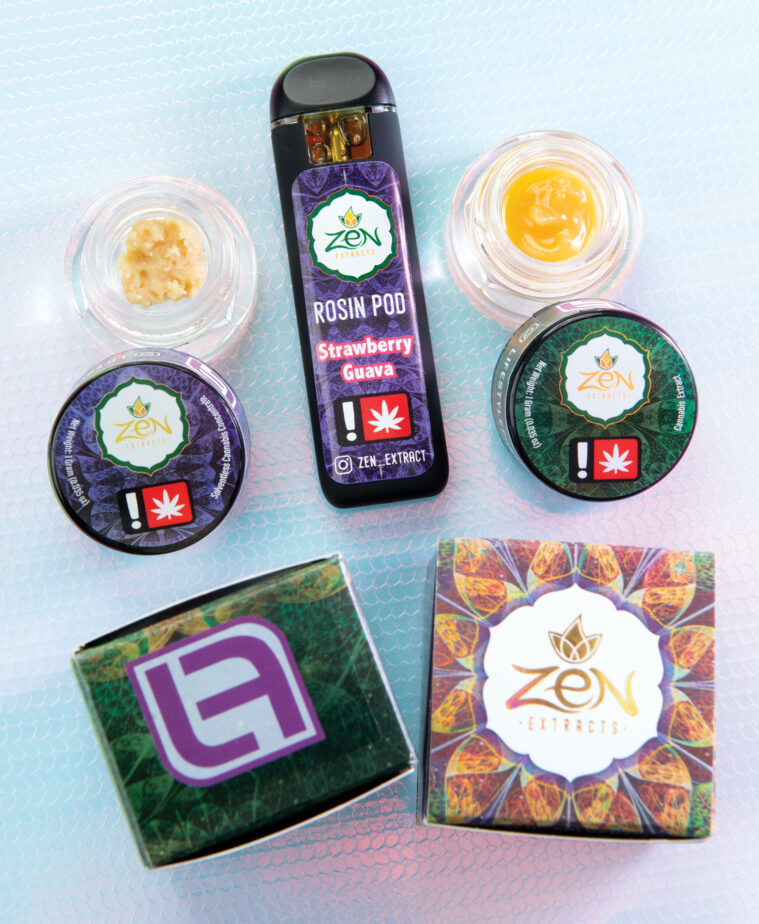 Testing:
Live Resin
Total Cannabinoids: 86.45%
THC: 73.03%
CBD: 0.21%
Terpenes: 6.581%
Rosin Pod and Live Rosin (90-120µ)
Total Cannabinoids: 81.17%
THC: 68.69%
CBD: 0.27% 
Terpenes: 4.19%
This article was originally published in the October 2021 issue of Oregon Leaf.
View our archive on issuu.