In the famous words of Pink Floyd, but rewritten for a modern application, we implore – "Come here dear reader, and have a Cannagar" – from local Cannabis enthusiast and Leaf Bowl Judge, Peter Vars.
Known for his beautiful apparel infused with bouquets of Cannabis, Vars was wearing a brimmed hat laced with fresh-cut Cannabis flowers – creating a weed-halo that was both beautiful and intoxicating. As a Cannabis artist, he's also been developing his cannagar skills, which he calls Cannahibas, and presented this ceremonial 'gar at the 2023 Alaska Leaf Bowl. Made from 22.3 grams of flower and infused with hash oil, the entire Cannahiba came sealed in a glass jar with wax – ready for a special moment to be sparked.
In honor of his craft and to share the knowledge of what goes into making a cannagar, we decided to make this unique roll our honorary Strain of the Month for The Psychedelic Issue of Alaska Leaf!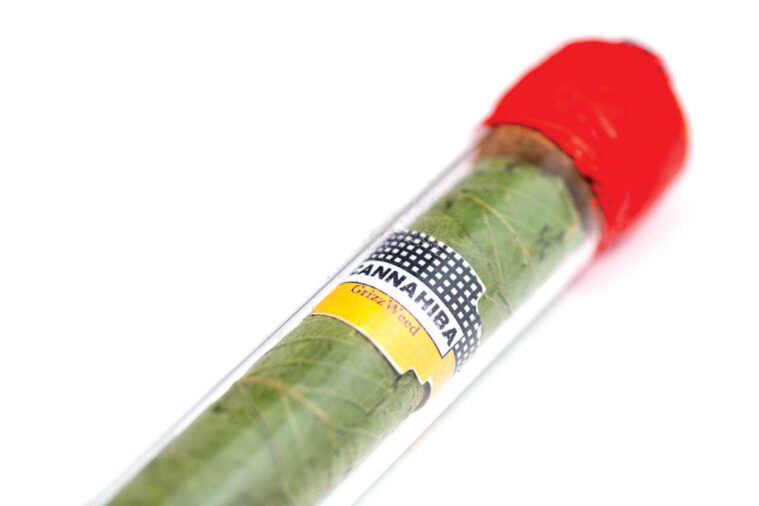 Cannagars are like the unicorns of the weed world. Often talked about but rarely seen, they are a whole plant product that smokes like nothing else on a dispensary shelf. What makes them unique is the rolling material, as well as the rolling and curing process. A cannagar is rolled in dried fan leaves from a Cannabis plant, so the quality of the grow is very important. You want as organic of methodology as possible, so that the leaf smokes clean and smooth. The fan leaves are layered and spread out, while a mixture of flower and hash are rolled into an incredibly dense and tight cylinder, often using a separate tool to create the shape.
Once the weed and hash has been rolled into the aforementioned tube (think of the weed inside a blunt or pre-roll, but not inside the paper yet), it's ready to make its home in the fan leaves. This is a very delicate process requiring skill and attention to detail. Once rolled and sealed using either concentrate or a smoke-friendly, organic adhesive, the cannagar must be cured so that the leaves are dry enough to smoke.
Lighting this Cannahiba required the use of a torch, with gentle application of flame to get the whole tip burning. Once lit, small repeated puffs are the ticket – releasing a thick cloud of smoke that tastes like a rainbow of terpenes and flavors. This Cannahiba was made using multiple strains of flower and oil, so the effects were mentally and physically powerful – verging on overwhelming. The smoking experience was also exceptional, reminiscent of a cigar, but much healthier and natural.
This article was originally published in the August 2023 issue of Alaska Leaf.
View our archive on issuu.