The Tannins
Great Notion Brewing
Tip Top of the Morning Sour Smoothie
6% ABV
greatnotion.com
Brewed by the legendary Great Notion, this breakfast-themed sour smoothie beer features a complete breakfast in a can – at least in flavors. Brewed with strawberries, bananas, granola, vanilla, and of course maple syrup, this is the adult version of a balanced start to a sesh. This beer does contain dairy, which makes it totally fine to consume before noon, right?
The Terpenes
Banana Runtz
Live Resin 74% THC 13% Terpenes
Flower 23.21% THC
(Solfire Gardens Cut, Banana OG X Runtz)
Grown/Processed by Plaid Jacket
Loud and funky, these gorgeous dark purple tinted nugs ooze a creamy-sour-banana aroma with a woodsy-fermented-fruit finish. The buds are dense and frosty and coated in trichomes, leaving fingers sticky before smoking. Tokes are spicy, creamy and immediately stoney after a clean exhale. Diving into the sweeter and creamier honey crystal brings a powerful mind-numbing, relaxed body, and a happy euphoria with a super smooth exhale for a perfect dab.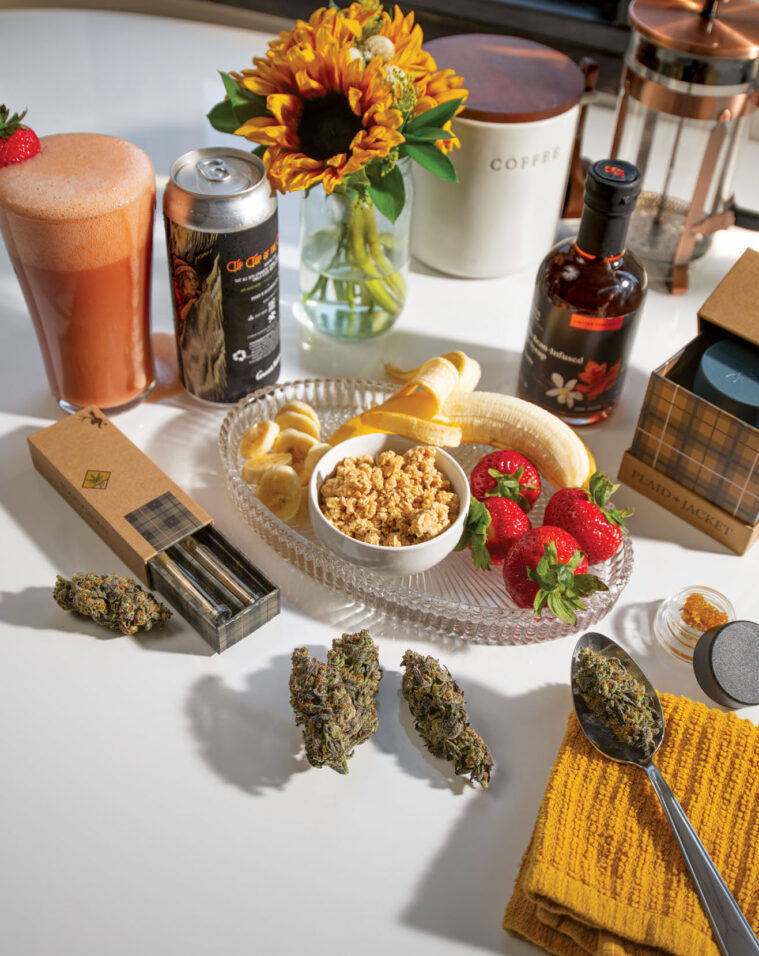 The Pairing
While both the Banana Runtz and the Top Top of the Morning have names that imply breakfast, this is definitely an early-afternoon treat versus a start-your-day buzz, mainly due to the heady stoniness from the weed. Spacey and relaxing for a midday stoney vibe, the cotton mouth that comes from a dab and a fat bong toke is refreshed perfectly by this beautiful colored smoothie. First tastes have a lovely thickness that's still big-sippable, with a fruity maple syrup leading the flavor before finishing with a sour-creamy-fruity-granola flourish. Satisfying like a full breakfast with a mellow alcohol buzz, this beer will fill you up for the floaty adventures that the stoney Banana Runtz has prepared the mind and body for – even if they don't lead you off the couch.
This article was originally published in the September 2022 issue of All Magazines.
View our archive on issuu.