The Tannins
Defiance Vineyard Petite Sirah
Paso Robles
defiancevineyard.com
Family-owned winery Defiance Vineyard has crafted bold-yet-balanced reds from robust varietals in the rolling hills of the pastoral Paso Robles countryside for the past decade. The Faulkner family's experience and passion for the craft shows through in their 2018 Petite Sirah, which offers a stellar expression of the fruit and the region's character. Rich, full-bodied notes of berry and dried tobacco rest atop a foundation laid by an assertive – but not aggressive – tannic backbone that lingers on the palate.
The Terpenes
Moon
Rocket Fudge Dark Chocolate Bar
100mg THC/bar | 10mg THC/serving
moonmegadose.com | @moonedibles
The unpretentious, playful branding behind the Moon line of chocolate bars says it all: These effective bars will take you to the moon. The Rocket Fudge Dark Chocolate bar breaks with a tantalizing snap and offers a slightly bitter cacao character with a subtle creamy sweetness. Each piece breaks the dosage up into 10mg chunks, so you know the drill … just be careful not to eat the whole thing.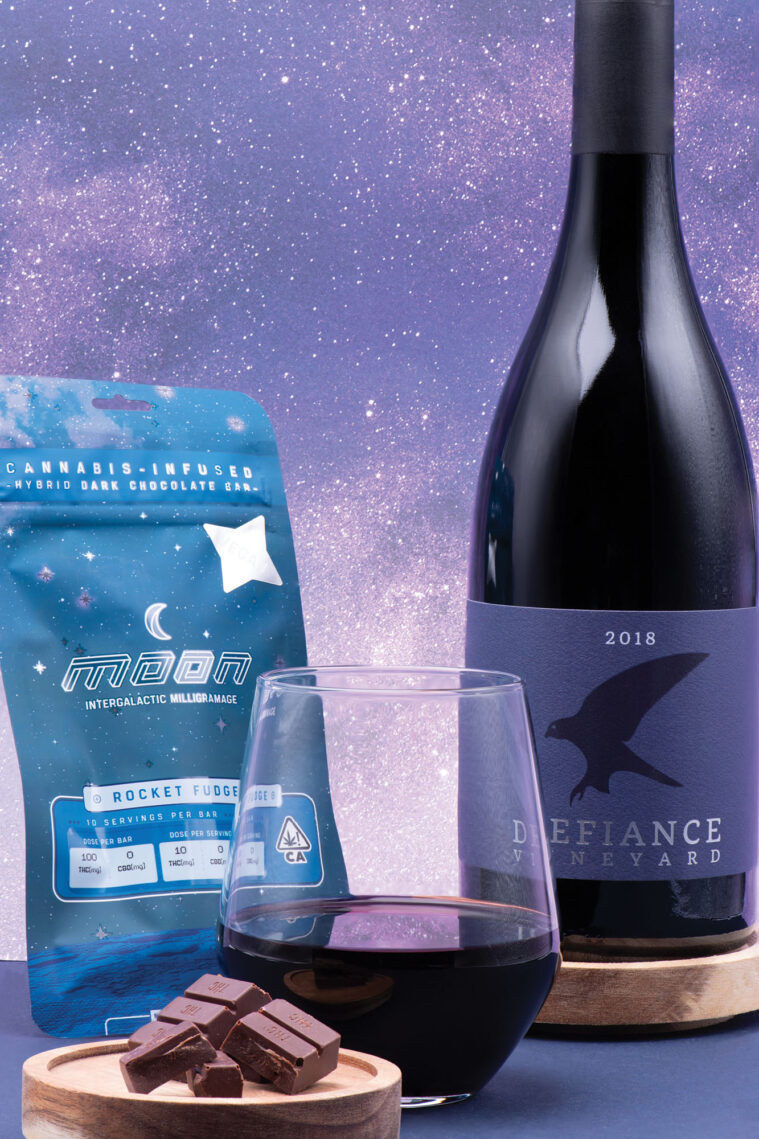 The Pairing
It's almost too easy, pairing dark chocolate with a bold red like Defiance Vineyard's Petite Sirah – but it's a cliche for a reason. Still, we couldn't help ourselves. The dark chocolate, dried berry, and chewy tobacco character of the wine melded perfectly with the rich fudge in the Moon Rocket Fudge bar. This would be a great pairing for a music festival at sunset, or an evening next to a lake – as the lights dim and the stars take the stage for their nightly performance.
This article was originally published in the September 2022 issue of All Magazines.
View our archive on issuu.