I am beyond grateful for having discovered the healing power of earth derived medicines at a young age. It's entirely possible I wouldn't be here today if the universe had lead me in a different direction.
Growing up in California's Bay Area in the '90s, Cannabis was available in abundance and if you knew where to look or who to ask, other substances weren't hard to obtain either. I first tried Cannabis around 16 and instantly recognized its ability to make me feel more comfortable in my pubescent and rapidly changing skin. Like many during this challenging period of life, I struggled with a feeling of extreme discomfort living in my own body, which manifested itself as depression.
At that age, I wanted to be a professional skateboarder and was pushing myself to my limits on the regular, sustaining frequent injuries as a result. I realized that I would heal much faster when I used Cannabis as part of my recovery regimen, and I became a believer in the plant's healing ways – knowing deep down that what I had been lead to believe about Cannabis was false.
I had only ever taken a very small amount of mushrooms a couple of times while partying as a teenager – very much for recreational use – before meeting a now ex-girlfriend at the age of 21 who opened my eyes to the power of the fungus. After splitting three-and-a-half grams made into tea, I felt "better" in a way that is hard to describe – like taking a weight vest off that you had forgotten you had on. I knew somewhere deep within me this was medicine and another substance I had been misled to believe wasn't good for me.
We would brew tea a couple times a year, always using between two and and five grams of Cubensis mushrooms. Because we were taking larger doses, these experiences were certainly what I would classify as "trips,"meaning they were intense, emotional, moving and certainly at times psychedelic. The resulting post-trip effects would last for months and felt like a mental breath of fresh air, leaving me feeling rejuvenated and thoroughly happy with a renewed lust for life.
I maintained my same source and relative frequency of consumption for several years, until I made a significant discovery.
Over the last five years, the culture around and mainstream acceptability of psychedelics and plant medicine had changed fairly drastically. More and more, I began to see articles and hear stories about techies at some of the largest companies in Silicon Valley microdosing psilocybin and LSD to operate at their fullest potential.  
This intrigued me. Then, one day, I happened upon one of these editorials and something clicked.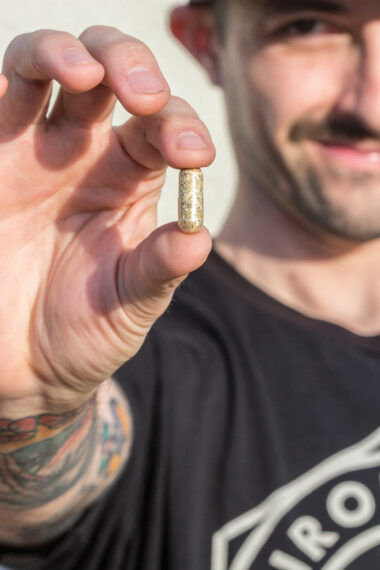 I realized that much like my evolution in understanding of Cannabis and how to use it, my approach with mushrooms was not wrong per se, but I could consume them differently to take better advantage of their benefits. So, at 29-years-old, I bought a new coffee grinder, a basic capsule-making machine and empty vegetable glycerin caps, and began teaching myself how to microdose psilocybin.
My goal was to harness the positive effects of the mushrooms without dealing with the somewhat negative side effects of having to go through a mildly hallucinogenic and moderately intense experience to do so. It took some dialing in to find my titrated dose, but what I discovered through the process was miraculous and freeing. In less than a year, that depression that had never really gone away and had been with me for the last 14-plus years simply fell away. It was like that little gray cloud that always put a damper on things dissipated, and I could feel the sun begin to shine brightly once again.
With knowledge comes power – and altering my delivery method and frequency ended up being a life-changing decision that has made all the difference for me.