Born February 6, 1945, in the small Jamaican village of Nine Mile, Robert Nesta Marley was the only child of Captain Norval Marley (a 60-year-old British plantation manager) and a 17-year-old Jamaican girl named Cedella Malcolm – who he reportedly seduced, impregnated, then largely abandoned. After Norval died in 1955, Cedella and her son moved in with her boyfriend Thaddeus Livingston and his son, in Kingston's notorious Trench Town tenement yard. There, tween-age Bob and his new stepbrother Neville (nicknamed "Bunny") started hanging with a local street gang called the Rude Boys, who nicknamed him "Tuff Gong" and turned them on to the hot new sound known as ska.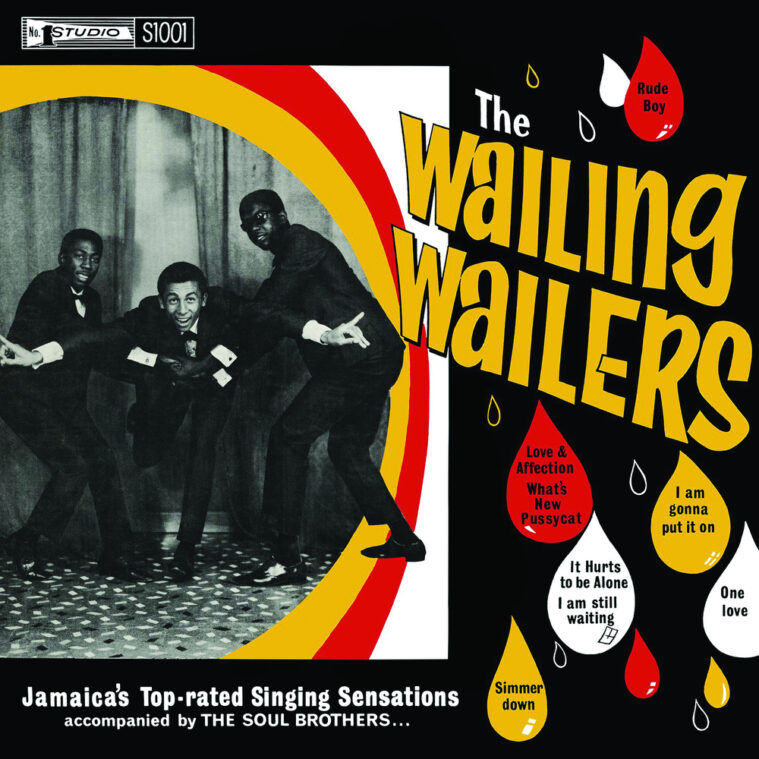 Around the age of 14, Marley dropped out of school to pursue his passion for music. He and Bunny started singing together and were soon taken under the wing of a famous Jamaican singer named Joseph Higgs. Later regarded as the "Godfather of Reggae," it was Higgs who taught the duo how to sing and play guitar, as well as introduced them to two pivotal figures in their lives: producer Clement "Coxsone" Dodd and a young guitarist known as Peter "Tosh" McIntosh. After numerous lineup and name changes, their group solidified as The Wailing Wailers – a vocal trio comprised of Marley, Livingston and Tosh. The group recorded over 70 songs for Dodd's Studio One label, which released their eponymous debut album in 1965.
It was during those sessions that Marley met his first love, Rita Anderson – a teenage mom who sang in a group called The Soulettes. The two were married in February 1966… but just days after the wedding, Bob left Jamaica to live with his mother in Wilmington, Delaware (where she'd moved four years earlier).
RASTAMAN VIBRATION
During Marley's absence, Ethiopian emperor Haile Selassie, who Rastafarians worshipped as the new messiah, famously visited Jamaica – inspiring a massive surge in the popularity of Rasta culture. By the time Bob returned to the island in early 1967, his wife and bandmates had all converted to Rastafari and he quickly followed suit – embracing the faith's rituals of growing the hair out into dreadlocks and smoking ganja as a sacrament. Under this new Rasta influence, the popular ska and "rocksteady" genres morphed into a mellower, more political musical style with an offbeat "riddim" known as reggae… and the clean-cut vocal trio transformed into the rebel rude boys we know today. Reflecting this rebirth, Bunny changed his last name to Wailer and the band shortened its name to The Wailers.
CATCH A FIRE
After a falling out with Dodd, the group teamed up with producer Lee "Scratch" Perry to produce two albums: "Soul Rebels" in 1970 and "Soul Revolution Part II" in 1971. Then in 1972, The Wailers hooked up with soul singer Johnny Nash for a European tour. But when the tour fizzled out and left them stranded in London, they decided to meet with Island Records founder Chris Blackwell, who sent them home with £4,000 to record a new album. The result was "Catch a Fire" – the first album produced under the band's new label Tuff Gong and their first with major label distribution. Released in April 1973, it was, according to one Rolling Stone article, "the first wholly formed, cohesive reggae album." The initial 20,000 pressings were cleverly designed to look and open like a Zippo lighter; after that, the cover featured a close-up of Bob smoking a huge joint.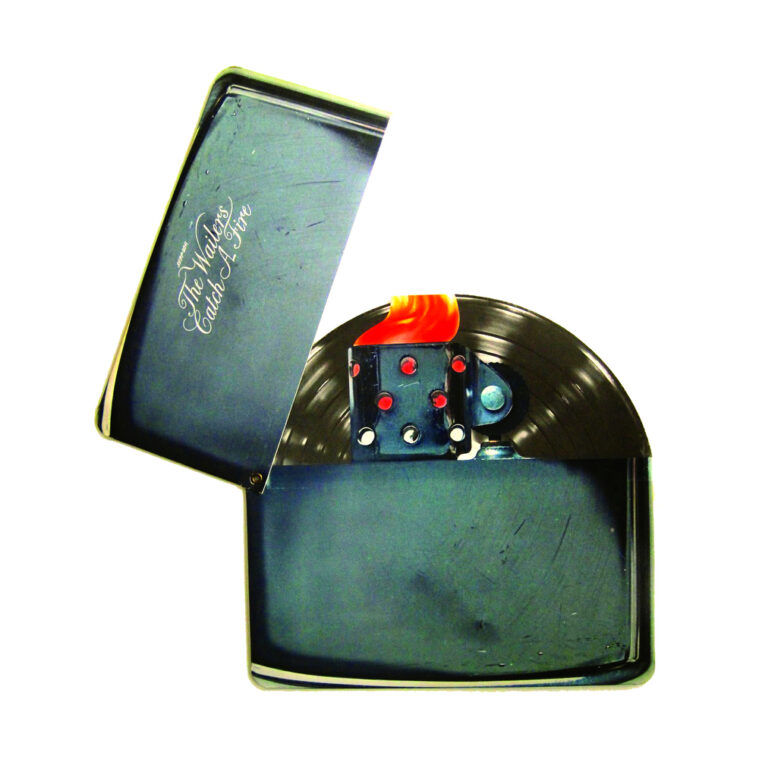 Their next album, "Burnin'" (released that October), eventually went gold – thanks in part to guitar god Eric Clapton, who helped put the band on the map in 1974 when his cover of "I Shot the Sherriff" hit number one. Despite the group's rising success, however, Bunny and Tosh were allegedly unhappy with Blackwell's commercial vision for the band and chose to leave the group later that year. Marley quickly assembled a new lineup, rebranded the group as Bob Marley and The Wailers, and powered on toward stardom – releasing "Natty Dread" in 1974, then "Rastaman Vibration" in 1976 (his first album to reach Billboard's Top 10 list).
EXCUSE ME WHILE I LIGHT MY SPLIFF
Exploding into the international spotlight, Marley was beset by the press, which predictably focused their questioning on his then-controversial religious beliefs and ganja habit (which was rumored to be up to a pound a week). In interview after interview, Bob blazed and praised the sacred herb (with a hard "h").
"Herb is the healin' of the nation," Marley preached in a 1975 Ann Arbor Sun article. "Everyone on earth is supposed to smoke herb. God created herb for man, mon… one's supposed to smoke herb freely and be free."
In July 1976, shortly after a show at LA's Roxy theater, Bob invited former Island Records publicity chief Jeff Walker and his wife Kim Gottlieb-Walker to his motel room in West Hollywood to do a photoshoot for his upcoming interview with High Times.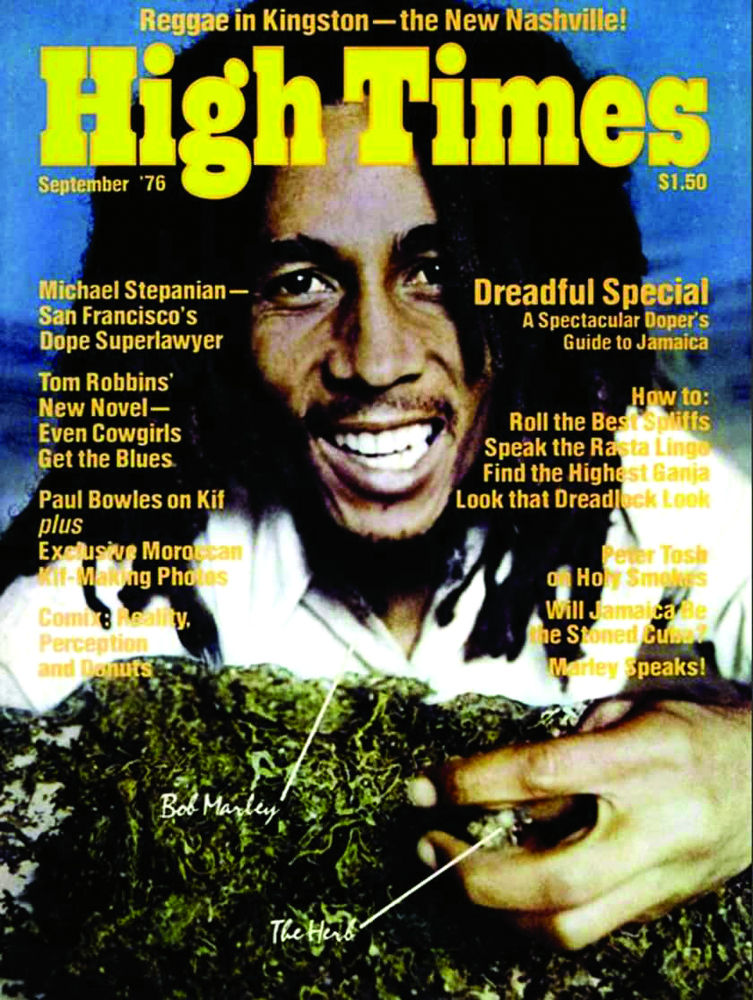 "Bob normally didn't like to pose for photos, but he was thrilled to pose for the cover of High Times," recalls Gottlieb-Walker, whose iconic images of Marley are compiled in the phenomenal photo book "Bob Marley and the Golden Age of Reggae." When the interview was published in the magazine's September 1976 issue, Marley became the first musical artist to ever be featured on the cover of High Times.
In 1978, The Wailers released their mellowest, stoniest album yet entitled "Kaya" (another nickname for ganja). In the album's first song, "Easy Skanking," Bob sings: "Excuse me while I light my spliff / Oh God I gotta take a lift." And in the title track he sings, "I'm so high, I even touch the sky… Got to have kaya now."
Though often difficult to understand due to his thick patois accent, Marley became the most open, unapologetic public advocate for Cannabis the music industry had ever seen.
"Herb is a sacrament," he explained in one famous 1979 New Zealand interview. "When you smoke herb, herb reveal yourself to you… because herb make you meditate. Man makes laws against it. But how is what is natural and made by God illegal?!? I think government action, that illegal."
ATTACK & ILLNESS
Eventually, though, some of Marley's political activism would come back to bite him. On December 3, 1976 – two days before he was set to perform at the Smile Jamaica concert organized by the People's National Party – seven gunmen hired by the rival Jamaican Labour Party shot up Marley's home/rehearsal studio at 56 Hope Road in Kingston (now the site of his museum), injuring him, Rita and his manager. Miraculously, no one was killed… but the incident spooked Marley enough that he fled to England, where he remained for nearly two years. While in self-imposed exile there, he recorded "Exodus" – an album that, over 20 years after its June 1977 release, would be named the best album of the 20th century by Time magazine.
That same year, Marley was diagnosed with a malignant melanoma in his toe. He refused doctors' recommendations to amputate on religious grounds; as a result, the cancer spread throughout his body – causing his health to severely deteriorate in the years that followed. Tragically, Bob Marley died on May 11, 1981, at Cedars of Lebanon Hospital in Miami while en route home to Jamaica. He was just 36 years old. After a state funeral attended by over 100,000 adoring fans, he was buried with his guitar – and a stalk of ganja – near his birthplace in Nine Mile.
THE LEGEND LIVES ON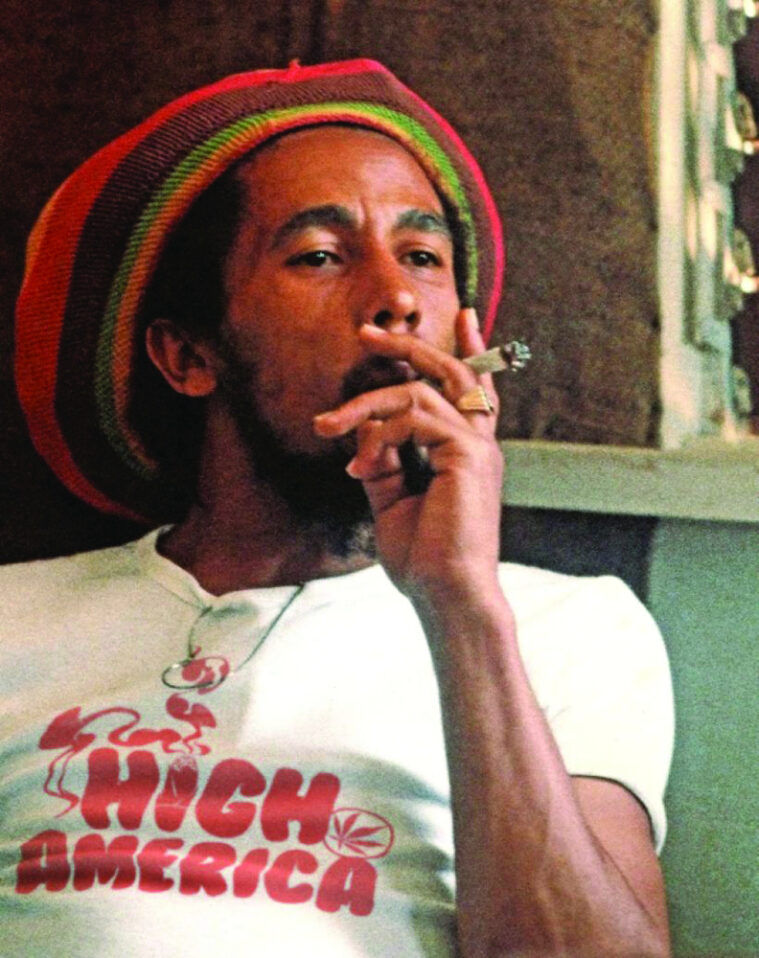 Since his passing, Marley's status as a cultural icon has only grown – through his music, which has transcended all barriers of race, religion and age to sell more than 50 million records worldwide; through his 11 children, who carry on his legacy; and through the Cannabis brand that now bears his name. He's ranked 11th on Rolling Stone's list of the 100 greatest musical artists of all time. Like John Lennon and Jerry Garcia, Bob Marley has surpassed mere rock stardom to become a living embodiment of peace, social justice, and the power of music to unite and elevate human consciousness across the globe. And, of course, one of the greatest ganja evangelists in history.