ORIGINS IN ALCOY
Humanity has been smoking herbs for millennia, but it wasn't until after Christopher Columbus brought tobacco home from the Americas in the 16th century that we began using rolled paper as a means to inhale.
"Columbus came back from the 'New World' to Spain with these kinds of rudimentary cigars wrapped in leaves and tied with string," explains rolling paper mogul and historian Josh Kesselman. "They land in Seville, and the process of people smoking cigars in Europe begins."
Though only aristocrats could afford cigars at the time, they'd often throw their butts away on the ground, where peasants would retrieve and re-roll the tobacco in used newspaper. This practice eventually made its way to the nearby town of Alcoy, where its future fate would take root.
"Alcoy is the true birthplace of rolling paper," asserts Kesselman.
Alcoy was founded in the 8th century by the Moors, who brought with them the art of papermaking they'd learned from the Chinese (as well as the Arabian Acacia gum that would later be used for the adhesive strips). In 1154, Alcoy became the first city in the region to manufacture "mould-made paper" – a machine-made paper renowned for its durability and surface texture – and over the next few centuries, established itself as the papermaking capital of Spain.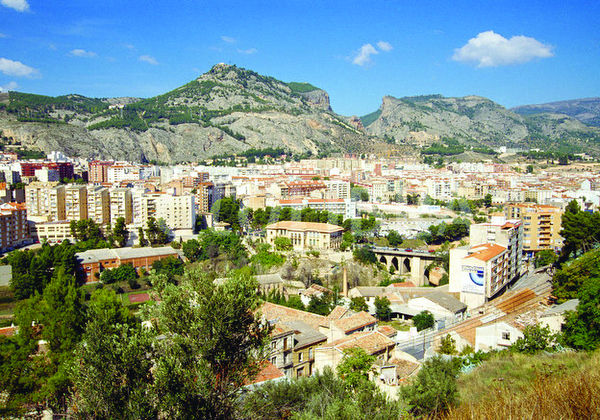 "The Alcoyanos take one look at those people smoking in newspaper and they know that's not healthy, so they decide to make a special paper just for smoking," says Kesselman. "That was really the world's first rolling paper."
It's believed that a form of rolling paper was made in Alcoy as early as the 1500s. Those early versions were made from the recycled pulp of hemp and other textiles, and were sold as giant sheets that needed to be folded into squares and cut. It wasn't until centuries later that they would be branded and take the forms we're familiar with today. In fact, the practice of pre-cutting and packaging papers in a protective booklet didn't come about until 1765, when it was introduced by a Dominican monk named Father Jaime Villanueva Estingo.
Remarkably, the first 10 trademarks ever filed in Spain were all for rolling papers; by 1850, there were around 50 brands registered. The first and oldest, continuously branded rolling paper company in existence is Pay-Pay (pronounced pie-pie), founded in 1703.
Another of Spain's earliest manufacturers that are still in business today is Bambu. The company's first factory opened in Alcoy in 1764, though originally it produced Bible paper. It wasn't until the rise in popularity of cigarettes during the mid-1800s that owner Rafael Abad Santonja switched to making rolling papers. The company premiered its trademark "The Winking Spaniard" design in 1876 but didn't officially establish the Bambu brand until 1907.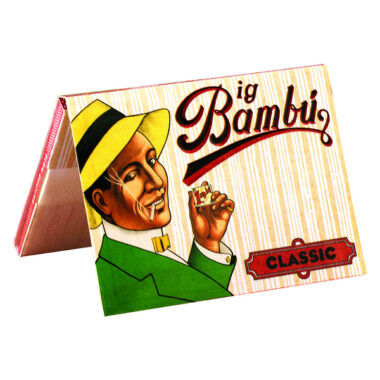 THE FRENCH CONNECTION
Though rolling papers were invented in Spain, it wasn't long before France got into the game. During the 16th century, French soldiers returning from Spain brought the habit of smoking rolled tobacco home with them (though it wasn't until 1830 that they began calling them "cigarettes.")
Legend has it that, after encountering such a soldier in 1532, an enterprising Frenchman named Alexandro Lacroix traded a bottle of Champagne for the cavalryman's rolling papers and began reproducing them for himself and his family. In 1736, his descendant François Lacroix began mass-producing them as the Lacroix Rolling Paper Company. It would be over 100 more years before the company would switch to rice paper and change its name: taking the French word for rice (riz), and abbreviating the family name Lacroix to La+ ("croix" is the French word for "cross"), becoming RizLa+.
In the 19th century, competition in the industry started to heat up. First, in 1822, two brothers – René and Guillaume Bolloré – opened a paper mill on the banks of the Odet River in the town of Cascadec to produce rolling papers, calling their company OCB ("O" for Odet, "C" for Cascadec, and "B" for Bolloré). Next came Jean Bardou, whose company trademark was his initials "JB" separated by a small diamond shape. But when people kept mistaking the diamond for an "O," he went with it and changed the company's name to JOB in 1849.
INDUSTRIAL INNOVATIONS
The next breakthrough in packaging was "interleaving" – the method whereby papers are inserted into the booklet in a criss-cross manner – so that each one readies the next when it's pulled out. Though Kesselman believes that the interleaving was actually created by Italian paper manufacturer Saul David Modiano years earlier, it was a Paris-based company that, in 1894, perfected and patented the horizontally-folded "z" shape method we're familiar with today. This innovation was so popular that it not only won them a gold medal at the 1900 Universal Exposition in Paris, it also convinced founders Maurice and Jacques Braunstein to rename their company after it: Zig-Zag.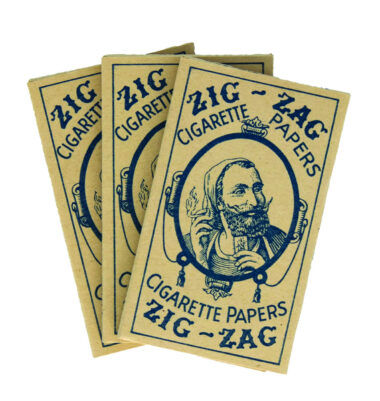 Like Bambu, Zig-Zag adopted their own marketing mascot in 1879: an illustration of a French infantryman called a "Zouave" who became known as the "Zig-Zag Man" aka "Captain Zig-Zag." According to their lore, the original Captain Zig-Zag's pipe was shattered during battle, forcing him to roll his tobacco in paper torn from a musket cartridge.
The new century brought with it other changes in the industry: Rizla's introduction of flavored papers in 1906, the creation of king-size papers, the formation of a rolling paper manufacturing consortium in Alcoy called Papeleras Reunitas in 1934, and changes in ownership for many of the most popular brands (including Rizla, Pay-Pay, Bambu, and others). But perhaps the most significant change in the 20th century would be the dramatic expansion of their customer base, thanks to a new demographic of smokers: potheads.
CANNABIS & THE COUNTERCULTURE
From the jazz age of the 1920s to the counterculture of the 1960s and '70s, marijuana's popularity skyrocketed throughout the century. More than mere consumers, though, the vipers, beatniks, and hippies embraced Cannabis smoking as part of their cultural identity, and rolling papers were included in that zeitgeist. Soon, the Zig-Zag Man was popping up on numerous counterculture posters and flyers – most famously in June 1966 – when underground artists Stanley Mouse and Alton Kelly used the image on a handbill for a pair of concerts by Big Brother and the Holding Company at San Francisco's Avalon Ballroom. (Twenty years later, hip-hop icon Dr. Dre would do something similar for his debut album "The Chronic.")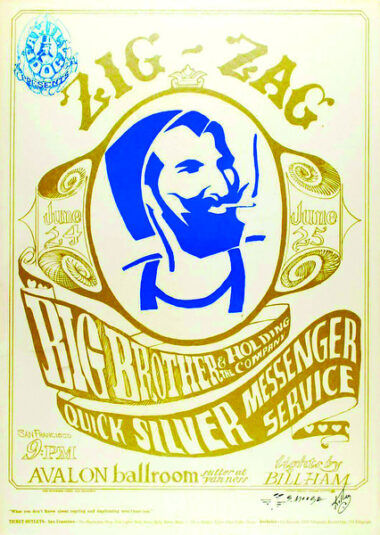 Another famous example of artists incorporating rolling paper logos into their projects were Cheech & Chong. The legendary comedy duo used Bambu's branding twice: first in 1972, for their album "Big Bambú," which looked like a Big Bambu pack and featured a giant mock rolling paper inside; then again in 1978, for their first film "Up in Smoke," whose promotional materials also utilized Bambu's branding.
One company that sprung out of Cannabis culture was E-Z Wider. Established in 1972, they were the first papers designed specifically for rolling weed, rather than tobacco. Founder Burton Rubin allegedly got the idea to create his "double-wide" papers in 1969 after watching some of his law school classmates connect two regular-sized papers to roll a larger joint.
PAST AND PRESENT
The past few decades have ushered in yet more innovations in this centuries-old industry: the addition of built-in wire roach clips and tear-off filter tips attached to the booklet; the creation of clear, cellulose papers, and even 24k gold leaf paper. But the most successful innovation of the modern era is undoubtedly the vegan, natural, organic, unbleached hemp papers and cones from Kesselman's flagship brand Raw – which, remarkably, are all produced using the traditional machinery and methods at the old Papeleras Reunitas factory in Spain.
History, it seems, is still alive and well in Alcoy.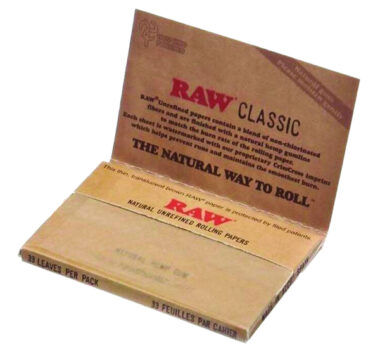 For more on this topic, listen to Episode #15 of our Cannthropology podcast at worldofcannabis.museum/podcast or wherever you get your podcasts.
---
(This content was originally published on worldofcannabis.museum and is reprinted with permission.)