Before the advent of the internet, there was only one place to find all of the stoner essentials: a headshop. From blacklight posters to bongs (excuse me…"water pipes"), records to roach clips, vibrators to vaporizers – the classic headshops were not only emporiums for all things sex, drugs and rock 'n' roll, they were also hubs where counterculture art, ideas, information and publications could be disseminated.
THE PSYCHEDELIC SHOP
The very first headshop in America opened its doors to the public on January 3, 1966 – in precisely the location you'd likely expect – at the center of the drug-fueled hippie revolution in San Francisco. Called the Psychedelic Shop, it was founded by Army Vet Ron Thelin and his brother Jay, who used $500 of savings to lease a storefront at 1535 Haight Street, then plastered the walls with burlap, mandalas and hallucinogenic art, stocked it with esoteric books, beaded jewelry, incense, pipes and other paraphernalia.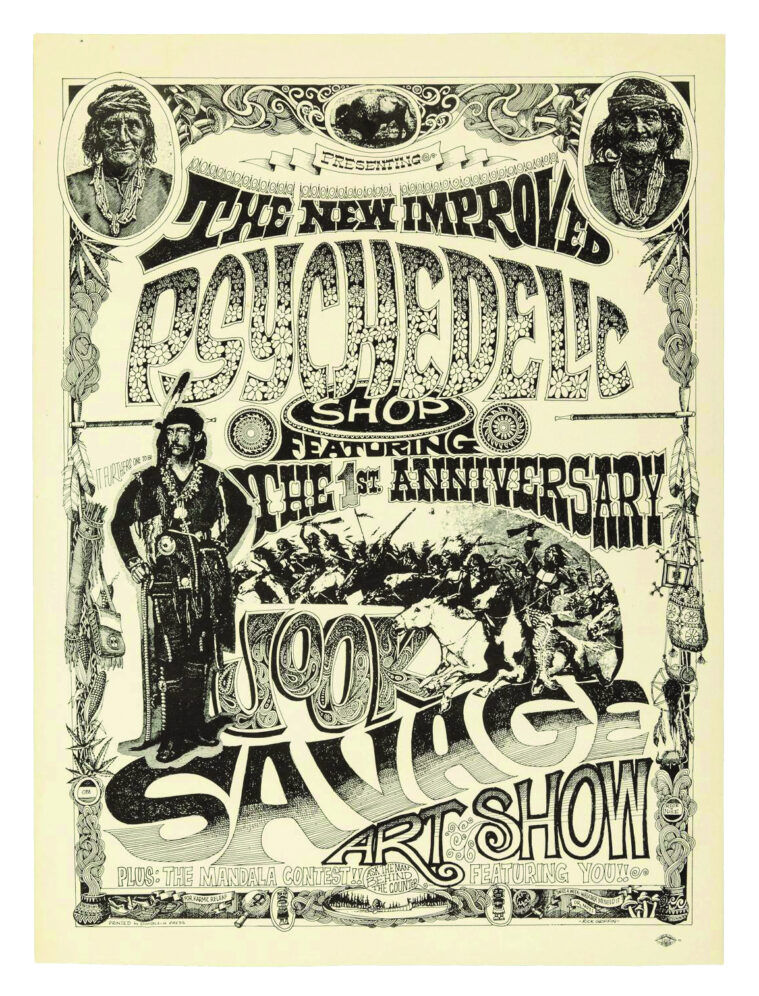 Almost immediately, the Psych Shop became a hub of the emerging hippie scene – selling tickets to concerts and other happenings, serving as a meeting place for the Diggers activist group and distributing underground literature. The Thelins even used some of the shop's revenue to start their own counterculture newspaper, which later became the San Francisco Oracle.
Predictably though, their establishment drew unwanted attention from law enforcement; that November, the SFPD vice squad raided the shop and arrested one of their employees for selling a copy of "The Love Book" (a compilation of graphic sexual and religious poetry) to an undercover officer – charging him and Ron Thelin with distribution of obscenity. Their subsequent court case became the longest-running criminal trial in San Francisco's history and a nationwide cause célèbre for freedom of speech.
Despite this setback, the shop continued to thrive throughout the Summer of Love… but by the fall of 1967, the crowds and commercialization had become too much for the Thelins. Believing the hippie ideal had gotten lost in the circus sideshow of sex, drugs and rock 'n' roll, they decided to close the Psychedelic Shop. On October 4-6, Thelin and the Diggers organized a "Death of the Hippies" happening – giving away everything in the shop, placing the store's sign in a casket and leading a symbolic funeral procession through The Haight. And just like that, after less than two years, America's first headshop was history.
VILLAGE VANGUARDS
While the Psychedelic Shop was the first ostensible headshop, it would be a similar store which opened four months later in New York that would give the new industry its name.
In May 1966, an ex-architect from the Bronx named Jeff Glick and his wife Betsy opened an alternative smokeshop on East Ninth Street in the Lower East Side called simply the Head Shop. Though Glick never officially explained the reason behind the name, common wisdom assumed that the word "Head" referred to the colloquial term for a drug enthusiast, such as a "pothead" or "acid head." Though there are a few other urban legends about the origin of the name, Glick's shop is, to my knowledge, the first official use of the term and therefore deserves the credit.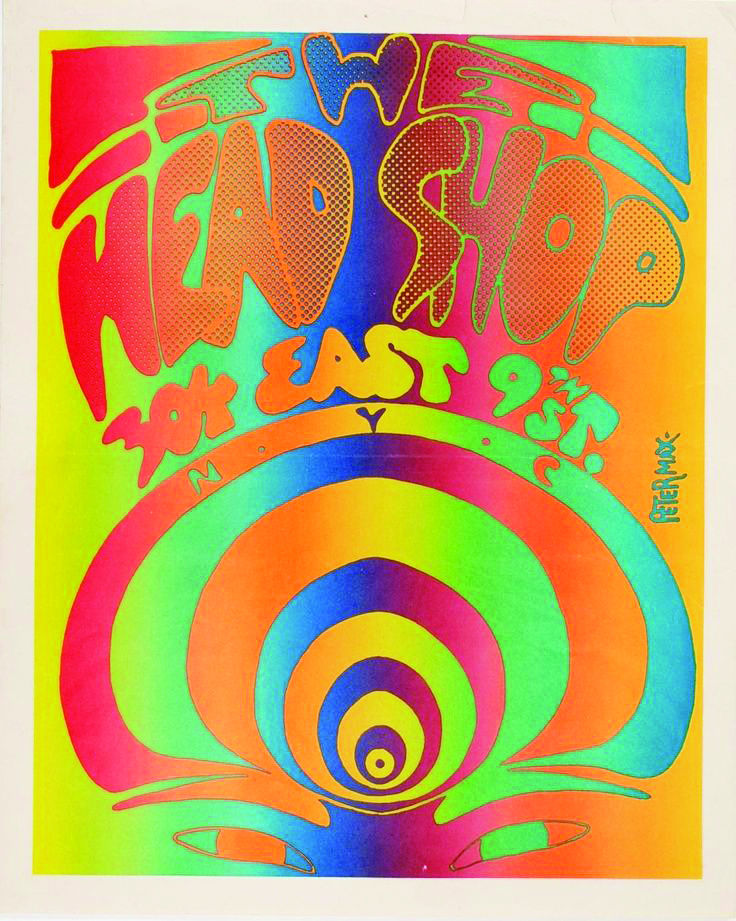 Glick's initial $500 investment soon blossomed into a $3,000-per-week revenue stream, allowing him to open a second location in the West Village. Before long, more headshops began sprouting up all around – most notably on St. Marks Place where smokeware artists and vendors began to line the street (and still do today), and on Avenue A where another infamous institution also opened its doors in 1966: Psychedelicatessen.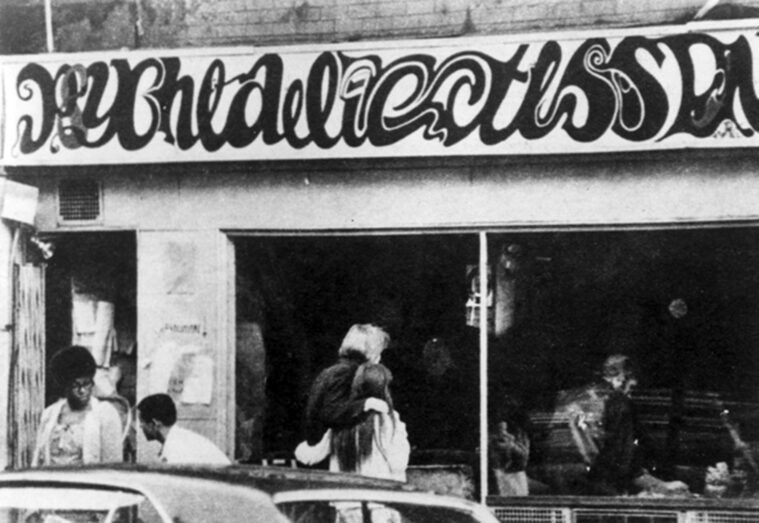 Like the Psych Shop in San Francisco, Psychedelicatessen served as a hippie hub in NYC. Located just up the block from Tompkins Square Park, it became a hot spot for all things underground, controversial and cool – luring in counterculture icons like Allen Ginsberg and Timothy Leary and even getting written up in the February 24, 1967 issue of Time magazine. But alas, like its SF counterpart, it was gone in less than two years. It seems that owners Rick Southworth Swede and his wife Susan (who were also the leaders of a psychedelic drug cult similar to the notorious Brotherhood of Eternal Love, called the Church of Mysterious Elation) were allegedly dealing drugs out of the shop. As a result, on June 22, 1968, Psychedelicatessen was raided by the Federal Bureau of Narcotics and permanently closed.
CAPTAIN ED'S
In 1967, smoking buddies Edwin Marsh Adair III and Bob Silverman rode from Venice Beach up to a little underground headshop on Van Nuys Boulevard to score a pack of rolling papers (which, in those days, weren't easy to find). While there, Silverman inquired about what it might cost to open a similar shop, to which the owner reportedly replied: "Why do you have to open one? This one's for sale." Well, the two friends did just that – they bought the shop and renamed it Heads & Highs.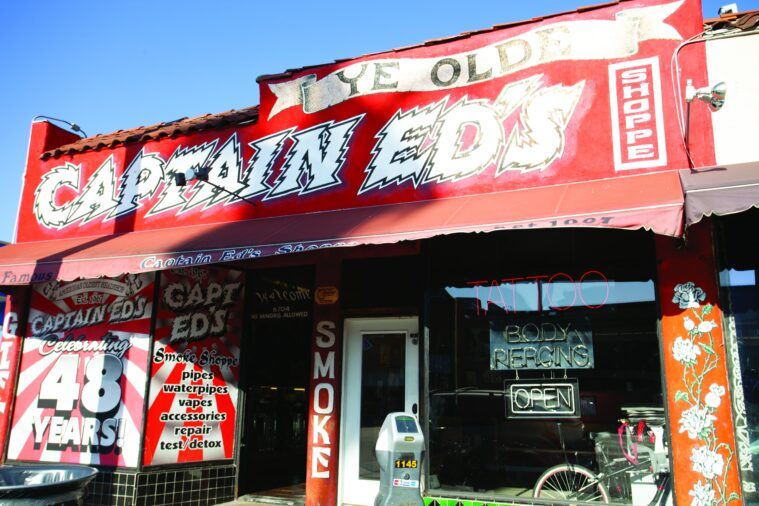 Thanks to Silverman's business acumen and Adair's welcoming personality, the store became a huge success and by 1969 they'd opened a second location in Reseda. In fact, Adair was so adored by his patrons that they gave him the nickname "Captain Ed" (a reference to the Walt Whitman poem "O Captain! My Captain!"). One such customer was a veteran around Adair's age named Jack who had only recently gotten high for the first time, so Adair took him under his wing – encouraging him to seek out as much information on Cannabis as he could. Jack embraced his mentor's imperative, gradually compiling all the historical information he collected into a definitive Cannabis reference book. That book was "The Emperor Wears No Clothes," and that vet was Jack Herer.
Herer went on to become a headshop owner himself, opening High Country in Venice Beach in 1973. A decade later, he became the first proprietor in the Valley convicted under state law for selling drug paraphernalia. After a brief stint in jail, Herer moved up to Portland and opened another headshop called The Third Eye.
Like Jack, Adair faced his own legal worries with Heads & Highs. Under the Reagan Administration's hardline drug policies, the Feds targeted the shop over its name, which they insisted implied illicit drug use. Under legal pressure, they renamed the store Captain Ed's Smoke Shoppe. Despite having to change its name, being busted and having its inventory seized multiple times, and the eventual death of its founders in the 1990s, this legendary shop has managed to survive. In 2017, Captain Ed's celebrated its 50th anniversary and is now the oldest continuously operating headshop in America.
EAST WEST
Captain Ed's might be the longest operating headshop on the West Coast, but back East that distinction falls to an eccentric little "rock 'n' roll superstore" in Union City, New Jersey called East/West Novelty.
After being turned on to weed by his Army sergeant in Vietnam, Cuban-American Veteran Alex Savino returned to New Jersey and began working at a headshop in the West Village called the Thieves Market. Tired of commuting, he eventually decided to open his own shop closer to home.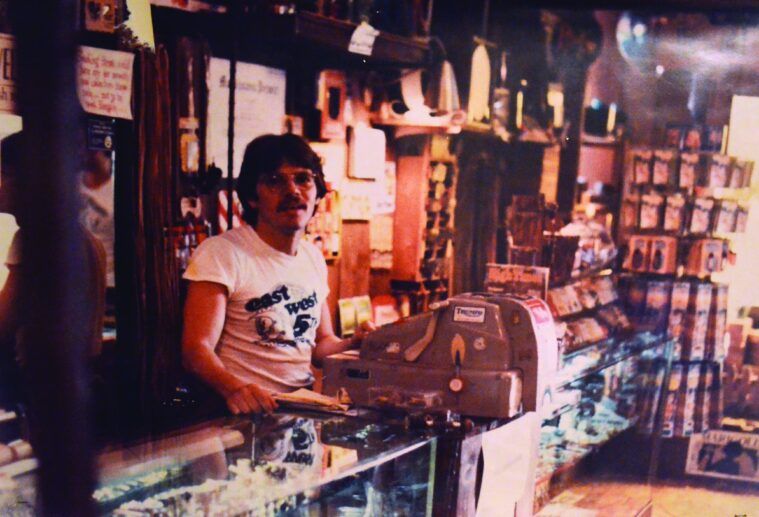 "I opened it so that people like me didn't have to travel into NYC," he explains. "There was no headshop in New Jersey yet… the Village was really the only place that had anything at all."
With just $900 startup money, Savino opened the shop in 1971 and began selling posters, lights, t-shirts, records and smokeware. He named it East/West, after his favorite album by the Paul Butterfield Blues Band. Initially, the shop was only pulling in less than $50 a day… but that changed drastically, Savino claims, once High Times hit the scene.
"When High Times came out in 1974-75, that was the explosion," this colorful Cuban character recalls. "To see that lifestyle and culture mass-distributed to America, it opened up the door to major things. We really flourished."
Over the decades, the shop has continuously expanded: First into the office next door, then the apartments above, and finally buying out the entire building. Despite the paraphernalia crackdowns of the 1990s, East/West managed to endure by strictly enforcing the ban on words like "marijuana" and "bong" within the store and by bringing in new, non-drug-related products like skateboards (the suggestion of Alex's son Luke, who has now expanded the family business). In 2019, Luke officially put the "West" in East /West when he moved out to Colorado to open a second location in Steamboat Springs.
"A headshop is more than just a store … it's almost like a museum," Luke Savino observes. "There's so much to look at, there's always good music playing… people often come in and don't even buy anything. They just walk around thinking 'holy crap!' – but they always come back."