BIRTH OF A BREEDER
Born to Dutch parents in Perth, Australia on February 2, 1957, Nevil Schoenmakers was a rebellious youth with a passion for biology and genetics – breeding parakeets as early as eight years old. He began smoking weed in high school and after graduating, started working in a university biology lab. There, he gained access to harder drugs – including morphine, to which he soon developed an addiction. After getting busted on drug charges, Schoenmakers first fled to Thailand, then onto live with an uncle in the Netherlands in 1976. It was there, while using Cannabis to help kick his heroin habit, that he discovered a copy of the iconic "Marijuana Growers Guide" (by Mel Frank and Ed Rosenthal) and was inspired to grow pot professionally. In 1980, he was approved for a business loan from the Dutch government designed to help recovering addicts, then used the money to set up a small commercial grow and started selling marijuana to the Dutch market. The only problem was, the strains he was growing – mostly from Nigerian, Colombian and Mexican seeds – weren't very popular. So in 1983, he made the fateful decision to switch from selling weed to selling seeds and founded The Seed Bank of Holland.
THE HOLLAND SEED BANK
In July 1984, Schoenmakers released the seed bank's first "catalog" – a one-page listing of seed varieties offered for just 25 cents apiece. The following year, he took out a small classified ad in the back of High Times magazine where he offered American growers an opportunity to order the catalog for two dollars. Since he was only advertising the catalog rather than the seeds themselves, the ad didn't violate any laws.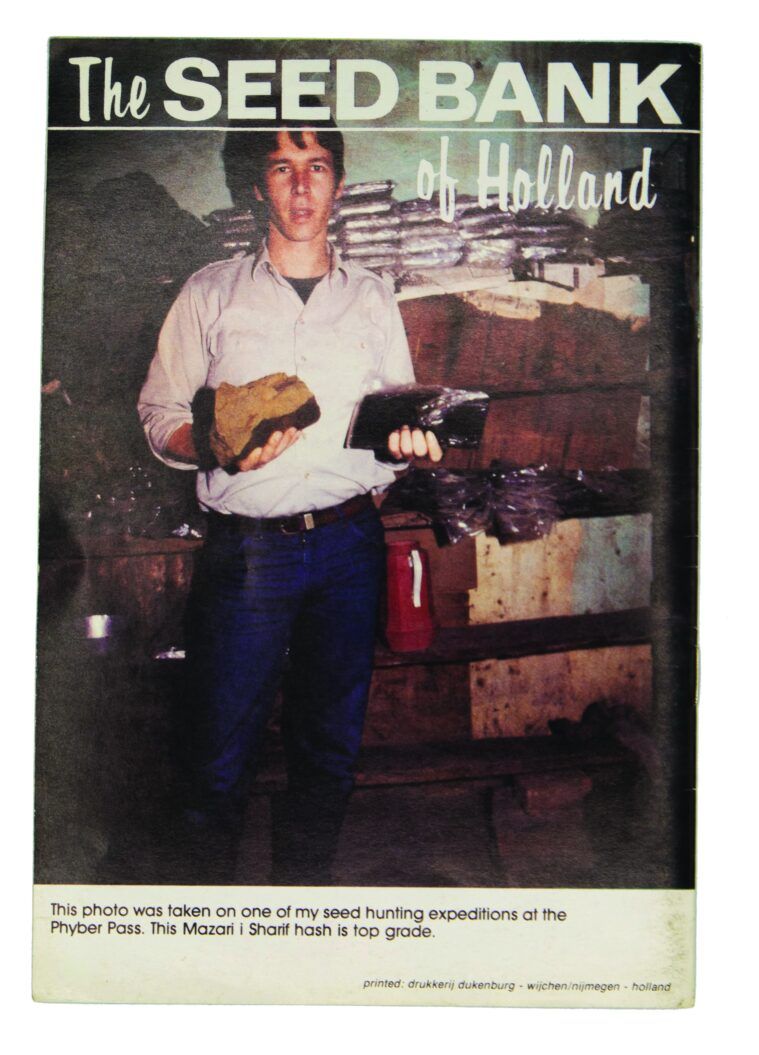 For his business to be really successful, though, Nevil knew he needed to get his hands on better genetics. As fate would have it, some of the best Cannabis strains in the world were about to fall into his lap. In the summer of 1984, legendary Santa Cruz breeder "Skunkman Sam" Selezny of Sacred Seeds traveled to Amsterdam, reportedly bringing along nearly a quarter-million seeds of California's best genetics, including Skunk #1, Cali Orange, Hindu Kush and Original Haze. Schoenmakers allegedly purchased half of Skunkman's varieties, as well as a few other popular strains from West Coast growers (such as Northern Lights, Afghan #1 and Durban Poison). He also acquired a few landrace strains while adventuring in Asia, including the rare ruderalis species. It was from this dank, diverse gene pool – as well as his brilliant and ballsy entrepreneurial acumen – that Nevil would build his seed empire.
By 1986 he was running display ads in both High Times and Sinsemilla Tips, offering the catalog for free and the seeds for $5 each. Within a couple of years, the seed bank was distributing hundreds of thousands of seeds globally and raking in millions. Schoenmakers used his newfound cash flow to purchase an old 18th century estate in the Dutch countryside, which he transformed into a veritable seed factory – erecting greenhouses on the land, filling the catacombs beneath the mansion with grow rooms, and christening the property "Cannabis Castle."
Soon, Nevil's operation grew so impressive that it drew the attention of High Times editor Steve Hager, who paid him a visit in 1986. In the now-infamous interview "Inside Cannabis Castle: The Man Who Would be King of Cannabis" (High Times, March 1987), Schoenmakers openly discussed his life, location and operations. Though a few other Dutch seed companies were operating at the time, none were brazen enough to mail seeds to America for cash and then brag about it in the pages of High Times.
OPERATION GREEN MERCHANT
Unfortunately, growers weren't the only ones reading High Times and Sinsemilla Tips, and it was no secret that the DEA were among the mags' biggest subscribers. Seeing the numerous ads for growing equipment and Cannabis seeds in their pages, the Feds decided to build a case for criminal conspiracy between the pot publications, their advertisers and their customers. They started purchasing seeds from Nevil when his first ads ran in 1985; two years later, they launched the official investigation known as Operation Green Merchant.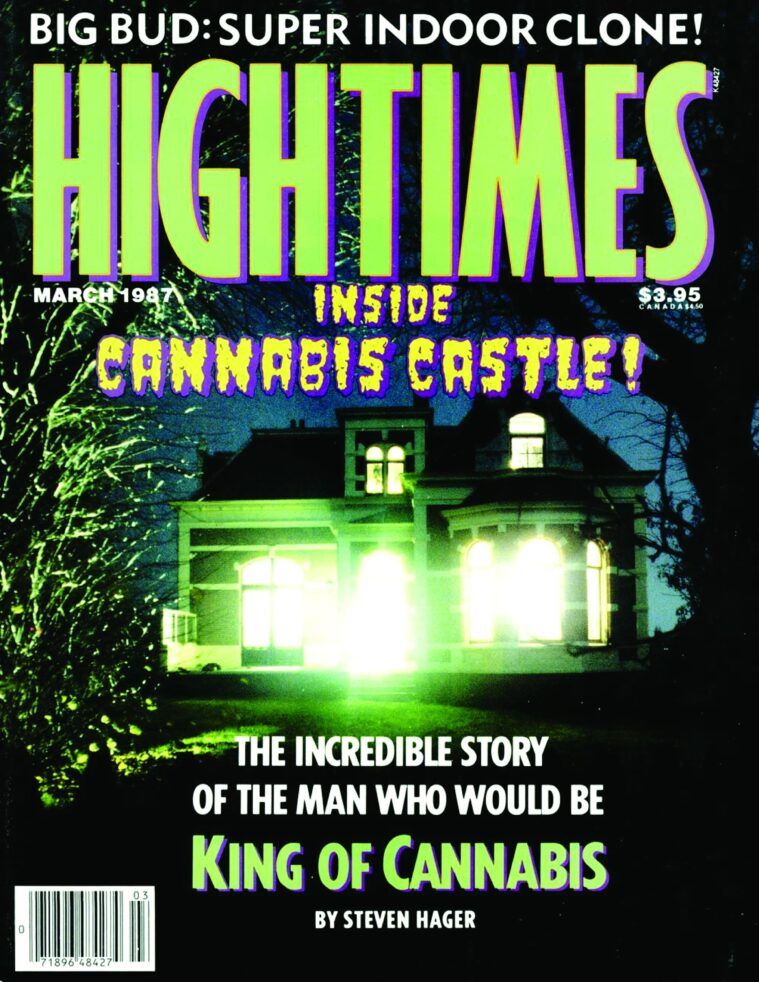 In our November 2021 edition ("Sinsemilla Story"), we recounted how OGM raided Sinsemilla Tips and dozens of horticulture shops across the country on "Black Thursday" in October 1989, but that was only half the story – the other half of the investigation was centered on shutting down the Holland Seed Bank. Luckily for Nevil, the Netherlands wouldn't extradite him for something that wasn't considered a crime there. But in 1990, when he returned to Perth for the birth of his son, the authorities were waiting: On June 24, Australian police arrested Schoenmakers on behalf of the U.S. Government and on July 13, the Justice Department handed down a 44-count indictment with potential for multiple life sentences – charging him with the sale of marijuana seeds, as well as criminal conspiracy to violate the Controlled Substances Act.
Schoenmakers spent the next 11 months in an Australian prison while his lawyers appealed his extradition … until June 1991 when he was unexpectedly granted bail, paid the $100,000 and skipped town to the safety of the Netherlands.
SEEDS OF BETRAYAL
Of the 42 customers listed in Schoenmakers' indictment, only five were undercover agents … so how did the DEA get ahold of the names and addresses of the rest? Unfortunately, based on rumors that were never substantiated, Nevil accused Skunkman Sam of being an undercover DEA agent. But as it turned out, the snitch was actually Nevil's friend and business partner, Raymond Anthony Cogo.
Ray Cogo worked as one of the seed bank's U.S. distributors from February 1988 until June 1989 – receiving bulk shipments of seeds from Nevil in Michigan, then mailing individual orders out to customers hidden inside soup cans. In a sworn affidavit to the DEA unsealed years later, Cogo admits that despite Nevil's explicit instructions to destroy all customer information after shipping the orders, he nevertheless kept it all. So when he got busted attempting to sneak hash to a friend in prison, Cogo cut a deal to save his own ass – turning over an alleged 360 pages of the seed bank's customer information to the DEA in June 1989. Four months later came Black Thursday, then the warrant for Nevils' arrest the following year.
GREEN HOUSE & MR. NICE
Though he'd escaped extradition and prosecution, Nevil's days of shipping seeds to the U.S. were over and he was still under scrutiny by Interpol, so he knew he needed to keep a lower profile. Which is likely why, during his stint in the Australian jail, he negotiated a deal to sell his entire operation – the Holland Seed Bank and Cannabis Castle – to Ben Dronkers, who then merged it with his Sensi Seed Club to form the Sensi Seed Bank.
Despite selling his business, Nevil kept on breeding – at first working for the very company he used to own – and then in 1994, he and fellow Aussie breeder Scott Blakey (aka Shantibaba) co-founded the Green House Seed Company with Green House coffeeshop owner Arjan Roskam. Together, they developed several Cannabis Cup-winning strains, including White Widow, Super Silver Haze, White Rhino and his signature, Nevil's Haze. But as the decade drew to a close, a change in Dutch law outlawing the production of seeds – as well as conflicts of interest and egos – led Shantibaba and Schoenmakers to sever ties with Arjan.
After leaving Greenhouse, the pair connected with infamous smuggler Howard Marks (a.k.a. Mr. Nice) to form Mr. Nice Seed Bank. Soon after, Shantibaba moved his operation to Switzerland while Nevil remained in the Netherlands, continuing his work under the radar and out of the spotlight.
LONG LIVE THE KING
Around 2003, Schoenmaker learned that the Justice Department had dropped its case. With no more outstanding warrants against him, he was finally free to travel again. He returned home to Australia, where he settled in New South Wales, dropped out of the Cannabis scene entirely, and lived for over a decade in relative seclusion. He resurfaced briefly in 2015 when it was announced that he'd joined the board of an Australian medical Cannabis company called AusCann. Sadly though, his Cannabis comeback would be short-lived: Two years after being diagnosed with cancer, Nevil passed away on March 30, 2019, at the age of 62.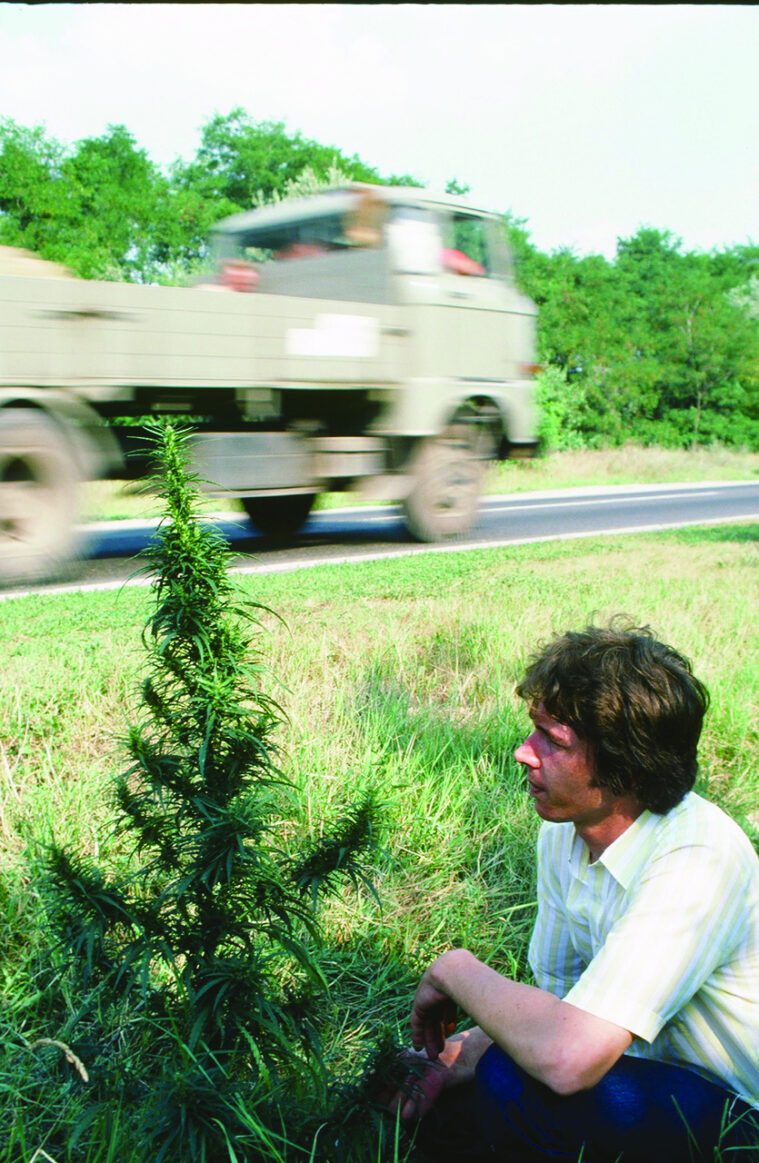 Many of those who've worked with Schoenmakers over the years have spoken unfavorably of his character, and perhaps justifiably so. But opinions about his personality aside, there's no denying the tremendous worldwide impact he had on Cannabis cultivation. Without Nevil and his Holland Seed Bank, many of the strains we enjoy today might not exist.