Cannabis is legal in New York. Gov. Cuomo signed the state's adult-use marijuana bill into law just hours after the legislation passed the Senate and Assembly.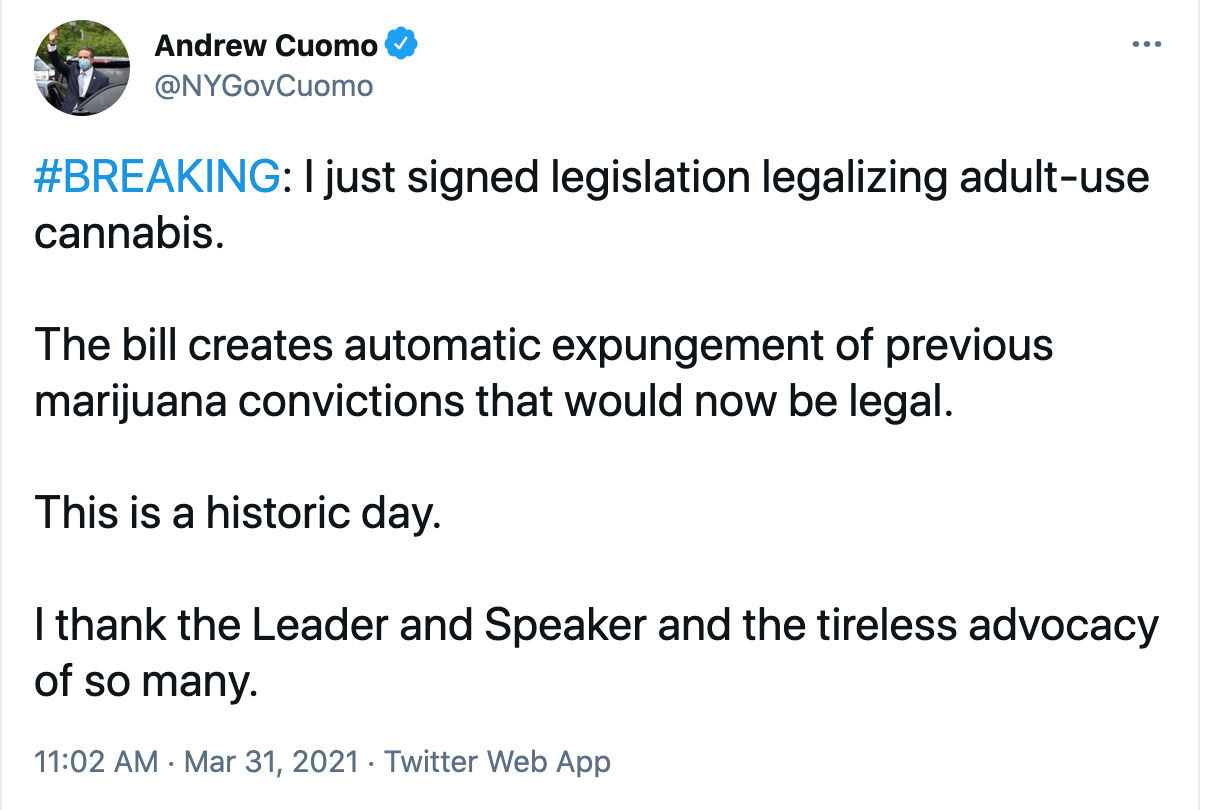 Cuomo has backed recreational Cannabis for the last three years and again submitted a plan for legalization with his budget proposal in 2021. However, the final bill that emerged after weeks of negotiations with lawmakers bears little resemblance to the governor's plan.
New York passed a tax and regulate law that's strong on social equity and provides plenty for marijuana activists to be excited about.
This is due in part to Assembly Majority Leader Crystal Peoples-Stokes and Sen. Liz Krueger, who introduced their own legalization initiative and headed up talks with the governor, hammering out the details of the unified bill that was eventually passed.
New York's legalization bill establishes retail sales of Cannabis, which should begin sometime next year, and allows for the possession of up to three ounces of marijuana and 24 grams of concentrates.
Cannabis consumption will be allowed anywhere that smoking tobacco is permitted. And, New Yorkers can look forward to social consumption sites and delivery services for pot products.
Furthermore, the bill allows for personal cultivation of up to six plants (three mature) or 12 plants in households with more than one adult. Home cultivation was a concession by the governor, as Cuomo had resisted allowing home grows (for recreational or medical marijuana) in his legalization proposal.
The bill provides several strong criminal justice reforms as well, including automatic expungement of Cannabis-related arrest records and protections for pot consumers against discrimination in parental rights, housing or education. Additionally, police cannot use marijuana odor to justify a search – a provision Gov. Cuomo fought for, and lost.
However, some legislators and advocates are most proud of the social equity aspects of New York's adult-use Cannabis law – especially considering many felt that the governor's proposal did not establish enough of an equity program. While previous attempts at legalizing in New York fell apart over disagreements on how to distribute tax revenue raised through sales, advocates got what they wanted this time around.
After administrative costs, 40 percent of the tax revenue from retail marijuana sales will go to communities most impacted by the war on drugs. Analysts anticipate recreational marijuana in New York to eventually bring in around $350 million a year in taxes.
Additionally, the law aims to award 50 percent of Cannabis business licenses to qualified equity applicants.
Legalization will also benefit New York's substandard medical marijuana program, as the new law expands the list of qualifying conditions, allows patients to actually smoke Cannabis (smoking had been prohibited) and even increases the amount of medicine patients are permitted to obtain from a 30-day supply to a 60-day supply.
Many aspects of this legalization law would have been nonstarters last year. However, lawmakers were able to take advantage of the governor's sexual harassment and COVID-19 scandals, which have greatly reduced his negotiating power. Additionally, the legislature is armed with a supermajority, meaning it could override a veto from the governor, should he not approve of the bill.
It's possible the embattled governor accepted this reality and ultimately went along with amendments he had previously opposed. With Cuomo facing calls from his own party to resign, he likely wouldn't mind if Cannabis legalization knocked him out of the headlines for a little while.
Either way, at long last, New York has legalized marijuana. Here's what some of the New Yorkers on the Leaf Nation staff had to say: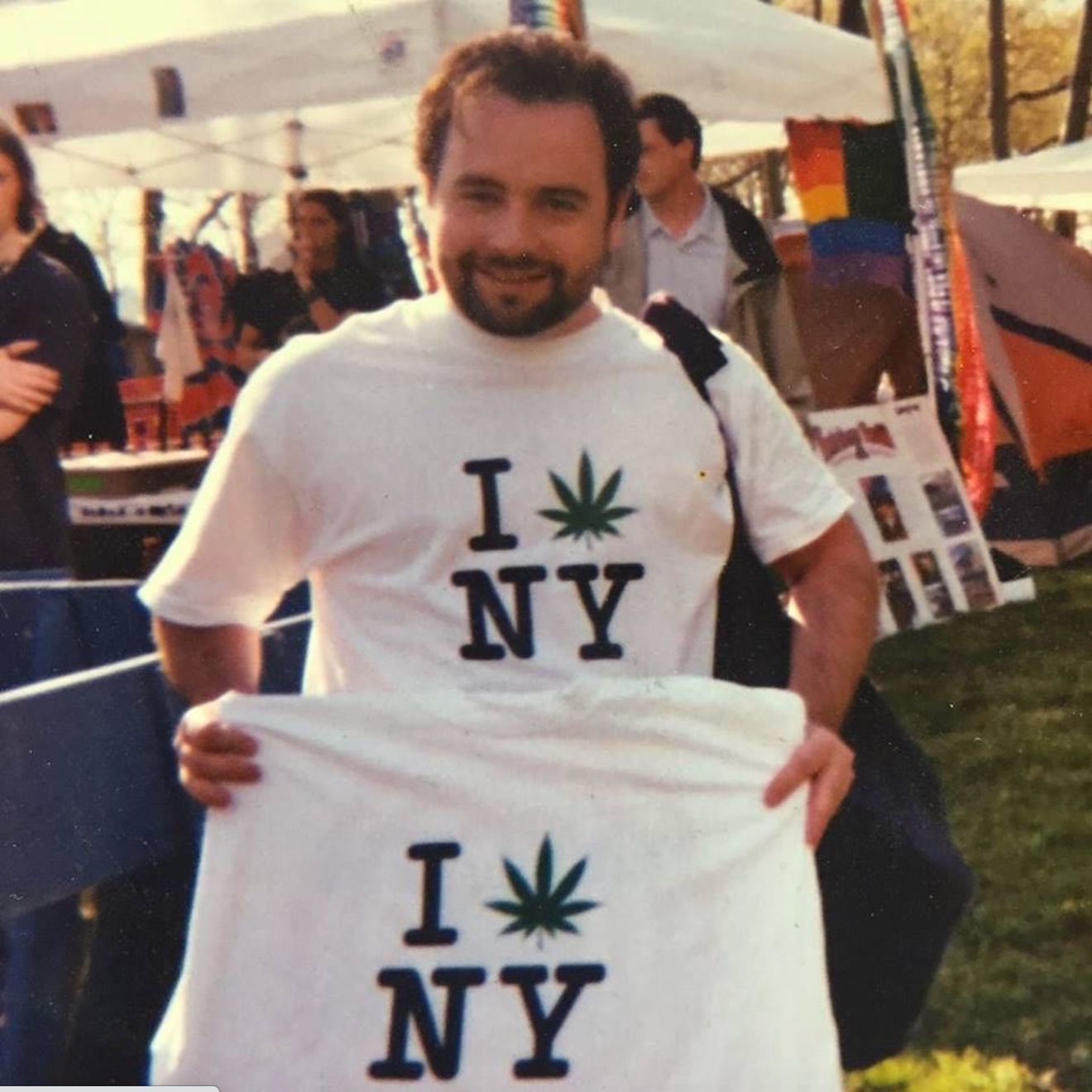 Dan Vinkovetsky (formerly Danny Danko of High Times): "I'm overjoyed! This law goes beyond what many of us were hoping for, or at least reluctantly ready to accept. The positive changes and revenues for New York state will be substantial and with the approval of consumption lounges, New York City can become New Amsterdam once again."
Mike Gianakos: "The change that this legislation represents is truly monumental. The treatment of cannabis consumers and, especially, the disproportionate arrests of black and Latino people for pot possession is a source of great shame for New York City. Reform is long overdue. Hopefully, with this law, New York will emerge as a leader in marijuana-law reform."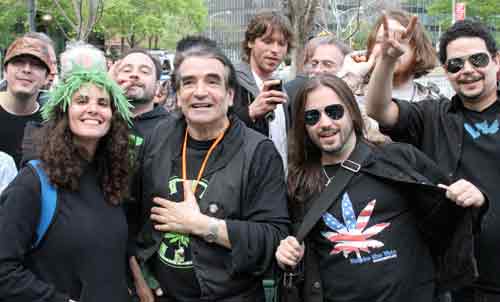 Bobby Black (Author of Cannthropology): "As a young pothead growing up in Brooklyn in the 1980s and '90s, my friends and I looked forward each May to the annual smoke-in Tompkins Square Park. There, for one day in the year, we could hang out and toke up with thousands of other stoners in public without being harassed by the police, then march peacefully up 5th Avenue to preach the injustice of cannabis prohibition. After Giuliani became mayor, everything changed; the gathering had to change locations, the march had to change its route, police presence became overwhelming, and arrests skyrocketed. Still, led by defiant activist icons like Dana Beal, we came, we marched, and we spoke out. Now, after decades of dedication and sacrifice, those voices, at last, have been heard. To Dana and his crew, to my former High Times colleagues who marched beside me, and to all of the other activists, advocates, journalists and lawmakers who helped make this historic day possible – thank you. The weed is finally free in NYC!"