Water is known to be impacted by human intentions, thoughts and sounds. After many years of research, Japanese scientist Dr. Masaru Emoto has shown the world the powers of positive thinking and its immense impact on the water molecule – where his studies have concluded that our ideas and feelings have the magical power to alter the molecular structure of water. Much like water, there is a strong synergistic relationship between the incredible energy encapsulated within Mothership studios and the glass art that they produce.
Mothership Glass has risen to the top echelon of glassmakers in the world. Their remarkable and one-of-a-kind designs include the Klein, Ball, Torus, Egg, Exosphere, BTK(Ball/Torus/Klein), and FTK(Fab/Torus/Klein). They are now applying their incredible skills to dry pipes, glassware and soon-to-be, home goods.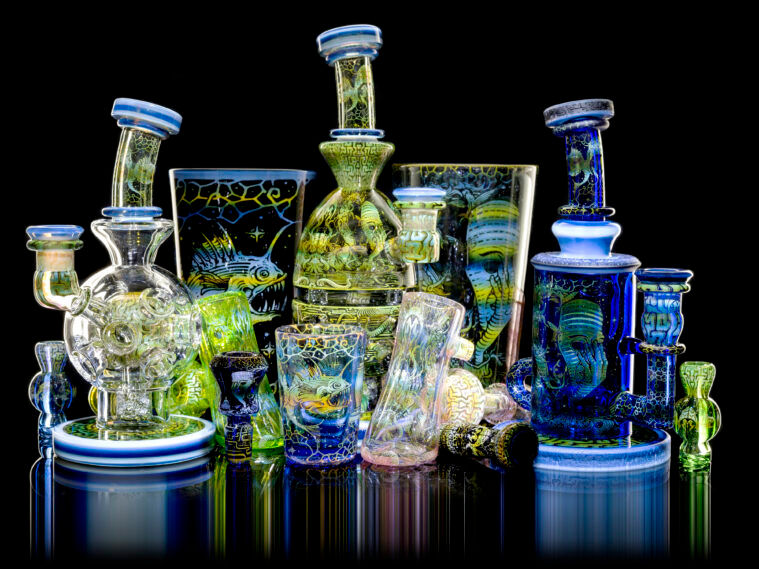 This close-knit, family-owned and operated business is home to a total of 35+ employees, including Scott Deppe's mother and six of his seven siblings. Each team member provides a diverse and unique skill set, which helps tie together the organic, symbiotic connection found at this otherworldly studio.
Our team had the extraordinary opportunity to take a look behind the scenes and see the way Deppe and his team have taken the glass world that we once knew and flipped it upside down. Using wizard-like techniques, Deppe has reinvented the wheel when it comes to fuming with his breathtaking Hologram series. Keep a close eye on their Instagram page for all updates on future releases for your chance at grabbing one of their prized and sought-after works of art.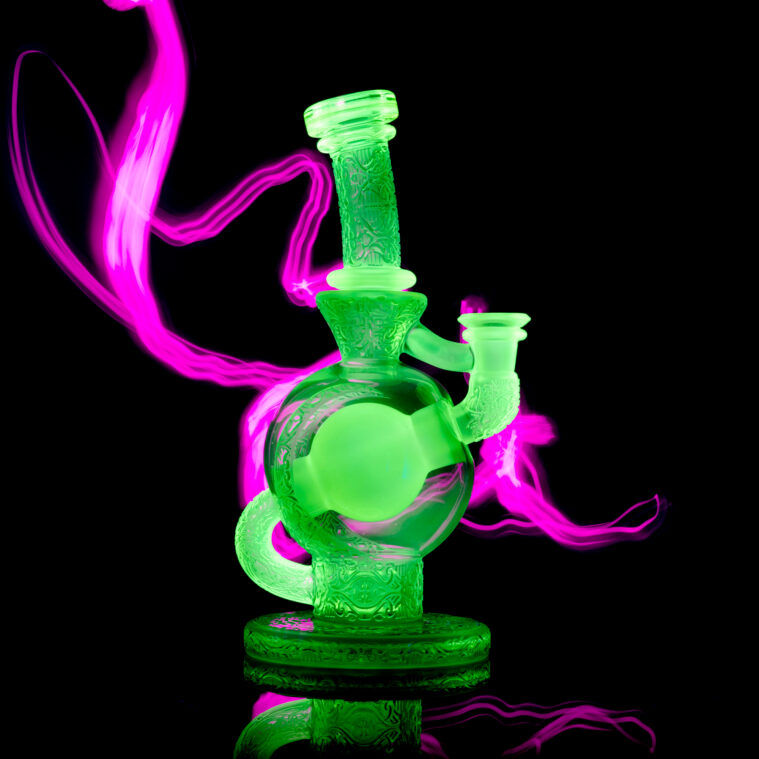 How exactly did you decide on the name Mothership Glass for your brand?
While mastering my craft with Ivan and Punty, I first resided at a studio called Nebula. After Ivan moved out, we decided to rename the shop Mothership – as Punty and I had been listening to a ton of P-Funk. The Mothership, an overseer of knowledge and techniques that leads and carries smaller entities, had a symbiotic relationship with our aspirations to become influential in the glass pipe industry and what we could represent.
Can you shed some light on how you brought a scientific approach to the glass pipe industry? How do you concoct some of these mind-melting designs?
With the immense love for Cannabis and hash that I have, I am always searching for a better way to enjoy the two. I nerd out on things hard and am always trying to create a more enjoyable experience for myself. It's a lot of experimenting – by seeing what's out there in different facets of nature, engines, and technology – amongst many other things. As water acts with a mind of its own and wants to do certain things, we incorporate its natural flow state into our pieces. Overall, this provides a very high-quality function and flow for our pipes.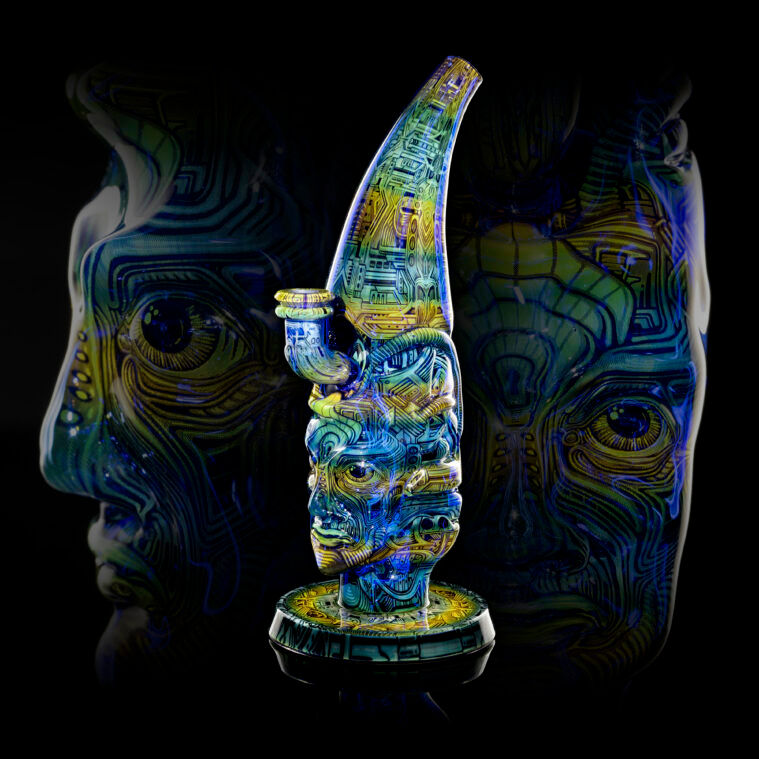 When coming up with concepts for the incredible Hologram series, where do you draw inspiration?
Over the years, there have been many transformative universal messages that I have received. We are constantly searching for ways to tell folklore stories through our glass that have a deeper meaning. In collaboration with our in-house artist Max McNett and sandblast expert Erin Bohn, we work together to bring the industry some of the most innovative glass art imaginable. With our up-and-coming Catalyst series, we depicted the classic Stoned Ape theory. This thesis touches on monkeys eating mushrooms in the savannah, where they furthered the evolutionary process by altering their prefrontal cortex. Our Strange Deities, like our other series, are heavily influenced by space-like objects, as well as crop circles.
I see that your company is experimenting with glassware and laser-etching of wood. What new expansions do you see Mothership Glass expanding into in the future?
We will be getting into some home decor, including intricate coffee tables and chandeliers that will tie together your sophisticated sesh table and connoisseur ambiance. One day, we hope to have the rooms in your house decked out with an enlightened style, matched by the works of art that we offer.