Whether it's cooking up infused burgers or being one of the bright smiles you see entering Eden Craft Cannabis in Salem, Anela Gronemyer always aims to add her own shine and care to whatever she's doing. Not only does she love helping people feel better through Cannabis, she also enjoys serving up scrumptious infused meals! Born and raised in Salem (on 4/20 at 4:38 p.m. because as her mom says, "A true stoner is always late."), Anela has family roots in Hawaii that provide her the opportunity to spread joy to people both in and outside of Oregon. Her stories, recipes and personal experience with the power of Cannabis for treating pain relief all come together to make this budtender a triple reinforcement in the Cannabis community!
When did you know you wanted to get into Cannabis?
It used to help my mom medicinally – and growing up I had stomach issues inherited from her – so she suggested I should try it! It's been wonderful for her and me. And as soon as that happened, I was like, 'Wow, this helps people – like, it genuinely helps people.'
What was the big moment when you got to help your first customer the way your mom helped you?
I will never forget, I was brand new and had never been in the industry. The first day I was on the job I just started talking to people. One of the first ones I talked to was this older gentleman who came in and was asking for his wife, stating that she'd been diagnosed with slow-altering dementia. He said he didn't need anything else, just something for her pain. It broke my heart … right before I got into the industry I was in a gnarly car accident … I got my med card and found something called Dragon's Blend and was obsessed with it! I mentioned it to him and that I would definitely give this a go … I told him at least try it – if it doesn't work, let me know and I'll pay you back for it, I just need you to try it. Later, he and his wife came in and she walked up to me and said, 'You don't know how much this means to me. I've never had something work for me – I've tried multiple times and different things. I can feel like I can be new again!' That (to me) was everything. After that happened, one after the other, I was like, 'OK, this is my purpose.'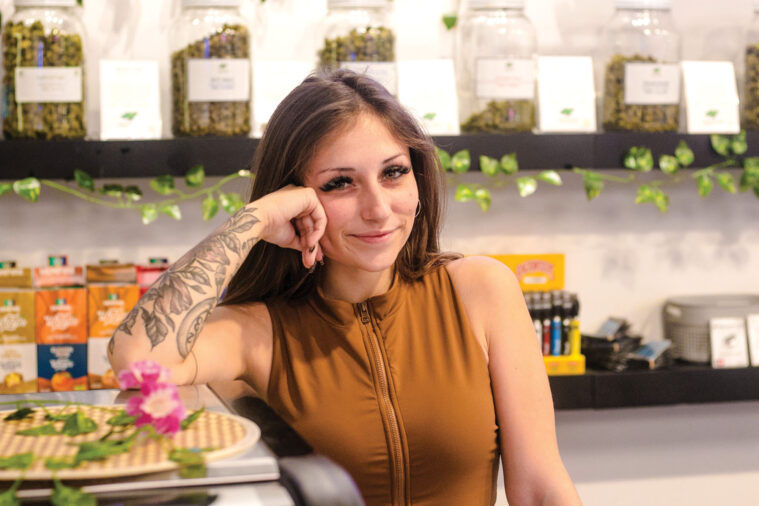 If you put a tincture, a topical, and an edible in a boxing ring together, who do you think would win?
Topicals are getting KO'd – they're done for. I feel like a tincture and edible would have a good run, but I feel like in the end, the tincture is going to win. Like, the tincture is just going to give a nice good uppercut.
What is one of your favorite infused edible meals that you've made?
By far the burgers … because with RSO, you can mix it into the burger meat and give it a honey consistency. I have the Dr. Jolly's RSO and TJ's Tinctures … what I also like to do is take the tincture and make ranch. It's got the fattiness and stuff, so it loves to absorb it … add that to your chicken nuggets or your salad and now it's infused!
If you were stranded on an island, what Cannabis product would you bring with you?
Flower – and I'd carve a bong or pipe, like my antler pipe! Or if I'm able to bring glass, I'd bring one that's at least two-and-a-half feet tall.
Sounds like you have some cool glass. Tell us more about that.
I started collecting when I was underage. My dream bong was something colorful and similar to a Zong – wound up finding it as just a shell. Put it together manually and instantly fell in love. Fun Fact: On my birthday I won a 75-piece-set giveaway! It's one of my favorite things that got me crazy inspired into glass.

**Interesting Facts: Anela is a professional at blowing O rings; was born on 4/20 at 4:38 pm cause "a true stoner is always late" (her mom's words); makes edible MEALS (like burgers and dressings); and is a glass collector with over 120 pieces.**