Mike is a super friendly dude who once struggled with conversation … but now welcomes it with the help of Cannabis. He is true to this, not new to this, and encourages patients to ask questions when they are shopping with him. During our interview, he welcomed patients to the store, recognizing their faces and greeting them on a first-name basis. Be sure to stop by Curaleaf Columbia and ask for Mike!
What sparked your interest in collecting vinyl records?
My dad actually grew up listening to records, so once I was old enough, I started stealing his records and playing them myself. Something about smoking and listening to records brought me back to a different time. I just got Hot Mulligan's 'Why Would I Watch' and I love listening to Mom Jeans' albums. The very first one I started with was 'Peripheral Vision' from Turnover.
You like to do impressions. What are some of your best ones?
Everybody tells me my Rick and Morty impression is my best one, but my favorite is my Bender impression from Futurama. It's just something I started playing around with one day – like kids do to trick their friends and it stemmed from there. I can do pretty much anybody, and Pepe Le Pew is another one of my favorites.
What do you use Cannabis for?
Depression and anxiety. I actually have severe social anxiety and it's really hard for me to talk to people and step out of my comfort zone. I tend to shut off and run away from conversation, so if it weren't for Cannabis, I wouldn't be able to be talking with you right now. It got me to Budtender of the Month, so it's definitely helped me connect with people.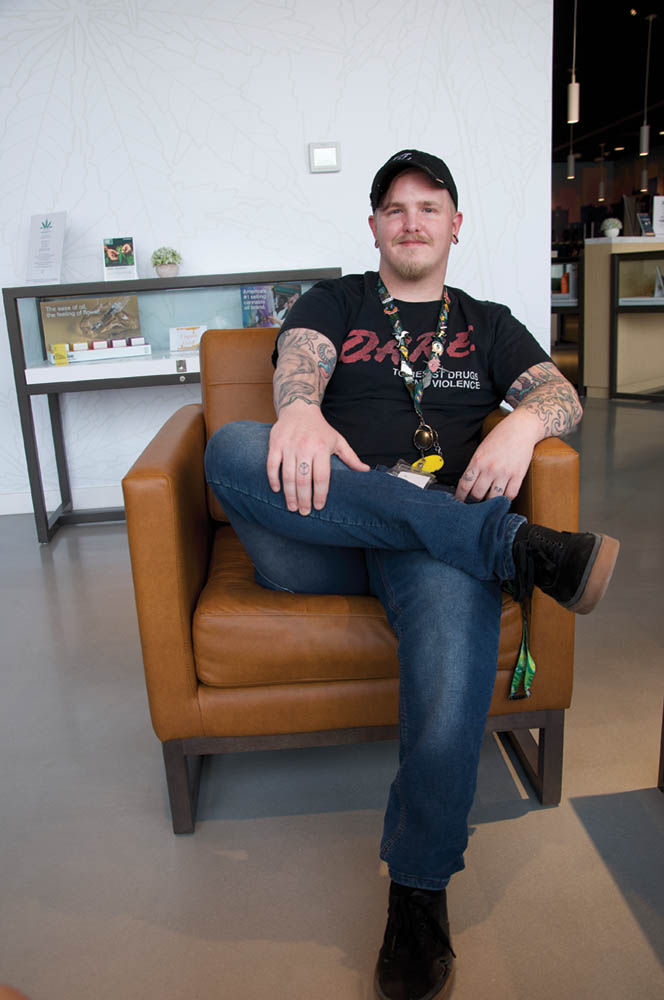 What type of movies do you like?
I love horror movies. I'm really into the 'Evil Dead' movies. I like the scary aspect to them, keeping me on the edge of my seat. My all-time favorite is 'IT' – I love Pennywise and the whole mental aspect to those movies.
How do you feel about adult use?
It's definitely crazy, and we're seeing a huge influx of new people in the store. It's a better way for me to get the word of Cannabis out there and help to stop the stigma. Organized madness is the best way to describe adult use going live. We have everything situated and ready for recreational users.
What is it like working at Curaleaf?
I've never worked anywhere else in the industry, but Curaleaf took me in and I have loved it from the get-go. I mostly love the products. Grassroots is hands down my favorite, Garcia Hand Picked was close, but now Grassroots reigns supreme for me. I'm a flower guy, but the diamond infused pre-rolls are awesome too, and I can't wait to see Ghost Rider in that form.
What got you into tattoos?
I actually got my first tattoo when I was 16. My parents signed for me and it's a memorial to my grandfather. After they had my parents signing for me on record, I kept going back and the shop kept letting me get tattoos. I started getting my sleeves done when I was 17 and now I have both arms done, my chest done, my ribs and back, and a little bit of space left on my back and my stomach.
Address: 7090 Deepage Dr, Columbia, MD 21045
Hours: 9AM-8PM MON-SAT | 9AM-6PM SUNDAY
Phone: (301) 304-4100
Web: curaleaf.com
Social: @curaleaf.usa