Sitting at the long dining table in his flat overlooking the canals of his hometown of Amsterdam, Jair Velleman leans in and smiles through his thick beard, exuding equal parts intensity and joviality.
"Let me ask you something," he says. "Do you like war? I love war."
It was my first conversation with Velleman, and it was a moment that speaks volumes about this magnanimous, mercurial mammoth of a man. He wasn't talking about bombs, armies and military actions. He was talking about the business battleground.
That moment kept replaying in my head during subsequent conversations over the months following that first meeting. Velleman and his former company, Gavita, revolutionized the grow light industry before he sold it for a "never have to work again" sum more than half a decade ago.
Now, like a retired general returning to the war room, he's coming back to the world that he helped build – this time at the helm of his new lighting company, Dutch Lighting Innovations.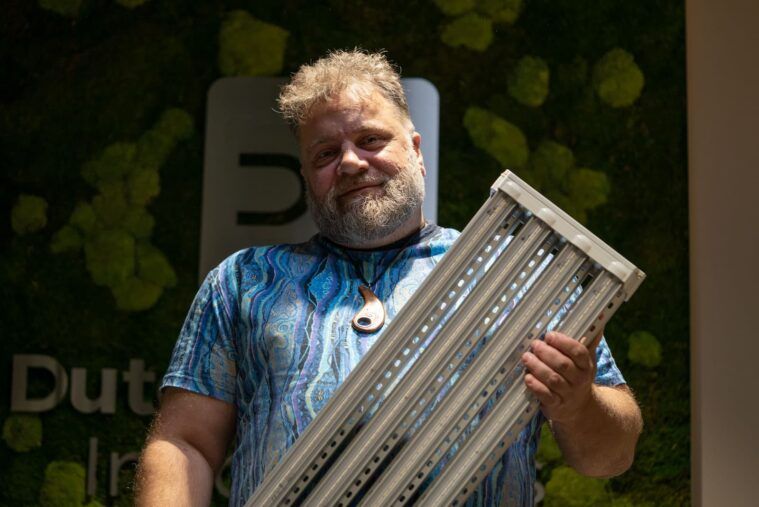 Sprouting
Growing up in a progressive Amsterdam family, Velleman was introduced to Cannabis at an early age. At around 12 years old, he went to a nature camp that he says was "kind of a hippie thing" – where he ended up having his first experience with the plant.
"Somebody was smoking joints in a tent, and we hotboxed the tent," he said. "I ended up laughing for hours from a very stupid joke. Slowly, through the years, I started smoking more. I'm a very hyperactive guy, so it kind of put me more on a level where I could communicate with people around me, and I kind of enjoyed that."
When he was 16, he spent his days hanging at a local coffee shop called Picasso.
"The owner said, 'Dude, do you have a basement?' I said, 'I live with my mother, but yes, we have a big basement,'" Velleman recalled. "Pretty much I talked my mother into starting a grow … We had four 1000-watt lights, and a sea of green of 300 plants. That was my first grow. And after that, I just kept growing."
Switched On
After a number of years cultivating, a lightbulb moment hit Velleman. He decided to form a company to manufacture double-ended HPS lights and market them to the burgeoning indoor and greenhouse cultivation market in the U.S.
"I was just really excited, because I used to be a Cannabis grower – to bring this crazy, new technology to Cannabis growers," he said. "I love 'The Blues Brothers.' It's a beautiful movie. I always use the quote, 'I am on a mission from God.' And my mission was to make sure that growers go from one-and-a-half pounds per light, to three pounds per light, or four pounds per light. Because that was what Gavita did. We gave people three pounds per light. That was a big thing in the beginning."
Velleman sold Gavita more than five years ago and spent the ensuing time building a family, garnering awards for his advocacy and focusing on his passions – such as collecting items for his World Cannabis Museum. But now he's on the path to build upon his prior successes and experience, creating what he hopes will be the world's leading quality manufacturer of Cannabis grow light technology.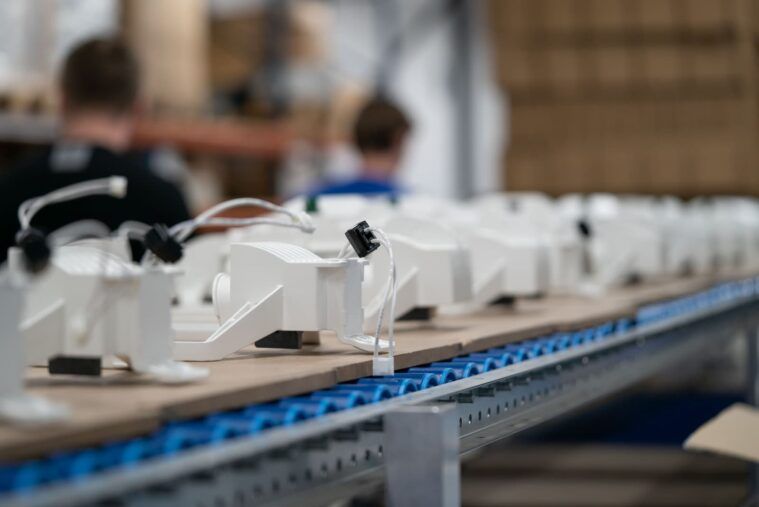 Hero's Quest
When he talks about the new endeavor, Velleman can hardly contain his excitement.
"The last time, we ended up with the biggest horticultural lighting company in the world before we sold, so from where I stand, that's about the top of the pinnacle," he said. "I kind of enjoy going back to the underdog position. Then I have to fight the big guys, instead of being the big guys, and everybody attacking you."
With DLI, Velleman wants to create the best possible lights, and manufacture them 100% at his facility in Holland. It's all about total quality control.
"I'm a grower by heart," he said. "I love growers. And I want to get the best product possible to them. I did it with Gavita, and we're now gonna do it with DLI, with a no-bullshit approach. I don't care if my product is slightly more expensive than everybody else's. That might be true. I'm not aiming to be the cheapest on the market. You either have to be the cheapest or the best. So we made the decision to be the best."
At the core of his philosophy is the goal of making every light sold with the DLI label at the same level of quality as what industry manufacturers call a "hero light."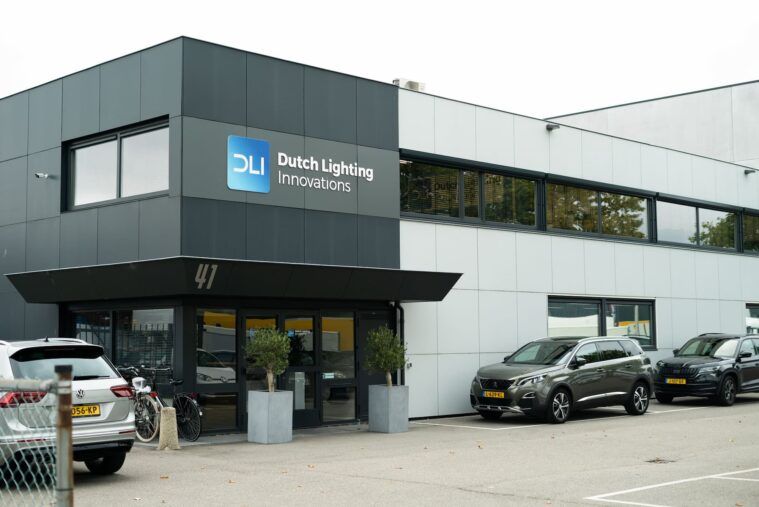 "It's one light that's built to top specifications," he said "That's the one that you will test in the laboratory, and it's the one you will take the specs from, that you will put on your flyers and on your website. Nobody's checking what comes afterward. The trick of putting a good product out to market is that every light you build needs to be a hero light."
As with everything else he's been involved in, he plans to be hands-on at DLI. It's the only way to ensure the company will match his intentions.
"I'm the tip of the spear," he said. "I'm the warlord. I go out. A lot of CEOs sit behind their desks. Owners of companies sit behind their desks. I don't sit behind my desk. I will travel, come out, meet my customers. And because I meet my customers and actually talk with them, I understand what their wishes are and what they actually want – and we can use that for creating new products for horticulture and for Cannabis growing."
Bright Future
DLI manufactures LED and more traditional HPS lighting, and is currently working on spectrum tests and other research to try to push plants to their limits. Velleman and his team will be collaborating with Wageningen University & Research, a university in Holland, to gather and interpret data, and develop new technology.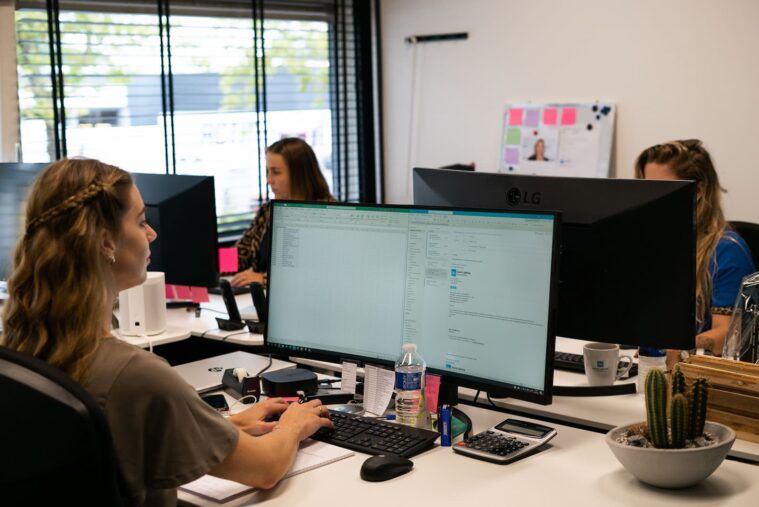 "LED is where the future is at right now," he said. "I think the biggest thing right now with LED is going to be developing a more wide-based spectrum that can actually enhance things like terpenes – because the future is going to be in terpenes. You don't buy good wine because it's one percent more alcohol than the other wine next to it – you pay $100 for a bottle of wine not on the alcohol percentage, but on the goddamn terpenes. The future is not going to be THC, it's going to be terpenes."
One of the product lines Velleman is most excited about isn't LED, rather, it's the non-LED UV lighting DLI has developed for use in concert with a wide-spectrum LED setup. He plans to unveil it with a DLI launch in November at MJBizCon in Las Vegas.
"The plant protects itself against UV by doing certain things, like making trichomes," Velleman said. "That's what we want. We want those trichomes and those terpenes. The plant reacts to UV, and that plant reaction is exactly what we want. That will create a better product that's better tasting."
As much as Velleman is thrilled about the tech, that's not the main thing that's drawn him back to the battlefield.
"I love the Cannabis community," he said. "That's why I'm coming back. I could sit on a tropical island and sip cocktails until the day I die, and I don't want to do that. My best friends are in this community, and my best friends are all over the world. The moment I stop working, I don't see my friends anymore. So I have no choice. … I love hanging out with all those amazing people that I will tell my grandchildren about."