What's in a name? Well, if you ask the owners of this store how they came up with the ever-curious one for this joint venture, you just might hear a tale about a snowboarding trip to Tokyo. You could also possibly hear that the Starfish portion of this memorable moniker may have been influenced by magic mushrooms.
Walking into Tokyo Starfish's flagship store on Arizona St. in Bend, I am surprised to see recent renovations to their front room. Rather than entering a secondary door to access the dispensary, the whole room has been opened up to create one open floor plan.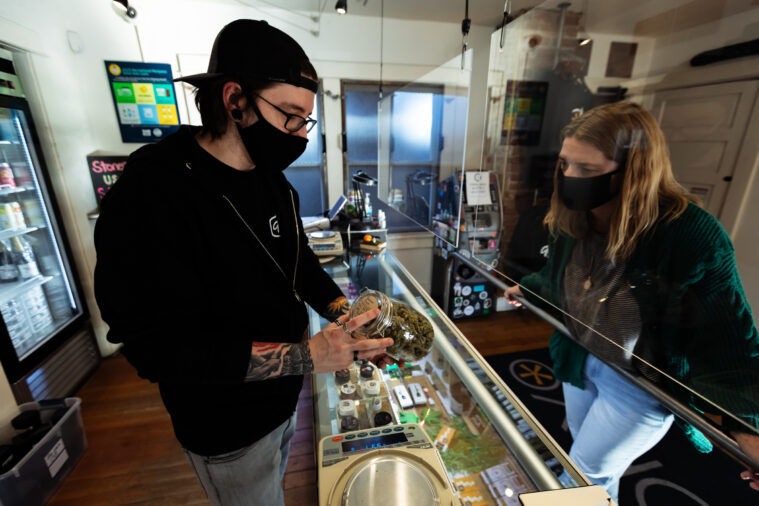 The ambiance is effortlessly 'Bend,' with a warm welcome from the staff and decor that makes you feel right at home. Houseplants and merchandise line the walls and hang next to cozy furniture – and it's not the cheesy kind of merchandise that you often find at other stores, but the kind that you are actually stoked to wear because it's such high quality. As Director of Marketing Jason Shurtz puts it, "Our vibe comes from everybody's action sports background because everyone is in that industry in one way or another."
I move past the Puffco and Pax display, taking a look at the glass bongs, rigs and bowls before setting my eyes on what's behind the glass counters. The Tokyo Starfish lineup features edibles from popular brands like Grӧn, Delta 9 and Tasty's. The other side showcases a robust lineup of extracts and vape pens from fan favorites like Willamette Valley Alchemy, Evolvd and Highland Provisions.
What really catches my eye is the wall behind the counter filled with jars of fresh bud. I see the trichomes bursting from where I stand and have to get a closer look. Budtender Aaron Bernard says his favorite is Strawberry Guava. Grown by Tokyo Starfish, this myrcene-rich hybrid comes in at a whopping 29.9% THC.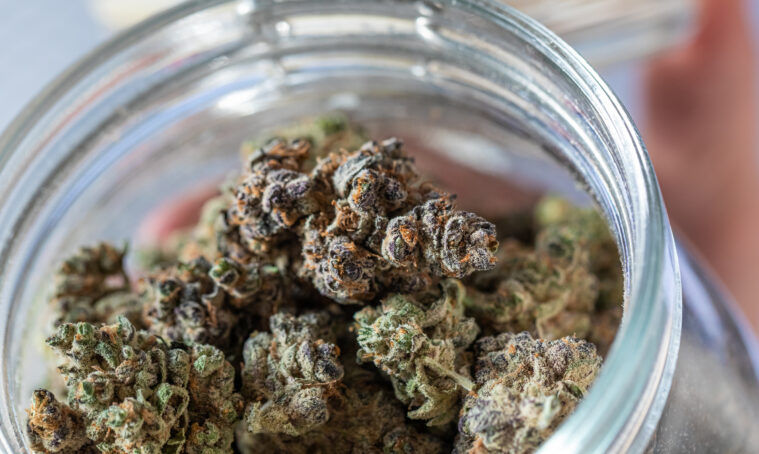 When asked what sets their dispensary apart from the rest, Bernard points to the wall of weed and replies, "Having this visually, as opposed to pre-packed weed. This gives you an opportunity to converse and educate people on the products."
"We've won best dispensary the last two years, so obviously we're doing something right," adds Shurtz. "We just try to be humble and nice and put our customers and staff first. We have high standards for our product selection and at the same time, have price points that are for everybody."
Perhaps the most unique thing about this location (they have three in Bend) is the upstairs Bud 'n' Breakfast. The Tokyo owners manage the rental – the first and only of its kind in Bend.
As we walk upstairs to the Bud 'n' Breakfast, Shurtz tells me about the brightly colored mural decorating the hallway. A true nod to the culture surrounding both Bend and the Tokyo team, it was painted by professional snowboarder and artist, Jamie Lynn. Lynn needed a place to crash for the night and they offered up their unique accommodations in exchange for a bit of his artwork. Instead of crashing, Lynn stayed up all night and painted the entire space before taking off on his next quest for fresh powder.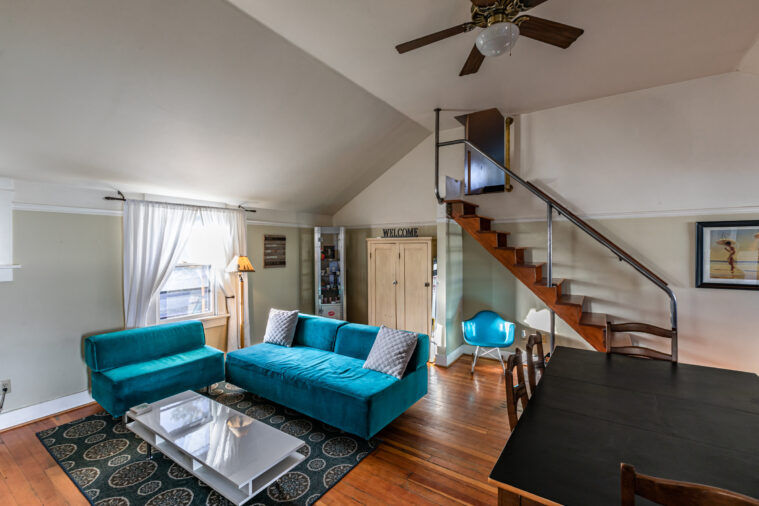 The pet-friendly BnB is perfectly situated above the dispensary, with an outdoor balcony facing the Podski – a local's favorite for food carts and good beer. The apartment was built in the 1900s and has a rich history. It's rumored to have been a saloon, a brothel and even a biker hangout at one point. It features two rooms and a loft – the perfect place for lighting up and watching movies.
Did I mention that the Bud 'n' Breakfast is not only 420-friendly (and comes with a $20 Tokyo Starfish gift card) but there's a Cannabis minibar in the living room filled with dabs, pre-rolls, flower, edibles and tinctures? And unlike most minibars, it's completely free.