When Jeff Linden teamed up with Dr. Rajin Davet to open the first HerbNJoy dispensary in Northern California in 2018, he drew on his past experience running successful dispensaries in San Francisco to come up with a unique approach to the shopping experience. Their newest location in Beverly Hills, which opened just a few months ago, now serves as the chain's flagship location in the state.
The main idea that Linden and Rajin wanted to focus on was pivoting away from the typical dispensary counter – and instead, harken back to the "deli-style" method of displaying Cannabis. Upon entering, guests quickly realize that there are no counters at HerbNJoy. Where most dispensaries stock their product behind the registers, the goods at HerbNJoy are arrayed in apothecary jars, under glass domes, and on shelf displays around the shop – offering a sense of discovery. This positioning of Cannabis products among brand visuals and decorative objects adds a high-end, aesthetic element to the store.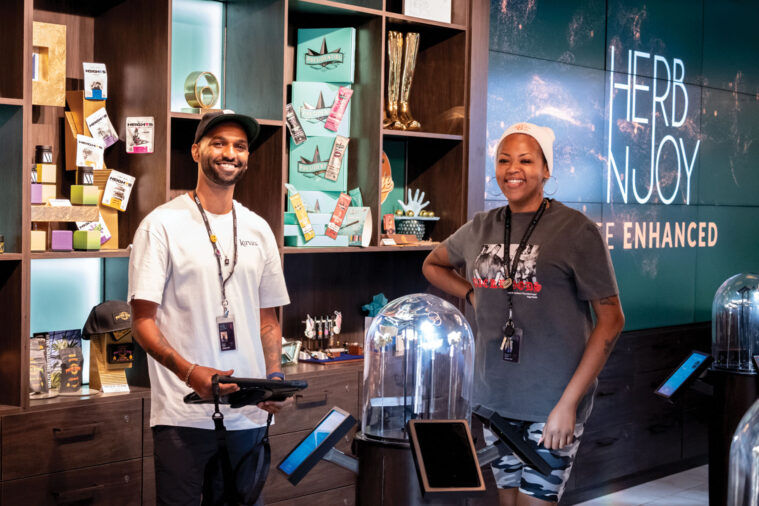 Edibles – a favorite product category for the Beverly Hills crowd – are pulled from their packaging and featured on various glass-covered serving trays and inside ornate jars, patisserie-style. These displays allow shoppers to see the various colorful sugar and chocolate treats that are typically hidden inside the packaging.
As for their flower, premium buds are mounted on thin poles under futuristic glass domes, allowing for close visual inspection. Linden says the idea was to highlight the buds "like you would jewelry in a museum case." A small spotlight is pointed at each showcased bud to illuminate its structure and catch the twinkles of its crystallized resin. Attached to the base of each dome are digital tablets that provide the strain info and pricing.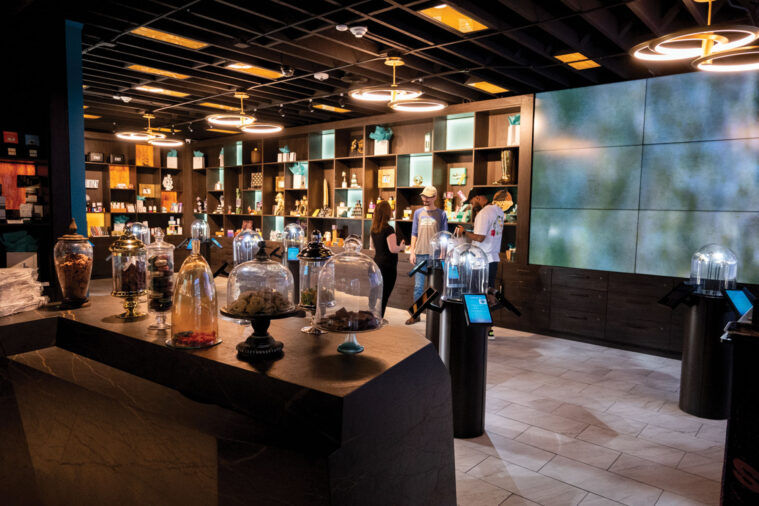 This interactivity is key to HerbNJoy's business model: A giant screen occupies an entire corner of wall space in the shop, showing lifestyle and educational content that's both entertaining and informative. And since the budtenders have no counter to hide behind, they walk around the store talking with customers and ringing them up on tablet computers that they wear like a badge around their neck.
Every product category on the market is available here in the form of a curated selection, and the shop changes up its displays weekly as new stock comes in. According to Linden, all products sold in the shop are selected based on brand reputation, with preference given to those that "have a story behind them."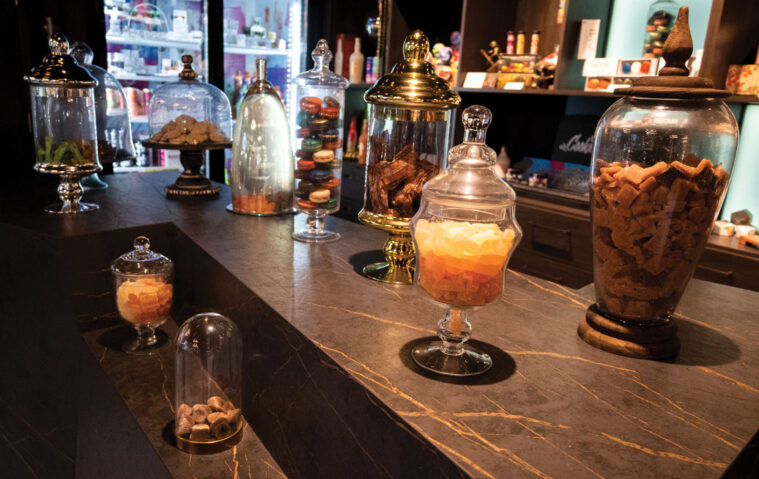 By leveraging technology to create a boutique experience that encourages customers to get a little more up close and personal with products before they buy, HerbNJoy has a vibe all its own. Especially in these days of excess packaging, it's a refreshing approach that is reminiscent of the more intimate experience of dispensaries prior to legalization.
"It's still good to be able to see what you're buying," Linden said. "Inspecting buds is a big part of it. It's transparent … and it's fun."
While he's proud of the elevated dispensary experience HerbNJoy creates, Linden says he's also aware that too many people are priced out of getting good Cannabis products.
"We want to create beautiful and entertaining stores," he says, "but we don't want our customers to have to pay more for that experience."