Quick Hit
With its ideal location on Kalifornsky Beach Road, Coldsmoke serves locals, tourists, and visiting fishermen with ease. Well stocked, the dispensary can accommodate the novice consumer, as well as those who prefer to buy in bulk before hitting the cabin.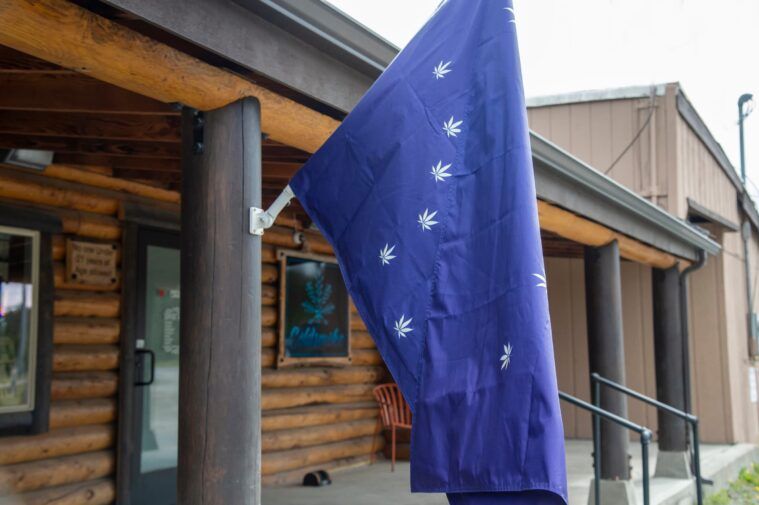 Environment & Vibe
True to the outdoorsy culture of the Kenai Peninsula, Coldsmoke has a distinctively Alaskan feel. The exterior of the building is a beautiful nod to log cabins and even features an Alaskan flag complete with Cannabis leaves instead of stars. The cozy cabin theme continues inside with a large stone fireplace, wood ceilings, and handcrafted display cases. Low-lighting adds to the calming feeling, while friendly budtenders make you feel at home.
Products
Coldsmoke has a cornucopia of product offerings including topicals, glass, flower, concentrates, and even one dollar munchies. With a focus on diversity, Coldsmoke has flower from Snow Capped Gardens, Smoking Joe's, Ace of Spades, Great Northern Cannabis and Denali Herb Company, just to name a few. But their real bread and butter is their selection of pre-rolls. Customers can choose between rolls from Worner Brothers, Bristol Bay Bud Company, Pakalolo, Rosie Creek Farm, Greatland Ganja and Freedom 49 Farms. For the concentrate lover, Coldsmoke offers everything from shatter to distillate from some of the state's best extractors. Sore muscles from fishing? Pick up a transdermal patch from GOOD Cannabis or pop a CannaCap from Cold Creek.
History
Coldsmoke opened its doors in June 2020, and like many new dispensaries, the going was tough at first. Originally poised to cater to the tourist market, Coldsmoke suffered from the lack of cruise ships and busses last summer. But as the world slowly began opening again, they have seen an uptick in visitors looking for a quick hit before throwing on their waders. The plus side of the customer lag was that it enabled the dispensary to dial in their product offerings and build up a loyal local following.
Budtenders
One thing that makes Coldsmoke unique is the care and concern its budtenders have for their customers. Head budtender, Bryce Hoxeng, takes a lot of pride in establishing repeat customers by providing individualized product recommendations. Budtenders also sample new products and work hard to keep up with industry trends.