After a stretch of painfully slow years, San Francisco's historic North Beach district is bustling once again. Though dining al fresco is nothing new for this area of the city, a stroll up Grant Avenue today reveals a slew of well-used parklets, a fresh crop of locally owned stores, and one incredibly unique new dispensary.
The mere existence of North Beach Pipeline is, it must be said, a victory. Now entrenched in a slice of the city revered as a bohemian utopia by the likes of writers such as Allen Ginsberg – no stranger to Cannabis himself – the debut of North Beach Pipeline earlier this year also doubled as the launch of an adjoining gallery and studio space overseen by local artist Jeremy Fish.
Frequently referred to as the "unofficial mayor" of North Beach, Fish's art blends bunnies, skate culture, skulls and Bay Area iconography into numerous prints, murals, sculptures and clothing collaborations. Having previously taken residence in spaces like Coit Tower and a former bakery, Fish says he was overjoyed when the ownership group for North Beach Pipeline asked if he might want to partner on a space at 1335 Grant Avenue.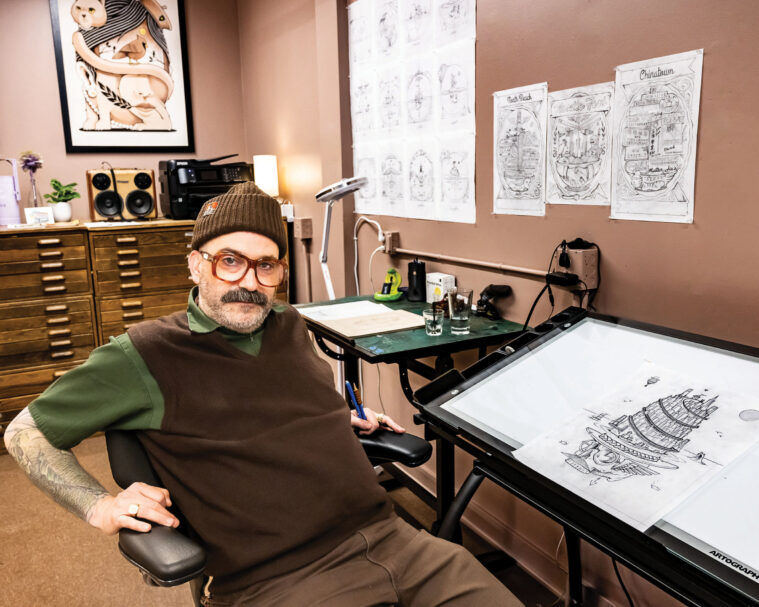 "It's very cool," Fish shared. "I went to college down the street from here. If someone had said to 20-year-old me that if I hung around for 25 years, I'd find myself with a studio on one of the oldest commercial thoroughfares in the city, connected to a pot shop, with a giant outdoor parklet in front of it, on a street full of up-and-coming, art-related businesses, I'd have been like, 'What the fuck? How am I going to survive here until that happens?'"
In fairness to Fish, it is almost too good to be true.
Owned and operated under an equity license from North Beach Pipeline CEO Elric Neumann, the dispensary space is small but nonetheless eye-catching. The far wall is adorned with custom wallpaper designed by Fish, featuring local landmarks like the Golden Gate Bridge and the Transamerica Pyramid. Past the check-in area, a shelf prominently displaying local equity brands gives way to the full-length budtender counter.
But if you step back outside and then enter the door to the left, you'll find yourself in Jeremy Fish's new digs. In the front is the "Fish Tank": an intimate gallery space. Behind another wall lies Fish's new studio. And even if some of his North Beach neighbors were skeptical at the beginning, the way Fish sees it, the complaints are going silent in a hurry.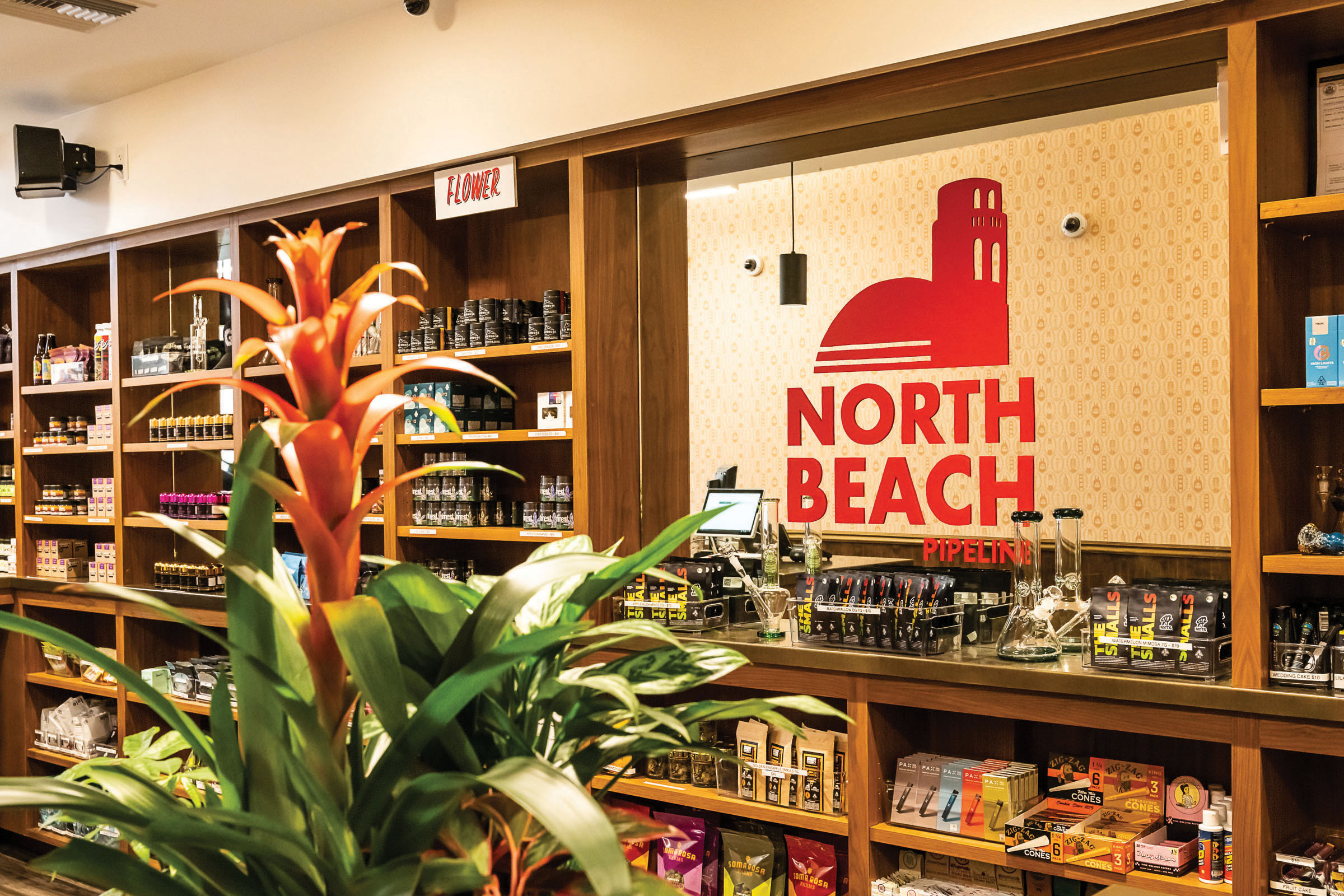 "There was some opposition to it," he conceded, "but right now, I think you'd be hard-pressed to find a neighbor, no matter how they feel about marijuana dispensaries or bars or art galleries, who doesn't appreciate the fact that there are now people coming to this district, who don't live around here, and with money in their pockets."
What thrills co-owner Jesse Henry is the fact that everyone involved with this project has deep San Francisco roots. Having already proven his ownership group's ability to get a local dispensary up and running (with the past success of Barbary Coast), Henry shared that he takes great pride in having a spot that unites legal Cannabis and art in North Beach.
"This is one of the most historic neighborhoods in the city," Henry said, "and it's an exciting opportunity to even have the chance to be over here. It's really been a win-win in the sense that our ownership group and Jeremy share the same perspective and community focus of really wanting to give back, not only to the city, but to the neighborhood that we're in, too."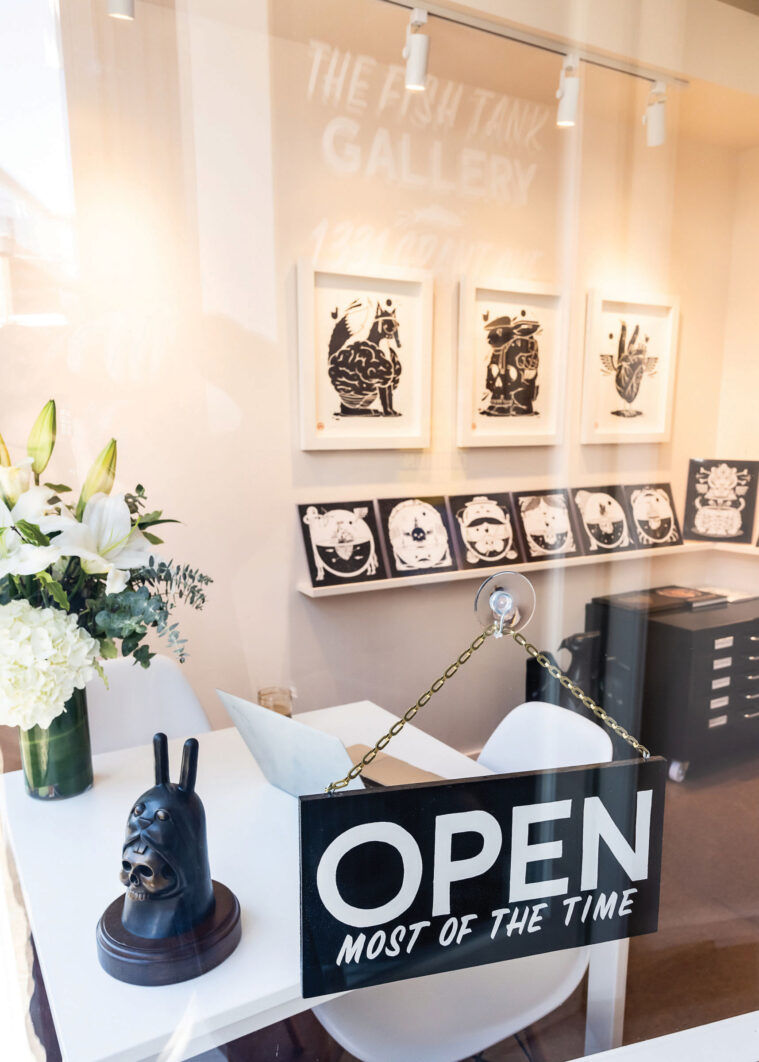 To that end, an open-air parklet that spans the width of both storefronts will serve as a space where brands and organizations can engage and educate customers. Though you won't see any product or consumption in the parklet, Henry noted that it still offers an immense opportunity for North Beach Pipeline to connect to the local community.
"With the parklet," he said, "people who are walking down the street can see what we're doing and choose to take part in it. They're able to get information about these brands, whether they go into the store or not, which offers a great opportunity for us to educate individuals who may have some trepidations about what Cannabis is and aren't ready to enter a dispensary yet."
What's clear in talking to the team behind North Beach Pipeline is the genuine joy they all share in having an opportunity to blend Cannabis with art in true San Francisco fashion, courtesy of an owner-operator team that is strictly locals-only.
"Building a dispensary in North Beach, with an artist of Jeremy Fish's caliber, has been a dream come true," said Pipeline CEO Neumann. "I'm excited to educate the neighborhood about everything Pipeline has to offer and appreciate the opportunity to bring our amazing local Cannabis products and service to the masses."