Breakfast
Miss Shirley's Cafe
513 W Cold Spring Ln, Baltimore, MD
8AM-3PM Daily
missshirleys.com | @missshirleys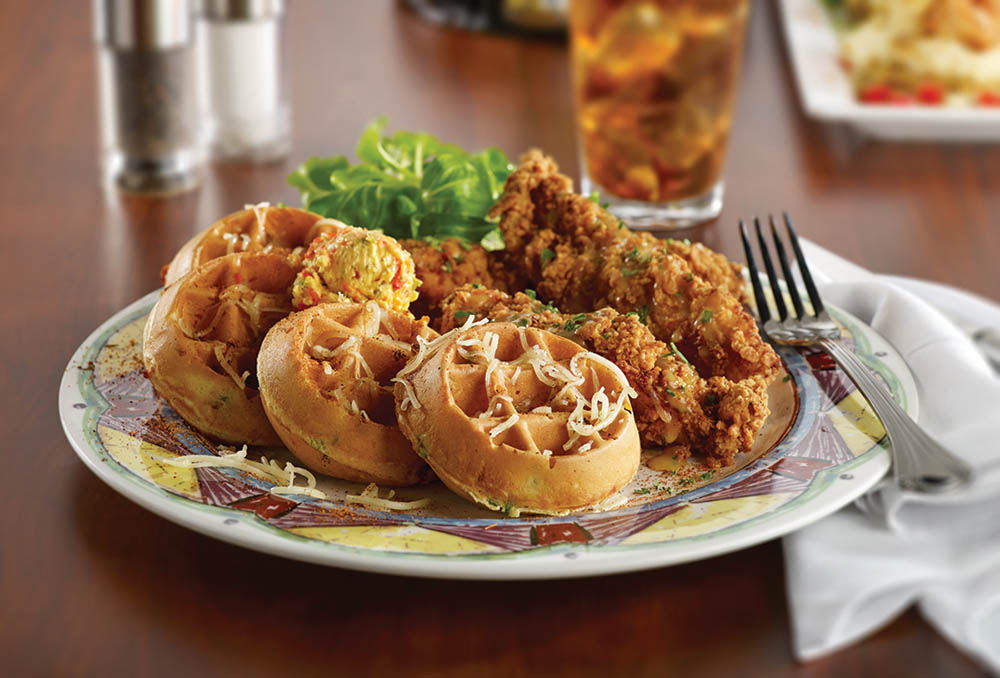 Miss Shirley's Cafe is undeniably one of the most popular breakfast destinations in Baltimore, having been featured in hundreds of news and television programs over the years. It can be best described as a casual upscale eatery with southern fundamentals, utilizing as many locally-sourced ingredients as humanly possible. They have locations in Roland Park, the Inner Harbor, Annapolis and even in BWI Airport. You can find everything from morning cocktails to house-made donuts to crabcake and fried chicken sandwiches. Their pancakes and waffles cannot be ignored either, with weekly specials in addition to their classics like chicken and waffles, coconut cream stuffed french toast and banana chocolate chip pancakes. Wherever you are located, this place is worth the drive – they don't take reservations, so try and show up early to beat the crowd.
Lunch
The Corner Pantry
6080 Falls Rd, Baltimore, MD 21209
7AM-3PM Mon-Fri | 8AM-3PM Sat | Closed Sunday
corner-pantry.com | @thecornerpantry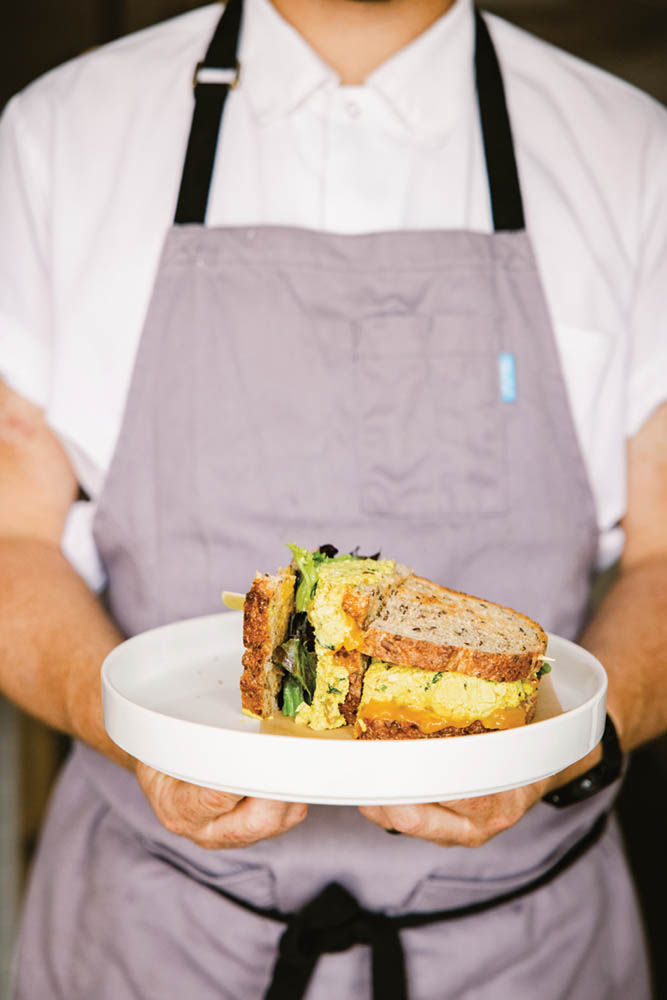 The Corner Pantry (opened in 2014) is owned and operated by Emily and Neill Howell, a couple who met at an Oscars event which Emily helped coordinate, and Neill catered. Neill is from England and brings a ton of flair to the menu here, including a fish and chips special on Fridays that is bringing some serious heat to Falls Road. The dedicated staff at this cafe are extremely passionate about the food, including a pastry staff of all women. My favorite menu item here is the Coronation Chicken Salad Sandwich featuring curried chicken salad, TCP mango chutney, raisins and toasted almonds, served on toasted lemon and rosemary bread.
Dinner
Clavel Mezcaleria
225 W 23rd St, Baltimore, MD 21211
5PM-11PM Mon-Sat | Closed Sunday
barclavel.com | @bar_clavel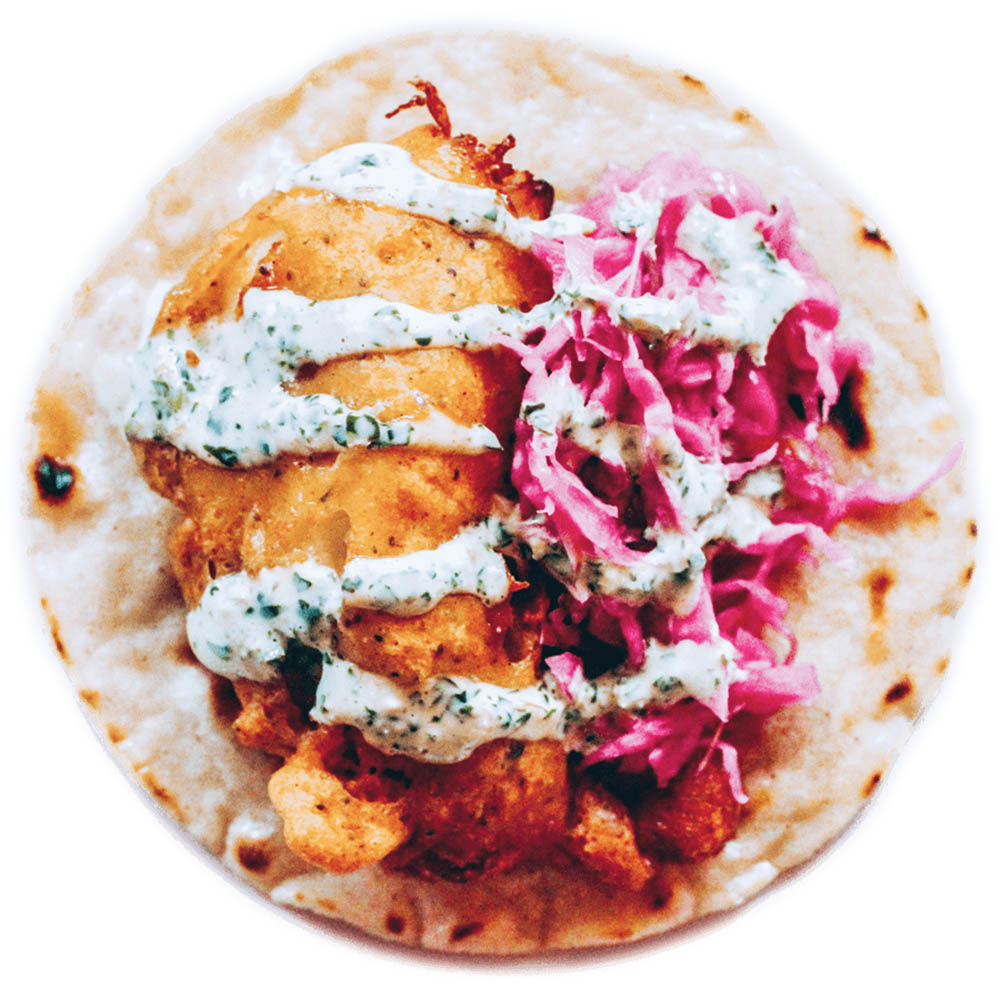 Clavel was founded by Lane Harlan in 2015 and remains a minority and family-owned business. It's no secret that stoners love Mexican food, which makes this taqueria and mezcaleria perfect for those searching for the most authentic food in Baltimore. They nixtamalize tortillas in house using corn sourced from Oaxaca and Puebla. You can expect to find ceviche, tacos, tortas, quesadillas, mixtas, tostadas, and much more in many different meat, veggie and vegan options. My favorite is the cochinita pibil – a tender pork cooked in bitter oranges and achiote. Their expansive list of cocktails includes everything from mezcal mixed beverages and flights to a house-made sour ale available only at Clavel.
Dessert
Taharka Brothers at R. House
301 W 29th St, Baltimore, MD 21211
11:30AM-9PM Mon-Thurs | 11:30AM-10PM Fri-Sun
taharkabrothers.com | @taharkabros
Taharka Brothers Ice Cream at R. House is my go-to for high quality sweet tooth satisfaction. This business is employee owned, meaning everyone from the director of retail operations Kowfi Dorman-El to Founder Sean Smeeton own a piece of the company – with a total of six owners making up the team. They have several unique flavors including Honey Graham, Caramel Crunch, Mintflix and Chillz, Banana Pudding and more. They also have a few staple flavors in non-dairy varieties like Chocolate Love, Golden Milk and Roasted Strawberry for our vegan/plant-based friends. If you're unable to make it to Baltimore, you can order their ice cream nationwide for delivery. You can also grab a ton of other food at this market, making Taharka the final stop on your stoney tour.
Healthy
Pure Raw Juice – Green Spring Station
10749 Falls Rd. Ste 104
Lutherville, MD 21093
7AM-7PM Mon-Fri | 8AM-6PM Sat | 8AM-5PM Sun
purerawjuice.com | @purerawjuice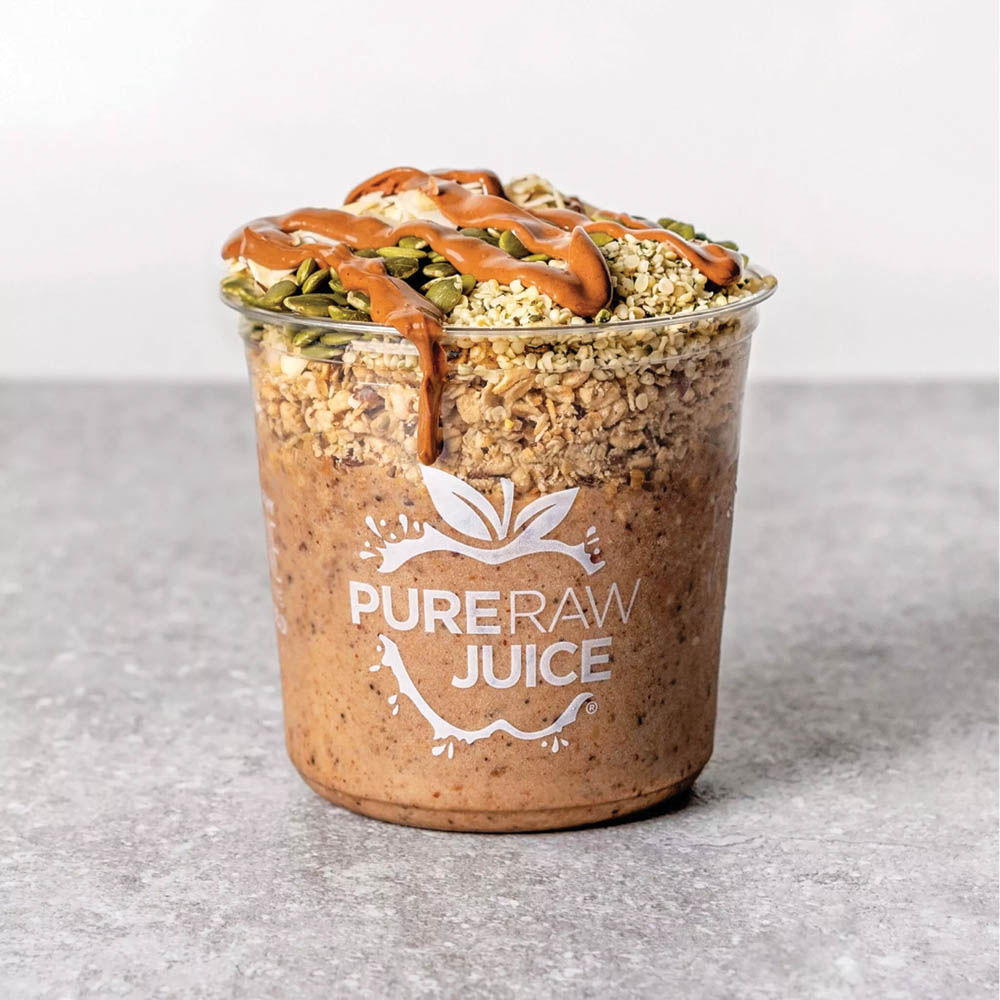 Pure Raw Juice has locations in Bel Air, Canton, Fed Hill, Greenspring Station, Locust Point, Rotunda, Timonium and Towson. Whether you're after an acai or pitaya bowl, smoothie, cold pressed juice, oatmeal, lemonade, coffee or a juice shot pick-me-up, they have it all. My personal favorite is the traditional acai bowl with an acai, banana and apple juice base topped with strawberries, blueberries, banana, granola, coconut and honey. I also throw a little bee pollen in there to strengthen my immune system. When I'm going for a juice shot, the "flu shot" is always my first choice – with a spicy blend of ginger, lemon, cayenne pepper and honey. Who says Cannabis users don't like to eat healthy too?