It's a beautiful drive out to Boring, Oregon. Evergreens wrap both sides of the highway as you cruise towards Mt Hood. In this picturesque region, we find Portland High Standards – a beautiful facility nestled in the mountainous countryside among several large commercial nurseries. The farm was originally a large equestrian center for riding and boarding horses. But after an extensive remodel, it was reborn as a state-of-the-art growing facility.
Owner Gerrik Latta has adapted to change throughout his entire career. From humble beginnings in the medical market to running a large recreational grow facility, his capacity to adapt has been crucial to staying alive in an ever-shifting market.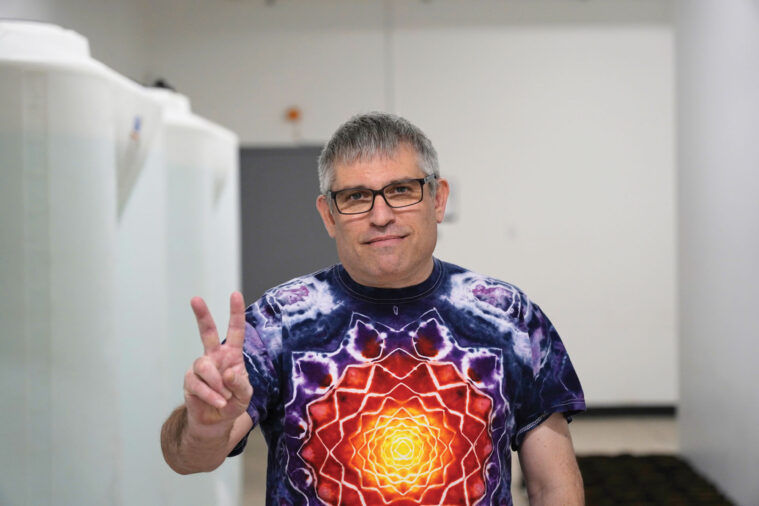 We could go on about how good his Cannabis and grow are, but Latta is more interested in sharing his battle with the Hop Latent Viroid (HLVd) and how it almost took him out of the game.
Latta started growing and honing his skills in his medical gardens back in 1992 in Gaston, Oregon. By 1996, he worked on several medical grows and was enjoying the budding legal Cannabis community. In late 2014, Oregon passed Measure 91. Latta bought the property (where they currently operate) and applied for a recreational license in early 2015. Their land-use application was approved just three days before the county shut down the process for grows in the area.
After a lengthy battle with a former investor that almost ended in disaster for the farm, Latta was able to finish the buildout with a new and like-minded business partner. They built 12 large grow rooms, a cure room, a spacious nursery for moms and clones, and a beautiful nutrient work room. The nutrient room is artfully designed and deserves mentioning.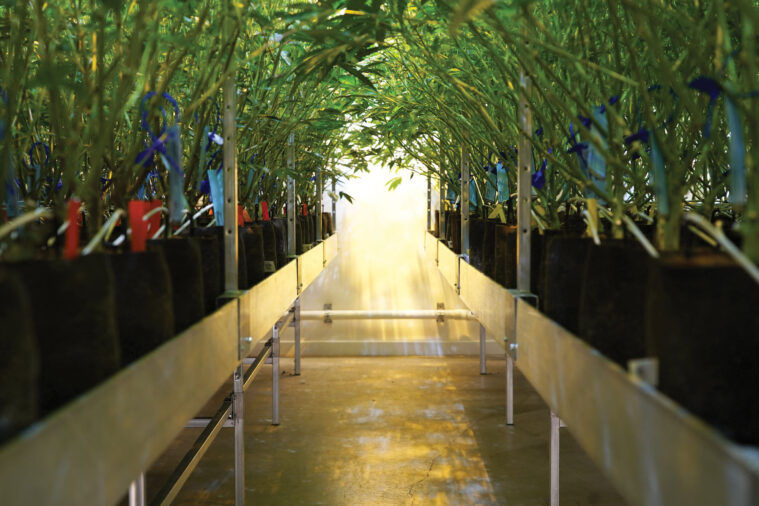 Justin Hemler, the owner of Plumdawg Millionaire (@plumbdawg_millionaire), is the handyman behind the nutrient lines that run like arteries throughout the facility. The nutrients are mixed up and delivered to the rooms on a schedule that Latta developed and monitors religiously. I spent some time checking out all of the plumbing as we toured the grow. Each pipe and bend were symmetrical throughout, and all the fittings and manifolds were works of art on their own – solidifying Plumdawg as a craftsman with a huge passion for his trade.
But back to the defining conflict of Latta's story: Some time had passed since the rebuild and Portland High Standards had made a name for themselves in the market, but Latta started noticing a problem. His plants were beginning to lose vigor and smell. One by one, whole runs underperformed, and the numbers fell accordingly. Soon, the team realized they were dealing with one of the newest problems in Cannabis cultivation: the dreaded dudding disease, aka the Hop Latent Viroid.
Hop Latent Viroid is a plant-specific pathogen that causes dudding or stunting. HLVd can lay dormant and undetected in a plant before showing any signs or symptoms. Affected plants will have abnormal branching, declining vigor, heavily slowed trichome and terpene production, and decreased yields. There are testing kits, but those get expensive very fast for commercial grows – Especially when the recreational market is paying growers record-low prices.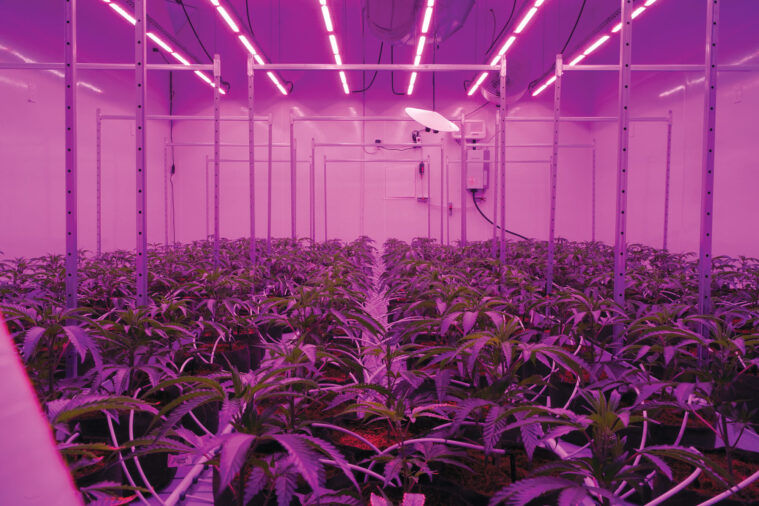 When the dudding got bad, Latta said he slowly lost terpenes and vigor throughout the grow. "I used to smell the weed out at the fence when I passed through the gate, but as the viroid got worse you couldn't smell the terps outside of the grow room door."
His terpene tests from that period were well under 1% and he said the yields were "pathetic." He lost 91 strains to the viroid. So, Latta threw himself into researching the disease in an effort to understand and prevent it. At that time, part of the problem was a community divide on HLVd. Although, we eventually learned that it spreads mechanically through tools, equipment, and people.
Latta took what he learned, educated his team, and created Standard Operating Procedures (SOPs) for every part of his facility. When we visited Portland High Standards, we were quickly escorted into a locker room to put on lab-like suits. Latta also asked that everyone visiting had showered, wore clean clothes, and avoided visiting another farm the day before. Simple steps and protocols like these can help lower the risk of the viroid spreading from farm to farm. But it takes attention to detail and persistence.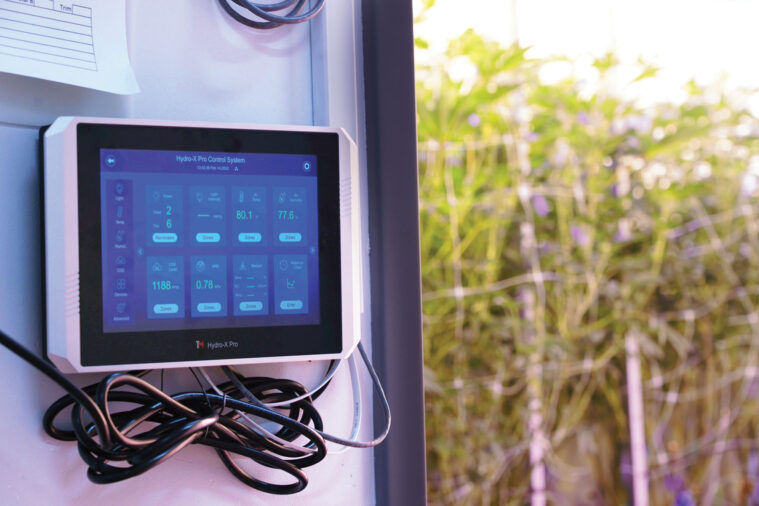 On one occasion, the Portland High Standards team followed cleaning SOPs but forgot to clean the plastic stakes that hold the irrigation lines down.
"Something as small as missing that can mean another outbreak for strains you've paid to clean up," Latta said, looking over the rolling bench full of luscious plants. "Until I got some of these genetics back from being scrubbed, I had forgotten what they were supposed to look and smell like. You get so used to how they've been expressing with the disease," he said, smiling as he showed me his clean cuts of flowering Sunset Sherbet.
Latta's research led him to the world of tissue cultures. Experts say they can effectively "scrub" the viroid out of a plant's RNA. The tissue culture process involves propagating clones in a controlled, clean environment and using cells from the infected plant to "filter" the viroid out. The plant cells are grown in a test tube and the process is repeated until the viroid is undetectable and the clone can be verified clean. From there, the lba can store the "clean" clones for the farm to order as needed.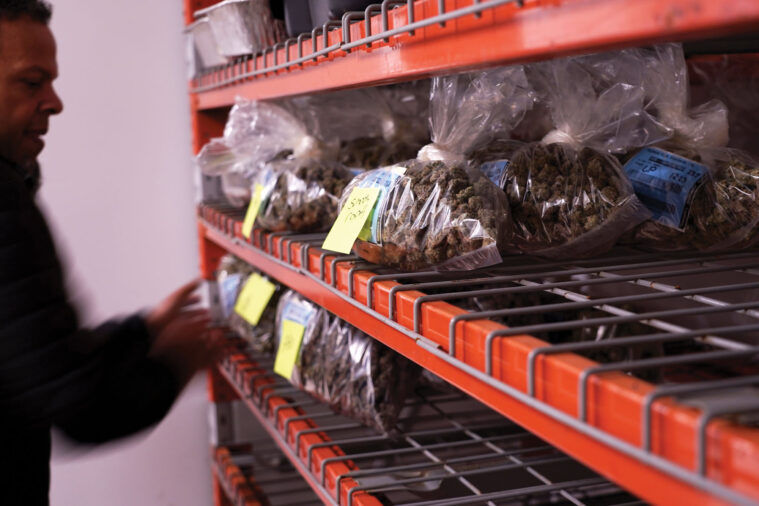 Latta decided he needed to learn the tissue culture process for himself. After doing his research, visiting laboratories, and talking with experts, he found a laboratory willing to place a propagation and testing facility on-site at Portland High Standards. The goal is to test, scrub and propagate all of the strains Latta has collected over the years. He has even hinted at offering their services to others once they are dialed-in and running.
"Everyone has the viroid. It's everywhere," said Latta. "Many don't want to talk about it (like it's embarrassing) and there are others who don't even know they have it."