During the California Gold Rush of the 19th century, Nevada City drew waves of prospectors hoping to strike it rich – eventually emerging as the gold mining capital of the state. But a century later, a very different wave of people began arriving in the area: not a gold rush, but a green rush. In the late 1960s and early '70s, when hordes of hippies headed north to the region that would come to be known as the Emerald Triangle, a good portion also migrated here – not in search of riches, but of tranquility, privacy and freedom to pursue passions of alternative spirituality, sustainable living and of course, Cannabis cultivation. And many of those outlaw-hippie-stoner types who came here settled not in Nevada City's quaint, historic downtown area but up in the San Juan Ridge – an isolated wilderness in the foothills of the Sierra Nevada Mountains now known to locals as simply "The Ridge." Here, we find the second stop on our Golden Triangle pheno hunt tour, Foodoo Farm – a hemp-filled homestead owned and run by longtime "Ridgies" Brian and Barbara Jones.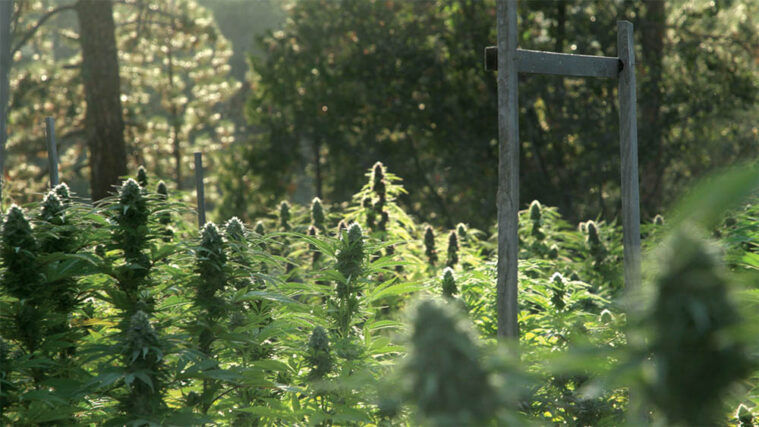 Though not among the green wave that came to Nevada County half a century ago, Brian's parents were indeed hippies. As a child, he lived all up and down the West Coast from San Diego to Portland – including the legendary Haight-Ashbury section of San Francisco.
"Brian was allowed the freedom to panhandle in Panhandle Park as a five-year-old and attend amazing concerts at the local soup kitchen," Barbara tells us. "He saw bands like Jefferson Airplane and Big Brother and The Holding Company. In fact, Janis Joplin was a neighbor of his, and he'd brush her hair when she stopped by."
After graduating high school in the early '80s, Brian moved to Covelo, California in Mendocino County, where he learned two extremely useful skills: building houses and growing marijuana.
Throughout the '80s, he set up and ran guerilla grows all across NorCal – in Mendo, Humboldt, Napa and even in Sonoma – where he apparently perfected a technique of hanging grow bags up in the trees to avoid detection by the state's Campaign Against Marijuana Planting (CAMP) enforcement program.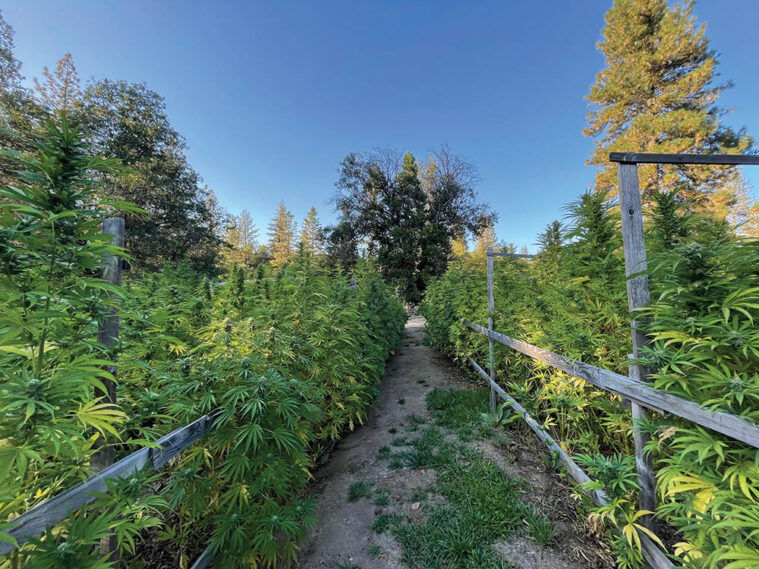 Barbara, conversely, was born in Michigan and raised in Ohio by church-going conservative parents who often chastised her for her "lack of direction." She eventually moved to Sacramento, where she embarked on a "long-term college program" during the mid-'80s. It was during this time that she and Brian first met through some mutual friends at a party on the Yuba River in 1986. It wasn't until two years later, though – after both had moved to Nevada City and become single – that they became an item.
"Our first date was pizza and a Grateful Dead show," Barb remembers fondly.
Shortly before tying the knot in 1992, the couple purchased the 24-acre piece of undeveloped land that would become Foodoo Farm. Here, they built their home and planted a vineyard, orchards and several Cannabis gardens. They had their first child in 1993 and their second three years later – a joyous occasion whose celebration was sadly cut short by some unfortunate news.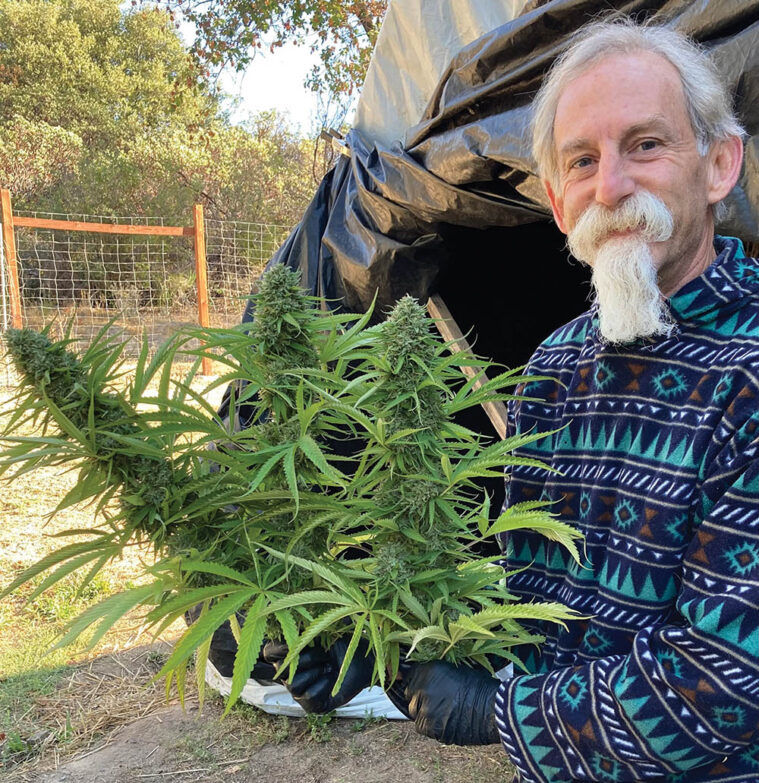 "When our daughter was just three weeks old, the police showed up at our door to tell me that Brian had been arrested at one of his grows up near Yuba County," Barb recounts.
Brian was convicted and sentenced to two years, but had his sentence reduced to seven months by volunteering for a boot camp-style rehabilitation program in Lompoc. After his release in 1998, he remained on probation for six years. During that time he never got high, but continued to grow on the down-low (under the aegis of Prop 215) and sell surplus flower to local dispensaries. Once their kids were grown and out of the house, and Prop 64 was in effect, the couple decided it was finally time to come out of the grow closet. As soon as Nevada County approved legal Cannabis cultivation in 2016, they were the first farm to receive a license.
"We had previously been 'pot farmers,' and now we were 'Cannabis farmers,'" Barb jokes.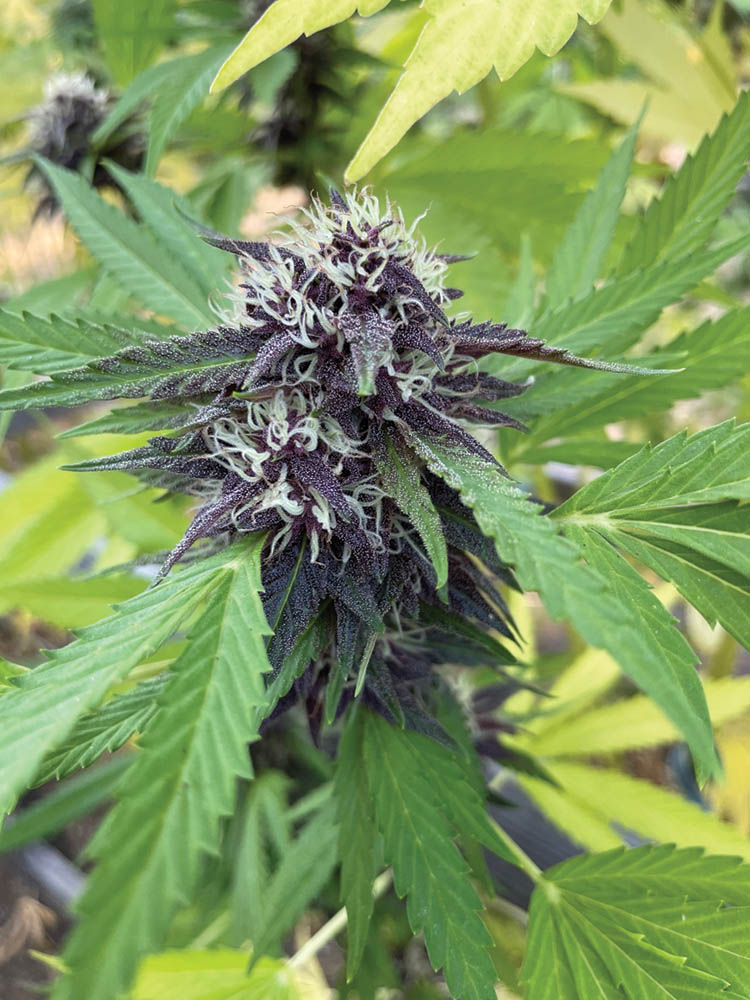 They've been growing weed at Foodoo for 32 years and have operated as a fully sustainable, organic farm from the get-go. Joking that they "Just say no to 'cides" (insecticides, pesticides and fungicides), they were even Sun + Earth Certified in 2021). They have the maximum canopy size allowed by the county (10,000 square feet) and produce two crops per year: a light-dep crop in the winter and a full outdoor grow over the summer. Their outdoor garden features around 1,200 plants with an average height of about 12 feet. Though they've worked with other genetics providers in the past, this season, their entire crop is grown using feminized seeds from either Humboldt Seed Company or their European partner, Sensi Seeds.
"We have a good relationship with them," says Barb. "Shopping for seeds in their catalog is like being a kid in a candy store!"
The 10 cultivars they've chosen to grow this season include Blueberry Pancake, Jelly Donutz, Gazzurple, Garlic Budder, Cali Octane, Don Carlos and Grass Valley Girl, as well as research and development strains like Ed Rosenthal's Super Bud and a few heritage strains such as Sensi Skunk, Dream Queen and Black Domina.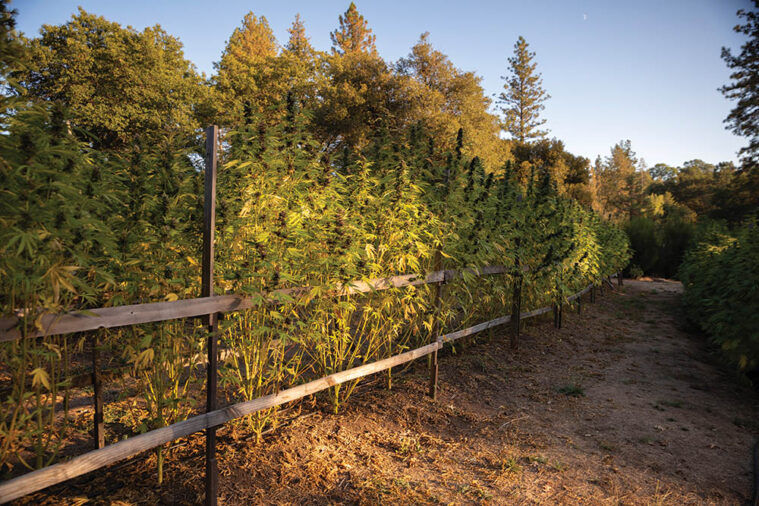 "We try to choose a balance of sativas, indicas and hybrids that all develop and finish at staggering times," she explains. "We've done especially well with their new Grass Valley Girl … it tests at 31% THC and 5.2% terpenes, which is amazing."
Their herb is sold through their Foodoo Farm label (available at select dispensaries in L.A. and the Bay) and wholesale to Stone Road and Evidence Bags.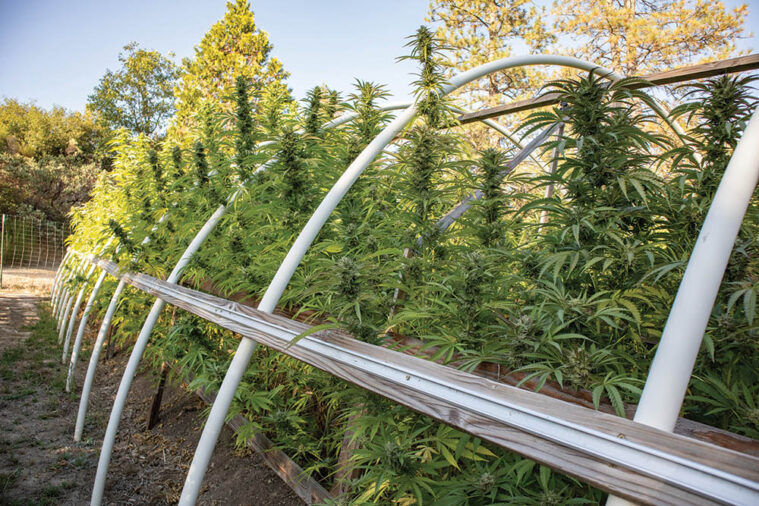 When not in the garden, the couple have other pursuits to keep them busy: Brian still works as a general contractor and has published seven books and two albums of original music, and Barb is an activities director at their local library. Plus, in 2019, they signed on as producers of the long-running Ridgestock Music and Sustainability Festival … because, as Barb puts it, "The Ridge loves to party, and we love to help make the community happy!"
Despite its shortcomings, Brian couldn't be more thankful for the protection Prop 64 has provided.
"We've really come full circle," he reflects. "I went through the whole evolution as far as growing Cannabis in California … running from CAMP helicopters and hiding in the bushes and all of that, and it's so much nicer now. Today, I was sitting on my back porch rolling up a bunch of joints, and there was a helicopter flying over, and I just waved at 'em. There's no more hiding, and it feels really good."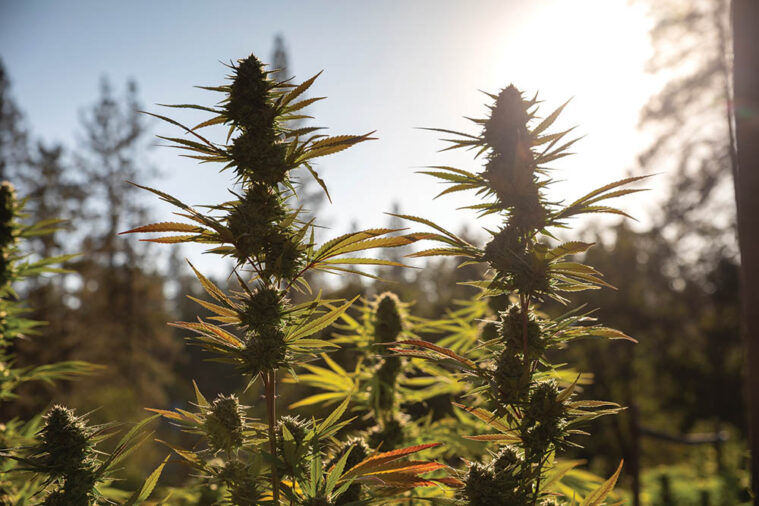 More on Foodoo:
City: Nevada City, CA
Tier Status/Canopy Size: Tier one, 10,000 s/f
Number of plants: 1,200
Number of FT/PT employees: 0 (sole proprietors)
Motto or Mantra: "'Foodoo' is a family word we created that means 'putting your best into whatever you do.' That's our mantra – that's what we do."