I first met Mammoth Inc. CEO Spencer Blier when my good friend Eamon O'Neill became the company's solventless press technician. O'Neill is the embodiment of a Cannabis success story: In high school and college, he was an athlete who never quite fit in with the sporty crowd, and as the pressures of being a young athlete brought out an angry side of him that he didn't wish to encourage, O'Neill had a difficult time transitioning from adolescence to adulthood. He battled substance abuse and addiction until he found clarity in family, and eventually, parenthood. That proved to be a turning point for him – the catalyst that was needed to kick his harmful habits. Here, he turned to Cannabis to help the healing process.
O'Neill had contacted me about his employer's father, who was very ill and in need of quality edibles. Eager to help, my wife and I went right into the kitchen and started on an assorted basket of our edible brand, EATs. Little did I know that his employer was Spencer Blier, the owner of my favorite Rhode Island cultivation facility. When we were invited to Spencer's home to give him the basket of edibles, he offered to give us a tour of the Mammoth facility in return. I happily accepted and just days later, had the opportunity to see what Mammoth was all about.
Spencer is a young entrepreneur who took an unusual path to marijuana. After two years at Quinnipiac University, he was expelled for smoking Cannabis in school housing. While he waited to enroll in the University of Rhode Island, he took a few months to volunteer at a school for the deaf in Fiji. When he returned to the U.S. and began studying film in college, a close friend suggested he become a Rhode Island medical Cannabis caregiver. So Spencer, who was working as a campus groundskeeper at the time, set up his first grow in a tent inside a log cabin on school grounds where he was living.
---
Meet the Mammoth Inc. Team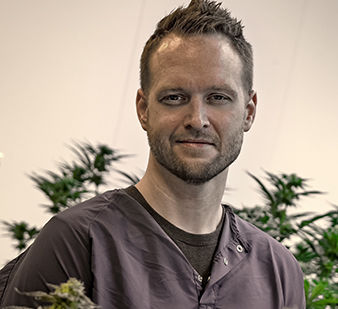 ---
Not long after beginning this grow, Spencer and his then partner contacted the Rhode Island Patient Advocacy Coalition and received their first five patients. Things were going well and Spencer was just about to get a co-op license, when such licenses became obsolete thanks to the new cultivator licenses introduced in the state. This is where Mammoth Inc. was born.
Walking into Mammoth Inc.'s cultivation and solventless extraction facility, I really didn't know what to expect. To be honest, this was the first legal Cannabis grow operation that I'd had the pleasure of visiting. I have seen many well-organized and elaborate grow and garden spaces, but nothing could prepare me for the spectacle I was about to witness. 
In the reception area, I was greeted by the smiling face of Mammoth's General Manager, Jon Connors. Jon has a hand in pretty much everything that makes Mammoth the ganja Goliath that it is. He went to URI for Psychology, where his roommate was Spencer's brother, Connor Blier (who is now a partner at Mammoth). Shortly after graduating, Connor invited Jon to live with him, so the two could build a grow in his basement. After working as a carpenter, Jon had developed just the right skill set for the job. The pair built two rooms and set out to learn the ins and outs of growing hydroponically in deep water culture.
During Mammoth's buildout, the crew needed some help with the final construction. Jon got to work as the plumbing consultant, putting together the hydroponic systems, waterlines, airlines, the RO machine and all the little-but-necessary jobs for the intricate system. He quickly became assistant to the head grower and then moved on to administrative work. Eventually, as Mammoth grew, Jon also had a hand in compliance, sales, purchasing, packaging, planning, hiring and even started running special projects, including packaging and grow upgrades.
Five years later, Jon is the general manager of Mammoth. And as he handed me a new set of scrubs, I couldn't help but feel giddy about the behind-the-scenes tour I was about to enjoy.
He used his access card to get us in and we walked through the secured inner workings of the facility. The first thing you will notice about Mammoth Inc. is how happy and kind their crew is. They are all friendly and quick to assist or answer a question. The second thing you are sure to notice is how immaculately clean everything is from top to bottom. It is also readily apparent that Mammoth is a state-of-the-art facility, with a fully-automated system.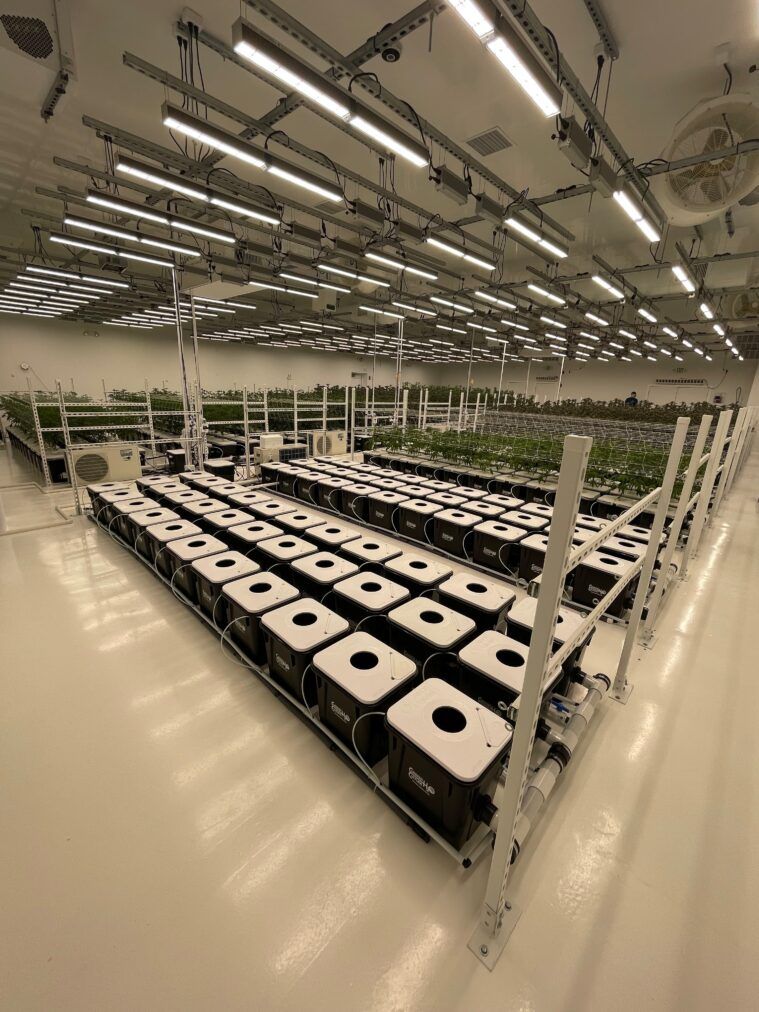 I was first brought to see their reverse osmosis tank station. This is where perfectly purified water is stored and transferred to fill feeding tanks. Food and nutrients are then carefully calculated and monitored for perfect PH, and water temperature is controlled for each of their hydroponically grown plants. It is also the same water that the humidity control system uses to mist their cultivation rooms with a spray so fine that it will not bead up on the plants, which can potentially cause the dreaded white powdery mildew or mold: also known as WPM.
Next was the cloning room where all the mother plants are tended to, and all the babies come to be. This is where Spencer met up with the tour and I got a distinct Charlie and the Chocolate Factory vibe, as he showed off his deep-water culture wonderland of a facility. He explained that even in this early stage of the plant, clones are treated with great care and meticulousness. Their cloning systems are set at a root spray temperature that mimics a perfectly cool soil environment and promotes healthy root growth.
It was plain to see Spencer was not a "plant it in a pot and see what happens" type of cultivator. Every detail was skillfully designed to imitate the most favorable climate for optimal growing potential. Telemetry data is constantly monitored via a host of sensors and monitors. The data is used to ensure the quality and consistency of all of Mammoth's products, and each product is tested by an independent, third-party lab. Everything that was done was purposeful and explained as essential to the process. Spencer seemed to have a gift of making sure each of these details is carried out with the highest standard of care possible. This extreme attention to detail should be viewed as a gift … the gift of a green thumb.
One could see the pride in this small-business owner's face as we navigated through his world, and as he explained each of the lengths he took to set his products apart. I was taken through the veg room and able to see these extensive water systems in action with the gorgeous young plants. Next was the piece de resistance: the flower room where the aromas of budding buds danced in my nose and caused a euphoric feeling, without even having to light one up. I was told to gently rub and squeeze certain sugar leaves, testing buds to release terpy oils onto my fingers in order to smell each strain specifically.
Finally, I was taken to the trim, curing and processing areas, where the fruits of Mammoth's labor were cleaned up. Here the flower is dried slowly to perfection, and either packaged as-is in the form of flower, processed by means of a water or bubble hash system and then squeezed by heat press extraction and made into hash rosin, or isolated into THCa and pressed into dabbing tablets.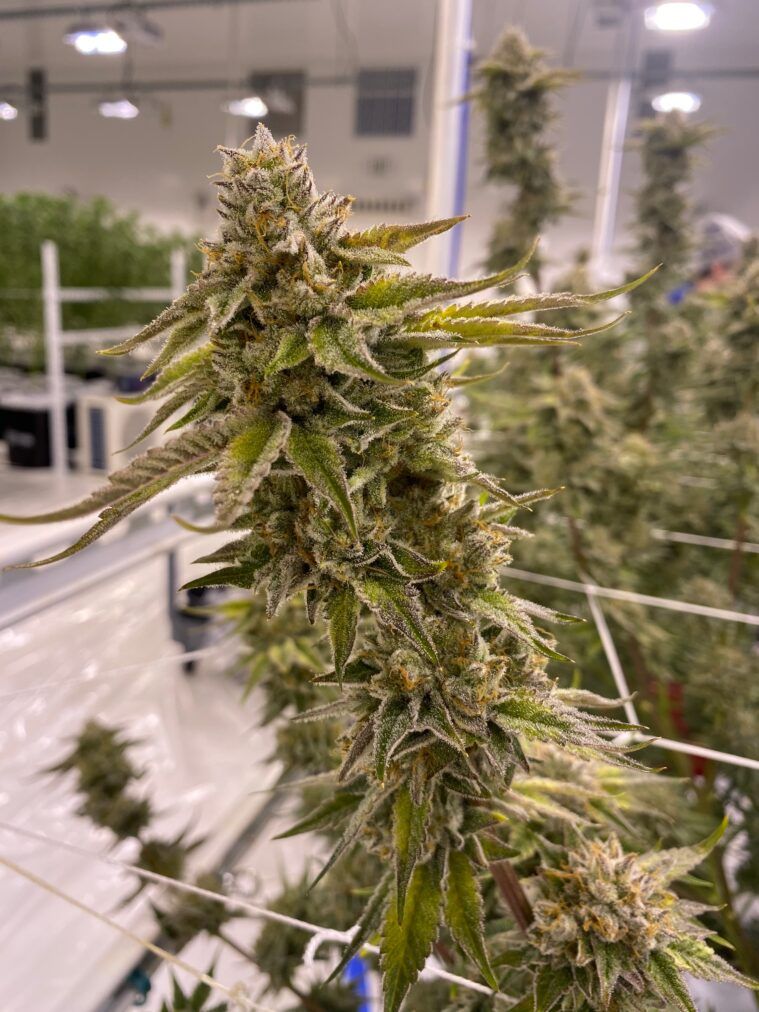 It was wonderful to see the seed-to-sale process in its entirety – a truly gratifying experience that exemplified the "quality in, quality out" creed that every Cannabis cultivator should adhere to. In an industry this high, Mammoth Inc. is only raising the bar.