It's an early, foggy fall morning as we pull off the winding backcountry roads and onto the Pacific Northwest Roots farm. Quietly tucked beneath the towering trees in Tahuya, Washington, this place feels more mystical-gardening-oasis than traditional-Cannabis-cultivation.
Opening the car door, the still, crisp October air suddenly comes alive with noise. Steady chopping of shears from the trim team, full-belly laughs from the four co-founders who operate like brothers rather than business partners, and the faint hum of high-tech equipment firing on all cylinders in the hash lab can be heard as we step out of reality and into the whimsical world of PNW Roots.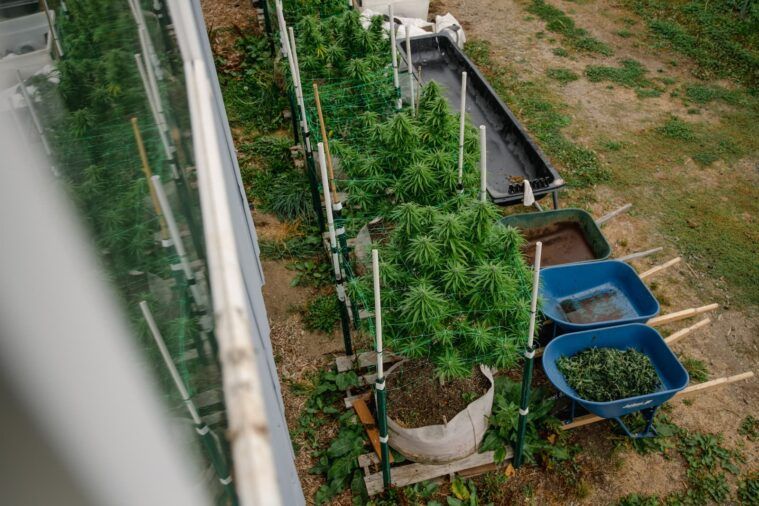 Ras Kaya Paul, known (and adored) around town simply as Kaya, established the brand back in the 2010 medical market days alongside Phil Vandever, Tory Madsen and Jason "J Money" Wilcox. Rooted in regenerative agriculture since day one, the five-acre farm is home to multiple unique growing environments: outdoor fields, primitive and light-assisted greenhouses, and indoor rooms.
Of course, we start our tour in the heart of the operation: the outdoor fields. There's a rich and earthy aroma of roasted coffee grounds and wet soil as we walk alongside a dense patch of Kaya's Koffee f6 plants just days away from harvest. Rather than sitting in individual pots, the rows of thick, hearty roots poke out of raised garden beds and stretch towards the sun using Hügelkulture – a traditional German style of farming that literally translates to "mound culture."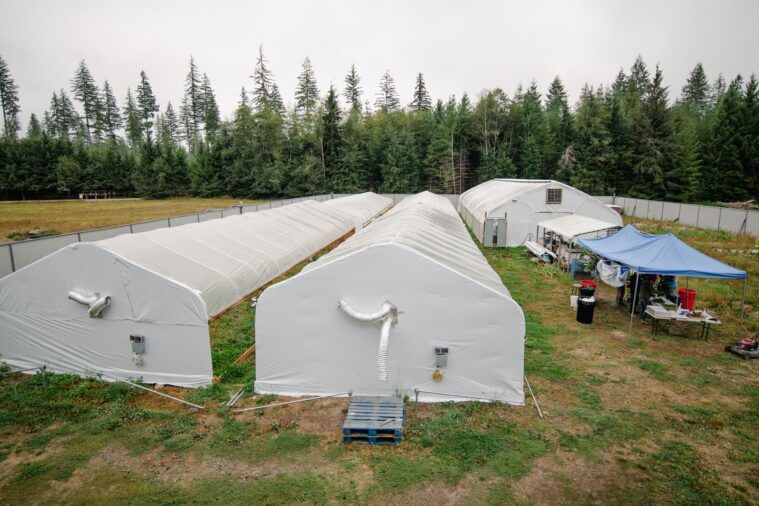 These mighty heaps of layered wood, compost and locally-scavenged plant debris create a self-sustaining ecosystem that breaks down over time, naturally warming the soil and extending the growing season. Decaying woody matter becomes a breeding ground for indigenous microorganisms that enrich the soil, while also acting as a sponge that stores and releases rainwater during drier periods.
Korean Natural Farming (KNF) practices are used throughout the property as well, established by Dr. Cho Han Kyu in the 1960s in response to the nation's growing reliance on synthetic chemicals. This style combines traditional Asian farming methods with fermentation to replicate processes that naturally occur in nature, with the goal to generate as much of a farm's fertility needs from waste produced by the farm itself.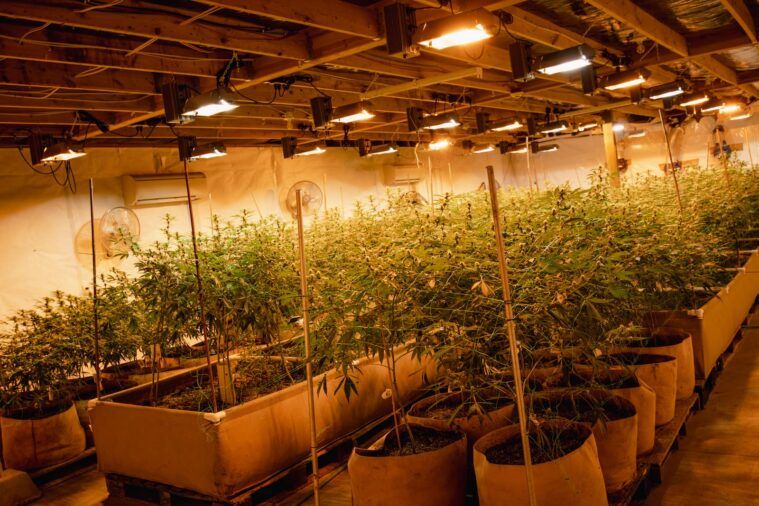 PNW Roots is certainly a pioneer of KNF in American Cannabis cultivation – over 90% of materials used in their growing process come from local, natural inputs, and any of the minimal waste produced is composted. The self-proclaimed "Roots Crew" even borrows from Master Cho when it comes to their team motto: "Your garden can be as big as your heart."
The gnarliest natural waste item used around here? Frozen salmon carcasses, caught up the street by J Money himself on days off spent fishing and smoking joints along the basin. Mixed with brown sugar to create Fish Amino Acid, one of the KNF inputs, this secret sauce sits stewing in giant barrels for an entire year before being added to garden beds as a rich nutrient source.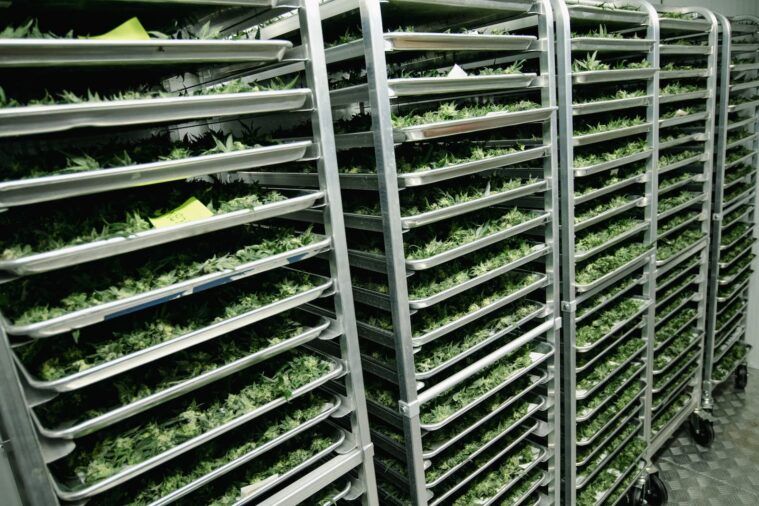 After clearing our nostrils (Kaya insists the mix smells like banana bread, but the verdict is still out on that one), we head inside to check out one of the three rooms utilizing living soil beds and LED lights. "We never harvest our GMO early," Kaya tells us as he ties back his infamous dreads, sticks his nose right into the center of a plump nug nearly bursting at the seams, and takes a deep inhale. "Everyone else does that. We let it really stink up. Mhmmm. It's gnarly, like your grandpa's breath."
Moving through the 10,000-square-foot converted indoor space, there's also a propagation room and a mother room holding the brand's widely-renowned and award-winning genetics, from Kaya's Koffee to Hamma Hamma and The Freeze. And let's not forget about the hash lab cranking out some of the only six-star water hash you can find in the state.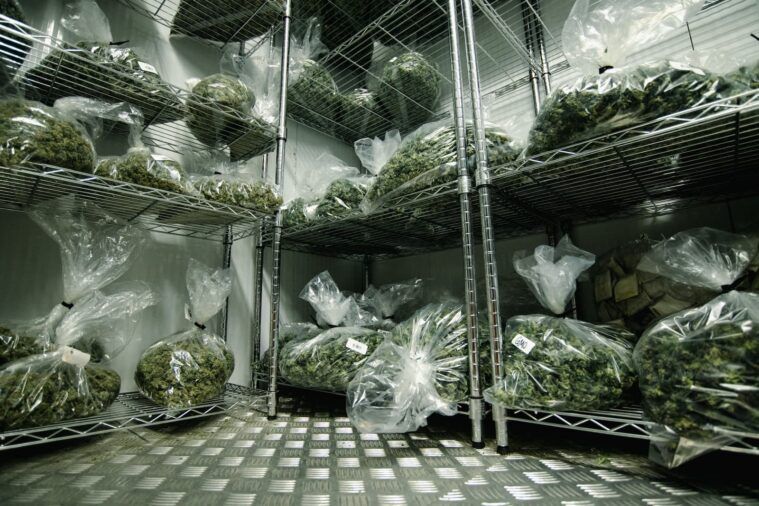 Unlike most outdoor farms, a whopping 90% of the Cannabis grown on this property is harvested for hash. Flowers chopped during "Croptober" are lightly trimmed, then head straight into the freezer. Once the final red leaves have fallen and those Washington skies turn gray and rainy, the Roots Crew will be huddled up in the lab all winter, letting the self-sustaining soil beds do their thing outside and making hash until the sun reappears in the springtime. Talk about a hashy hibernation.
Finally, we see an old horse-barn-turned-house that one of the co-founders now lives in (and where the Roots Crew has their brainstorming sessions), and end our tour right where we started: in the fields, under the sun, back in the heart of the brand. It's so incredibly rare for one Cannabis company to excel in breeding, regenerative farming and hash making – but PNW Roots hits the trifecta and makes it look effortless.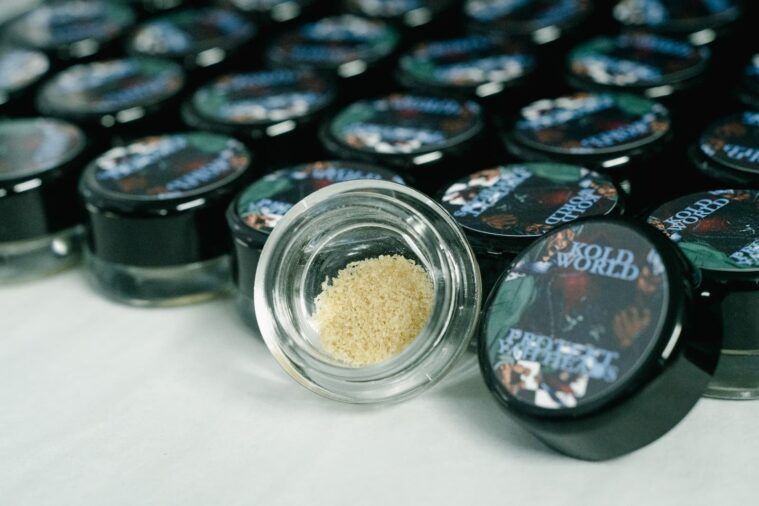 Perhaps this is because PNW Roots is about growing so much more than just Cannabis. Tobacco, hops, CBD, and a variety of herbs and vegetables can also be found on the farm, as well as two dogs, some cats, geese, chickens, roosters and goats. Highly sought-after genetics aren't even the only thing being bred around here; the ducks and cats were actually bred on-site as well.
It's truly about cultivating a community – so, how will the brand's roots continue to deepen from here? Ras Kaya Paul has a vision to eventually transform the property into a totally self-sufficient and sovereign "food forest," complete with yurts where visitors can stay and learn how to harvest their own food and Cannabis.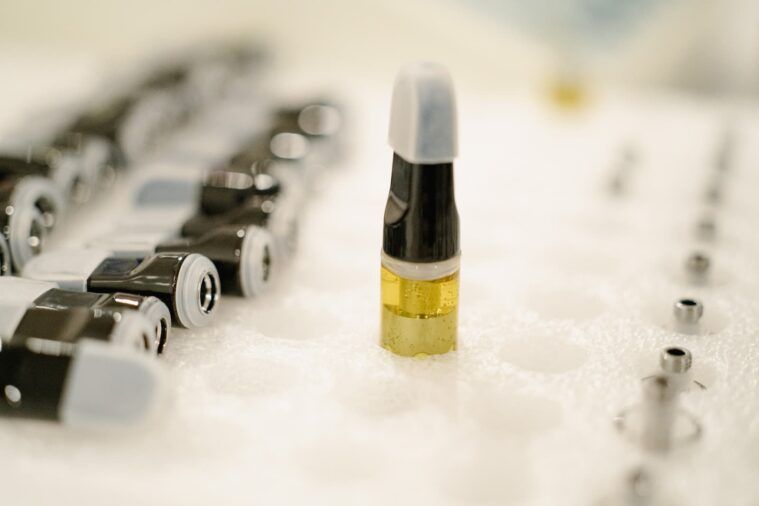 "I see a secure and sustainable environment for agriculture in many forms that nourishes the complete self: mind, body and soul," he says. "Cannabis plays such a large role here … even in hard times, people want their herb because it gives us the conscious lift we need to ponder what we're truly doing on this planet and how we can make it better for everyone."
Count us in as your first yurt guests, Kaya.