In 1938, Adam Boyd's grandfather immigrated from Ireland to California to chase the Gold Rush. He soon found himself in Alaska, where he would eventually build his own homestead. Three generations later, the Boyds have expanded the humble homestead into a 420-acre farm complete with its newest edition: a Cannabis cultivation.
We caught up with Adam at his family farm in Palmer just as the season's first blizzard hit.
How did your family initially get into farming?
My grandmother grew up being a schoolteacher, and my grandfather got a job as a Territorial Marshal. At some point, the folks next door pulled the pin on their 160 acres, so my grandmother spoke up and bought the land. That's kind of how we got into farming and developing the land.
But the Boyds had another side profession, didn't they?
My dad went into law enforcement, so we were doing farming in the evenings and on the weekends, with the help of a lot of hired hands and farm managers. I kind of followed in my dad's footsteps and went to college for a justice degree. I ended up running the minimum-security Point Mackenzie Rehabilitation Program for 10 years. At the height of the program, we were farming 3.3 million pounds of agricultural produce, and I was delivering to nine correctional facilities and nine food banks around the state.
So how does a lawman end up working in the Cannabis industry?
I just love growing things – I don't care what it is. I spent a long time growing potatoes, and at one time, we were the biggest spud farm in the state. But when I left Point Mackenzie, I was approached by some investors about trying my hand at growing Cannabis. It wasn't too hard to go from growing something that you get pennies on the pound to dollars on the pound. I'm not a consumer, but I surround myself with great people like my 'right hand' Kelsey Anderson. Without them, we wouldn't be where we are now.
How has your background in agriculture influenced the way you grow Cannabis?
As farmers, you grow up poor and get used to picking up stuff from the junkyard and finding a way to fashion it into what we need. I've always had the opinion that it didn't make sense to pay someone to do something you could teach yourself to do. You know, if you never try anything new, you never learn anything new. So, I took my knowledge of hydroponics, construction, HVAC and put it all together to build this facility. But I'm always experimenting with better ways to grow.
What do you think is the key to having a successful grow operation?
Diversity and consistency. When we started, we had 1,800 different seeds to choose from, and they were from all over the world. It gave us the opportunity to pick the best of the best, and we can still keep making changes. But options don't mean anything if you can't be consistent. No one wants to buy a small quantity of an unreproducible strain. It just doesn't make business sense.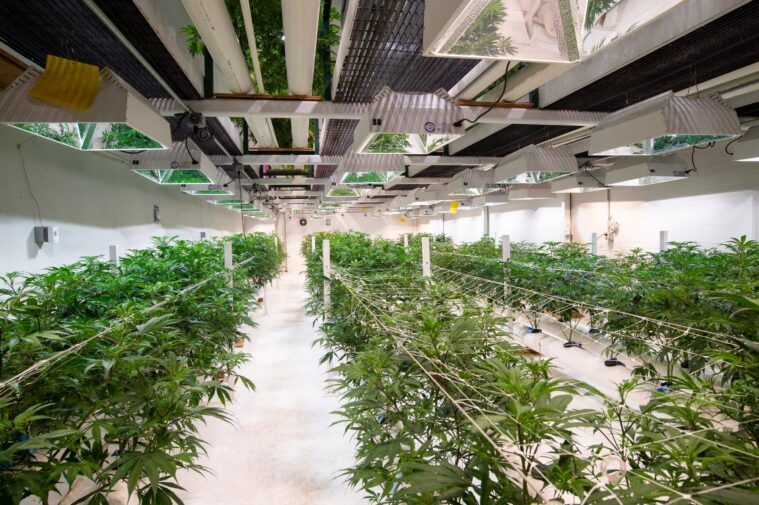 What is your favorite part about Cannabis?
One of the biggest challenges about commercial farming is not having control over the big things like weather. With Cannabis, I get to grow indoors, which means I have the advantage of controlling the climate and the fertilizer. You get to control the plant life, and from my perspective, that's a really nice thing.
Have there been any difficulties in transitioning from potatoes to Cannabis?
Well, it did take me a while to get down all the new lingo. But I think I have it now.
What's next for Suilnua?
I'm planning on continuing to expand. We still have a lot of available grow space, and I want to get to the point where we're harvesting 600 plants each and every month. Right now, we have about 2,500 plants in various stages and anywhere from eight to 16 different strains. But there are only four of us making it all happen, and sometimes, we split time between the cultivation and the farm. It's hard work. But like I said, I have a great team that keeps us running.