Patient of the Month: Miles Wilder
In 2019, the University of Michigan conducted a study spanning 15 states on the usage of medical Cannabis. An overwhelming majority of patients (65 percent) cited chronic pain as the reason for medicating.
"You become a different person," 35-year-old Miles Wilder said, recalling a period of suffering following a motorcycle accident in 2011.
Originally from Colorado, Miles (they/them) spent their early 20s enjoying a high desert climate that could tempt riders to a year-round pursuit of the roads. "I was really pushing the limits and hanging out with other riders who embodied that lifestyle," they said.
It wasn't until an icy spill on a side street in Lafayette, Colorado took them off the bike and left them battling a back injury, that everything changed.
"For about 18 months, there was just blinding pain every day," Miles said. "I have so much empathy for people who have chronic pain. It completely warps your brain."
Prior to the crash, Miles had graduated from the University of Colorado Boulder with a degree in music education. They had chosen to follow their passion in hopes of joining their parents as teachers of music. And they succeeded – working at an elementary school while simultaneously writing and producing their first album, "Strange Lullabies."
"I fought through [the pain], but I'm also sure it held me back from doing more during that period of my life," they said, citing a difficulty to get into a creative headspace. "It made a difference in how many shows I was able to book and play, and it was a big detriment to the other work I was doing to stay afloat."
Thankfully, their parents' inclination towards alternative and non-allopathic medicine primed Miles' openness to Cannabis as a pain management tool.
"I grew up with hippie parents," they said. "So it was just Kush and maybe some Ibuprofen. [Cannabis] allowed me to focus on something besides the pain, and that's when I really began to view it as medicine. It really balanced me out."
These days, the peace Miles finds through vapor inhalation of Cannabis is akin to the peace they found growing up on the Eastern Plains of Colorado. Starting before they can remember, Miles was taught music, almost like a language. At the age of four, Miles was taught to play the piano. At age nine, they added the French horn to the mix. Their musical dexterity has since extended to a variety of instruments including bass guitar, keyboard, cornet (think trumpet), voice, a Looper and a variety of Foley – a reproduction of everyday sound effects.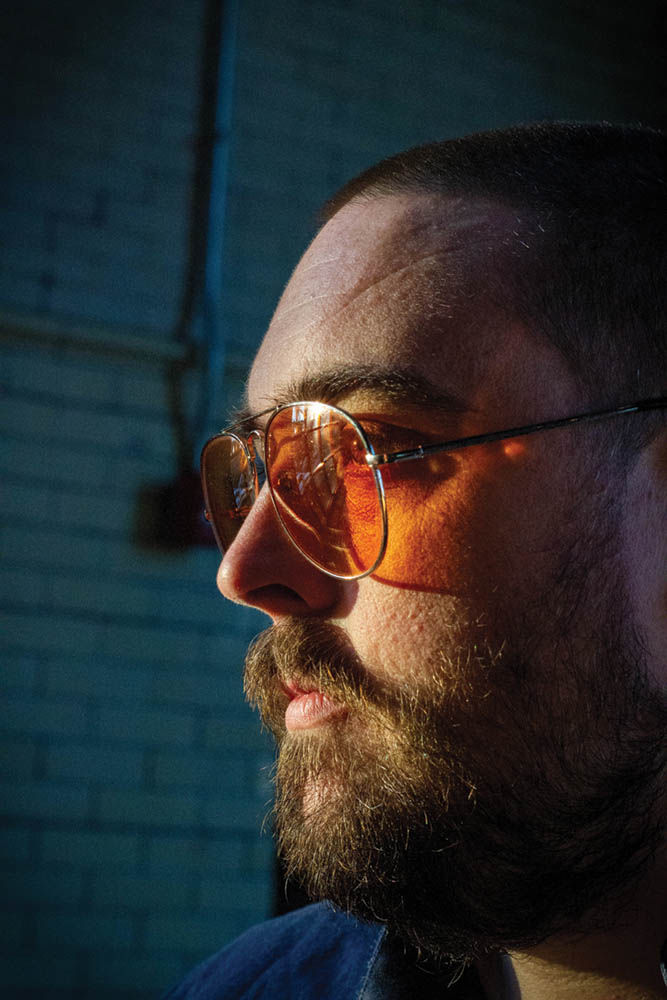 "One of my goals as an artist is to give people a sense of possibility," said Miles, recalling a series of live shows featuring a staple gun played through a delay and looper. "I'll take an everyday object and play that in front of [the audience]. In the beginning, they'll laugh. But by the end, that thing becomes part of a layered piece of music that brings people to tears."
In 2020, Miles moved to Medford, Massachusetts with hopes of showcasing their eclectic musical talents to the East Coast. However, the pandemic left Miles and their partner Mandy scrambling for work. Despite taking on a variety of odd jobs, returning to their purpose never strayed far from Miles' mind. A stint as an ax-throwing coach in Everett? Well, that was just music to their ears.
"I cracked multiple handles in the course of training," they laughed. "So I took two hatchet handles – they're odd-shaped – and started using them as found-sound instruments. With a looper and a couple of effect pedals, I can really make them more than they are."
Miles' multiplicity often means bouncing between a variety of musical disciplines – from playing Modern American Circus shows with Circus 617, Contact-Improv dance and yoga flows, to hosting live singer-songwriter performances. Miles has also produced three albums, each of which are hosted on Spotify, Apple Music and Tidal. Miles can also be found on Instagram and YouTube, @MilesWilderMusic.
"I tend to hesitate around the question of genre because it doesn't serve me very well," said Miles, who will be playing the Midway Cafe in Jamaica Plain on July 31. "Over the years, I've done a lot of experimental music. I've played in country bands. I've played some funk bass. I've even been in a pirate band."
No matter the melody, connection is what Miles seeks.
"I think there are fundamental experiences that we all have as humans," they said. "As an artist, I try to give the audience a vehicle in the shape of my art that allows them to access those feelings."
Cannabis, Miles said, helps bridge the communication gap that exists within themselves and relay that funk to the crowd.
"I used to be really strict about not [medicating] before going on stage because I worried about getting distracted," said Miles, noting a strict preference for strains like Chemdog and Durban Poison. "But a small amount [of Cannabis] on a daily basis makes what I am doing easier. It slows things down for me internally. And that really has become clear to me in my 30s."
Social: @MilesWilderMusic (IG & YouTube) | Albums available on Spotify, Apple Music and Tidal