Nidhi Lucky Handa is the lifeblood of what she calls the "Leuniverse" – a nickname for the popular line of California-based Cannabis products she debuted in November 2018. Handa and Leune are all about transcending narratives – be it supporting the Last Prisoner Project, taking a "vertically agnostic" stance on product development, or welcoming new investors like NBA stars Carmelo Anthony and John Wall – Handa seems to take it all in humble stride.
Leune launched in 2018. What had to happen for you to reach that moment?
My background is in business marketing and building brands. I'm a brand geek through and through, so when legalization passed, I was really interested in what was going on in the brand space for weed. As a consumer, none of it was appealing to me. Brands were either really leaning into this stigma of being bad – booty shorts, bikinis and lots of aggressive marketing – or, on the other end of the spectrum, there were all of these wellness brands who approached the stigma by dealing with it in this very clinical way. It was really glaring to me that there were no brands speaking to the concept of the modern consumer: someone who is interested in bringing Cannabis into their life, but maybe doesn't identify as a stoner or one of the three other categories the industry had created. That was really the genesis of Leune.
How would you describe Leune's identity, so to speak? What drives your company?
From the jump, Leune has always been structured as a lifestyle brand. I also feel super, super passionately about being vertically agnostic. We launched the brand with infused joints and disposable vapes, and then we added PAX pods and jarred eighths. We have edibles coming soon, as well as gram bags and hash joints and all kinds of things. For a really long time, the way that we've marketed to consumers in this industry has been about indicas, sativas and hybrids, but today, most people in the industry know that's not really a fair way to talk about these things. It's more complicated. That's why, inside the Leuniverse, the architecture is really hinged around archetypes like Cloudberry and Solberry. Instead of indica, we talk about Cloudberry, which emulates a lot of different things. We may favor indica-leaning strains inside the Cloudberry world, but from our perspective, it's more complex than that.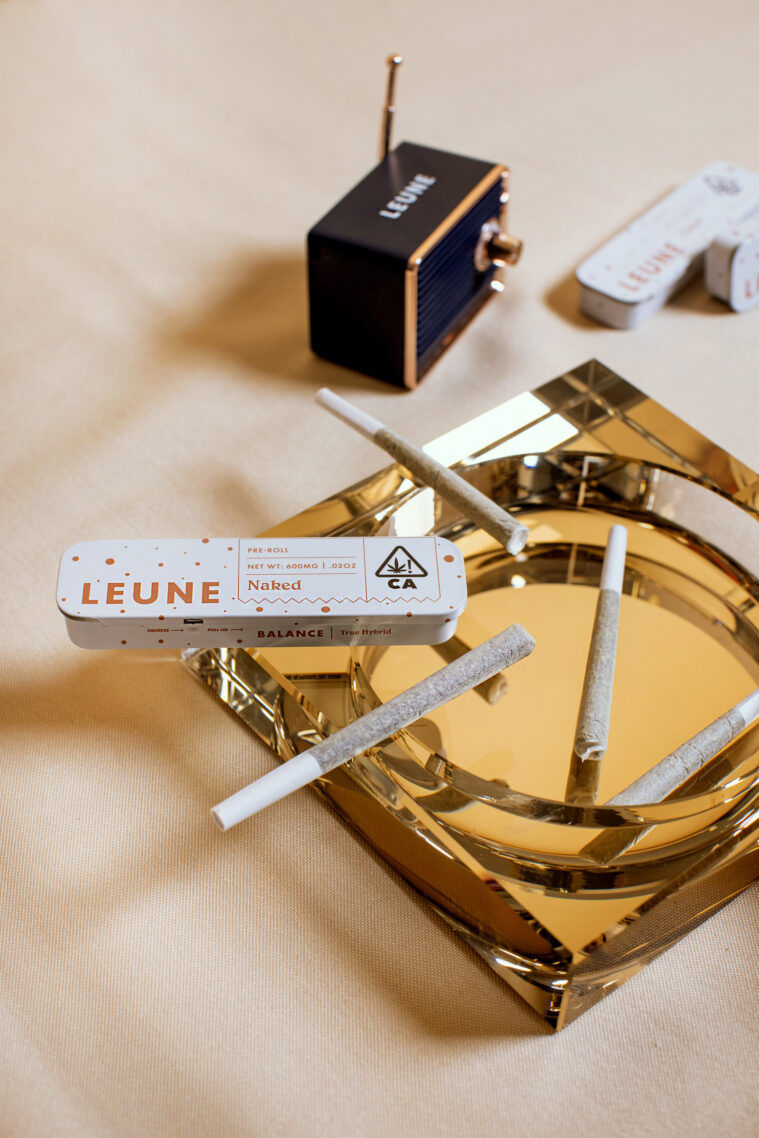 Leune also works closely with several nonprofits. How did those relationships develop?
Hopefully, as a society, if we learn anything from 2020, it's the importance of showing up. I am a startup founder who has something that was a very small brand, that has since really taken off. I'm very, very fortunate and lucky that happened, but my desire to be involved and to participate will always outweigh how much money I have in the bank to support these causes.
For example, with Last Prisoner Project, the first time I reached out to them, it was really early on for them. At that point, I was just this little brand with not a lot of money, but I asked them what we could do to show up. Leune is a very aesthetic, creative company – we do everything internally – so we offered those resources to LPP and the result was us making some videos for them that are now up on their website.
Would you encourage other Cannabis companies to follow your example?
I think so much of what stops people from getting involved is the feeling that if you can't make a dent or get a plaque on the wall, why bother? Try just showing up to the party! If you can't afford to buy a bottle of wine, show up with napkins. Just fucking show up – that's my view on this. And that's just what we did. I'm very proud of that. And by the way, the two videos that my team made were about two folks who were serving terms, and both of them were released at the end of 2020!
I also have to mention Eaze's Momentum because I consider Eaze to be family, quite frankly. I first launched my brand on Eaze and they've been a phenomenal partner. Now, as a brand, we sponsor [Eaze's] Momentum [accelerator], and as a person, I mentor the folks who participate in it. I don't really think about competition in the way that I'm guessing a lot of other folks do. I think that we're building this industry together and I want to help and know the other people who are trying to be involved. I want to see other people rise with me, because I think it's more fun to be growing and rising together than to be throwing arrows at each other.