Five years ago, Runts was still just a candy spelled with an "s" – until Ray Bama and his partners sprouted an epiphany that sparked the kind of hype marketing managers only dream of. And from that time on, Bama's partners Yung LB and Nick would be called the Runtz Crew.
Leaf connected with Bama about the birth of the phenomenon that is Runtz, his thoughts on the future, and his word on what it takes to succeed in the strain game.
Let's get right to it. Tell me the Runtz superhero origin story.
My partner, Nick, he's the head grower. Pre-2017, our claim to fame was having indoor Zkittlez. At that point, people didn't have indoor Zkittlez – it was a unicorn. Everyone was looking for what was next. Having packs of it was unheard of … Nick asked me, 'What should I cross it with?' Gelato was the biggest thing at that time, Young Dolph had just dropped the album called Gelato… I was like, 'Let's cross the Gelato with the indoor Zkittlez.' Nick dropped two phenos, it was a #7 and a #3. We had them in the car and we were like, 'This is the thing.' It was like a 15-minute drive and by the end, we had Runtz with a 'z.'
Emerald Cup was coming up and we had three pounds of it. Me and LB stayed up all night trimming three pounds before the Cup. Berner was there at the booth, looking at us like, 'What are you guys doing? You have all these people at the booth!' We showed up with five girls, the Runtz and 1,000 t-shirts. Literally, that shit sold so fast – everyone at the Cup was like, 'You've got something going.'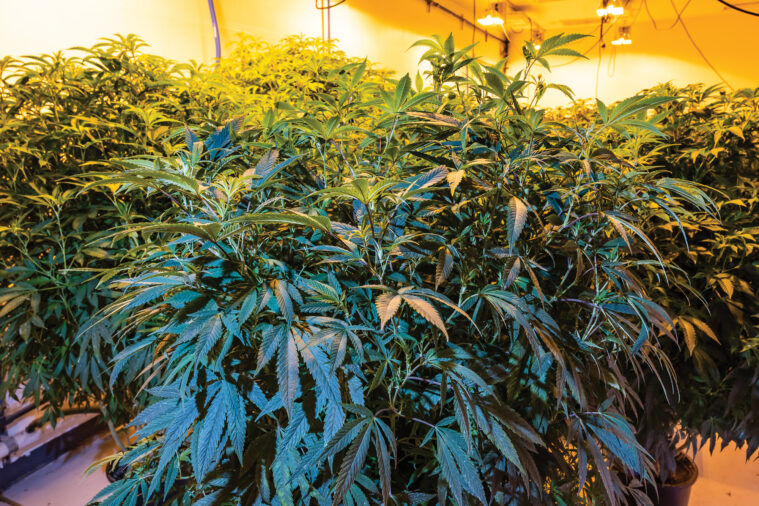 What makes a legendary strain or phenotype? Where does the magic come from?
It has to be something new, right? First and foremost. You gotta go back to pre-Runtz, you know? Pre-Runtz, there weren't that many strains – now there are a million. To make a legendary strain, it has to be something new. You have to have innovation. You have to dial it in. You have to check all the boxes. It's gotta have flavor, the power. It has to be different, man – some type of characteristic that makes it different. Gelato is like hazelnut gas, you know what I mean? I feel like Runtz took it to a whole other level of candy – now you have people who go only for that candy, you know? At the end of the day, we're probably looking at another five to 10 years of the market being dominated by Runtz and Runtz crosses, Runtz sisters and stepchildren.
What projects are you working on now that have you the most excited?
We're doing collabs with clothing lines, record labels, artists – anything you can think of, really. We're doing a collab with a comedian. We're doing tastings with chefs. We have a breeding project with Seed Junky Genetics. We took the original Runtz and crossed it with some of the favorites of his line, like the Jealousy… He was like, 'Hey, give me some cuts,' and he's going to pollinate. His genetics library is crazy. We have a collab coming with Doja… we're doing a breeding project as well with that. We'll definitely have some merch and some media behind it as well.
Do you have any predictions for where the strain market might go?
I think we're going to get a whole lot more Zkittlez crosses right now. I think that OGs are going to come back and we're going to see a lot more green weed coming back. I think the market's going back to a place where the end user is less trusting, so they're going to want to see these breeding projects and how they do shit. I think that having real genetics and crosses is going to be important, rather than just 'throw my name on the bag' type of stuff.
What does it take to succeed in the strain game?
Everyone tries to copy what the next person does. To a certain extent, you can – but you have to be unique. You have to see what you can do to shake the industry… With Runtz, we brought the power back to our group of people. We gave everyone the strain… Build on that and continue to innovate and create… do new things with it.