Matty Kimber and Christopher "Sleep" Tafoya are familiar with junk food. After touring with their band The Chicharones for years, they've constructed plenty of meals with the offerings from a truck stop. Sleep admits his passion for touring was first booking the show and then figuring out where to get the local connoisseur-grade weed. The fun part was finishing the jar before you hit the next state border.
After living off of chips and candy while touring, the guys put their love of snacks and Oregon's surplus of hash oil together. Their company, Rose City Confections, is the premier white labeler for popular edible makers here in Oregon, helping the expanding edible market find its feet and scale production. They call themselves a "solution partner," tackling issues large and small. It's clear to see that though their facility looks like a modern-day Cannabis Wonka factory, their main gig is creative problem-solving.
"There are very few industries that change as dynamically as ours changes, which forces us constantly into problem-solving mode," says Matt. Some days they're crafting entirely new products, the next they might be reacting to changes in labeling requirements or figuring out how to quickly get packaging when their supplier unexpectedly experiences shipping delays. "No two days are the same," adds Christopher, showing me their latest surprise project – dropping the ceiling and adding insulation to keep the production area at a cool 68 degrees.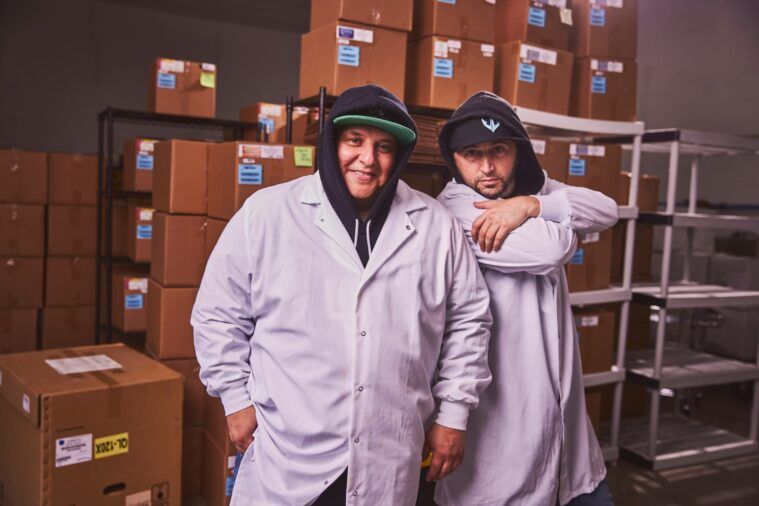 When they outgrew their last facility, the guys spent a lot of time carefully planning and plotting the new spot to facilitate workflow. It's easy to geek out on the bags of sugar and stacks of silicone molds, induction burners and convection ovens – especially when one stage of production blends seamlessly into the next – until you're down at the other end of the facility looking at packed and wrapped goods ready for distribution.
Matty expands on what makes Oregon such a unique market for edibles. "Oregon is like the minor leagues," says Matty, speaking to the unique market for edibles in the state. "It's an incredible proving ground. If you can succeed in Oregon – a highly saturated and incredibly competitive, brand-oriented market – you can make it anywhere. That's why we're seeing brands that started here hitting the ground running in other markets."
The guys here at RCC are doing more than pouring and packing chocolate bars – they're turning dreams into reality. What started as an idea on the back of a cocktail napkin, will soon be produced, packaged and sent on its way to dispensaries all over the state. In fact, there's a good chance that the next incredible edible you pick up at the dispensary was brought to you by these fun-loving stoners.