For the last 22 years, Jeff Hirschfeld has run one of the biggest hubs of glass and Cannabis culture in America: CHAMPS Trade Shows. A former accountant from Brooklyn who relocated to Sherman Oaks in 2011, Hirschfeld got his start in the trade show game when a client of his with a printing business asked him to attend one to help boost sales.
"I ended up selling more equipment than his employees, so he hired me to manage his traveling sales team," Hirschfeld recalls. "That's how I became familiar with how trade shows operated."
A few years later, Hirschfeld – who'd loved weed since he was 16 – partnered with friend Peter Gage to start their own smokeware company, Gage Water Pipes. Utilizing his past expertise, he secured a booth at a national trade show and got his products into nearly 300 stores. But then, in 1998, he received a letter from the convention's organizers saying that his company was no longer welcome because they were selling drug paraphernalia. So Jeff and his partners (Gage and a third partner, Josh Weitz) did what any savvy entrepreneurs would do – they started their own damn trade show.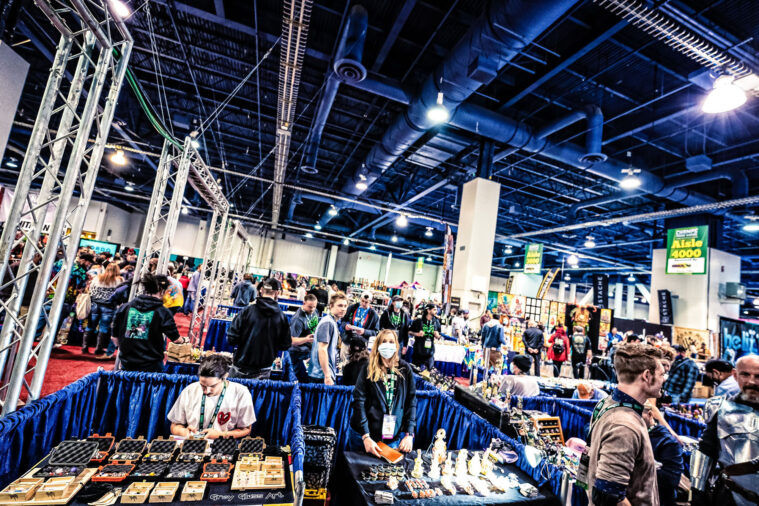 The smokeware convention we know today as CHAMPS began in 1999 under another name: Contemporary Tobacco Accessories, or CTA. The first CTA show was held at Gold Coast Hotel in Las Vegas and had just 32 booths. Over the next several years, the shows ran successfully twice a year in Vegas … but all of that changed in February 2003 when the Bush Administration executed their sweeping sting on the paraphernalia industry known as Operation Pipe Dreams. In a press conference, Attorney General John Ashcroft reportedly referenced CTA directly (though not by name).
In Hirschfeld's words: "A reporter asked, 'Why now, after a 13-month investigation?' Ashcroft responded, 'There is a pot trade show going on next week in Vegas and we want them to know we know about it!'"
Operation Pipe Dreams had a chilling effect on both the show and the industry as a whole. Of the 260 vendors that had signed up to showcase at CTA, 190 canceled overnight – costing the show around a quarter-million dollars in booth sales. To keep the event afloat, Hirschfeld needed to take two drastic actions: To offset the enormous financial loss, he was forced to take out a second mortgage on his home; and to distance themselves from the scrutiny associated with CTA, he and his partners decided to change the name of the show to the Contemporary Hand-crafted American-Made Products Show, or C.H.A.M.P.S. Still, for many years after, the word "bong" remained verboten both at headshops and at the show, and Hirschfeld refused any media coverage of the event in an attempt to keep it under the radar of law enforcement. Thankfully, those days have long since ended.
"I would say around 2005 to 2006, it seemed to start loosening up," Hirschfeld says. "By that time, people didn't care as much about words, and the world started to understand that reality is reality. But again, it's dependent on the state you're in … obviously, we do our shows in progressive states."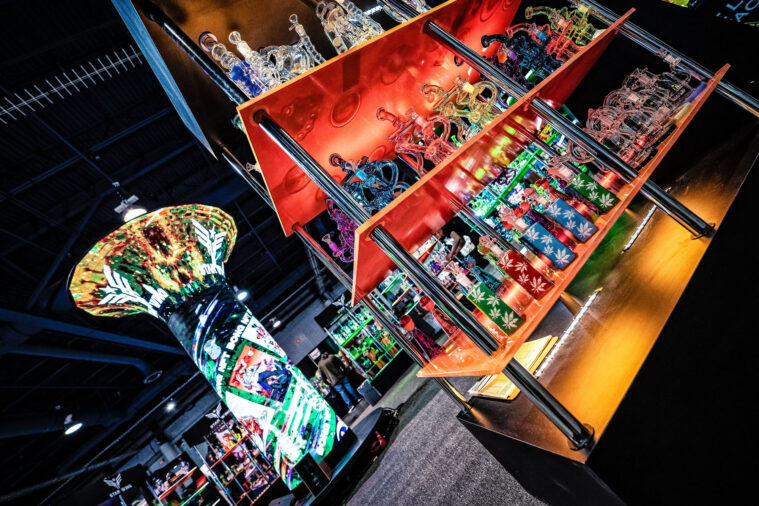 The transition of language isn't the only thing that's changed since the early days. What's surprised Hirschfeld the most has been the diversification of products featured in the booths. In the early 2000s, CHAMPS was essentially a bong show, with an estimated 70 percent of its wares comprised of various water pipes. But these days, thanks to more states becoming legal for recreational and medical use, the breakdown is quite different.
"Today, a smoke shop makes on average maybe 30% of their profit on glass," says Hirschfeld. "It used to be higher, but there are so many other categories in the industry now that a shop counts on – whether it be CBD, vaping, e-juices … but the demand for glass is still holding strong."
That demand only increased during the pandemic. Thanks to the global shutdown, it became difficult to get shipments from China, bolstering the U.S. glass scene.
"Most of the blowers we know are doing very well," Hirschfeld attests. "The combination of people all staying home and smoking more, along with less stuff coming from overseas, kept blowers busy … many were even sold out."
Hirschfeld's events remain a must-stop for anyone in the headshop game – enabling them to completely stock their shelves under one roof and see what's new and hot in the business.
"If you're buying for a group or a retail store, CHAMPS is the place to go—no question," Hirschfeld boasts. "We have the finest high-end American Glass in the world … but there's also a market for a $10 or $12 pipe. We pride ourselves on the fact that we have both and everything in the middle. We don't stick our noses up or try to tell the retailers what they need – we put everything out there for them."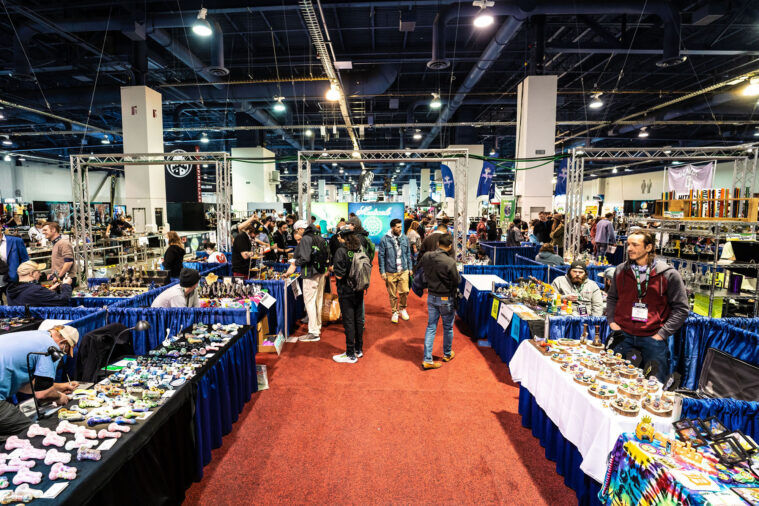 As Cannabis becomes more and more normalized and headshops continue to pop up across America, the number of vendors and attendees at Hirschfeld's events has grown exponentially. Their last show at the Las Vegas Convention Center this past February got up to 380,000 square feet with over 1,600 booths – a far cry from its humble 32-booth beginnings. Part of that expansion has included the formation of their own glassblowing competition – the CHAMPS Glass Games – as well as the addition of multiple CHAMPS satellite shows around the country, including a second Vegas show in July, two shows a year in Orlando, two in Atlantic City, and fall shows in both Denver and Chicago, with a second, summer show in the Windy City coming this June.
Still, the show's booming success is bittersweet for Hirschfeld: after tragically losing Weitz in 2011, he also lost his longtime friend Gage in 2019 – leaving him the last surviving partner.
"In our third year, after just finishing the show with 1,600 booths at Cashman Field, the three of us were driving home smoking a fatty," Hirschfeld remembers. "We hooted and hollered and thought, 'We did it … we hit it big!' We could never have dreamed of 16,000 booths at the Las Vegas Convention Center like we have now. I'm sure they're both up in heaven now, smoking a fat one and smiling with approval of how far CHAMPS has come."