The origin of Space Gems began exactly eight years ago in 2013 as many stoner stories do, on a girls' night out to a Phish concert. The night commenced with a necessary trip to Harborside dispensary in search of edibles for the show. Wendy Baker had recently completed candy making classes and upon eating her edible, realized that she could do this herself! Next she began experimenting in her kitchen and sharing with her family and friends – one who was so impressed that they brought some to their local dispensary in hopes of getting them on the shelves. The treats were a hit and the shop wanted to carry the "little gems that take you to space" – and thus, Space Gems were born.
Galactic skies, rainbow scapes, and glittering candies tell the story of Space Gems, the out-of-this-world edible company refreshingly passionate about our own planet. The wide range of products are free of synthetic dyes, harsh chemicals, solvents and fillers, providing high quality, award-winning edibles that set a high bar in the competitive edibles market.
We sat down with Wendy to learn more about what makes her line of Space Gem delights so unique.
For those who are new to the wild world of Cannabis edibles, and specifically the flooded gummy category, can you share why Space Gems are different?
I originally started making my candy with BHO (butane hash oil), but switched to ice water hash around 2014. People were coming to me for products to treat sickness and cancer, and BHO was dangerous, even though it was and still is common practice. I couldn't explain using BHO to treat medical patients, so I took a leap. If my products were going to be organic and vegan, I also needed to stand behind the healthiest concentrate out there. Ice water hash is literally just ice water and Cannabis.Our bodies agree with it more. The solventless movement was also emerging at the time – it was revolutionary and the test results were impressive.
Where do you source your flower?
I work exclusively with Craig Nejedly at Talking Trees farms. They grow all organic, sun/soil grown Cannabis – they go the extra mile. Craig is also vegan and owner of Satori Movement, a hemp skater/apparel line. You have to grow great Cannabis to make ice water hash. You have to have healthy plants, plants that are taken care of. We have been working together for over almost four years and work really well together.
It looks like you have a new product on the market! Tell us more about your Mind Expanding Space Belts.
Our belts were actually from the Prop 215 era, and we wanted to bring them back. So many people ask for the single flavored gems, so we decided to do a new gummy. Back in the day the Mind Expanding Belts were 280mg, that I used to hand cut with a pizza cutter! It's crazy where the gummy market has gone since when I started – so many more tools now. In terms of our Mind Expanding Belt line, I'm most proud of our THC:CBN 50mg:50mg sku, which took us a year to develop.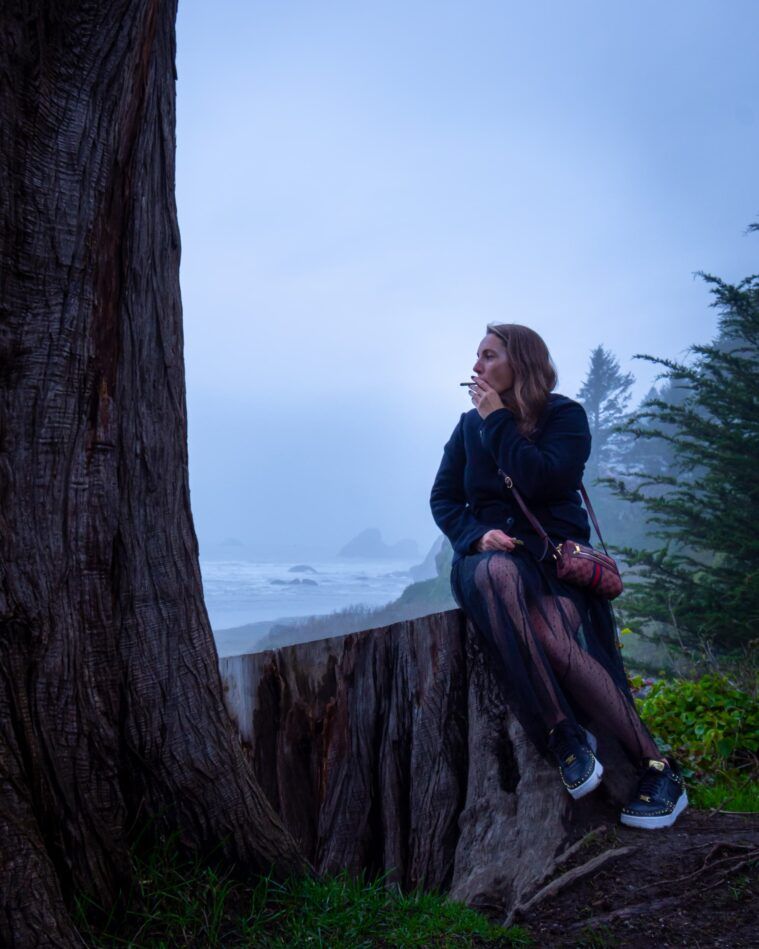 Your brand artwork is incredible. Who do you work with and what was the inspiration?
The stars aligned with Shelise Landry, a magical lady, who we originally hired for our packaging design. Next thing I know she's at Hall of Flowers with us, supporting us with all things marketing. We gave her the reins, trusted in her, and her work shines through the brand.
We love your fully recyclable, zero-waste packaging! Were there challenges in developing a sustainable package option?
I used to own a women's hemp clothing company, so I've always been a conscious individual – I really care about the earth and what the earth will look like in a couple of years. I live by the ocean in Humboldt, so it is a big deal to me to keep it [the planet] this way, and to keep the integrity of Humboldt in what we bring to Cannabis culture.
Our tins are much more expensive than standard mylar bags, and we also hand package everything. We could use those plastic bags and be killing it, but what's that doing for the environment? We all have to do our part. Money comes and goes, but this world needs to be around for the little ones. Maintaining the integrity of the Cannabis culture has been ingrained in me through 20 years of living in Humboldt. We have to be good stewards.
Tell us more about your ingredients and what makes you unique. Twenty rotating flavors? How does this work!
We use proprietary organic flavoring made from real fruits, everything is made from real fruits or vegetables. The coloring comes from veggies, the flavors from fruit. We've created so many fun ones that we just couldn't choose, so our gummy packs are always a variety pack. Some of our customer favorites are fig which is number one, followed by watermelon, then banana.
Your product line is robust. How do you recommend using your Gem Juice and Cosmic Tincture?
I'm not a big drinker – if I drink, I like cocktails. I love using our liquid products as a mixer in a drink, so I can keep up with my girlfriends. A little bit goes a long way! They are great for letting loose or getting creative in the kitchen. Sometimes it's easier to drink something than eat something, which is why we offer the variety. It's also a different buzz. We have the 100mg Gem Juice as well as the 600mg Cosmic Tincture, which were also from the 215 market. We brought them back for the high dose consumers. It's the only drink on the market made with ice water hash.
What's your favorite way to consume Cannabis?
I'm a huge dabber and am all about live rosin. I really like pre-rolls too, they are great for quick, easy relief. My goal is to elevate – I love flower too. And of course, edibles.
Anything extra to share with our community?
You are making a difference when you support us. We are not corporate funded, so you are truly helping our team – helping us to grow and to continue keeping the legacy of Humboldt alive. Lastly, we like to say that Space Gems may cause miracles, so enjoy the magic!
Make sure to follow along @spacegem.ca.