Ted Lidie is a nerd, and he wants you to know it. The founder and head honcho of Alien Labs was raised on a steady diet of comic books, manga, B-movies and cartoons – a stylistic recipe that's helped shape one of the most recognized brands in California, Arizona, and now Florida.
Lidie's undeniable impact on the Cannabis market has helped skyrocket the company to the leading edge of recreational weed, all the while staying true to the counterculture that put him there – not just growing their brand as a retail company, but also as a commentator of pop culture (the way Alien Workshop, Spitfire or World Industries did in the '90s). The stoner in the owner makes him conscious of the moves they make as a company, but he also understands that things have to change in order to evolve. That's part of why Alien Labs just expanded into 180 Zumiez stores. But despite this new national arena, for the man at the helm, the mission is still the same as it was in the legacy days: seeking new frontiers, pushing boundaries, and staying true to the scene.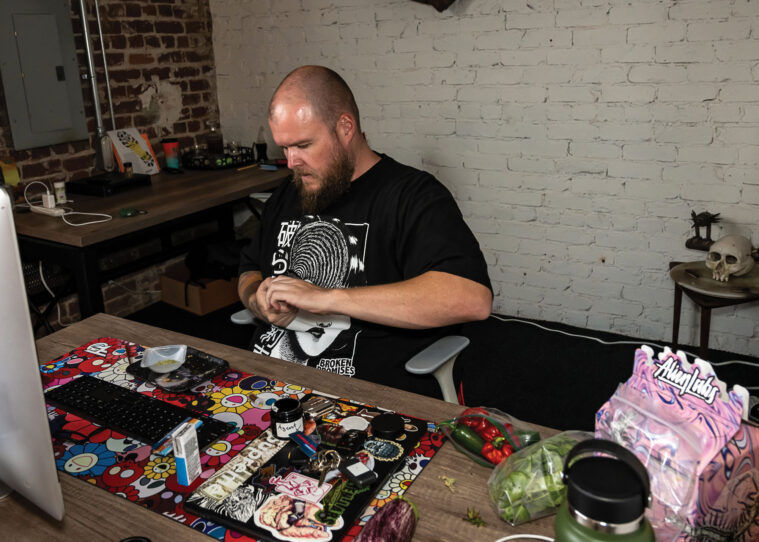 At Alien Labs' HQ in Sacramento, we talked with Lidie about the importance of being a stoner in today's Cannabis market and what role legacy MSOs play in keeping traditions alive.
What is it about smoking weed that got you passionate about the plant?
I always liked how it made me interact with the world around me, and I've always wanted to bring that experience to more people. The world's always been uptight, especially now more than ever. People gotta relax, and if there's one thing weed does, it chills you out. So many people on this planet would benefit from taking a little hit off the J.
How much do you attribute being a stoner to the success of your brand?
How can you expect to connect with your consumers on a deeper level if you don't even use what you're selling? You need to understand how something can make you feel or why somebody might like it. There's a subjectivity to Cannabis, but there's objectivity too. You can tell if something is good, even if it's not your thing. I never liked the lemony terp in Melonade, but that didn't stop us from putting it out because I knew people wanted it. You have to find out if it's good and if other people will like it … that takes a stoner.
What kinds of things influenced you after you started smoking?
Manga and comics for sure, but also movies like 'Cheech & Chong,' 'Half Baked' and especially 'Tommy Boy.' Plus, a lot of old skate brands from CCS. Those are some of the big inspirations we continue to draw from. People are always surprised to find out I'm a nerd, but really that's what Alien Labs is about: It's for the people that aren't always represented in our culture – even stoner culture. Growing up, it wasn't cool to talk about things like anime. Now, dropping collabs based on our favorite cartoons … it's like getting to live out your dreams. It feels like the result of years of speaking those things into reality and expanding our tribe.
Is that a big part of what's helped set Alien Labs apart in the Cannabis market?
Definitely. As an owner, it's all about having fun with your brand. Everything we do is about enriching the brand, while doing stuff that feels unique and natural. You're always looking for ideas or collections about moments in time. Like the Heaven's Gate capsule, think about what that was: A group of people who believed a spaceship hidden behind a comet was coming just for them. Tell me that isn't some Alien Labs shit?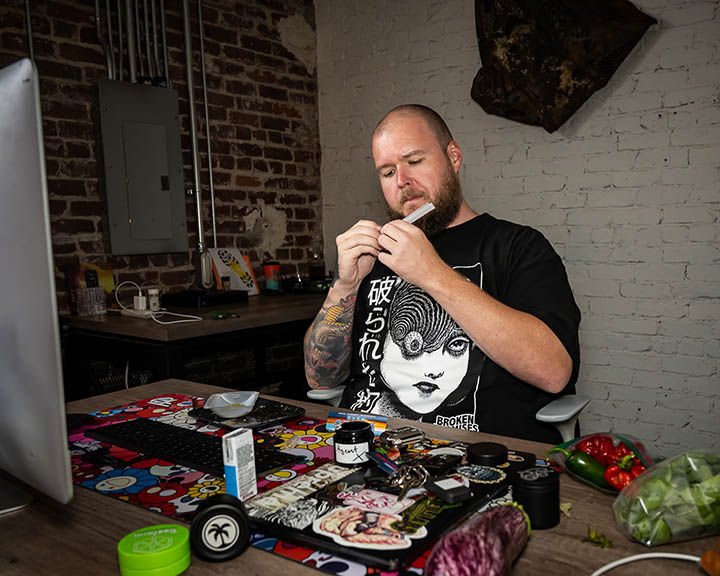 Do you feel that, as Cannabis goes national, Alien Labs and other legacy MSOs have a responsibility to act as stewards of stoner culture?
For sure. With these larger arenas, it feels like we have one of the biggest voices in the room – and sometimes the only voice in the room that cares about the culture. A big part of our mission is staying true to who we are and maintaining authenticity with how we move. It's so important to what Alien Labs is. The culture supports us, and we support the culture. That's the reason we have success. That all goes back to wanting to be a part of the landscape. Growing up, looking up to skate brands like Hook-ups or Alien Workshop, seeing how they were focal points within the scene, showing things from our perspective. That's the ethos of Alien Labs – take the stuff we're into and present it to the people.
As Cannabis gains more of a national acceptance, how important is it to keep stoner traditions alive?
For me, I've seen what destroying the culture does. California is a good example. There's a group of people trying to hold it together, but this shit has a lot of people jaded. If you go to a place like New York, where it's alive and well, you can see that the industry hasn't beaten them down. Everyone's excited about what's on the horizon. The culture is what keeps things exciting, not the industry.
What keeps you in this space?
I can't picture myself doing anything else. I love weed, I love getting people high, I love creating stuff, and I love building brands. To be able to do it on such a high level in multiple states, there's nothing else I want to do. It's also exciting to see where it's going to go. That's a big part of it. Most people are still trying to figure it out here in California. We're in Arizona, now Florida, and figuring out more of the East Coast next. There's no stopping this movement. I'd love to get to the point where Alien Labs shirts are in stores around the world.
Alien Labs has always had a reputation for next-level design. How important is it for you to have a large merch profile?
I think it's crucial today to be seen as a full brand with marketing, merchandise and product. Something like designing more than just a logo on a shirt – that attention to detail makes people respect the brand much more. If you're only known for one thing, like weed, and you have a bad season, you're fucked. But if you're known for being competitive in multiple fields like merch, concentrates and events, you might be OK. Being good at all aspects of your brand is pretty important. Lately, the main focus has been upping the quality of our Cannabis and our merch.
You also seem focused on improving fan interactions, sponsoring outdoor street fairs, and even creating a "happy meal" for the Y2K strain release.
You know what was crazy about the year 2000? Beanie Babies. My best friend Scott and I had my mom drive us around to all the Mcdonald's to collect the different ones. When we dropped Y2K, I thought it would be sick to recreate that. I told my marketing team, then we linked with the burger trucks and designed the packaging and alien babies within a week. We don't have a huge marketing budget, but most of it is on making stuff like that. The rest is for events that enrich our peers, things we don't sell weed at – we just come to show up to have fun.
What do you envision for the future of Alien Labs?
I want my kids to be involved someday. If anyone asks my daughter what she wants to do, she always says, "I want to go to work with my dad." That would be sick to me, to get to raise a woman in weed and usher in that next generation. The chance to set my kids up, that's what this is about. It's for the love of the plant, but anyone who says they aren't doing this for the bigger picture is kidding themselves. I come from a poor family, and Cannabis – this whole scene – it's given me a chance to make sure my family doesn't have to worry like my mom and I did. Rocking a Rolex or driving a Ferrari, that's not why I'm doing this.
You started smoking back in 7th grade. Do you think young Ted would believe where you are now?
No way. We used to steal copies of High Times and think this shit would never be legal. Now here it is, and we're at the forefront of the industry, on the pages of the magazines we grew up reading. It's like living out a dream.
The scene may have changed, but for this man, it's the same old Nikes and black t-shirts. That kid smoking weed and reading comics turned into the guy growing pot and collecting toys, who's now choosing the next big strains before taking his kids to see Dragonball. If that isn't a story of the rise of a weed nerd, I don't know what is.