Pioneers fearlessly plant flags in uncharted territory. By that definition, Dan Huson and Bjorn Fritzsche of Rose City Labs are pioneering the future of psilocybin mushroom testing.
Huson was one of the first to start a Cannabis testing laboratory in Oregon – where he initially connected with Fritzsche, a German born and educated chemist.
"I started Rose City by myself back in 2011, and then eventually started hiring people," Huson said. "Bjorn was one of the first, and it was pretty cool watching the way his brain worked – developing different types of testing and further legitimizing the testing we were doing."
Fritzsche became known for adding dashes of whimsy to Huson's expertise in the lab, with his penchant for building robots and sharing cat videos further endearing him to the intrepid team at Rose City – a group on the tip of the spear in those early days of Cannabis legalization, getting licensed with the state in 2013 and earning accreditation in tandem with the launch of Oregon's adult-use market in 2016.
A trailblazing plant medicine advocate, Huson saw it as a natural development to add psilocybin mushroom testing to his list of state-licensed services.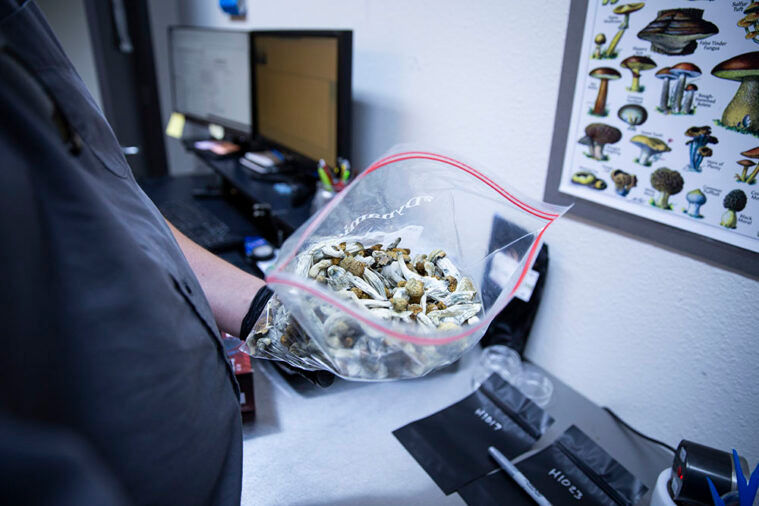 "I've been testing mushrooms for a while," Huson said. "I love natural medicines, and I think that the government telling us what we can and cannot use to treat ourselves – whether it comes from the Earth or not – is not acceptable. They believe it has to come from a chemical in Western medicine, and I don't believe so. Chinese and other medicines have been going for eons. I've always believed in it."
It takes a rare person to stand before the government and insist that they be allowed to develop a legal, licensed testing lab for something that is only decriminalized in a handful of micronized pockets of the world and is intensely prohibited everywhere else. Huson is one of those rare people.
"When I'm passionate about something like I am about alternative medicines, it's just a no-brainer," Huson said. "We're going for it, and we're going to just do it and be the first. I love the challenge. I've actually been flying airplanes since I was 13 years old, so I've been dealing with the federal government and inspectors and all that stuff my whole life."
The only thing he's been doing longer, Huson adds, is smoking pot – which he's been doing since the age of 11.
When it came time to enter the realm of mushroom testing, Huson reconnected with his former lab director, Fritzsche, and brought him on as his Senior Research and Development Chemist.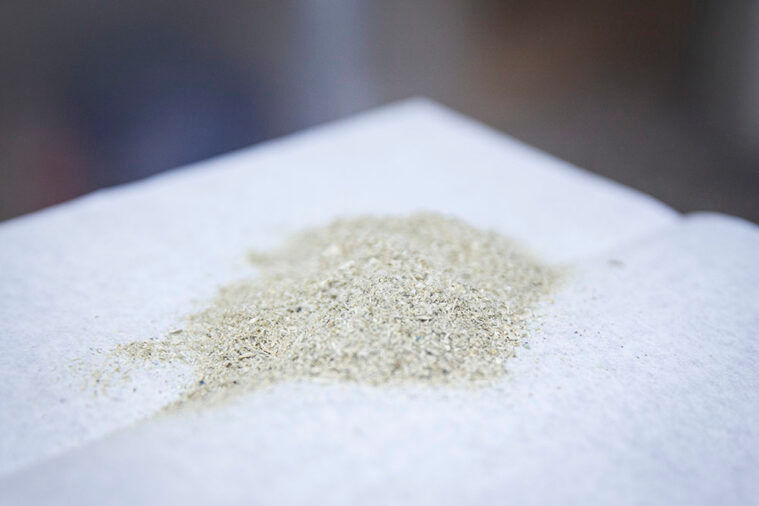 "Basically, part of the reason why I came back here is because it felt like the next frontier," Fritzsche said. "I really enjoyed the early days of the Cannabis space – the ability to develop something new, the ability to do something that hasn't been done at scale before."
The two put in the work to develop testing methodologies that will act as a baseline for this emerging industry.
"Anytime I'm like – 'Hey, I want to add this test, make it happen' – he'll do the research and come back and go: 'OK, no problem' or 'Hey, you can't really do that.'"
And thus, Fritzsche developed the lab's testing methodologies for psilocybin and psilocin in Psilocybe Cubensis mushrooms using High Pressure Liquid Chromatography (HPLC) lab technology, and Rose City became the first state-licensed psychedelic mushroom testing facility in the country.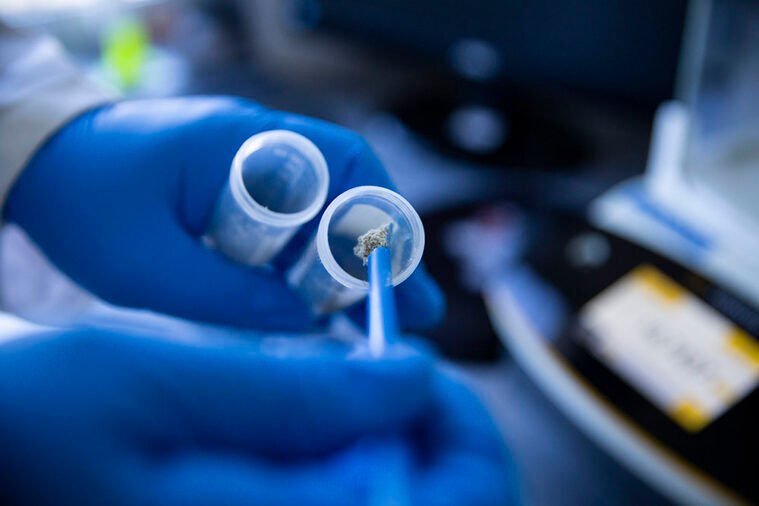 "I do the research, see if it's feasible to do, determine what equipment is needed, determine what standards and analytes are needed, and then develop the method, get the equipment to operate properly, make sure that we're producing numbers that are making sense, and eventually run multiple days of quality-control tests on the developed methods – then give all that data to the State so that they can accredit us and we can show the State that what we're doing works and is precise, accurate and repeatable," he explained.
When conducting research to find a baseline for testing psilocybin and psilocin, the two primary necessary analytes in Psilocybe Cubensis, Fritzsche found one of the only existing methodologies in an unexpected – or perhaps expected – place.
"One of the few published methodologies that was already used for testing mushrooms was from the DEA," Fritzsche said. "That's actually what they do for prosecuting. It wasn't a very good method, and it was definitely not applicable to a production laboratory like us, where it has to work every day multiple times. There cannot be room for easy mistakes. It has to be a robust method."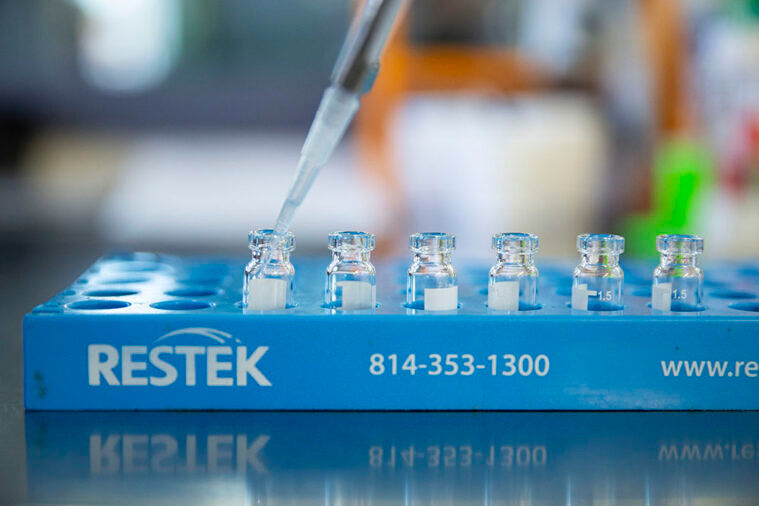 Fritzsche used his history running analytics and state-of-the-art Cannabis extraction laboratories and applied it to his shroom work.
They started with white button mushrooms, which they injected with pure psilocin before testing. Then they "magically obtained some real ones," Fritzsche said, in order to conduct repeated tests and ensure that their results were within expected ranges.
"Then it came down to just making the whole thing as robust as possible, so that I don't have to run the test always myself, but we can have lab techs do this – depending on how much scale this will reach," Fritzsche said. "And then it was a matter of validating the whole methodology, showing the State that, yes, we can really do this, this really works. Since there was no published method, we had to give them a bunch of data points. … All this gets tied into a nice big data packet and emailed to the State."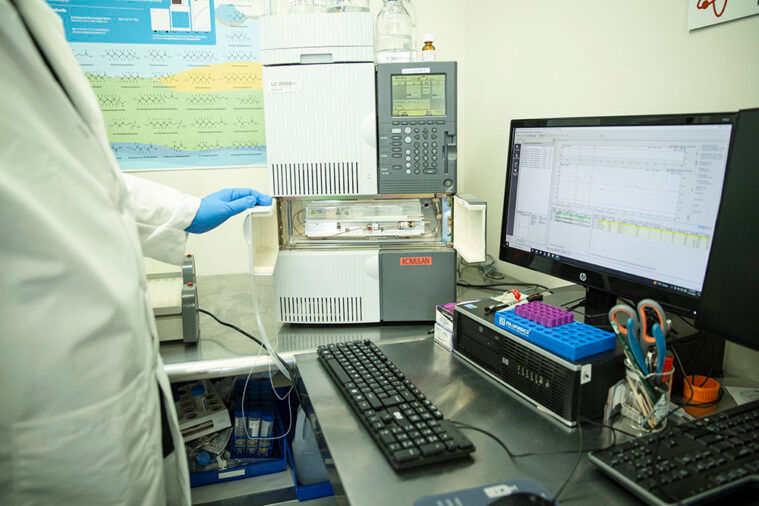 Eureka, they were accredited under Oregon Environmental Laboratory Accreditation Program. Huson, Fritzsche and the team at Rose City currently not only test for potency, but for potential contaminants – similar to what's done in Cannabis.
But while their lab and team in Portland are equipped and able to test for safety and potency for any drug available on the market, Rose City can only accept Cannabis and Psilocybe Cubensis mushroom products from state-licensed producers.
That, Huson says, is a shortfall of the program.
"Basically, because I'm a licensed OLCC marijuana laboratory, and I'm now a licensed Oregon Health Authority Laboratory, I'm not even allowed to use the test strips or anything like the bars are," Huson said. "I'm not allowed to because I have marijuana on the premises and I have psilocybin on the premises, and I'm like, 'Oh, so a bar can do it, but a laboratory can't. … Wow.'"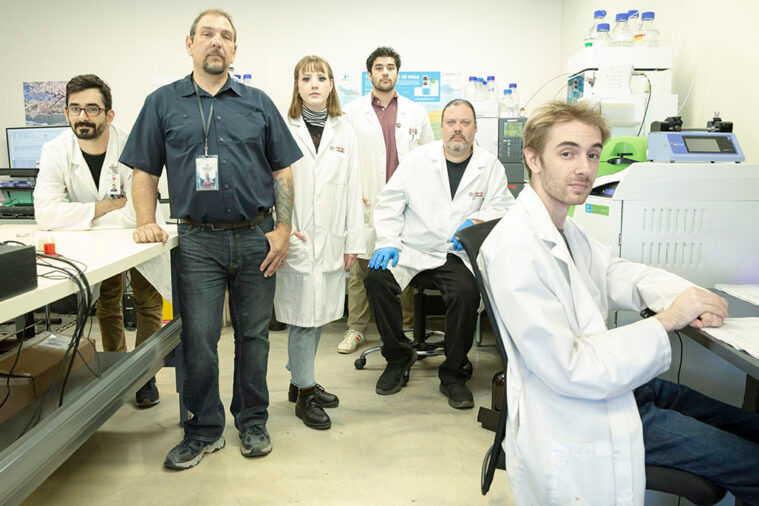 Huson and Fritzsche hope policy starts to reflect the safety needs of a public that is increasingly comfortable with and interested in plant-based recreational and medicinal substances. In the meantime, there are labs that aren't licensed by the state that will run safety and potency tests for concerned consumers.
"Every consumer of products has the right to know what is in them," Huson said. "So, if you buy something and think it's not working or whatever – send it to a laboratory. A laboratory can analyze it for you and tell you if what you're buying is legitimate or not."