Electric, emphatic excitement filled the room on Saturday morning in Bangkok, as Berner and a tight crew of partners and friends anxiously awaited what was about to happen.
After spending a week immersed in Thai culture, following months of preparation and work, the Cookies founder and his team were about to unveil Cookies Bangkok, the company's first store in Asia.
"It's the next chapter of our business," Berner said, sitting in the VIP green room while the fans gathered outside. "It's the elevation of the brand. It's the biggest compliment to our work. It's absolutely amazing, to be honest with you. I'm super fired up. It's kind of hard to take it all in right now."
Sitting next to Berner, Josh Schmidt, co-owner of Natura in California, let everyone know to wait for the pounding drums that would signal that it was go-time. A former Bangkok resident with familial and professional connections in the country, Schmidt has dreamed for years of having a legal Cannabis business in Thailand. When the opportunity came to partner with his longtime friend Berner on the endeavor, he happily stepped in to act as an integral "bridge" for the brand, pulling together Tom Kruesopon with Golden Triangle Health, Dan Pathomvanic from NRF Thailand, Joe Thawilvejjakul from Great Earth International, and his own company, Natura, to partner on the endeavor. Schmidt built the inroads, working with his local partners to help finalize the details, all the way down to the ceremonial blessing of Berner and the store by Thai Buddhist monks.
"It's a dream come true," Schmidt said. "It's something that I've been thinking about for a long time, and there's no one better than this guy right next to me to extend the best brand in the world, and the best knowledge of Cannabis, to a country that's so devoted to agriculture, and so kind-hearted. … I'm so happy to be here with my brother."
At that point, Berner interjected.
"Don't let him downplay it; he manifested this shit," Berner said. "He's been telling me we're gonna do this for a long time. I never pictured it, never envisioned it. But when you get here on the ground and see it, you actually feel it. This guy's had that vision for a long time, and I'm glad that he convinced me to come this far, because, shit, it's a life changing experience."
Mere moments later, the ceremonial drums started pounding.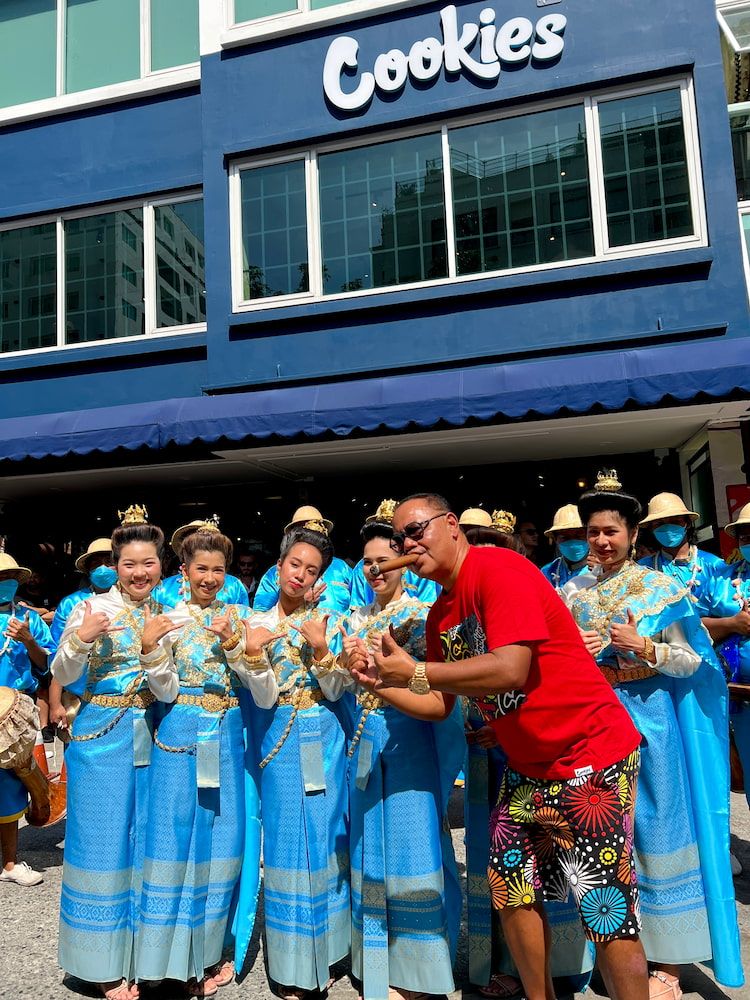 Berner and his team emerged into the bright Thai sunlight, welcomed by a throbbing throng of revelers overflowing out onto the street from the Cookies Bangkok courtyard. The opening ceremonies included ceremonial dancing, music, and Muay Thai fighting demonstrations both inside the shop and out in the courtyard. (See videos on Instagram @californialeafmag)
Cookies devotees and major industry players flew from all over the globe to be here for this moment, and everyone was inhaling it deeply.
Karim "Luka Brazi" Butler and Alexis Major, the husband-and-wife team behind Gumbo Brands, flew out from New York to show support and soak in the spectacle.
"As a Cannabis brand partner of Cookies, we'll go to the end of the earth for our culture and for our fans," said Major, who is the CFO of Gumbo Brands. "As well as support Berner, who has given us the opportunity to grow global as he expands into 22 states across America and 15 countries around the world. Cookies will have our support for every single one."
Butler added, "For our brand, Gumbo, it gives us a new market to expand our brand in and engage with new and existing fans of the strain. It also opens the eyes to other countries, who will use the success of this market as a case study on how they can open up this product in their territory, which will eventually further the market share for Gumbo."
East Coast rapper David "Dolo Money" Stockton took the long-haul flight from Baltimore via Los Angeles and Tokyo to attend the event and get some Thai facetime with Berner.
"This is a once in a lifetime opportunity to see the official opening of Cookies Asia in Thailand," Dolo Money said. "To be at this opening is something I could not miss for the world. Cookies itself is the flagship of Cannabis. It's the Louis Vuitton of Cannabis. You gotta support the best."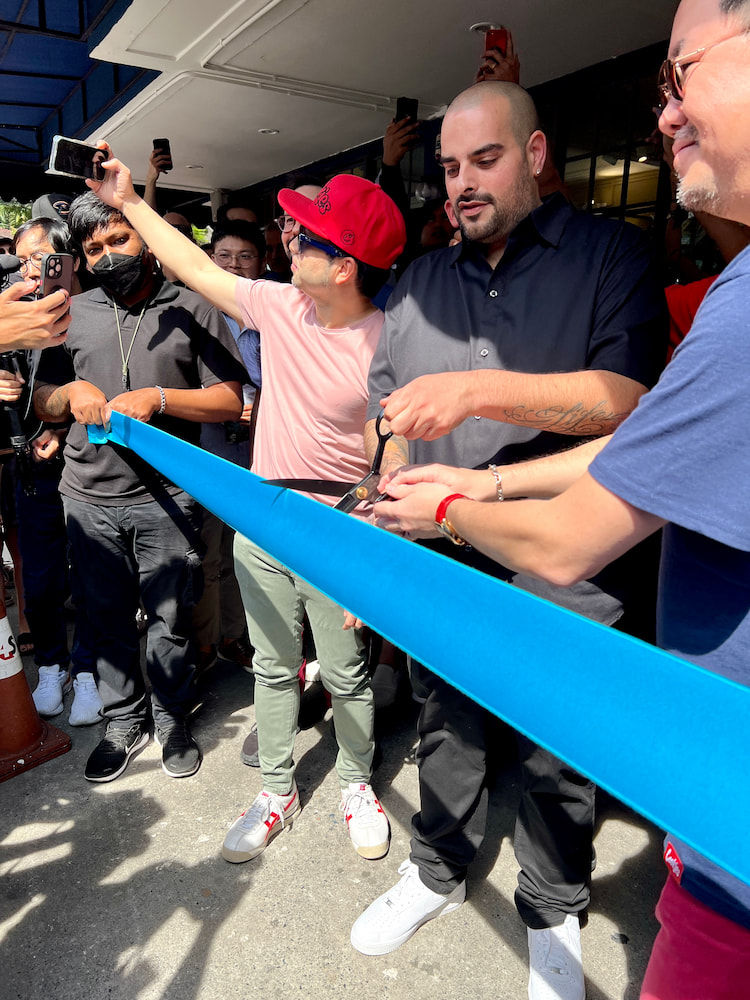 The ceremony lasted all afternoon, as a continuous line of customers steadily streamed through the shop. People bought up the merch and the opening lineup of strains, some posting their receipts totaling well into the thousands (of U.S. dollars) on Instagram.
For many locals in the Thai Cannabis community, the arrival of Cookies symbolizes both a legitimization of the newly legalized industry in what was a harshly punitive prohibitionist state, as well as the realization of their long-held dreams.
"Having Cookies in Thailand makes all the hard work that I have put in to help legalize Cannabis in Thailand worthwhile," said Tom Kruesopon, founder of Golden Triangle Health, a Thai partner in Cookies Bangkok. "It makes everything real."
Soranut Masayavanich, a charismatic and well-connected player in the Thai scene whom everyone knows by the name Beer, is the CEO of Sukhumweed Industries and Local Growers Only. He worked with Thai Parliament to help craft the legalization legislation and will be working with the Cookies team to supply locally grown Cannabis for the brand. He had the honor of operating the famous Cookies smoke cannon during the opening festivities.
"For 10 years, I focused on one thing," he said. "As hard as things got, I focused on one thing. And now Berner is here. I'm going to supply his weed. … Cookies is here. Thailand is safe now. Weed is actually legal in Thailand."