Trekking from room to room and building to building through the Natura Lifescience compound on the outskirts of Sacramento, one thing becomes apparent.
This place is expansive. Not only that – it has to be expensive.
A state-of-the-art, veritable Willy Wonka's wonderland of weed, Natura has spared no expense to set itself up with the capability of producing high-quality products for every segment of the market, using bleeding-edge technology at a significant scale.
Over a series of visits and Zoom calls, we dug into the formation, the operation, and the vision for the company, as well as its approach to crafting products for brands and companies hoping to scale for statewide distribution and beyond. 
An idea sprouts
The concept for Natura Life+Science cracked the husk when its founders saw a need in the industry.
Co-founder and CEO Ori Bytton had taken his experience and money from a career in the solar industry and paired it with an investing partner to enter the Cannabis real estate market. Using the financial resources at their disposal, they turned around industrial real estate and repurposed it for Cannabis use – serving Cannabis businesses of different shapes, color, and size. 
After some time, they noticed that many of their clients came and went swiftly, as the competitive nature of the nascent industry caused significant churn and turnover. They had an idea that led them to seek out Josh Schmidt, founder of multi-state brand Pistil Point, and a long-time figure in the traditional and medical market.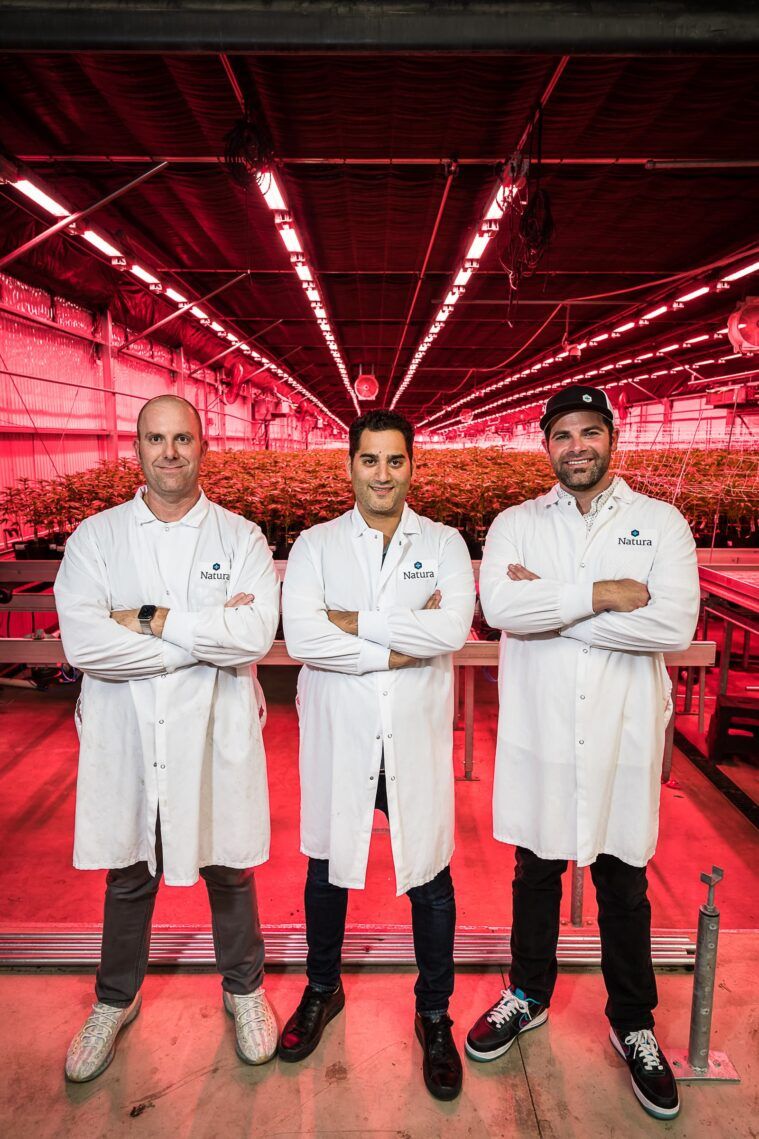 "It sent off signals in their heads," Schmidt said of the high turnover rate for brands in the Cannabis market. "They got together, they used their brains, and they thought of this model – the Natura model – which is a supply chain opportunity partner for brands to launch themselves in the state."
The newly formed trio started fleshing out plans to build a facility and a team that would be equipped to tackle nearly every product category and serve nearly any brand to walk through the front door. 
Now, a few whirlwind years later, Natura boasts 290,000 square feet of operational facility and growing – with cultivation, extraction, production, packaging, a large commercial kitchen and R&D capabilities, to support the company's 21 licenses covering propagation, cultivation, manufacturing, distribution and direct-to-consumer delivery.
A United vision
With all that space, it may be surprising that Natura itself isn't a consumer-facing brand. That's not the point, Schmidt says.
The concept, he says, is for existing brands as well as new brands to come in, share their vision, and utilize Natura's facility and staff to execute and bring the brand to market. Where many business owners think "I need a building," Natura exists for the savvy entrepreneurs that instead think, "I need a production partner."
"Ever since it was a dusty lot, this place was really Ori's vision," Schmidt said. "[VP of Sales Seth Sznapstajler] and I put all the pieces in motion. We had a vision for who we wanted to be as far as our club, our family of brands. One of my visions of this place was always to have it become like the United Nations of Cannabis. When it's fully up and ready, you would drive by, and first you would see the U.S. and California flagpoles, but eventually, you would start seeing the brand flags of all the brand partners, just like when you would drive by an embassy in the world, or a building that contains many embassies. … A lot of countries with different founders, and visions, and backgrounds, and they all come to one place and put everything down for a minute and work together."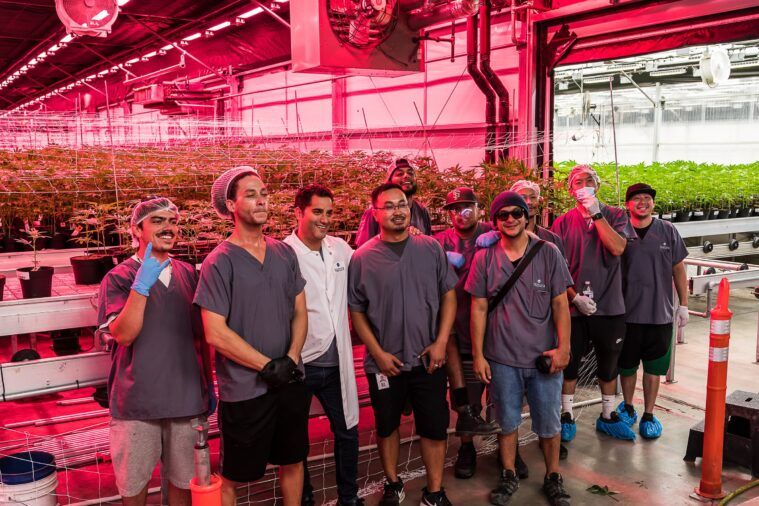 A Vision Realized
One of the ways Natura plans to bring this vision to life is through its equipment and capabilities.
"We worked with Osram and Philips to get those LEDs custom-built," Bytton said, pointing up as we stood in the open door of one of their 15 cultivation bays. The lights transition from the blue to red spectrum and can be dialed in remotely and programmed. 
Then Bytton pointed to the cameras protruding from the ceiling every dozen yards or so. "You'd think those are for security, but they're not."
The cameras, he said, are for measuring everything about the plant, using micro and infrared analysis. "We're using AI, machine learning," he said. The cameras were there to feed information to their system to govern pest management, fertigation, and assist in breeding selection.
Where many companies rely on human inputs for their breeding, Natura believes that future breeding efforts can be assisted through artificial intelligence and computer-driven data analysis.
The investment in equipment doesn't stop there, as elsewhere in the facility, top-of-the-line kitchen equipment, significant extraction capabilities, and custom-built joint packing machinery from Israel sets Natura up to handle large-scale production for its brand partners.
The art of building brands
When it comes to selecting partners, Schmidt says Natura handles its decisions carefully. A lot of it comes from his personal experience.
"One of our markers," he said, "is does the brand have a founder? Does the brand have a face? Is the founder helping push things along? I'm one of the co-founders of Pistil Point, and I'm going out to retailers. I'm meeting the people. … I'm not too busy for it. I look at guys like Dan Akyroyd, with his brand Crystal (Head) Vodka, he physically went around to BevMos and Total Wines … he sold it himself."
Right now, Natura produces several new and legacy brands, including Jelly Wizard, DNA Genetics, Fidels, and Schmidt's own Pistil Point. The idea is to build a diverse slate of brands to satisfy any slot on a retail shelf, including house brands for the retailers themselves.
"For every hippie brand, we'll take a corporate brand," Schmidt said. "For every corporate brand, we'll take a vegan brand. … It's just that United Nations model. There's no person and no place that we don't want to touch. … Natura is the home of like-minded individuals and brands who are wanting to create new, exciting SKUs together and scale them tremendously."
The bright future
An avid whiskey collector, Schmidt nods to the history of Kentucky's once-illegal industry when discussing Natura and the Cannabis community at large.
Go back far enough, and producing, selling and consuming alcohol carried with it significant levels of risk. Now, you can buy whiskey at corner stores and in Duty Free shops in international airports.
As someone who came up in the traditional market, Schmidt understands better than most that the struggle for legitimacy and legality is a long game. In the early 2000s, he used to own a dispensary in Van Nuys. What a long road it's been.
"Back then, I was in the face of the Feds, not sleeping," Schmidt said. "That was my mission – until there was a dispensary on every corner and you could get Cannabis easily, and access in every county. Now, my new mission is to get it to the point where guys like you and I are in JFK or Tom Bradley (LAX), or Wherever International, departing, and buying some of California's finest. It's not going to be every brand. It's going to be Cookies, it's going to be Stiiizy … just like alcohol's not every brand. But it's going to be California brands."
As an entrepreneur with holdings in Colombia and Thailand poised to jump off, Schmidt is a California cultivator with global designs, and that's also the eventual goal of Natura Lifescience. And at the root of that is a mission to stay true to the roots of the industry.
"We're here for one thing and one thing only," Schmidt said. "To deliver the best medicine and Cannabis products to the consumers and patients – that's the end goal."