For nearly two decades, The Emerald Cup has been an iconic public gathering for the Cannabis world, bringing people from all over the globe to celebrate the plant in its home in Santa Rosa, California.
It's been an annual tradition that the entire community looks forward to – that is, until COVID decided to derail the personal, communal celebration.
After a quick, successful pivot to digital livestream in spring 2021, founder Tim Blake and his team are returning in person for the first time since December 2019, with The Emerald Cup Harvest Ball.
Rather than a competition, the Emerald Cup Harvest Ball will simply be a celebration of Harvest, showcasing the bounty of California's Cannabis cultivation community.
"After 2 years of being separated from our community due to COVID along with enduring industry hardships, we at the Emerald Cup felt it was essential to create a platform for us to come together to network, celebrate, and find our anchor in a changing world," Blake said. "We want to do our part by producing the Emerald Cup Harvest Ball this year. During these daunting times, we and our struggling Cannabis community look forward to connecting with all our friends – doing business and pushing forward to success through collaboration and innovation. That, to me, is exhilarating. We are excited to be a positive platform for small farmers, brands, social advocates, and all the voices that need support."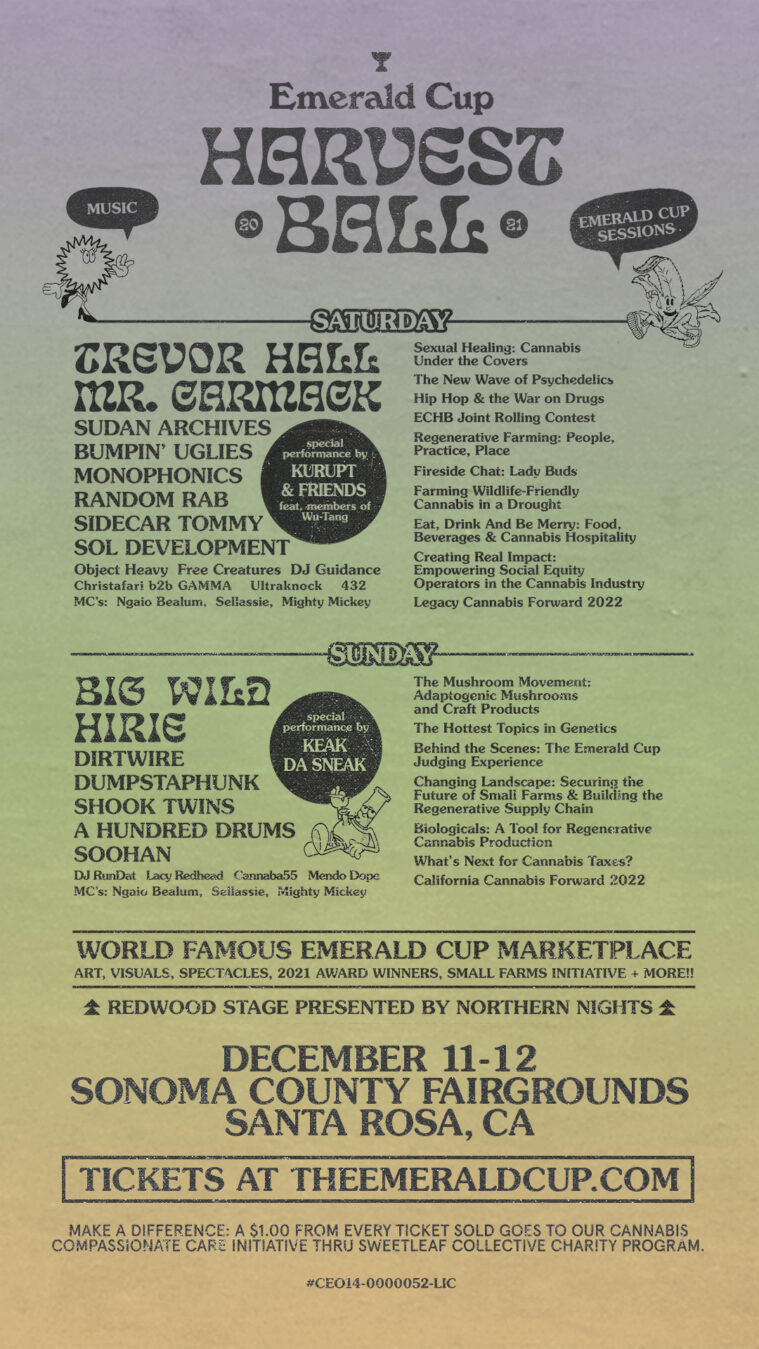 The event will showcase farms, flowers, new genetics, and expert talks, and also marks the return of one of the biggest draws of the Cup – the concert. This year's event turns up the heat, with heavy hitters like Kurupt, Masta Killa and other members of Wu-Tang Clan, and the dreamy, bass and synth laden sounds of Big Wild.
The competition will return in a big way in L.A. in the spring, with the first-ever addition of Indoor cultivation categories. But for now, the Harvest Ball is putting aside the competitive spirit, and giving the community a chance to gather, reconnect, and share the vibe.
Pick up your tickets here.