Brazilian-born artist Guilherme Lemes feels a connection between all manners of life and the natural world. It's a vibe that breathes energy and color into his career as a graphic designer and mural artist, as he spends his time traveling between commissions and beautification projects out of his current home in Las Vegas, Nevada. But it wasn't always this way.
By the time he was in his late teens, Guilherme Lemes was on his way to being a professional futbol player, with a future career in law in his hometown of Goiânia, Brazil.
As it so often goes, the universe had other plans. Right as his career on the pitch was warming up, a knee injury sidelined him. As he was healing, he decided to pick up a guitar to pass the time. His career in the arts had begun.
He started playing in rock bands, immersing himself in the vibrant arts scene of Brazil. His early creative inspiration came from Ozzy Osbourne's face-melting guitar opus, "Mr. Crowley," which led him to a musical love affair with rock icons from all backgrounds – from metal gods like Osbourne to classics such as Jimi Hendrix and Janis Joplin. His passion for music quickly turned visual when he discovered Bicicleta Sem Freio (@bicicletasemfreio), a group of insanely talented street muralists from his hometown whose name translates to "Bicycle Without Brakes."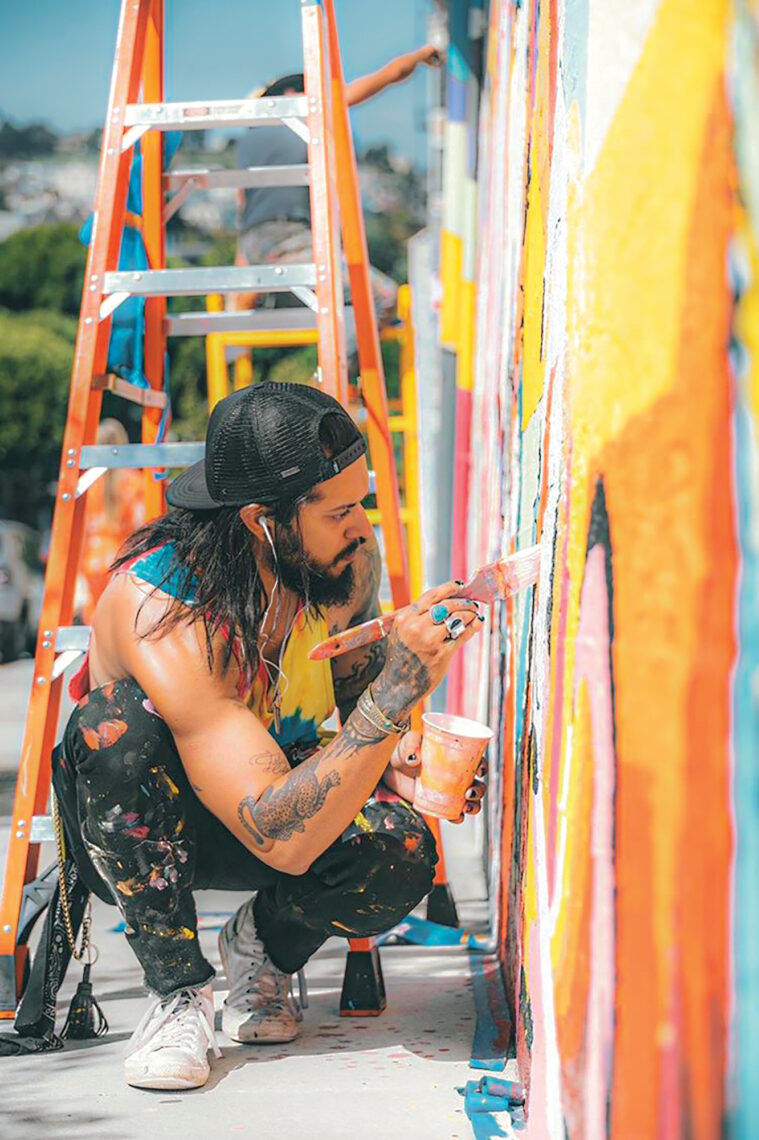 They became a huge inspiration for him, in addition to other muralists, street artists, and visionaries, such as Shepard Fairey, Alphonse Mucha, James Jean, Tristan Eaton, and Alex Grey. By the time Lemes decided to pull up stakes and move to the United States, he'd begun a career as a graphic designer.
It was then that he found a new muse: the streets of San Francisco.
"I think this multicultural place – let's say that it's an amazing place to be, and to try to understand and find yourself," he said. "San Francisco was where I had my first time with psychedelics. That changed my way of doing things."
He started painting murals for people around the city in between restaurant shifts and got his first stateside graphic design gig for one of the restaurants where he worked as a server. He loved spending his time in the vibrant, multicultural city streets, where he still finds inspiration in the rich diversity of life swirling together. 
"An artist needs to have this sort of relationship with the street if you're going to make street art," Lemes said. "The street gives you a lot of inspiration and teaches you a lot of things about life. I feel that I need my amount of city sometimes. But if you ask me, like, 'City or nature?' Then, nature. That's me. The street is an open laboratory all the time. … There's a respect that you give to the street, and the street gives back to you."
Lemes' passion for cultural and natural diversity, as well as for social justice, shines in his art. For this issue of Leaf Magazine, he drew from many cultural eras and backgrounds when producing the cover design.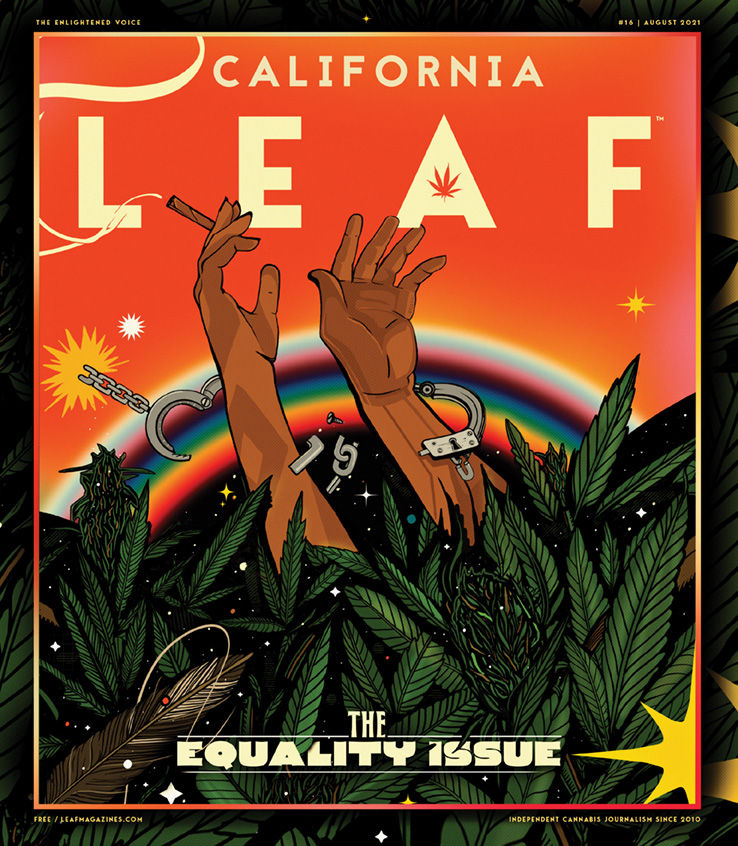 He was inspired by centuries of injustice and oppression of Black, Brown, and Indigenous people. He was inspired by decades of unjust incarceration brought on by the War on Drugs. 
He was inspired by Sha'Carri Richardson and the denial of her Olympic dreams due to a single incident of Cannabis consumption.
He chose the hands, and the breaking of chains, as a symbol for the future.
"If you're going to plant a seed, you need your hands," Lemes said. "So, the future is in your hands. That is the feeling I had when I made this cover. … Let's use our hands to build a good future from this point."
Lemes' artist manifesto can be found in the colors and ordered chaos of his exquisite pieces. The natural world is full of many sounds, many colors, and many flavors – all harmonizing in a beautiful, swirling symphony for the senses.
"When I paint Asian people, Black people, Indigenous people, White people, I'm just trying to blend everything together," he said. "This is how I see. This is how I like to live. I like to have a little bit of all sorts of cultures around me."