It was a time of change and new beginnings as Hall of Flowers, the cannabis trade show for new and exciting products, combined its northern and southern editions into one. The Cannabis industry here in California has undoubtedly changed, especially so in the last few years. As it's reflection, Hall of Flowers has naturally begun to change with it.
There were some notable absences at the event, leaving room for the next class to rise up at the changing of the guard. It felt like last year was graduation for some of the household name brands, providing space for a new pack of faces to take up positions on the varsity squad. Also, missing were many of the overwhelming activations with their blinking lights, mascots, and gimmicks, replaced instead with a one-on-one outreach approach.
It's as if we're watching a new iteration of Hall of Flowers take shape now that brands are faced with a fervent need to quantify ROI.
I enjoy Hall of Flowers. I love getting together with the industry, seeing what's new, and watching us take a whole city over for a few days but the undeniable truth is that companies have less of a budget to simply wow consumers. These days they need to know that every dart they throw hits a target. 
This new era of cannabis, and indeed Hall of Flowers, still looks to define itself. There will no doubt be an important dialogue between vendors and organizers as they continue to whittle down how this next evolution should look. Just like a new actor stepping into an established character, there's going to be an episode or two required to establish a new rhythm, new characters, and a slightly different appearance. 
Talking with vendors about how they felt about this year, each one agreed that the event was quieter, but seemed like a success from a business standpoint as they found more time to devote to individual connections and less competition from flashy, over-funded booths. As a result, this year's event was less about the eye and more about using your other senses.
There was a healthy dose of the fragrant, the delicious, and the ear-ringing. Read on for my list of Ten Tigers from Hall of Flowers.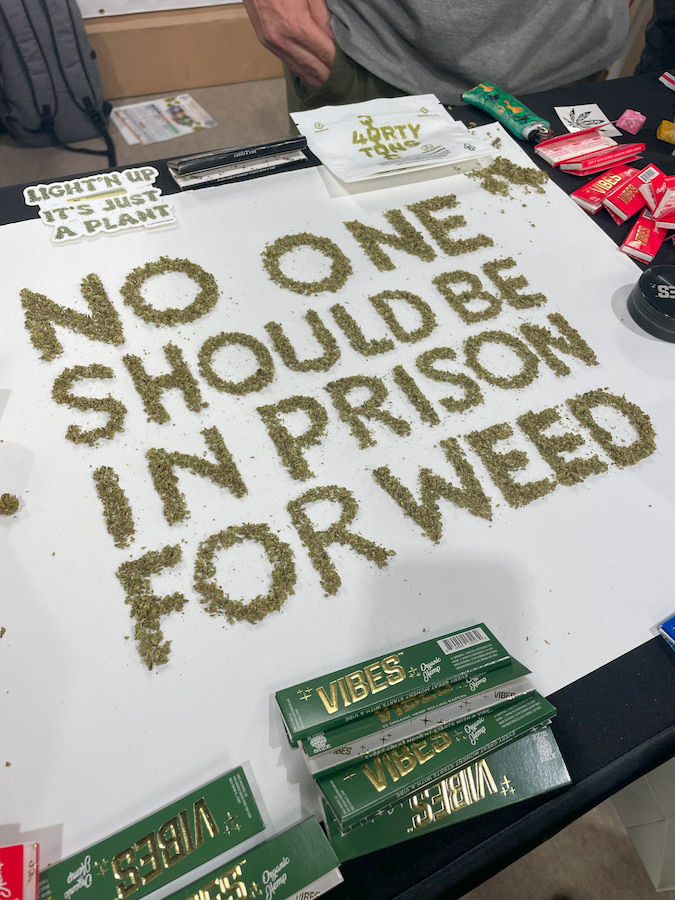 Grove Bags with Cannabiscapes & Mossy Giant
There were still plenty of eye-catching moments this year, including the new round of packaging from Grove Bags. Combining the visual appeal of mylar but leaving that pesky material behind, Grove Bags dropped their new design with artist Greg Welch AKA Cannabiscapes. Countless brands have commissioned him to turn their logo or founder into cannabis art, this year's bag is a collab between Greg and 40 Tons. Along with the design and a live art experience, they also premiered a bag with prolific Dutch artist Mossy Giant. For any art lover, this was a mind-blowing thing to run into.
IG: @grovebags
Makers Solventless "1-hour Cold Container"
This SoCal-based facility was on hand with full jars of rosins, edibles, and full melt hash, but what I found most impressive was their packaging. Shaped like a jar of flower, the hash rests in an indentation while the rest of the package is actually an ice pack. Re-usable, they claim it will keep even full melt safe and sound for up to sixty minutes. With retail storage and customer transportation being the two biggest hurdles fresh press and full melt hash has in gaining market share, this kind of advancement could help turn the tide.
URL: www.makersmj.com
Moon Valley / Big Al "Hawaiian Snowcone"
Another popular hit from day one was this jar that managed to bring together Michigan and California. Coming out of Sonoma, Moon Valley's indoor, living soil cannabis has been turning heads. Recently they started running gear with Big Al's Exotics and this particular heater is one that Big Al himself says, "tastes like a tropical paradise." Michigan breeder Tiki Madman made Hawaiian Snowcone by crossing Detroit Runtz (pancakes x runtz) with Hawaiian Plushers (Peach Rings x Lemon Gushers).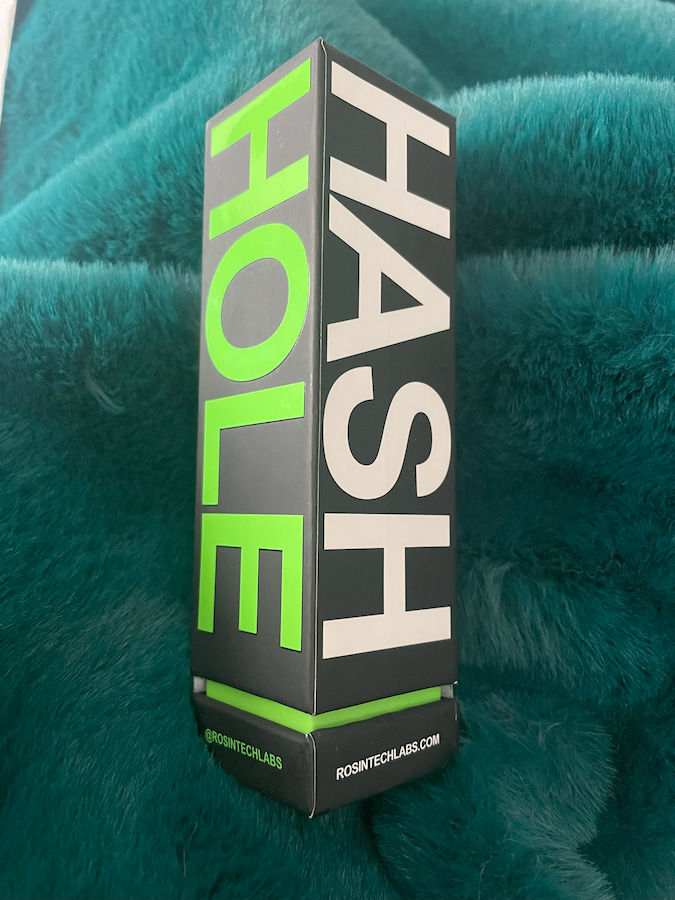 Cam / Rosin Tech / Emerald Queen Hash Hole
A three-part symphony, expertly arranged by the maestros over at Rosin Tech, is part of the newest trend in what is already a hot trend – hash holes you don't have to share. Weighing in at 1.6 grams, this lovingly wraps Strawberry Melt Shake rosin from Emerald Queen Farms in the arms of CAM's Bubba's Girl flower. The Sacramento-cultivated weed is GSC x Bubba Kush, a CAMster favorite, and the Strawberry Meltshake, bred by Pure Melt, is Strawberry Jelly x (Strawberry Jelly x Strawberries n Cream). Get ready to blast off.
IG: @cam_incali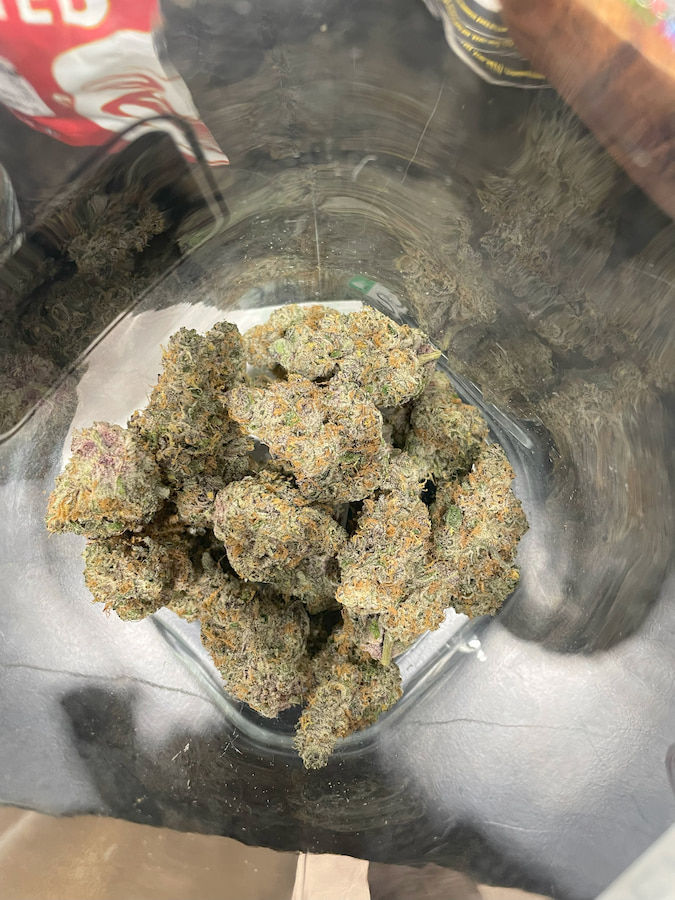 Delighted "The Beam"
Delighted is a new one on my radar that my Sacramento and LA friends seemed already well aware of but we're keeping under their hats. Each of the jars they had out could stop you in your tracks. After talking and hearing their passion it's clear why their bags make a point to highlight their use of strains and genetics that they've hunted, bred, and grown completely in-house. The highest on the list for me was The Beam (perfect for a Sacramento brand). Frosty and luminous, its lineage is ZC3 (Zkittlez x GMO Crasher) x Chemical Raz (Raspberry Beret x Lemon Larry Valley Chem).
IG: @delighted_ca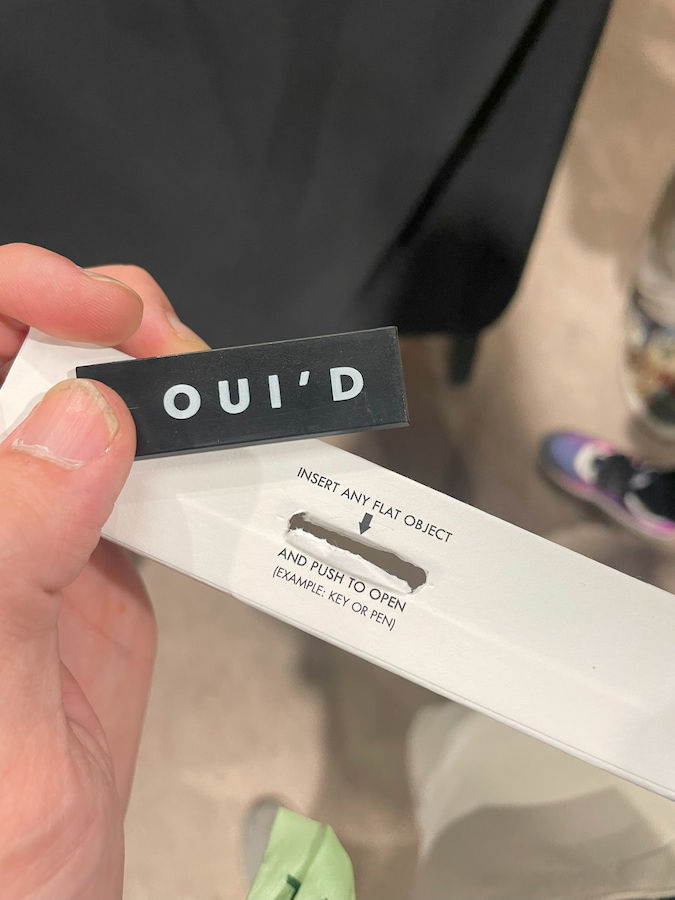 Ouid Chocolates and Pate de fruit
This year my sweet tooth found a new favorite with Ouid. Their chocolates, and fruit confections use single-source hash rosin edibles with a smooth taste. Marketed as a higher-end experience for people who desire high-quality chocolates and desserts, Ouid's team is cognisant of how the plant works as an ingredient, so the taste of the rosin should be neither masked nor used to make your brain believe it's getting high. Instead, their formulas of flavor are prepared in a way that seeks to synergize with the terpenes and deliver both effect and flavor. Plus, their packaging involves an ingenious tab-in-slot approach that acts like a key in a lock.
IG: @ouidconfections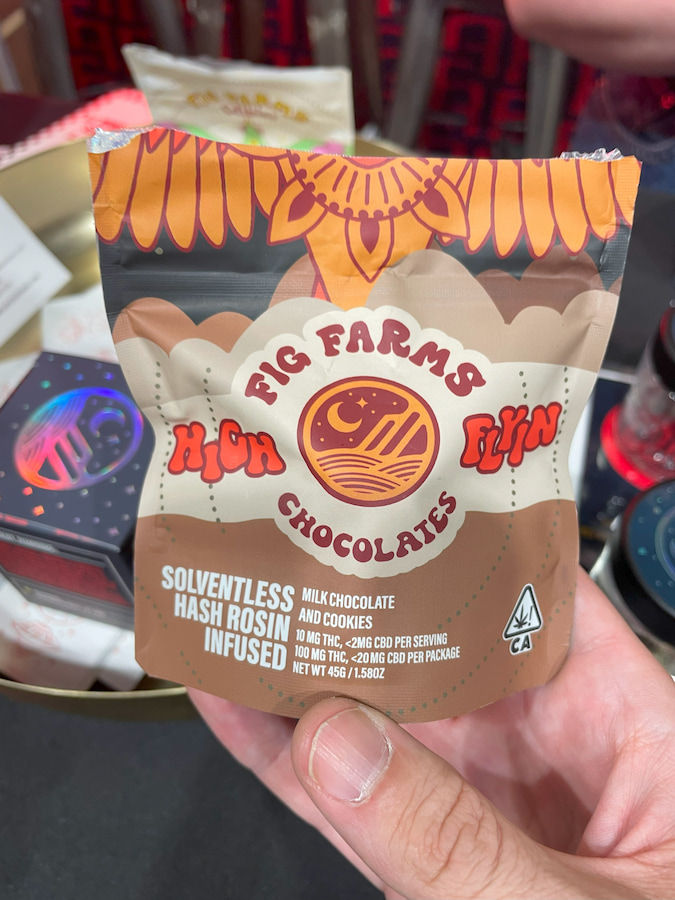 Fig Farm "High Flyin' Chocolates"
Another confection that rose to the occasion was the High Flyin Chocolates from Fig Farms. Their hash rosin candies look almost like Whoppers but inside are a mix of either dark, milk, or white Belgian chocolate and real Oreo chunks. Simple but smart, it was hard not to pop the whole bag of Dark Chocolate in the time it took for Mike to roll a joint. Even though Fig Farms is a name whose proficiency with the plant you can recognize from space, their foray into the edibles market shows that they're just as much of a threat in the kitchen as in the grow room.
IG: @fig.farms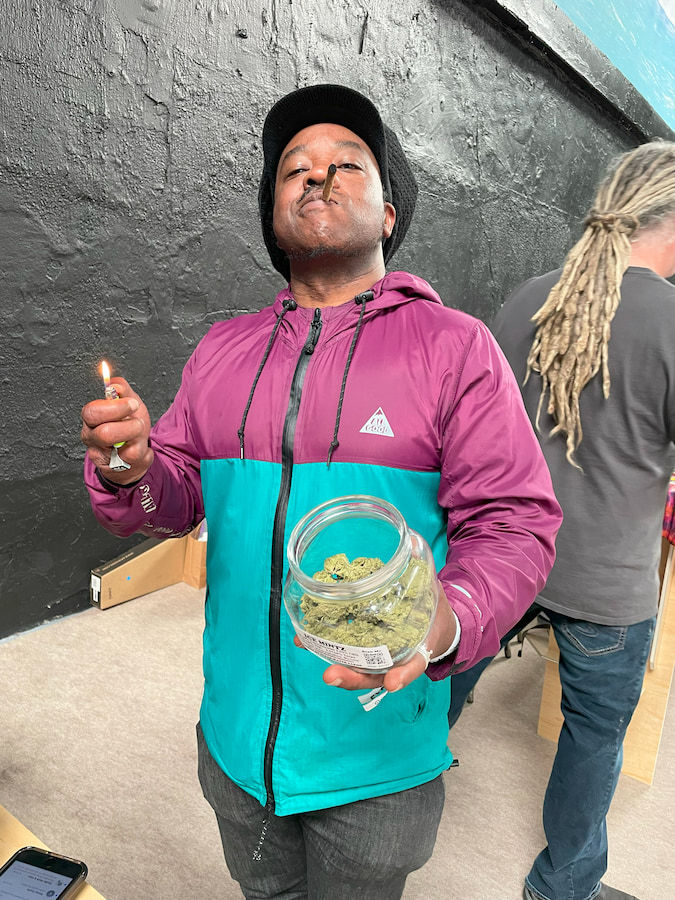 Humboldt Homegrown "Strawberry Banana Slushy"
You smell a lot of jars over the course of Hall of Flowers, when something gets flagged by your nostrils, in the words of Metallica "nothing else matters." That's what happened with this pick from grower collective Humboldt Homegrown, produced on Lost Coast Farms. You cannot stop smelling the intense fruit coming off this Strawberry Banana and Lemon OG cross. The flavor has all that fruit and some sweet aftertaste that made this one perfect for relaxing in the Ispire lounge between halls. It was a real treat to see small farms and farmer collectives from the Emerald Triangle represented at Hall of Flowers.
Wave Rider Nursery "Lemon Bars"
A mixed light operation located in Salinas, this pick is a good old fashion family breed-off. Their co-founder Drew told us how Lemon Bars is the result of combining a Golden Lemons x Wonka Bars that his dad pheno hunted with his own personally hunted mix of (Wedding Cake x Zkittlez) x Modified Grapes. Though light in the initial smell department, this has a beautiful flavor, and the Wave Rider family is in the middle of hunting out the next pheno that will bring that sweet, sugary lemon flavor to the tip of the nose.
SOG Army "Zerbert"
It's been a minute since I've had some Zerbert in my bowl so it was a real treat to check out this upcoming batch from Santa Rosa's SOG, or Sea of Green, Army. I've been a fan of their MAC1 and PB Breath back in the day and it's been a nice surprise seeing them pop up more over 2023. They had a couple of really strong heaters this time and it was honestly a tough choice between this pungent Zerbert (Zkittlez x Sherbet) and their Pink Zaza (ZR3 x Dweebs). Each one packed so much flavor, even a hit from a dirty bong they tasted like a dry pull from a fresh joint but man, when's the last time you had some Zerbert?
IG: @sog.army
Special Shout: Fresh Strawberries
Every year there is a moment of divine hospitality where the extra thought and attention someone puts into their Hall of Flowers game reverberates through the crowd. This year's winner was Farming First Cannabis Supply Company for their pints of fresh strawberries. Let's face it, none of us take particularly good care of ourselves during these trade shows. It's nice to have someone make sure we're getting at least one dose of fresh fruit in our day's supply of coffee, smoke, and anxiety.