For one magical day at the end of April, there was only one place in the entire world where you could find a sea of heads lined up all the way down the street, waiting patiently for their chance to smoke blunts with a velociraptor. That place was the 2022 Oregon Leaf Bowl.
Well over 1,000 Oregon Cannabis connoisseurs and devotees descended on Portland's pot-friendly event space The North Warehouse for the inaugural event, launched by Leaf Magazines to celebrate the amazing artistry and bountiful beauty brought to life by the state's weed warriors.
It was an amazing time none of us will ever forget. Well, maybe some of us will – we were all pretty blazed.
Ain't no party like a Leaf Bowl party
With the help of a small handful of non-competing sponsors, including presenting sponsor Weedmaps and bar sponsor Mammoth Labs, the Leaf Team assembled a crew of entertainers and attractions under one roof: aerialists and acrobats, glassblowers from the DFO family of artists, live painting from Calm, live music from Steel Beans (which features a guy who can impressively play guitar, sing and play a drum kit at the same time), frothy suds from Great Notion Brewing and munchies from MidCity Smashburger.
It felt so amazing having so many of you there. It had been so long since many of us had seen each other anywhere other than on a Zoom call. It was kind of like a family reunion, without the bickering. And gathering everyone under the same proverbial roof showed us two things:
One, goddamn we missed everyone. Two, Oregon sure as hell brings the fire.
The thrill of victory, the tastiness of the heat
One of the most amazing things about the competition was the quality and diversity on display on the field of play. The outstanding work of the Oregon Cannabis community never ceases to amaze all of us here at the Leaf, and the entries definitely had the same impact on the judges.
We were truly impressed with the absolute excellence evidenced among the more than 250 entries from 76 companies – impressed, but not surprised. After all, Oregon has been home to some of the best Cannabis in the world for a long time.
It goes to show that anyone who won accolades in our blind judging process absolutely, without a doubt, deserves every ounce of beautifully molded resin in their award. There were a few who not only earned one trophy, but proved their impeccable skill by walking away with multiples.
Luvli dominated the Indoor Flower category, taking home the winning trophy in four subcategories: Fuel/OG/Chem, Purps & Desserts, Exotic Fruit, and the Open Category. High Noon Cultivation nearly swept the runner-up positions, taking home trophies in three categories: Fuel/OG/Chem, Exotic Fruit, and the Open Category. Mellow Vibes and Hapy Kitchen each took home multiple awards in the Edibles categories, and Echo Electuary, Artifact Extracts, and Archive each took home multiple Concentrates awards.
Ready for a rematch
It was truly an honor for the Leaf Magazines Team to put together this competition and to throw one hell of an excuse for everyone to gather, smoke weed, let loose and reconnect.

It was an experience we plan to repeat annually from here on out. If you're a grower, or a hash maker or an edibles producer – and you didn't enter this year – we hope you consider throwing your hat in the ring next year. We won't rest until we outdo ourselves on an annual basis.
If you just love to smoke weed and you missed out, please keep your eyes open for announcements for the next Oregon Leaf Bowl, which will be coming in Spring 2023.

Regardless of whether you were walking home with an award or fumbling for an Uber after taking too many dabs with the dinosaur, one thing is for certain – we were so thrilled to get to party with you, and we can't wait to see you next year.
---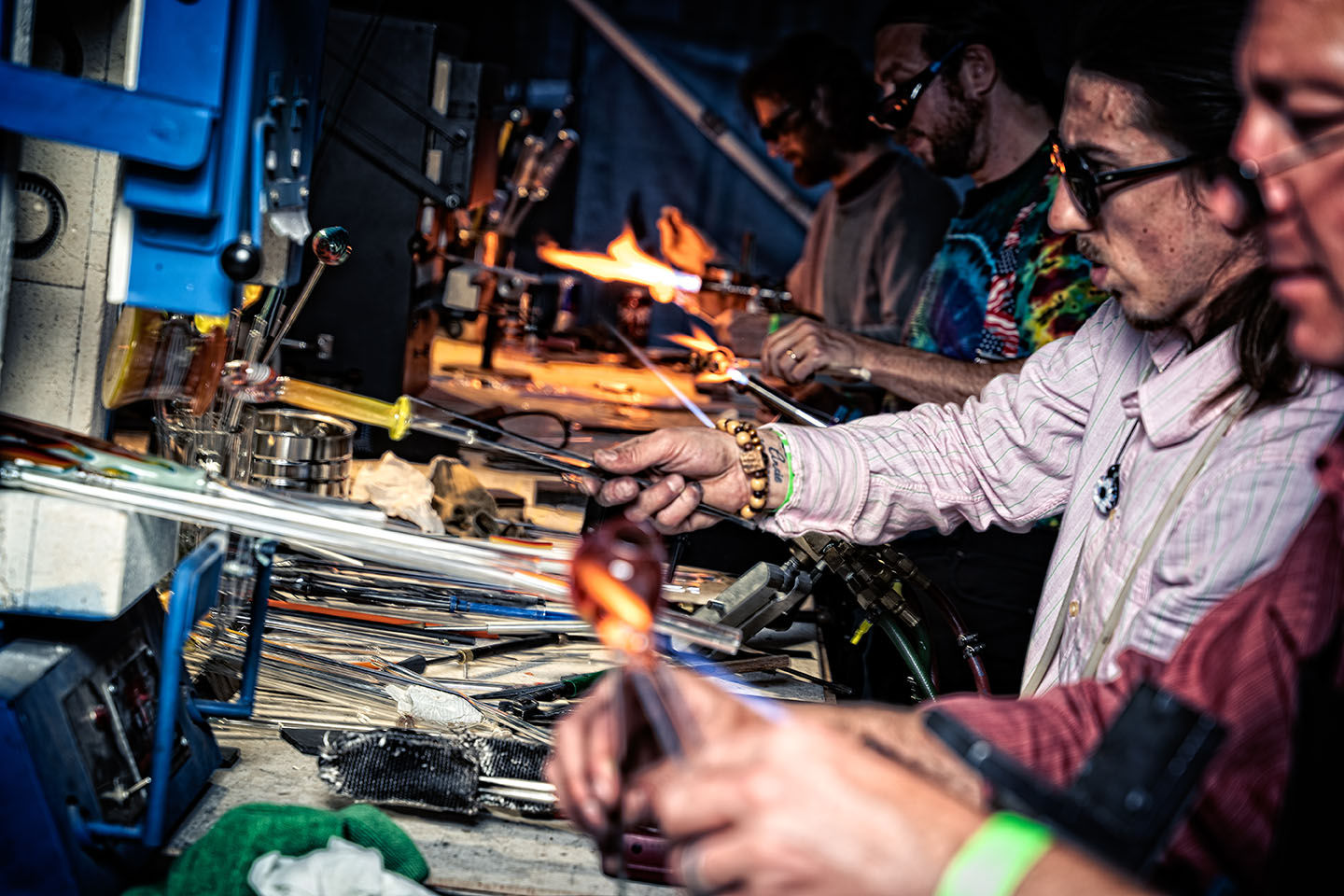 ---
2022 Oregon Leaf Bowl Winners – Flower
BEST SUN-GROWN – FUEL/ OG/CHEM
WINNER: Black Lime Reserve from Green Bandit
RUNNER-UP: Biscotti from Left Coast Standard
BEST SUN-GROWN – OPEN CATEGORY
WINNER: Blue Cheese x Blue Gum from WM Ranch
RUNNER-UP: MKOB x Jager from TrueCare
BEST SUN-GROWN – PURPS & DESSERTS
WINNER: Cheese Head from Green Bandit
RUNNER-UP: None
BEST SUN-GROWN – EXOTIC FRUIT
WINNER: Runtz Killa from Left Coast Standard
RUNNER-UP: Sweets from Benson Arbor
BEST SUN-GROWN – CITRUS & SAP
WINNER: Mimosa from Benson Arbor
RUNNER-UP: Stg. Baker from Green Bandit
BEST INDOOR – FUEL/OG/CHEM
WINNER: Leftovers #11 from Luvli
RUNNER-UP: Donny Burger from HIgh Noon Cultivation
BEST INDOOR – OPEN CATEGORY
WINNER: Pressure from Luvli
RUNNER-UP: Crystal Cookies from High Noon Cultivation
BEST INDOOR – PURPS & DESSERTS
WINNER: Tenacious from Luvli
RUNNER-UP: Jokerz from Siren
BEST INDOOR – EXOTIC FRUIT
WINNER: Designer Runtz from Luvli
RUNNER-UP: Banana Runtz from High Noon Cultivation
BEST INDOOR – CITRUS & SAP
WINNER: SOCO from Pintail
RUNNER-UP: Terply #18 from PDX Organics
BEST MIXED-LIGHT OR GREENHOUSE – FUEL/OG/CHEM
WINNER: GMO from Real Eve
RUNNER-UP: Motorbreath from Cannassentials
BEST MIXED-LIGHT OR GREENHOUSE – OPEN CATEGORY
WINNER: Georgia Pie from Real Eve
RUNNER-UP: Big Block #6 from Sticky Trees
BEST MIXED-LIGHT OR GREENHOUSE – PURPS & DESSERTS
WINNER: Ice Cream Cake from Grateful Greenery
RUNNER-UP: Driving Ms. Lazy from Capital Cannabis
BEST MIXED-LIGHT OR GREENHOUSE – EXOTIC FRUIT
WINNER: Hood Candyz #4 from Choice Farms
RUNNER-UP: Strawberry Pie from Capital Cannabis
BEST MIXED-LIGHT OR GREENHOUSE – CITRUS & SAP
WINNER: Tangies and Cream from Cannasentials
BEST MIXED-LIGHT OR GREENHOUSE – CBD RICH
WINNER: Strawberry Remedy #9
BEST LIGHT-DEP – FUEL/OG/CHEM
WINNER: Josh D OG from Benson Arbor
RUNNER-UP: Road Dawg from Benson Arbor
BEST LIGHT-DEP – OPEN CATEGORY
WINNER: Where's My Bike? From Benson Arbor
RUNNER-UP: none
BEST LIGHT-DEP – PURPS & DESSERTS
WINNER: Wedding Cake from The Plant
RUNNER-UP: Sherbacio 2.0 from The Plant
BEST LIGHT-DEP – EXOTIC FRUIT
WINNER:
RUNNER-UP:
BEST LIGHT-DEP – CITRUS & SAP
WINNER:
RUNNER-UP:
---
2022 Oregon Leaf Bowl Winners – Pre-Rolls
BEST TRADITIONAL PRE-ROLL
WINNER: Terply Litsticks from PDX Organics
RUNNER-UP: Runtz x Horchata from Eastwood
BEST INFUSED PRE-ROLL
WINNER: Otter Popz x Carnival Kush from Entourage Cannabis
RUNNER-UP: Wedding Cake x Banana Punch from Quantum Alchemy
---
2022 Oregon Leaf Bowl Winners – Edibles
BEST BAKED GOOD
WINNER: Chocolate Supreme Hash Rosin Cookie from Hapy Kitchen
RUNNER-UP: Chocolate Brownie from Hapy Kitchen
BEST CANDY
WINNER: TIE-Carefree Dark Chocolate FROM Nelson & Co & Chocolate Espresso Bar 100mg from Mellow Vibes
RUNNER-UP: Yamba Floss – Blueberry from Yamba Junk
BEST TINCTURE/DRINKABLE
WINNER: Platinum GSC 1000mg from Farmer's Friend Extracts
RUNNER-UP: Lunar Elixer 3:2:1 from Medicine Farms
BEST GUMMY
WINNER: Tropical Maui 100mg from Mellow Vibes
RUNNER-UP: Mixed Berry 100mg from Mellow Vibes
---
2022 Oregon Leaf Bowl Winners – Topicals
BEST TOPICAL
WINNER: Mellow Vibes from Medicine Farms
RUNNER-UP: Phoenix Lotion from Medicine Farms
---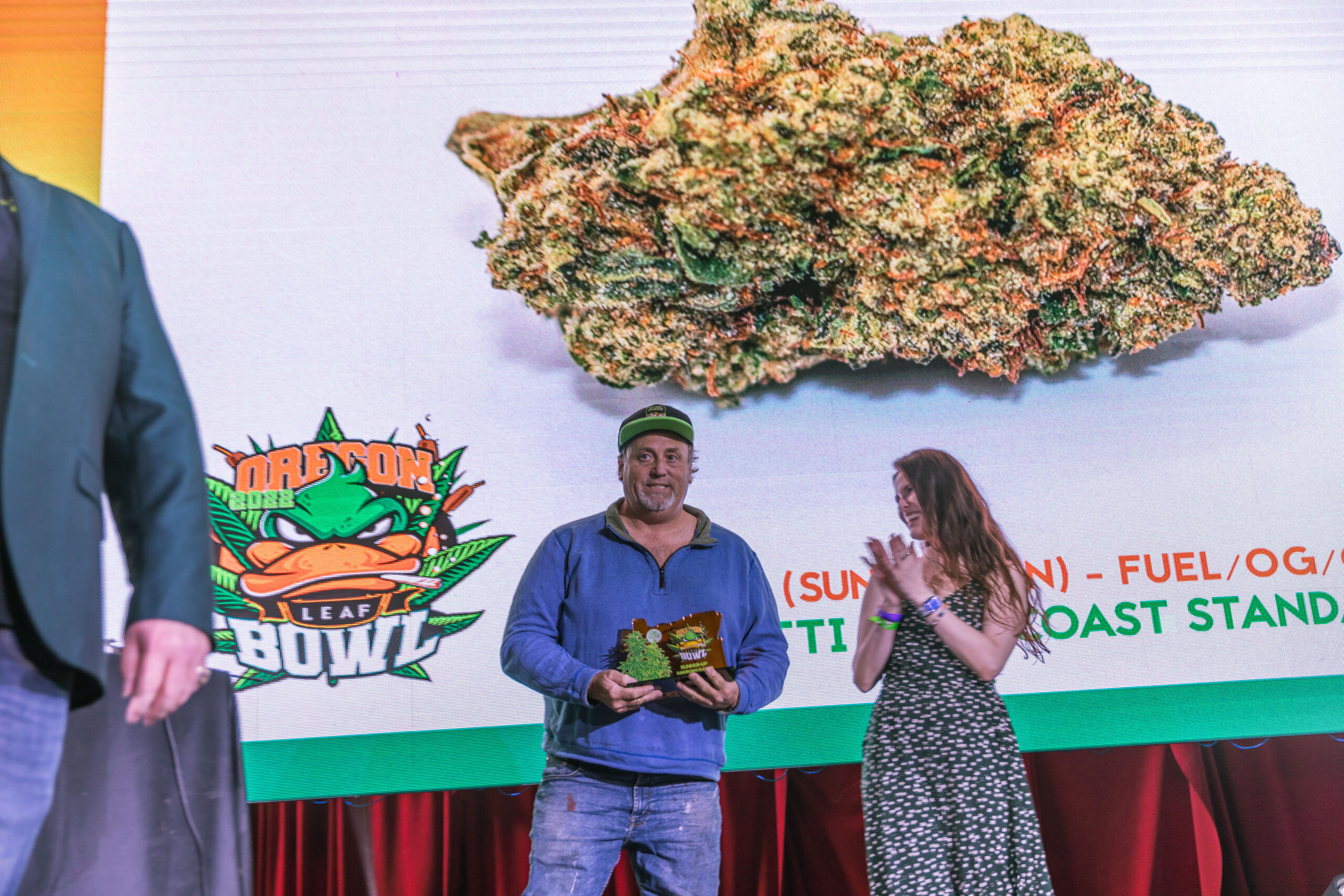 ---
2022 Oregon Leaf Bowl Winners – Concentrates/Extracts
---
BEST FECO/RSO
WINNER: Sunset Sherbet from Rebel Roots Farms
RUNNER-UP: T-1000 from Quantum Alchemy
BEST PULL-N-SNAP/SHATTER
WINNER: Papaya from Echo Electuary
RUNNER-UP: Donny Burger from Echo Electuary
BEST DIAMONDS/SAUCE
WINNER: Roid Rage from Artifact Extracts
RUNNER-UP: Punch Breath Artifact Extracts
BEST BUDDER/BADDER
WINNER: Papaya from Echo ElectuaryRUNNER-UP: Lavender Jones x Slymer from Capital Cannabis
BEST CRUMBLE/SUGAR
WINNER: Lemon Meringue (Slushy) from Pangaea Organics
RUNNER-UP: Lemon Cookies from Entourage Cannabis
BEST SOLVENTLESS/FULL-MELT
WINNER: Secret Lemons 90u from Archive
RUNNER-UP: Chem De La Chem 120u from Nelson & Co
BEST SOLVENTLESS/ROSIN
WINNER: High-Chewz from ArchiveRUNNER-UP: Tropicana Cookies from BA Botanicals
2022 Oregon Leaf Bowl Winners – Cartridges
BEST ALTERNATIVE CANNABINOID CARTRIDGE
WINNER: CBN Pudding from Farmer's Friend Extracts
RUNNER-UP: HEMP CBD+CBN Cart w/ Special Terp Sauce from Firefly Extracts
BEST CO2 CARTRIDGE
WINNER: White Runtz from Farmer's Friend Extracts
RUNNER-UP: none
BEST DISTILLATE CARTRIDGE
WINNER: Purple Apricot from High Latitude Extracts
RUNNER-UP: GSC – Limited Reserve from Firefly Extracts
BEST GENERAL HYDROCARBON CARTRIDGE
WINNER: Tangie Biscotti from Pruf Culitvar
RUNNER-UP: Peppermint Agave from Pruf Cultivar
BEST LIVE RESIN CARTRIDGE
WINNER: Zprite from Artifact Extracts
RUNNER-UP: Punch Breath from Artifact Extracts
BEST SOLVENTLESS CARTRIDGE
WINNER: Blueberry Muffins from Verdant Leaf
RUNNER-UP: High-Chewz from Archive
---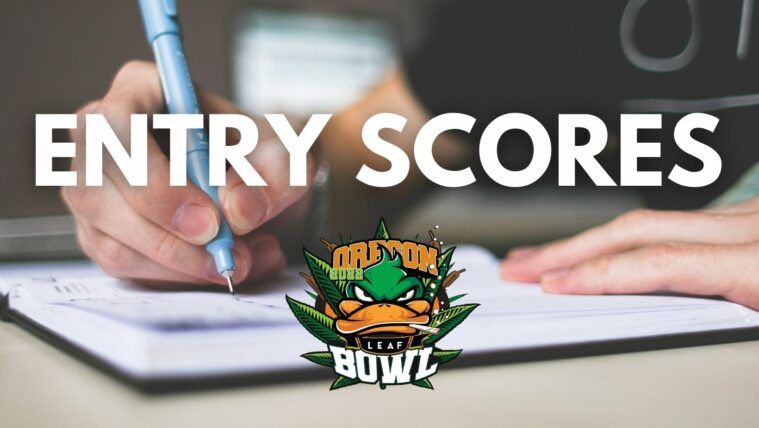 Concentrates
Flower

Infused